Lightweight but with many innovations – that is what you can expect from the MPG travel trailer. It will provide beautiful and comfortable accommodation on the road. In this Cruiser RV MPG review, I will talk about some of its features and specs, so you can decide if this is the right RV for you. 
The Cruiser RV MPG is a travel trailer that sleeps five to seven people. It is made of lightweight material with a rigid frame for exceptional structural integrity. The RV packs many innovative features, such as a sliding king bed, high-density insulation, and a dual-ducted air conditioning system. 
Here's a quick summary of the specs of one of the most popular variants, the MPG 2100RB:
| | |
| --- | --- |
| Dry Weight  | 5,166 pounds  |
| Gross Vehicle Weight Rating  | 7,656 pounds  |
| Hitch Weight  | 656 pounds  |
| Holding Tank Capacities  | Fresh Water 44 gallons, Gray Water 30 gallons, Black Water – 30 gallons  |
| Water Heater Capacity  | 6 gallons  |
| Furnace  | 30,000 BTU  |
| Air Conditioning  | 13,500 BTU  |
| Awning Length  | 18′ |
| Sleeping Capacity  | 5 to 6  |
| Dimensions  | Width – 8′ 3/8″, Height – 11′ 1″, Length 11″  |
Read on to learn more about the Cruiser RV MPG, including its most notable features, as well as some of its pros and cons. 
About Cruiser RV MPG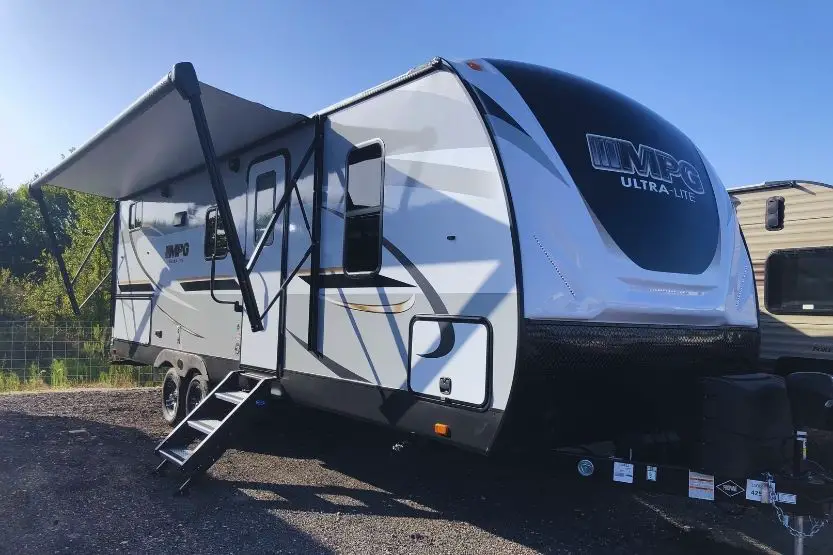 Cruiser RV was established in 1988 and currently has a reputation for having some of the most affordable motorhomes in the market. Whether a family buying a trailer for the first time or seasoned adventurers thinking of a caravan upgrade, Cruiser RV has diverse product offerings. The company has a hand-picked team of craftsmen to ensure the highest quality. 
While most companies are experimenting with a wide array of materials, Cruiser RV focuses on one thing – being lightweight. Their trailers have innovative lamination to keep the weight at a minimum without compromising durability. More importantly, they are easy to tow and fuel-efficient. 
The company has different RVs, but in this review, our focus is on the MPG. It has comfortable home furnishings in a sleek and lightweight package. It is available in different floor plans, each promising to provide generous space. 
Cruiser RV MPG Mobile Home Specs 
As you decide if this RV is a good pick or look for another one, you must know its specifications. Different models have varying specs. In this section, however, we'll focus on the MPG 2100RB:
1. Dry Weight 
When you are shopping for a trailer, one of the most critical considerations is the dry weight. As the name implies, this is the weight without passengers, fuel, accessories, and anything you will add to the bare body. The dry weight of the MPG is 5,166 pounds. 
2. Gross Vehicle Weight Rating 
Also called GVWR, it is the trailer's dry weight along with the maximum additional weight that it can carry. It serves as a guideline, preventing users from hauling too much weight to ensure safety and efficiency. The GVWR of this travel trailer is 7,656 pounds. 
3. Hitch Weight 
A trailer hitch weight is the maximum weight that it will exert on the trailer tongue. This should match the specifications of the towing vehicle. The hitch weight of this RV is 656 pounds. 
4. Holding Tank Capacities 
The trailer has three types of holding tanks: 
Fresh Water Tank: 44 gallons 
Gray Water Tank: 30 gallons 
Black Water Tank: 30 gallons 
5. Water Heater Capacity 
You can get hot water in the trailer when you need it. However, take note that the capacity is limited to only six gallons. 
6. Furnace 
It has a furnace with a sealed combustion system, which will help in keeping the interior warm. By regulating the inside temperature, you can stay comfortable even in the winter. The furnace of this trailer has a maximum output of 30,000 BTU. 
7. Air Conditioning 
When summer hits, you don't have to worry about your comfort. The motorhome comes with an air conditioning unit to keep you cool and comfortable. It has an output of up to 13,500 BTU. The system can cool air at 18 to 22 degrees below the ambient temperatures, provided that the humidity is 50%. 
8. Awning Length 
Rain or shine, the awning will help make sure that you are comfortable outside the trailer. Its awning has a length of 18 feet. The awning has an automatic mechanism, making it easy to slide in and out. 
9. Sleeping Capacity 
According to the manufacturer, this trailer can sleep five to six people. It has a king-sized bed with dimensions of 72 x 80 inches. The interior is also spacious enough for you to set up an air bed or additional mattress as you wish. 
10. Dimensions 
Here are the main specifications of the MPG 2100RB: 
Width: 8' 3/8"
Length: 11′ 1″ 
Height: 11" 
Main Features of Cruiser RV MPG Travel Trailer 
What makes the Cruiser RV MPG a great caravan? Let's talk about some of its notable features in this section:
1. King Bed Slide System 
It is one of the best technologies in this RV and has a pending patent. It allows the bed to slide up to 12 inches from left to right. In turn, you will have more space for walking and changing. 
2. Full Belly Storage 
It is another feature that has a pending patent. The latter will maximize the available storage space in your RV, making sure that you can bring more with you as you hit the road. 
3. Hardwood Cabinets 
From the kitchen to the bedroom, the cabinets are made of top-notch hardwood. They are not only beautiful, but they are also long-lasting. 
4. Four-Speaker Sound System 
It also has plenty of features that will bring on-road entertainment to the next level. Whether you are listening to music or watching a movie, you will have a more immersive experience. One thing that can assure such is the presence of a soundbar with four speakers.
5. Dual-Ducted Cooling System 
The air conditioning system of this RV has dual ducts. It means that it can provide better cooling comfort. More so, the ducts have excellent insulation, making sure that they manage the internal temperature effectively and efficiently. 
6. 30-inch Wide Door 
This RV comes with a wide entry door. At 30 inches, it is big enough for passengers to pass through comfortably. This will also make it easy to bring in large stuff. Plus, the door comes with solid steps. 
7. Power Stabilizer Jacks 
Keeping the trailer steady is a breeze with the stabilizer jacks. It has a power mechanism, making it easy to activate. This is a crucial feature to ensure your safety when inside the trailer. 
8. Extended Season Package 
It also has a feature that will extend the RVing season. Even during the winter months, you can get on the road and not worry about your comfort. Below are some of the trailer's features that will make sure of such: 
Wrap-around flex foil improves the insulation and provides an extra layer of cold protection 
Dedicated heat duct forces hot air into the furnace 
Enclosed underbelly with waterproof construction to protect wiring and plumbing from the extreme cold
Again, what does the Cruiser RV MPG offer? The Cruiser RV MPG is a lightweight travel trailer with a rigid frame that sleeps five to seven people. Plus, it has innovative features, including a sliding king bed, high-density insulation, and a dual-ducted air conditioning system.
Cruiser RV MPG Pros and Cons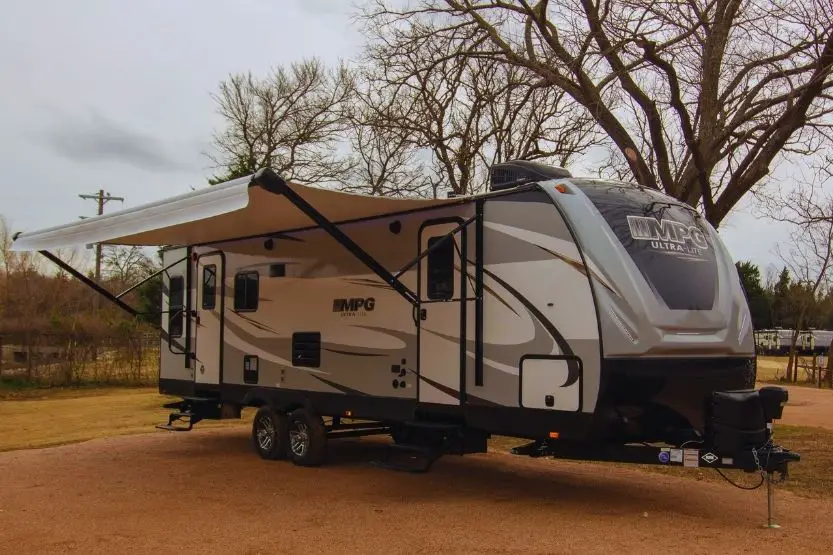 Learn about the good and the bad in this RV to help you decide if you should purchase it or not:
Pros 
Below are some of the benefits of the Cruiser RV MPG that will compel you to have one:
1. Lightweight Construction
One of the best things about the Cruiser RV MPG trailer homes is the lightweight shell. It means that they are effortless to tow, and more importantly, fuel-efficient. You will get the best value for every mile. 
2. Durable Foundation 
Some people might equate being lightweight with inferior quality, but this RV is not the case. It has a strong structural foundation, making sure that it will last through the years. It has an oversized frame and heavy-duty tires, among other things. 
3. High-density Insulation 
Another thing that you will love in this travel trailer is the block foam as the main insulation material. It has a high-density construction, making it more effective in managing the internal temperature to keep you comfortable regardless of the weather. 
4. Has a Wide Dealership Network 
You will find more than 400 authorized dealers across the United States and Canada. It means that whenever there is a problem, or you need a spare part, it is easy to find a store that will cater to your needs. 
5. Available in 12 Floor Plans 
You are spoiled for choices. MPG is available in 12-floor plans, so you can choose one with a layout that best suits your needs and preferences. The trailers will have a sleeping capacity of up to nine people or more, depending on how creative you are with the configuration of the interior. 
6. Great Warranty Coverage 
The manufacturer is offering a three-year structural warranty for this RV. It is one thing that can provide you with peace of mind. Meanwhile, the factory warranty is only one year, which is common even amongst its competitors. 
Cons 
Despite the good things, the MPG also has some drawbacks, including those that we'll be talking about below:
Awning Is Prone to Leaking 
Some people complain that the awning has pinholes, which will result in leaking. This can be frustrating during a rainy day when you want to relax outside the trailer. Ensure tight connections to prevent the leak. 
Does Not Come with a Generator 
One thing that is significantly missing in the trailer is a built-in generator. It comes in handy for power supply on the go. It is better if there is already one that comes with the unit instead of buying it separately. 
Conclusion: Cruiser RV MPG Travel Trailer 
The Cruiser RV MPG is an excellent choice for people on a budget. Despite being affordable, it packs a wide array of innovative features that make it a cut above the rest. From the sliding king bed to the lightweight shell, many things will make it worth considering if you are looking for the perfect companion on the road. 
Wrapping up, here is a quick summary of the specs of the Cruiser RV MPG, specifically the 2100RB:
| | |
| --- | --- |
| Dry Weight  | 5,166 pounds  |
| Gross Vehicle Weight Rating  | 7,656 pounds  |
| Hitch Weight  | 656 pounds  |
| Holding Tank Capacities  | Fresh Water 44 gallons, Gray Water 30 gallons, Black Water – 30 gallons  |
| Water Heater Capacity  | 6 gallons  |
| Furnace  | 30,000 BTU  |
| Air Conditioning  | 13,500 BTU  |
| Awning Length  | 18′ |
| Sleeping Capacity  | 5 to 6  |
| Dimensions  | Width – 8′ 3/8″, Height – 11′ 1″, Length 11″  |