The Gulf Stream Coach Sedona is the ideal fifth wheel if you only have a half-tonner pickup but still want a trailer with plenty of rooms and amenities. In this Gulf Stream Coach Sedona review, I'll list all its features and specs so you can decide if this is the right travel trailer for you.
The Gulf Stream Coach Sedona fifth wheel is the ideal companion if you want to get away from the crowds and escape. It's the ideal choice if you only have a half-ton pickup for hauling a trailer and if you want a lot of living space while delivering optimum maneuverability.
Read on to learn more about the Gulf Stream Coach Sedona and its model lineup, specs, and features.
About the Gulf Stream Coach Sedona Fifth Wheel
Made By Gulf Stream Brand
The Sedona is the only fifth wheel offering of the prestigious Gulf Stream brand of recreational vehicles. It specializes in making the most use of available space. When you step into the Gulf Stream Sedona, it will feel like you are in the Tardis. It looks much bigger from the inside.
Spacious
Even the smallest floorplan can easily accommodate up to four people. This can even go up to six if they do not mind sharing beds. Each floorplan also comes with ample storage space, with each one featuring all the furnishings that will make you feel right at home.
Ideal for Camping Trips with the Whole Family
The Sedona is ideal for you if you like going on camping trips with the whole family. With the design's smart use of space, it can even be a viable choice of permanent residence if you want to go this route.
Gulf Stream Coach Sedona Features
Here are a couple of features that you can expect when you do decide to get yourself a Gulf Stream Coach Sedona:
A spacious main bedroom with a queen-size bed
Large panoramic windows
Lots of cabinets and other storage spaces
However, probably the best quality of the Gulf Stream Coach Sedona is its competitive price. Even though the Sedona is a bit more affordable compared to the other top brand fifth wheels, Gulf Stream did not skimp out on elegance and functionality.
Gulf Stream Coach Sedona Model Lineup
The Sedona comes in several floorplan configurations, including the following:
The Sedona 26FRKW, which measures 29'1" – It has two slide outs and can accommodate up to 4 people
The Sedona 27FRLD, which measures 29'11" – It also features two slide outs and can accommodate up to 4 people
The Sedona 28CBF, which measures 31'6" – It has one slide out and can accommodate up to 8 people
Because of the wise use of space and the included creature comforts that you cannot find in other travel trailers, many people have even decided to live full time in their Sedonas.
Gulf Stream Coach Sedona Interior Features
1. Cozy Living and Dining Space
When you step inside the Gulf Stream Sedona, you will first see the pretty inviting living space with an inviting-looking couch. It features a well-upholstered couch covered with durable faux leather.
Aside from the couch, the living space also has a nice entertainment center. These include:
A large LED TV,
Stereo system,
Surround sound speakers, and more.
The dining space consists of a diner-style booth. The seats have the same type of upholstery as the couch. There is also a table, which is retractable so that the booth can transform into another sleeping surface. The booth can comfortably seat up to four persons.
The dinette booth can also convert into an extra bed. In addition, there is also plenty of additional storage space underneath the seats.
Features
You will also enjoy these features in the living and dining space:
Uses Congoleum Anti-stick vinyl flooring and carpet on the slide outs
Jackknife sofa
LED dinette light
Designer window treatments
Option for 40" LED TV
2. Residential Kitchen
The kitchen space in the Sedona is a whole lot bigger than the one in my first apartment. If you like to cook, you will love how the kitchen space in the Sedona is furnished. The best thing about the kitchen, in my opinion, is the three-burner range with a traditional convection oven.
Aside from the furnishings, you will also get many cabinets, both overhead and under the counter. The drawers sit on heavy-duty ball-bearing slides. They can also lock to keep the contents from flying out while the trailer is in motion.
Features
Microwave with built-in range hood
6 cubic feet double-door refrigerator
Ample counter space
3. Cozy and Spacious Bedroom
It is always great to sleep under the stars when you are camping. However, the weather does not want to play ball all the time. For those times when you cannot stay outside, or you want to sleep on a comfortable bed, and somewhere you can have some space and privacy, check out the Sedona.
Features
The cozy and spacious bedroom also provides you with the following:
Queen-size bed with a premium mattress
Nightstands on both sides of the bed
Shelf and nearby outlet for a CPAP machine
4. Additional Sleeping Spaces
With the Gulf Stream Sedona, you will always have room for just one more person. And no, your guests will not be sleeping outside or on the floor. You might not notice it just by looking at the trailer from the outside. However, you can probably accommodate, at most, 8 people inside the trailer.
Aside from the main bedroom, one of the floorplans has bunk beds. This makes the Sedona one of the roomiest fifth wheels that you can buy right now.
Features
Here are its notable features:
Dinette that is convertible into a bed
Jackknife sofa, which folds out to a bed
Bunk beds at the rear that can fit two adults or four kids.
Regardless of the weather, you can ensure that a spare bed is always available inside the Sedona.
Again, what does the Gulf Stream Coach Sedona offer? The Gulf Stream Coach Sedona fifth wheel is a perfect companion for when you need to escape from the crowds. Another advantage is that it has excellent maneuverability and that you can tow it with a half-ton pickup.
Gulf Stream Coach Sedona Exterior Features
Aside from the interior features, many people also appreciate what they can do outside of the Sedona. What's the point of going camping when you coop yourself inside your trailer?
Of course, you will get a vinyl awning that is big enough that you can have dinner outside. There are also a couple of bright LED porch lights, so you can still hang out outside even when it is a bit dark.
The Sedona has plenty of exterior features that can make every camping trip a lot more enjoyable, including:
A manual awning
Exterior-mounted LED TV
Porch lights
Extra big entrance steps
The Basics
Aside from the creature comforts, you need to check out the basic features that a travel trailer has. These include water storage tanks, electricity, and others. For instance, because the Sedona can fit an astounding 10 people, it is only natural to have large water storage tanks. You can be sure that no one will want it when it comes to freshwater supply.
Notable Features
60-gallon freshwater storage tank
80-gallon grey water storage tank
40-gallon black water storage tank
13,500 BTU roof-mounted A/C
30,000 BTU electric furnace
Gulf Stream Coach Sedona – Is It a Good Buy?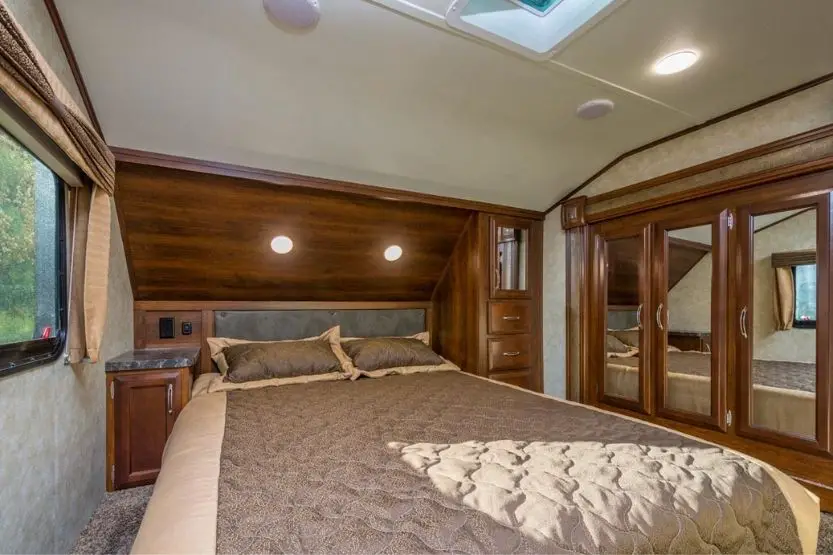 1. Not Overly Expensive
The Gulf Stream Sedona is by no means cheap, but it also does not mean it is overly expensive. You will need to spend a bit of money to get one of these. However, you can be sure that a Sedona is a good investment.
Yes, it is competitively priced, but for its size, the price tag of the Sedona is more than acceptable. You will be enjoying quite many features that you will not find in many other fifth wheels in Sedona's price point.
2. Can Accommodate a Big Family
The ability to take along 9 companions with you on a camping trip is already a huge benefit. If you have a big family, you can take everyone on camping trips. Everyone will also have a comfy bed to sleep in every night.
3. You Can Turn Into a Permanent Living Space
If you are looking for a fifth wheel that you can turn into your permanent living space if the need arises, the Gulf Stream Sedona is one of the trailers that come highly recommended. There is enough space in this travel trailer for a big family, so every camping trip is always an adventure.
In addition, if you get into an SHTF scenario, you can easily turn the Sedona into your full-time home. Many people live in their trailers; most of them are retirees who love to travel. Don't just think about the Sedona as a camping trailer. You can view it as your failsafe in case of emergency.
Gulf Stream Coach Sedona Pros and Cons
Pros
Efficient use of space: The furnishings have dual uses.
High-quality construction
Easy to maneuver
Lots of extra beds
Nicely furnished kitchen
Cons
The carpeted slide-out floors are off-putting.
The bunk beds are oddly shaped.
Conclusion – Gulf Stream Coach Sedona Specs and Review
The Gulf Stream Coach Sedona is the ideal choice for people who want to get away from all the negativity of city living. This fifth wheel is also great because, despite its size, you can tow this trailer using a half-ton truck. You can do that without sacrificing much in terms of maneuverability.
If you think that you fit the bill for being the next proud owner of a Gulf Stream Coach Sedona, then you should check it out as soon as you can.