Are you looking for a camper trailer that is small and light enough that even a minivan can tow? Or are you in search of something that you can take when you go off-roading? Regardless of what you are looking for, you might like to check out the Aliner Ranger 12.
In this review of the Aliner Ranger 12, I'll list all the specs and features so you can decide if it is the right camper trailer for you.
The Aliner Ranger 12 is a mini-trailer that measures 15-feet in length, is 78 inches wide, and stands 57 inches off the road. It weighs only 1,450 pounds and has a gross vehicle weight rating of 3,000 pounds. The Aliner Ranger 12 is light enough that most minivans can tow it. Despite its size, the Ranger 12 can comfortably house 3 to 4 adults.
Read on to learn more about the Aliner Ranger 12 and its most significant specs and features.
About the Aliner Ranger 12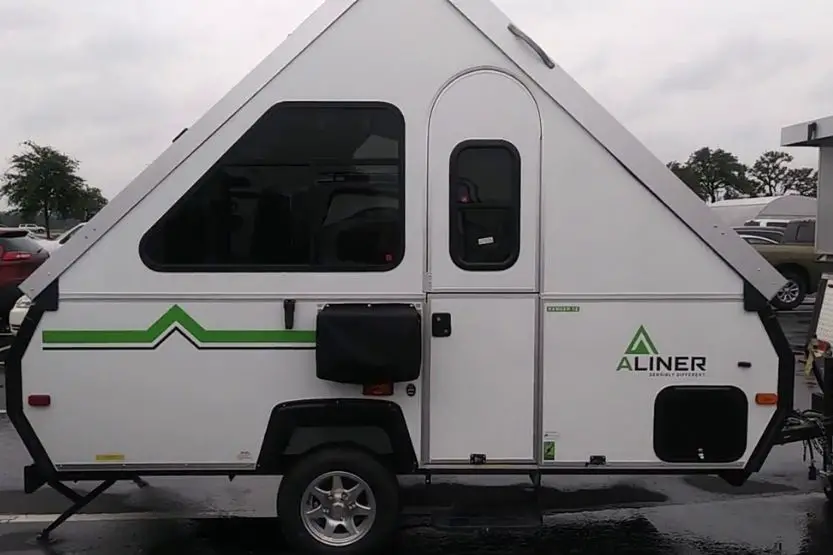 Aliner company technically started when Ralph Tait came up with an A-frame mini camper trailer that was sensible and lightweight enough that any vehicle can tow it. At first, friends and family wanted their A-frame mini trailer.
As word of the innovative trailer spread, the family decided to turn Ralph's hobby into a legitimate business. It has proven to be a very lucrative one.
The Aliner Ranger 12 is one of the latest models of mini trailers from the Aliner company. It retained the same essential design that Ralph Tait came up with during the early 1970s. However, it has a couple of modern conveniences added.
You can currently choose from three different models:
Small (10-foot cabin),
Medium (12-foot cabin), and
Large (15-foot cabin).
It also features three different equipment levels:
Standard,
Upgraded, and
Deluxe.
Aliner Ranger 12 Specs
1. Dimensions and Weight
For simplicity's sake, we will be discussing the 15-foot Aliner Ranger 12. The Ranger 12 has a total cabin length of 18 feet, and it sits on an 18-foot frame. This trailer weighs just 1,725 pounds dry and has a GVWR of 3,000 pounds. It is light enough that a minivan can tow it.
2. Lightweight Construction
The Aliner classic trailers are so durable because of their tubular steel frames and their A-frame configuration. This unique construction gives this mini trailer its strength. Strong winds and road shock will not even cause any extensive damage to it.
To save on weight, the Ranger 12 uses fiberglass side panels. Inside, you will find lightweight thermoplastic composite walls and ceiling panels. Aside from reducing weight, these features insulate the interior quite well. You can also choose a trailer that has skylights or nightshades to fill the interior with natural light.
3. Capacity
Despite its diminutive size, the Aliner Ranger 12 is big enough for four persons to live in it rather comfortably. Looking at it, you would not believe that there is enough room in the Ranger 12 for even two people. However, upon pulling out the awnings at the sides, you will discover room for a dining and lounging area.
Aliner Ranger 12 Exterior Features
As for the exterior features, here are some of those you can expect from the Aliner Ranger 12:
1. Wheels and Brakes
The Ranger 12 sits on 14" tires wrapped around aluminum wheels. You can see them being connected to a 3,000-pound capacity axle. To provide stability and control, the Aliner Ranger 12 comes with 10-inch electronic brakes.
They also have a brake controller that allows them to sync with the brakes of the tow vehicle. This helps prevent the trailer from fishtailing, which can be quite dangerous.
2. Diamond Plate Bumpers
A thick diamond steel plate covers the front and back panels. This protects the trailer from accidental bumps and scrapes. The panels are also effectively sealed to prevent moisture from getting inside the trailer. It is true even if it is still folded down to its transporting configuration.
3. Water Storage
The Aliner Ranger 12 comes with a 25-gallon freshwater tank that supplies water for the interior sink and the outdoor shower setup. There is also a city water hookup for when you are at a campsite that provides it. This trailer also comes with an electric water heater. There are also exterior compartments for holding a single battery and a 20-gallon propane tank.
4. Outdoor Amenities
You can also use the outdoor porch light when you want to set up a couple of lawn chairs and stare at the night sky. Aside from that, there is a barbecue rack setup for grilling meats and veggies. Also, you can take advantage of the external weatherproof speaker, letting you listen to your favorite tunes even when you are outside.
Besides the barbecue grill, you will find an external outlet. This will let you connect the Aliner Ranger 12 to a solar panel array if you want to go fully off-the-grid.
Again, what does the Aliner Ranger 12 offer? The Aliner Ranger 12 measures 15-feet long, 78 inches wide, and 57 inches tall. Its weight is 1,450 pounds and a gross vehicle weight rating of 3,000 pounds. Indeed, Ranger 12 is a mini-trailer that is light enough for minivans to tow. But despite its size, it can house three to four adults.
Aliner Ranger 12 Interior Features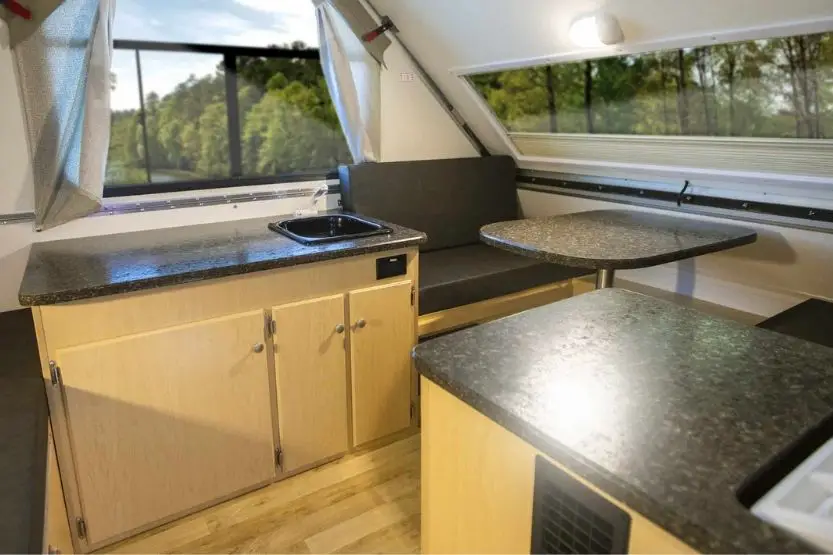 1. High Ceiling
Step inside the fully-assembled Ranger 12, and you will be surprised at how roomy it is; Even if you are pushing upwards of six feet, you will not feel claustrophobic because of the high ceiling.
2. Sleeping Spaces
At the rear, you will find a bench seat that can convert into a full-size bed. On the other side, there is a dinette set that can comfortably seat two people. However, the dinette can also convert into a sleeping surface. There is enough sleeping space in this mini trailer for a small family.
3. Air Conditioning and Ventilation
The Ranger 12 also features a substantially powered air conditioning unit. Thanks to this air conditioner and the thermoplastic interior walls, the Ranger 12 can keep cool even when exposed to the hot summer sun.
You can keep the trailer's interior from getting too stuffy on cooler days by turning on the ventilation fan. It also gets rid of the cooking smells coming from the stove.
4. Kitchen Area
The kitchen is arguably one of the most important areas in a camper trailer. Even though the Aliner Ranger 12 is quite small, it does have its own kitchen area where you can find the following:
A two-burner stove
A small kitchen countertop
An electrical outlet for appliances
A 1.9 cubic foot refrigerator
And a small kitchen sink and faucet
5. Entertainment and Storage
Although the Aliner Ranger 12 does not have a TV, it has a stereo system with several speakers installed in and around the trailer. You can upgrade the stereo system if you want satellite radio. You will also get a lot of storage spaces. There are spaces underneath the bench seats and the sink.
Is the Aliner Ranger 12 an Ideal First Trailer?
The Aliner Ranger 12 might be one of the best camper trailers for first-timers for a couple of reasons, including:
1. Budget-friendliness
The neat thing about the Aliner Ranger 12 is that it provides more than just the camping basics without requiring you to spend an exorbitant amount of money. Because it is so compact and light, you do not need a huge truck or SUV to haul it. Even a regular family minivan can tow this mini trailer easily.
2. Ease of Use
Another thing I liked about the Ranger 12 is that you can fully set it up even without anyone's help. A single person can take the Ranger 12 from its folded down, transporting configuration to fully assembled in under a minute.
There are no bolts to loosen or tighten. Everything snaps into place. You can also secure everything in place using quick latches. Moreover, if you need to pack up and leave, it takes even less time to disassemble the Aliner Ranger 12 back to its original compact configuration.
3. Surprisingly Spacious
If you usually go camping on your own or with a partner, you will find that the Aliner Ranger 12 has more than enough space. There is also quite a lot of storage space inside the trailer.
Aliner Ranger 12 Pros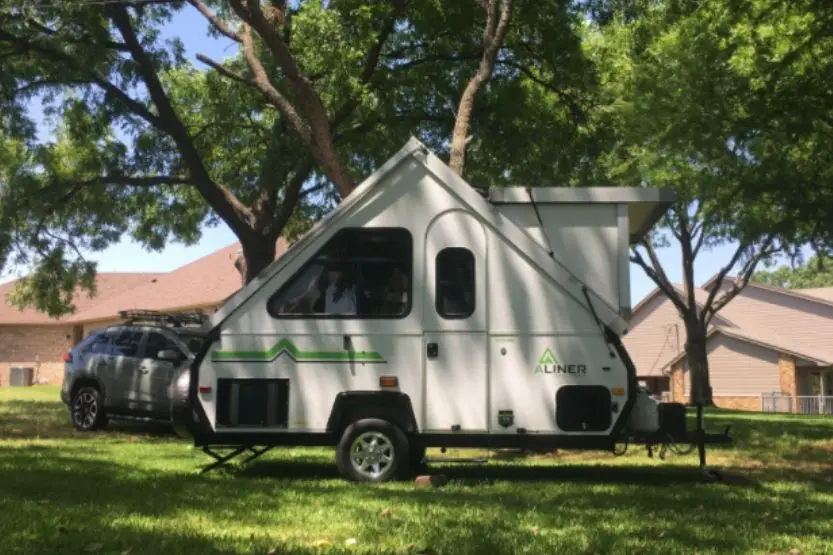 1. Easy to Set Up and Assemble
The panels are lightweight and snap together easily. If you practice a couple of times, there is no doubt that you can raise the wall panels and the Dormers on both sides by yourself.
2. Lightweight
It is lightweight enough that even a minivan can tow it. Once folded down, the trailer becomes aerodynamic. This means you do not have to worry about parts flying off while driving down the highway.
3. Has Enough Room for a Small Family
It might not look like it from the outside, but the Ranger 12 provides enough sleeping spaces for up to 40 persons. The couch and the dinette can turn into full-sized beds, so you do not have to resort to sleeping bags all the time.
4. Can Withstand Inclement Weather Conditions
All the panel joints are effectively sealed and weatherproofed. This prevents any amount of moisture from getting inside the trailer, even during storms.
Aliner Ranger 12 Cons
The Dinette Bed Is Not That Comfortable
Although it is quite convenient that the dinette can convert into a single bed, you may need to put a comforter on top to make it bearable. The other permanent bed, though, is very comfortable to sleep on.
The Screws and Hinges May Loosen and Fall Off
Because the panels are not permanent, you must fold them down when transporting, and, understandably, some of the screws and hinges holding the panels together will loosen up.
Conclusion – Aliner Ranger 12 Specs and Review
The Aliner Ranger 12 is a pop-up trailer that only measures 15 feet long and 78 inches wide. Disassembled, the Ranger 12 stands just 57 inches off the road. It weighs 1,450 pounds and has a GVWR of 3,000 pounds. It is light enough that the average minivan can tow it. Despite its small size, the Aliner Ranger 12 can fit up to 4 people.
If you are in the market for a budget-friendly and compact camper trailer with all the basic amenities, then the Aliner Ranger 12 is good. Keep in mind, though, that it will not be the same as camping in a huge motorhome. It is better than pitching up a tent and sleeping on the ground.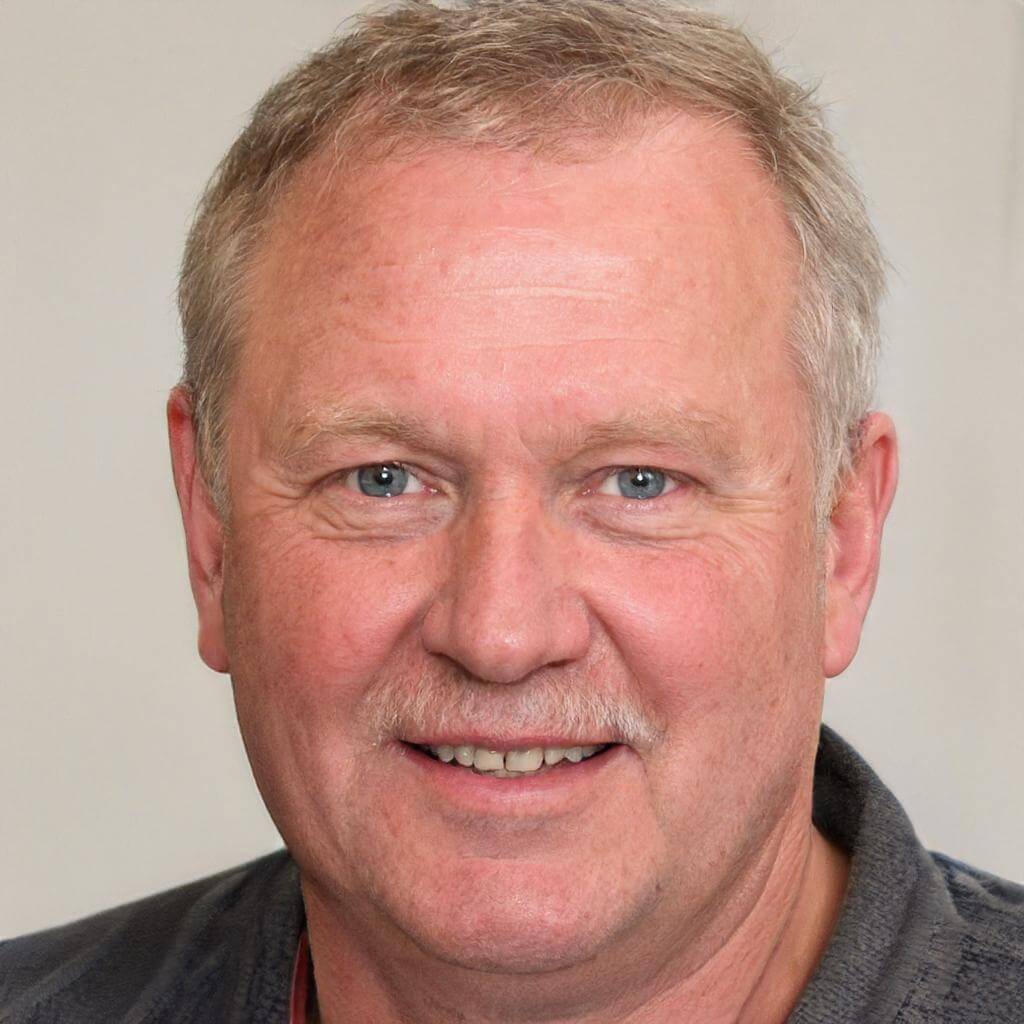 We created RVcrown.com in 2020 as a way to geek about everything we've learned and are still learning about RVs. You'll find in-depth articles covering reviews, specs, and features of the top RVs in the market. Contact me. Disclaimer: The information and advice provided in this blog are for educational and informational purposes only. The author does not guarantee any particular result or outcome from following the advice provided. See more about us.