The Airstream has always been an iconic brand when it comes to travel trailers. The Airstream Globetrotter is one of the most popular travel trailers in their lineup. In this review for the Airstream Globetrotter, I'll list all the specs and features so you can decide if it is the right camper trailer for you.
The Airstream Globetrotter ranges in length from 23 to 30 feet. However, all models are roughly 8 feet wide. The Globetrotter features an all-aluminum body, contributing to its iconic look that has not changed in the decades since it first came out. The modern Globetrotters come with modern features, though, like motorized retractable awnings, powered leveling jacks, and more.
Read on to learn more about the Airstream Globetrotter and its most significant specs and features.
About the Airstream Globetrotter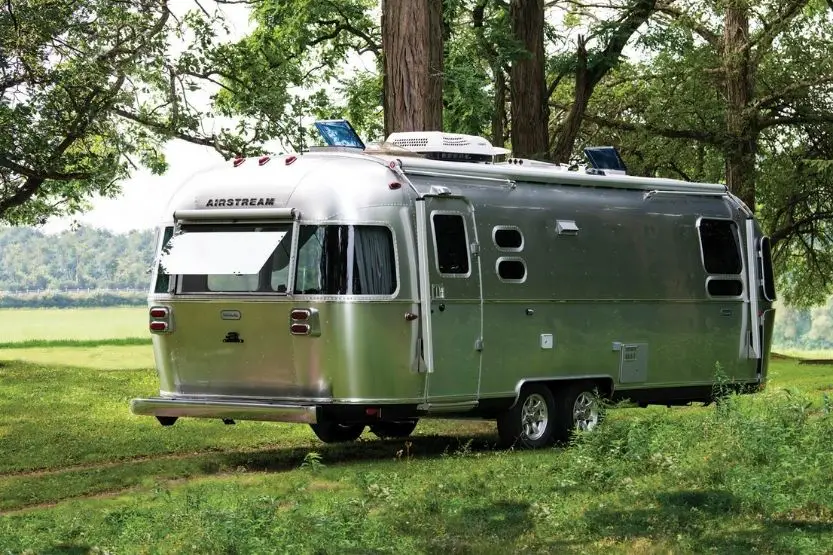 The modern Airstream Globetrotter retains the iconic, aerodynamic, and bare aluminum design that made the company great. Even from afar, one can tell an Airstream Globetrotter apart from other travel trailers. This timeless design makes the Globetrotter one of the most sought-after travel trailers in the market.
The Airstream Globetrotter comes in several models and configurations, ranging from 23 to 30 feet in length. However, they all retained the bare aluminum exterior that gave the Airstream Globetrotter its classy look.
Inside the Globetrotter is enough space for 2-6 people to stay in comfortably for days, maybe even weeks. There is a large space for a galley and a dinette that can seat four people comfortably. The dining area also doubles as a living space, thanks to the large and cushioned seats. It can essentially be used as a full-time living space for two people.
Airstream Globetrotter Exterior
1. Lightweight
The Airstream Globetrotter sports a mostly aluminum body and sidewall, contributing to the trailer's lightweight design. For its large size, it weighs just 6,258 pounds dry. You can easily tow the Airstream Globetrotter using almost any SUV, even if you load the trailer to maximum capacity.
2. 37-gallon Freshwater Holding Tank
The Globetrotter also has a large 37-gallon freshwater holding tank. This is more than enough for a long weekend camping trip. There are also 35-gallon gray water and 40-gallon black water holding tanks. They come with a convenient flushing system for easy cleaning and maintenance.
3. Retractable Awning
Also, there is a retractable awning that converts the side of your Airstream into a patio or outdoor dining area. The awning is large enough to hold a small dinner party or barbecue. At night, bright exterior LED floodlights can help keep the patio area lit.
4. Large Skylight
There is also a large skylight (with cover) to fill the interior with natural light. You can also find ventilated roof vents to help with air circulation inside the trailer. This is useful if you would rather not use the air conditioner unless it is scorching outside.
5. Can Accommodate 30-pound Propane Tanks
The Airstream Globetrotter can also accommodate two 30-pound propane tanks. You can use them for heating, cooking, and refrigeration. The propane system comes with an automatic switch-over valve. You can easily remove the empty tank to have it refilled without cutting the propane supply to the trailer.
Airstream Globetrotter Interior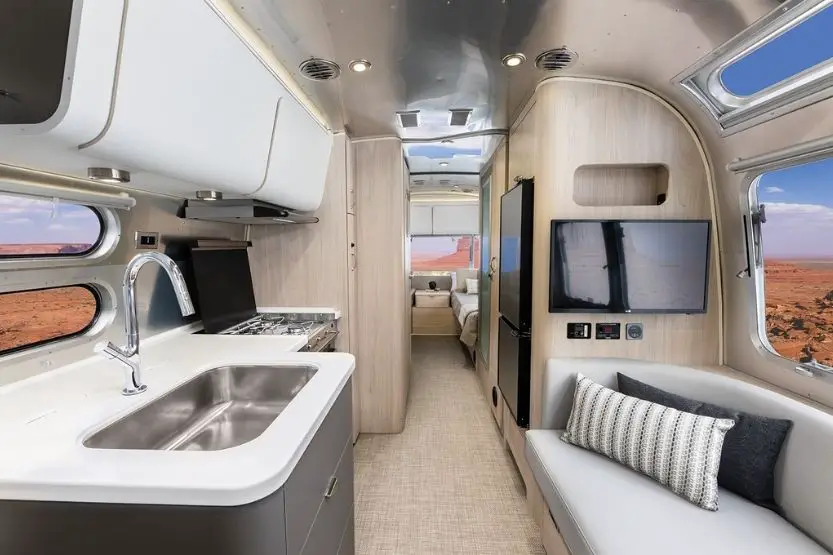 1. Modern Interior
Although the exterior of the Airstream Globetrotter has a classic design, the interior is quite modern. The layout still retained a bit of the classic design, especially the dining area.
2. Wraparound Upholstered Benches
The seats are wraparound upholstered benches considered as standard in almost all Airstreams, not just the Globetrotter. The bench seats also have leather seat covers for easy cleaning and maintenance.
3. Custom Laminate Dinette Top
The dining set also comes with a custom laminate dinette top. You can twist it to give your dining area different configurations. You can also remove it completely to turn the dining area into a living space. Moreover, it is possible to turn this into an extra sleeping space if needed, but more on that later.
4. Spacious Galley Area
The galley area is also quite spacious. The floors come with easy-to-clean vinyl flooring. You can find a three-burner propane stove, which is larger than what most small apartments have room for. There is also a pantry, which is large enough to hold around a week's worth of supplies. You can choose between a microwave and a convection oven.
5. Modest-sized Granite Countertop
The galley also has a modest-sized granite countertop. You would not have enough space for preparing a full-course meal. However, it is enough for simple fare to enjoy while you are enjoying the great outdoors.
6. Mid-sized Refrigerator
There is also a mid-sized refrigerator that is two-way powered. This means that it can run on 110v or propane. It has an automatic setting and a manual. The auto mode starts the refrigerator running on 110v. After that, it switches over to propane once it reaches a certain temperature.
Airstream Globetrotter Sleeping Spaces
1. Fits an Entire Queen-sized Bed
The main sleeping space of the Airstream Globetrotter is quite luxurious for commercial travel trailer standards. You can find the main sleeping quarters in front of the trailer. It fits an entire queen-sized bed.
Unlike other trailers where the bed is crammed into the corner, and you need to crawl from the end of the bed to get on or off it, there is enough room at the sides. That way, you can get up from the bed like normal.
2. Memory Foam Matress
The bed uses a memory foam mattress, so you will always have a good night's sleep. You can roll down the blackout curtains and close the heavy privacy curtain if you want to sleep in. You also do not need to worry about outside noises disturbing your sleep. The Airstream Globetrotter's EcoBatt Insulation will ensure that you will have plenty of peace and quiet.
3. Dinette Can Be Converted Into Bed
If you need more sleeping spaces, the dinette can turn into extra beds. You can remove the center table and stow it under the seat. The seats also extend so you can put additional cushions.
4. Can Fit Six People
You will get another twin-sized bed and a smaller sleeping surface on the side. It can get a bit cramped, but it is possible for up to six people to sleep inside the Globetrotter if needed. Still, four people will be quite comfortable.
Again, what does Airstream Globetrotter offer? The Airstream Globetrotter is around 23 to 30 feet long and 8 feet wide. Its iconic look is due to its aluminum body. Globetrotter also comes with modern features, including motorized retractable awnings, powered leveling jacks, and more.
Airstream Globetrotter Bathroom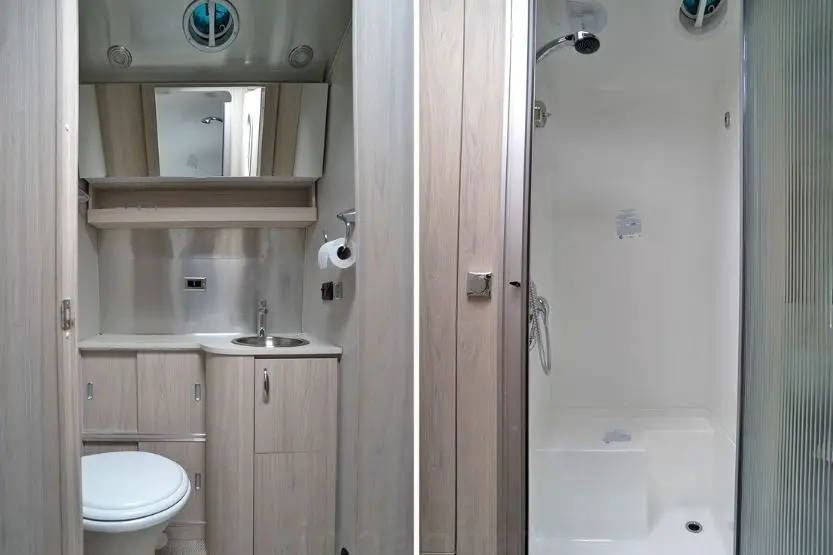 1. Standard-sized Shower
The Globetrotter also has a standard-sized shower. It is spacious enough that you will have more than enough room to move around. With that said, you will not bump your elbows against the walls while washing your hair.
2. Porcelain Toilet
Another nice thing about the Airstream Globetrotter's bathroom is that it uses a real porcelain toilet. It is not like other trailers that use plastic toilets that are reminiscent of portable toilets. It might have added a bit of weight to the trailer. However, it is a nice touch that gives the Globetrotter a homier feel.
3. Other Features
Other standard features include the following:
A sink,
Roof vents,
An exhaust fan, and
A retractable clothesline.
Airstream Globetrotter Entertainment System
The Globetrotter comes standard with a Fusion touchscreen satellite stereo system with Wi-Fi, Bluetooth, and Apple Airplay connectivity. You can connect it to a surround sound speaker system installed throughout the trailer.
There are also two LED flatscreen televisions – one 23" model in the dining/lounge area and another mounted in the sleeping quarters. Although the TVs are not that big, they are enough for glamping purposes. There is still enough space left in case you want to upgrade the TVs to bigger models.
Airstream Globetrotter Reliability
The Airstream brand has earned its reputation for being one, if not the top travel trailer manufacturer in the world. Just the name itself should be enough to convince you to get one:
1. Easy to Clean and Maintain
The all-aluminum exterior is easy to clean and maintain. Because there is no paint, keeping the exterior clean and pristine will not be much of a chore. Although having an extremely shiny Airstream is nice, there is something to be said about the charm of an Airstream with a rather dull finish. It shows that it has been to a lot of places.
2. Full of Modern Safety Features
Although the design might be classic, the Globetrotter is chock-full of modern safety features. The most important of all these is the electronic drum brake. You need to hook up the brake controller to the towing vehicle to sync their brakes. 
3. Other Essentials
Inside the trailer, you will find the essentials, like the following:
A smoke detector,
A gas leak alarm, and
A carbon monoxide sensor.
Also, if there is an emergency, there is an emergency exit in the main sleeping quarters.
Should You Get an Airstream Globetrotter?
It should come as no one's surprise that even the base model of the Airstream Globetrotter comes with a hefty price tag. However, that comes with the brand and its promise of quality.
If you can afford it, then you should seriously consider getting an Airstream Globetrotter. It has a look that will never go out of style. It is easy to operate and maintain while having all of the comforts from home.
You will not have any trouble getting comfortable in an Airstream. It is also built for the long haul. If you like to go on cross-country trips, this is a worthwhile investment, and you do not like staying in old motels.
With that said, if you do not go on camping trips that often, the Airstream Globetrotter might not fit your lifestyle. For one thing, it would take a significantly longer time preparing the Airstream. It is a waste if you usually only go on overnight fishing trips in the next town over.
Conclusion – Airstream Globetrotter Specs and Reviews
The iconic Airstream Globetrotter ranges from 23 to 30 feet in length. However, all of them are roughly 8 feet wide. Like the other legendary Airstream trailers that came before it, the modern Globetrotter sports an all-aluminum exterior. It is a look that has not been significantly changed ever since the company started.
Despite its classic looks, the Globetrotter has many modern features and amenities, like a motorized retractable awning, powered leveling jacks, and more. Should you get an Airstream Globetrotter?
If you are a big fan of the great outdoors and go on camping trips as often and as long as you can, then you should seriously consider getting yourself an Airstream Globetrotter.