Grab your belongings and head on to your favorite spot in the wilderness in a Dynamax motorhome. The comfort, luxury, and convenience this RV will give you are matchless. In this Dynamax Isata 3 review, I'll list all its features and specs so that you know if it's the right RV for you.
The Dynamax Isata 3 motorhome is built on the Mercedes Sprinter platform, well-known for its fuel efficiency. Aside from that, the Isata 3 series represents everything that many RV owners love about this brand, specifically its functional living space, lovely interiors, high-performance chassis, and full body paint.
The Isata 3 series comes in two floor plans, the 24FW, and the 24RW. These are good motorhomes that drive and look great. They come with spacious floor plans, plenty of storage, lots of power, comfortable A/C and heating, theater reclining seats, and many more.
Read on to learn more about the Dynamax Isata 3, its features and specs, and things you need to know to see if it's the right motorhome for you.
About the Dynamax Isata 3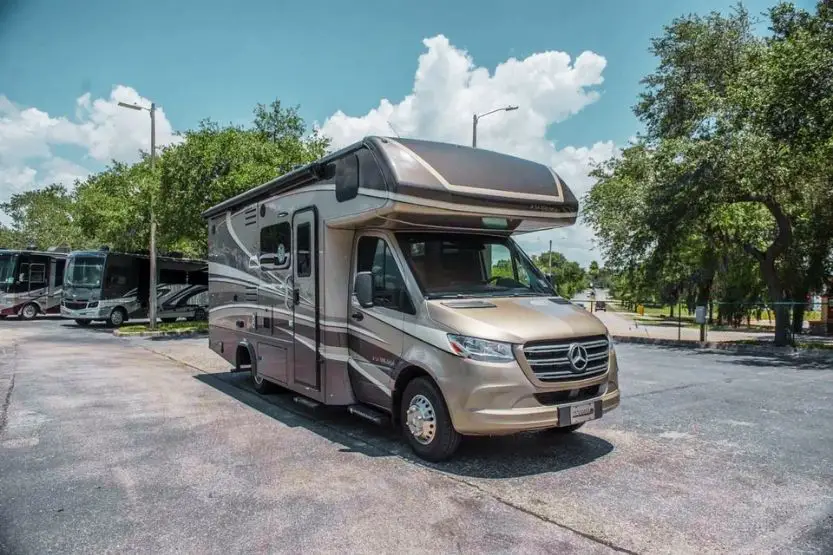 Every Isata 3 series motorhome is built on the Mercedes Sprinter platform, which has a reputation for being very fuel-efficient. Dynamax itself is well known for building high-quality RVS with functional living spaces, full-body paints, high-performance chassis, and lovely interiors.
All motorhomes that belong to the Isata 3 series come with an extensive list of standard and upgraded features that are not found in their rivals. Included in the standard features is their two-year warranty.
The Dynamax Isata 3 represents all the things that people love in recreational vehicles. They have the following:
Lovely interiors,
Fully functional living spaces,
Full-body paint, and
High-performance chassis.
These motorhomes not only look great, but they are also great to drive. They offer lots of storage space, comfortable A/C and heating, very comfy theater reclining seats, and many more.
The Dynamax Isata 3 series motorhomes come in two basic floor plans, the 24FW, and the 24RW. Their basic differences are how the bedroom space, the kitchen space, and the living room space are arranged. There are also some differences in some of their equipment features.
What you need to know is that Dynamax builds good RVs. Their full company name is Dynamax Corporation, and this company is well-known for its luxurious RVs and Super C motorhomes. Their 200,000-square-foot factory is located on the north side of Elkhart, Indiana, occupying around 27 acres.
DeWayne Creighton established Dynamax in 1997. It was acquired by Forest River, Inc., which is also a builder of recreational vehicles, in 2011. Forest River is a division of Berkshire Hathaway.
Dynamax Isata 3 Key Features
You would expect a regular motorhome to have a lot of features. What more for a luxury motorhome like the Dynamax Isata 3 series? You would feel inundated if you see the list of all its features. For now, let's concern ourselves with its remarkable features:
1. Mercedes-Benz Sprinter Chassis
The Dynamax Isata 3 motorhomes provide smooth rides. Thanks to their Mercedes-Benz Sprinter chassis. This chassis features a 3.0 liters V6 turbo diesel engine that produces 188 horsepower. It also features seats for the driver and passengers covered with leatherette and is equipped with swivel bases.
2. Large Bedroom
The Isata 3 series units are provided with spacious bedrooms. It's nice to know that after a long drive to your destination, or after each day of hiking, you have a comfortable queen size bed where you can rest your tired body.
These bedroom spaces are designed to get you relaxed as if you did not leave the comfort of your own bedroom at home. The plush mattress of the bed and the gorgeous décor around the bedroom will help you relax when you want to go to sleep.
3. Big Kitchen
Every Isata 3 motorhome comes with a beautiful spacious kitchen where you can cook meals day or night. This kitchen comes with all the equipment you need to prepare tasty treats for your family or friends:
Full-size refrigerator,
Cooking ovens,
Sinks, and
Faucets.
You won't miss your home kitchen with the RV kitchen of a Dynamax Isata 3.
An Isata 3 motorhome comes with the following:
Three-burner stove,
Lots of overhead storage spaces,
A kitchen stainless steel sink,
A 7 cubic feet two-door refrigerator (or bigger),
Solid surface countertops, and many more.
4. Spacious Bathroom
An Isata 3 motorhome comes with a big bathroom with a height that will fit taller persons. This bathroom features a high-end shower head that will give you a spa-like feeling whenever you use it to freshen up. There is also a skylight so you can let the outside light in. The bathroom also has a residential sink, among others.
5. Full Wall Slide
The already large livable spaces in Isata 3 motorhomes can even be stretched further. They have massive wall slides that open up their living room spaces. A wall slide includes a pantry, a sofa, and a queen bed. With these motorhomes, there is no more bumping of elbows with family or friends.
Dynamax Isata 3 Standard Features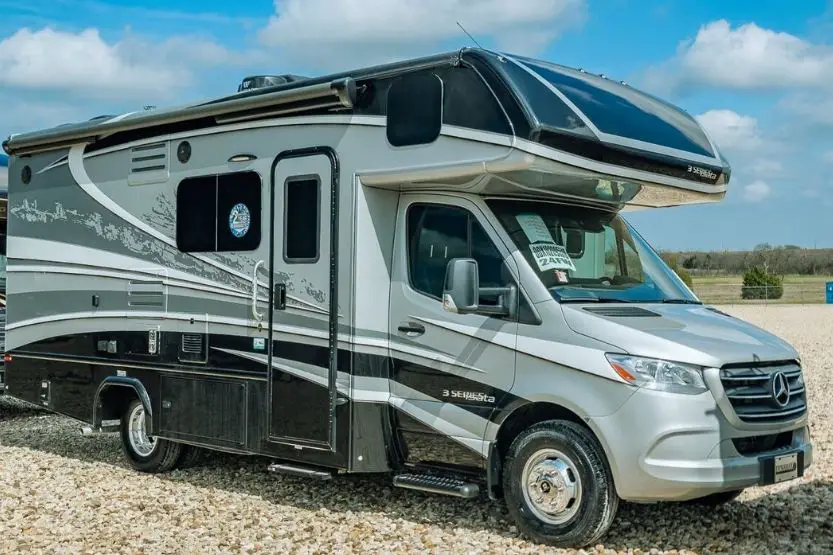 Now you are ready to see all the standard features of a Dynamax Isata 3 series motorhome. Brace yourself because these features are a-plenty. I listed according to their motorhome sections:
1. Interior
Premium Vinyl Flooring all over
Ceiling lighting LED flush-mount
Vinyl ceiling soft-touch padded
Hardwood Craftsman-Style cabinetry
Entry with non-skid rubber step and steel risers
Thermal, reflective front privacy shades
Blackout roller shades and steel blind at kitchen window
Coordinating window treatments
Cab seat booster cushions (set of two)
Dinette seats, sprung, residential-style with lift up storage
Cocktail table between cab seats
Stereo system – AM/FM with zoned speaker control and Bluetooth smart phone app control
32″ LED smart TV (living area)
Hidden hinges
Full extension, soft-closing drawer guides (if applicable)
USB charging ports
Easy access battery compartment under the entry step
2. Bedroom
60 inches by 75 inches Queen bed, with gel-infused memory foam mattress
Headboard deluxe padded for floor plan 24RW
Privacy partition
Under-bed storage for 24FW variant
32″ LED smart TV
Cedar-lined wardrobe
LED reading lights
USB charging ports
3. Kitchen
Gas range with glass cover and overhead range cover
Solid surface countertops with LED edge lighting and backsplash
Stainless steel sink with solid surface cover
Solid surface countertop extension
Residential stainless steel spring gooseneck faucet
Convection microwave oven
6.0 cu. ft. 2-way refrigerator, two door
Under-cabinet lighting
MaxxAir Power Vent with built-in rain cover
4. Bathroom
Shower with light-weight, soft-sided shower door and skylight
Composite foot-flush toilet with hand sprayer
Oxygenics Body Spa RV shower head
Stainless steel sink with residential faucet
MaxxAir Power Vent with built-in rain cover
5. Utilities
30-amp service
3.6kW Onan LP Generator with auto transfer switch (mounted on isolator pads)
Automatic generator start
Dual 12V Group 27 AGM Deep-Cycle, maintenance-free auxiliary batteries
Solar Panels – two 100 Watt with 30 Amp controller
Smart phone app control
Firefly Multiplex wiring with Touch Screen Command Center, switch panels, and Bluetooth®
2,000W Pure Sine Wave inverter (3,300 peak watts)
Battery disconnect at entry
60-Amp Progressive Dynamics Converter with Charge Wizard System
20,000-BTU Furnace with electronic ignition
Ducted, Low-Profile 15,000-BTU air conditioner with heat pump
60,000-BTU Truma Aqua Go Comfort on-demand water heater (LP)
Water filtration system
Exterior shower in service bay
20.3-gallon LP tank (WC)
LP quick connect
Cable TV/Satellite hookup
4×4 HDMI Matrix
Winegard AIR 360+ with Gateway Router (WiFi Extender, 4G LTE, Omnidirectional VHF/UHF OTA, FM, SIM Card Port)
Exterior GFCI receptacle
TruTank Level Monitoring (measures in 5% increments)
Black tank flush
12V heat pads on fresh, gray, and black tanks
Upgraded 12V on-demand water pump (4 gallons per minute)
Water management valve for fill and winterizing
Carbon-Monoxide, LP, and smoke detectors
Fire extinguisher
6. Chassis
Mercedes-Benz Sprinter Chassis
3.0L V6 turbo diesel engine (188 hp. / 325 lb.-ft. of torque)
7G-TRONIC PLUS automatic transmission with overdrive
220-aAmp alternator
LED brake, turn, and backup lights
Bilstein Gas-Charged Rear Shock Absorbers
Aluminum Running Boards
Front and Rear Tires: LT215/85 R16
Aluminum Wheels (Set of Four) with Metal Valve Extensions
Single Front Wheels and Dual Rear Wheels (5.5″ x 16″)
Trailer Hitch (5,000 Tow lbs.) with 7-Way Round Tow Connection
4.18 Rear Axle Ratio
Fuel tank capacity – 26.4 gallons gasoline
Diesel exhaust fluid tank capacity – 5.75 gallons
Electronic Stability Program (ESP)
Traffic sign assist
Crosswind assist
Rescue assist
Attention assist
Lane Keep assist
Adaptive cruise control
High-Beam assist
Active brake assist
Wet wiper system
Single 12V Chassis Battery
Momentary Battery Booster Switch for Connecting Chassis and House Batteries
7. Driver's Section
Upgraded multifunction steering wheel
Adjustable steering column
MBUX (Mercedes-Benz User Experience) 10.25″ Touch Screen Infotainment System with Navigation, AM/FM, Bluetooth, Sirius / XM (tuner and antenna), Apple CarPlay / Android Auto Functionality, and "Hey Mercedes" Voice Control
Upgraded instrument cluster with pixel-matrix display
Quad-view camera system (right side, left side, hitch, and rear horizon views)
Power, Heated Leatherette Cab Seats with Swivel Bases
3-Point seat belts
Lockable safe in passenger seat base
Front, Thorax, and Window safety air bags
Drink holders
Power windows and locks
Power exterior mirrors (auto-heated at low temperatures)
12V and USB accessory ports
Deluxe, removable automotive cab carpet mat
8. Construction
Gel-coat fiberglass walls with Azdel backing
1 ½" Aluminum-framed, laminated sidewalls with block foam insulation
Crowned, one-piece fiberglass roof
Composite flooring substrate (lightweight and moisture resistant)
Aluminum-framed floor
Aluminum-framed roof trusses
Foil-lined ductwork throughout
Aerodynamic fiberglass front cap with cab-over cabinets
Aerodynamic fiberglass front wing panels
Electric slide system
Automatic, 4-point hydraulic leveling jacks with Bluetooth, Smart Phone App Control
Locking Aluminum exterior storage doors with compression latches
Seamless Rotocast storage compartments with LED lighting
Dark-tinted, frameless windows
Fiberglass rear bumper
9. Exterior
Custom full body paint package
Front-end Diamond Shield paint protection
Premium cut and buffed paint finish
Slideout topper(s)
Power entry step
Entry door with dark-tinted, frameless window and integrated shade
LED patio light
Dual-pitch, armless patio awning with LED lighting and motion-activated retraction
Lighted acrylic entry grab handle
Front and rear LED clearance and marker lighting
Exterior TV mount
Exterior speakers
Again, what does Dynamax Isata 3 offer? Dynamax Isata 3 offers a functional living space, lovely interiors, high-performance chassis, full-body paint, and fuel efficiency. It is also built on the Mercedes Sprinter platform.
Full Specs of the Dynamax Isata 3
The table below shows the full specifications of the two-floor plans of the Dynamax Isata 3 motorhomes:
| | | |
| --- | --- | --- |
| Section | Isata 3 24FW | Isata 3 24RW |
| Exterior Length | 24 feet and 7 inches | 24 feet and 7 inches |
| Exterior Width | 94 inches or 7.8333 feet | 94 inches or 7.8333 feet |
| Exterior Height | 11 feet and 5 inches | 11 feet and 5 inches |
| Wheelbase | 170 inches or 14.24 feet | 170 inches or 14.25 feet |
| GVWR | 11,030 pounds | 11,030 pounds |
| GCWR | 15,250 pounds | 15,250 pounds |
| GAWR front | 4,410 pounds | 4,410 pounds |
| GAWR rear | 7,720 pounds | 7,720 pounds |
| Fresh Water | 35 gallons | 35 gallons |
| Gray Water | 32 gallons | 32 gallons |
| Black Water | 32 gallons | 32 gallons |
| Fuel Capacity | 26 gallons | 26 |
| LP Tank Capacity | (TBD or owner's choice) | (TBD or owner's choice) |
| Awning Size | 16 feet | 16 feet |
| MSRP | $144,995 | $153,901 |
Here is a video showing a walkthrough of a 2021 Dynamax Isata 3 24FW motorhome. The presenter shows many of the features of this RV, auto leveling jacks, such as the M-Benz cockpit, the many storage cabinets, the four wall slides, bedroom, generator, and many more:
As an RV owner, it's important to be aware of the issues and solutions related to your Dynamax Isata 3. That's why I've written an informative article covering exactly that. Take a look here.
Conclusion: Dynamax Isata 3 Specs and Review
The foundation of the Dynamax Isata 3 motorhome is the Mercedes Sprinter platform which is reputed to be very fuel-efficient. In addition, the Isata 3 series represents everything that a lot of motorhome owners love about Dynamax, specifically its lovely interiors, fully functional living space, full-body paint, and high-performance chassis.
This is the motorhome that you will want to own if you want to bring along the luxury and comfort of your home every time you travel outdoors.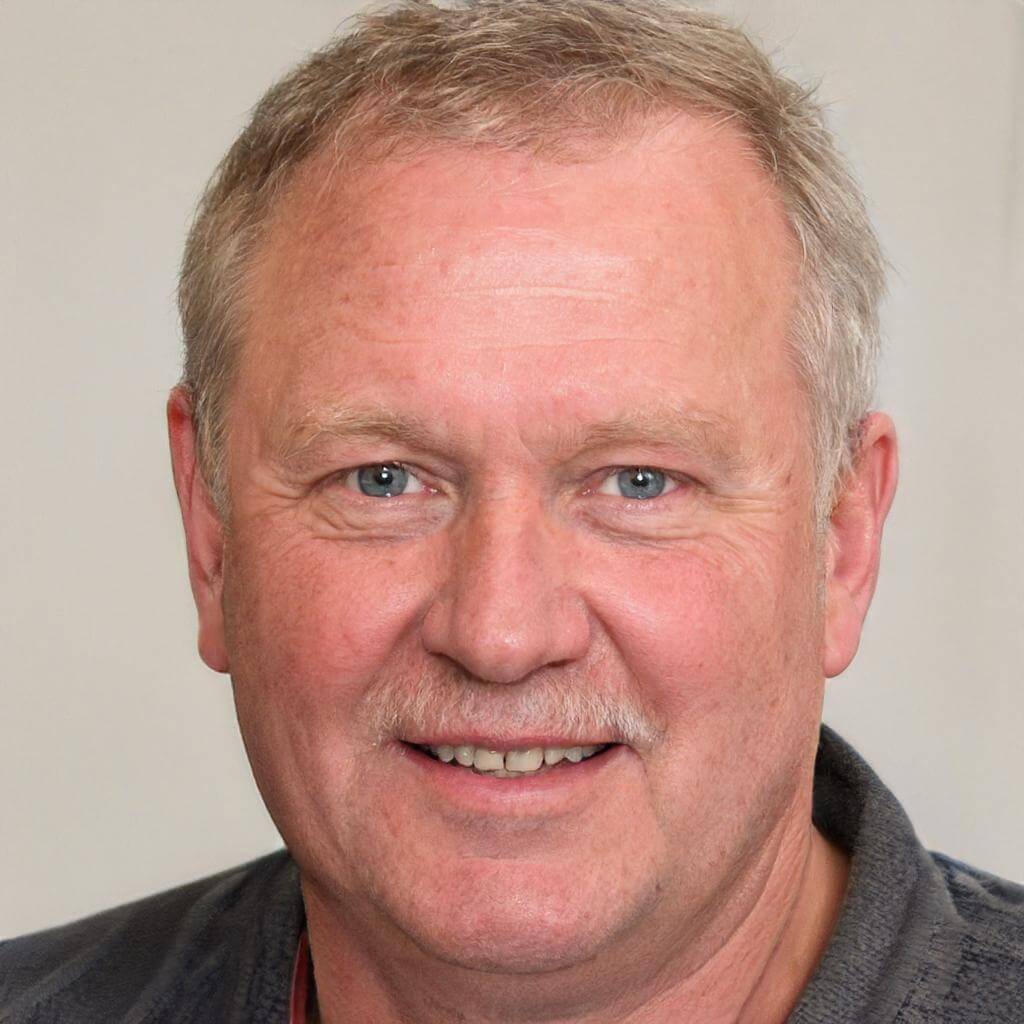 We created RVcrown.com in 2020 as a way to geek about everything we've learned and are still learning about RVs. You'll find in-depth articles covering reviews, specs, and features of the top RVs in the market. Contact me. Disclaimer: The information and advice provided in this blog are for educational and informational purposes only. The author does not guarantee any particular result or outcome from following the advice provided. See more about us.