One of the most popular Fores River Rvs is the Alpha Wolf. In this Forest River Alpha Wolf RV review, I'll list all the specs and features so you can decide if it is the right RV for you.
The Forest River Alpha Wolf RV has diverse floor plans and top-notch amenities. It has a tough but lightweight shell, making it easy to maneuver while also being long-lasting. This laminated trailer also has state-of-the-art insulation for effective temperature management and optimal comfort. 
While the Forest Alpha Wolf RV is available in several variations, our focus is on their most famous multi-sleeper vehicle in this review. The table below summarizes its main specs:
| | |
| --- | --- |
| Hitch Weight  | 600 pounds  |
| Gross Vehicle Weight Rating  | 7,600 pounds  |
| Dry Weight  | 5,795 pounds  |
| Cargo Carrying Capacity  | 1,805 pounds  |
| Fresh Water Tank Capacity  | 49 gallons  |
| Gray Water Tank Capacity  | 35 gallons  |
| Black Water Tank Capacity  | 35 Gallons  |
| Awning Size  | 20 feet  |
| Exterior Width | 96″ |
| Exterior Length | 31′ 8″ |
| Exterior Height | 11′  |
Read on to learn more about Forest River Alpha Wolf RV, including its features and specs, as well as some of its pros and cons. 
About the Forest River Alpha Wolf RV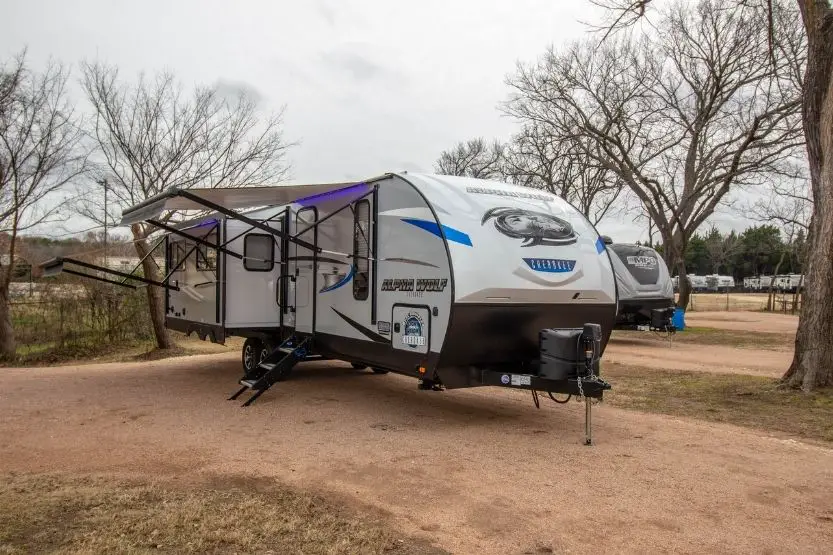 Forest River is one of the biggest manufacturers of recreational vehicles in North America. From its humble beginnings in 1996, it has successfully achieved its mission of allowing people to experience the joy that the outdoors can bring. This is possible through their Class A and C RVs. 
Aside from recreational vehicles, Forest River is a large company that manufactures the following:
Cargo trailers,
Commercial trucks,
Buses, and
Pontoons.
They incorporate valuable lessons from their other divisions to develop the best RVs in the global market. 
The company has tons of RVs in its production line. One of the most popular is the Forest River Alpha Wolf. It is the first trailer from the company to feature state-of-the-art shell lamination. The latter is responsible for making it lightweight while also providing innovative insulation. 
Forest River Alpha Wolf RV Specs
Alpha Wolf is available in several variants, each with different specifications. In this review, we'll focus on the 26DBH-L, which is their most popular build:
1. Hitch Weight 
The hitch weight is the part of the trailer that the hitch carries during towing. The Forest River Alpha Wolf RV has a hitch weight of 600 pounds. It is crucial for safe towing.
2. Gross Vehicle Weight Rating 
The Gross Vehicle Weight Rating of the Alpha Wolf RV is 7,600 pounds. It refers to the weight of the RV itself, as well as everything you attach to it. It includes all the accessories that you will add. Exceeding beyond this weight will have significant safety and performance implications. 
3. Dry Weight 
Dry Weight is the standard weight of the RV without the accessories, fluids, passengers, and cargo. The Forest River Alpha Wolf RV has a dry weight of 5,795 pounds. 
4. Cargo Carrying Capacity 
The Cargo Carrying Capacity is the amount of weight that the trailer can accommodate. It includes all the accessories and equipment, as well as cargo and freshwater. The Alpha Wolf can carry a weight of up to 1,805 pounds. 
5. Freshwater Tank Capacity 
Access to fresh water is important when you are in an RV. Good thing, this model has a tank that can keep up to 49 gallons of water. 
6. Gray Water Tank Capacity 
A gray water tank holds used water in an RV, except for toilet water. This Alpha Wolf has a tank that can hold up to 35 gallons of gray water. The amount of water the tank can collect from the indoor shower, bathroom sink, and galley. 
7. Black Water Tank Capacity 
Like with the gray water, the black water tank also has a maximum capacity of 35 gallons. This is the tank that collects sewage. 
8. Awning Size 
This RV comes with a 20-foot RV awning. The latter is important for protection from the harsh heat of the sun while you are outdoors. It can also shelter you from light rains. 
9. Exterior Width 
The exterior width is a vital specification for determining how spacious an RV is. The Alpha Wolf camper has an exterior width of 96 inches. For reference, the average width of a Class C motorhome is 100 inches. 
10. Exterior Length 
Like the exterior width, the exterior length is important for computing space availability in the RV. The model we are reviewing in this article has an exterior length of 31 feet and eight inches. 
11. Exterior Height 
The exterior height of this RV is 11 feet. It is tall enough to accommodate tall users while also having plenty of available space. 
Again, what does the Forest River Alpha Wolf RV offer? The Forest River Alpha Wolf RV, a laminated trailer, offers myriad floor plans, top-of-the-line amenities, and state-of-the-art insulation. It has a tough shell, yet lightweight and long-lasting.
Notable Features of Forest River RV Alpha Wolf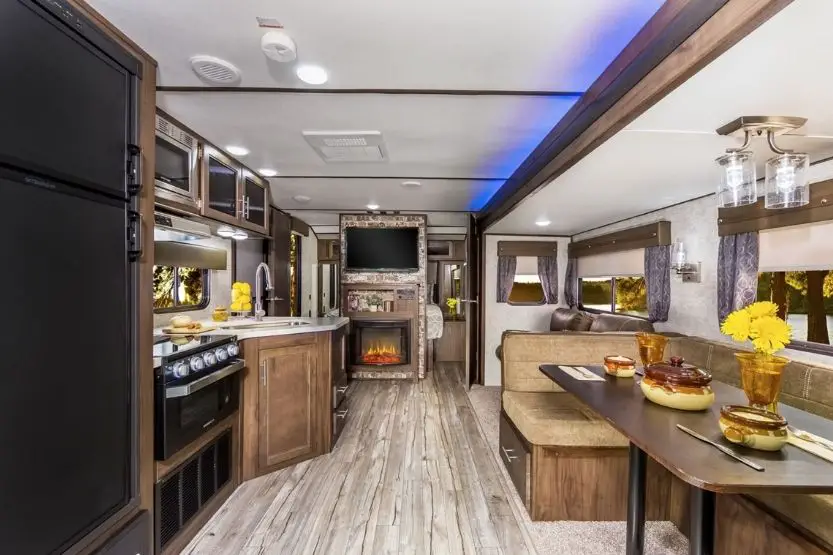 Below are some of the best features that make the Forest River Alpha Wolf RV a great option for a top-notch motorhome:
1. Double Bunks 
The spacious bunks have dimensions of 50 x 74 inches. It is large enough for kids to sleep in comfortably. It also has minimalist stairs to go up and down easily. Alternatively, the bunk can double as a storage space. 
2. 12-Volt Residential Refrigerator 
The high-efficiency Cannon 11 cubic feet and 12-volt refrigerator is another great feature. This ensures access to cold drinks anytime and anywhere. Plus, this will provide ample space to keep your food and prevent spoilage. 
3. Residential-style Porcelain Toilet 
Most of the cheap RVs will have a plastic toilet. This model, however, comes with a porcelain toilet, similar to what you have at home. The toilet has a foot flush. 
4. Multi-level Shelf Pantry 
Next to the bathroom and the bunk bed, you will find another door. This is the cabinet for the pantry. It has multiple levels to help you organize your food and other stuff as you live on the road. 
5. U-Shaped Dinette 
To maximize space in the RV, this model also has an oversized U-shaped dinette. The seats have plush cushions for your comfort. Plus, it has drawers underneath, which will provide additional storage. More so, the table is removable if you need more space or an extra sleeping area. 
6. Dual-Entry Master Bedroom 
For your convenience, you can get in and out of the master bedroom from both sides. The bedroom comes with a queen bed and closets on both sides. Above the bed, you will also find cabinets for extra storage space. 
7. Deluxe Outside Kitchen 
Another good feature of this RV is the outside kitchen, perfect for those who do not like cooking inside. There is also a small fridge and ice machine in the outside kitchen. 
8. High-Capacity Electric Fireplace 
No need to worry when the weather gets too cold. You can stay inside the RV without chilling. Thanks to the electric fireplace, you can easily stay warm. It has 5,200 BTU and multiple settings. Plus, it has a convenient remote for easy control. 
9. 15,000 BTU Air Conditioner 
You also do not have to worry during the summer months. As the temperature increases, you can turn on the RV's air conditioning unit. It has a feature that will let you quickly cool the room. 
10. 200-watt Subwoofer 
Audiophiles have another good reason to love the Alpha Wolf RV. It has a 200-watt ceiling subwoofer, which will let you play music on the go. The speaker has exceptional sound quality. 
11. Juice Pack Solar Power 
The RV has a 50-watt solar panel, providing a dependable power supply on the road. This is a great feature for people who are looking for an eco-friendly and efficient motorhome.
12. Total Control Technology 
Controlling the lights, awning, and monitor panel is easy. You can do it wirelessly and in just one place. 
13. Molded Front Cap 
You can expect exceptional aerodynamics with the design of the RV's front cap. It is easy to tow without putting too much burden on the vehicle. The design also helps in ensuring safety on the road. 
14. Electric Tongue Jack 
Another notable exterior feature is the electric tongue jack, which eliminates the need for manual cranking. This way, you do not need a manual device, and your life will be a lot easier. 
15. Pass-Through Storage 
With access from both sides of the motorhome, the pass-through storage provides additional space for everything you need to bring on the road. It also has motion lights so that you can easily see whatever is inside. 
Forest River Alpha Wolf RV Pros and Cons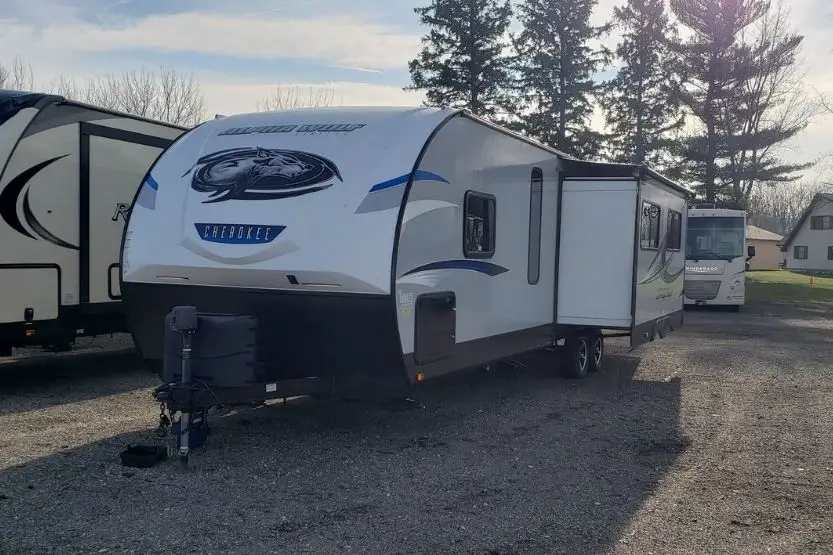 Is the Forest River RV Alpha Wolf the right choice for you? To help you decide, let's weigh the benefits and the drawbacks:
Forest River Alpha Wolf RV Pros
Here are some of the most compelling reasons to choose the Alpha Wolf over many of its competitors:
1. Exceptional Insulation
With its state-of-the-art insulation, your comfort is a sure thing. The insulation helps in temperature management. This will also make the RV more efficient, especially if you use a heating or cooling system. 
2. Available in Diverse Floor Plans 
Alpha Wolf does not refer to a single RV. Instead, it is a product line, which means that you can choose from several models. It is available in diverse floor plans depending on the number of users or your preferred RV size. 
3. Lightweight But Tough Shell 
Maneuvering this RV as you hit the road is easy as it comes with a lightweight shell. Despite the latter, it has a tough construction. It uses high-quality materials so that you can be confident of its durability. 
4. Has Oversized Bunks 
Space is one of the biggest assets of this RV. One of the best things is that it has spacious bunks with dimensions of 50 x 74 inches. This can provide an additional sleeping space, especially for children. It also comes with a discrete ladder, making it easy to go up and down the bunk. 
Forest River Alpha Wolf RV Cons
Despite the many good things, this Forest River RV also has a few drawbacks, including those in this section:
1. Water and Electrical Hookup are Too Close 
One of the biggest problems in this RV is the setup of the outdoor shower. Some people might find the water and electrical hookup to be too close. This can be a safety issue, increasing the risk of electrocution when you are showering. 
2. Uses a Jack Knife Sofa 
The RV has a conventional sofa type that comes with a pull-out. This can be quite uncomfortable for some users. It will have been better if it has double recliners, which are common in more modern RVs. 
3. Limited Countertop Space 
While we understand that RVs often do not have the luxury of space as what you have in your home, the countertop space is too small. It is hard to cook for a large group with its size. A good solution is a swinging table that can expand the space availability. 
Conclusion – Forest River Alpha Wolf RV Specs and Review 
The Alpha Wolf camper is one of the most popular RVs from Forest River. From being affordable to its functional floor plan, this motorhome has been one of the company's best products in over two decades. 
One thing that makes the Alpha Wolf stand out is its superb insulation. Plus, it has a lightweight but durable shell, as well as large bunks. Nonetheless, it also has several drawbacks, including a small countertop and an uncomfortable jack knife sofa. 
To recap, below are some of the main specifications of Forest River Alpha Wolf: 
| | |
| --- | --- |
| Hitch Weight  | 600 pounds  |
| Gross Vehicle Weight Rating  | 7,600 pounds  |
| Dry Weight  | 5,795 pounds  |
| Cargo Carrying Capacity  | 1,805 pounds  |
| Fresh Water Tank Capacity  | 49 gallons  |
| Gray Water Tank Capacity  | 35 gallons  |
| Black Water Tank Capacity  | 35 Gallons  |
| Awning Size  | 20 feet  |
| Exterior Width | 96″ |
| Exterior Length | 31′ 8″ |
| Exterior Height | 11′  |