Living outdoors does not mean leaving the comforts of your home. With a recreational vehicle, you will enjoy both the freshness of the outdoors and the comfort of the indoors. In this Coachmen Pursuit review, I'll list all of its features and its specs so you can see if it is the right RV for you.
The Coachmen Pursuit is a motorhome that offers the best in Class A features. This recreational vehicle comes with expansive storage and countertop space together with an incredible interior that brings the comfort of your home outdoors. 
With a wonderful and top-quality layout, this RV is really outstanding. This luxury coach has two air-cons, but they are not noisy. The air inside always stays fresh, thanks to the ceiling air pipes that constantly circulate the indoor air.
Read on to learn more about the Coachmen Pursuit, its features and specs, its pros and cons, along with everything you need to know about it to see if it is the RV that will fit your needs.
About the Coachmen Pursuit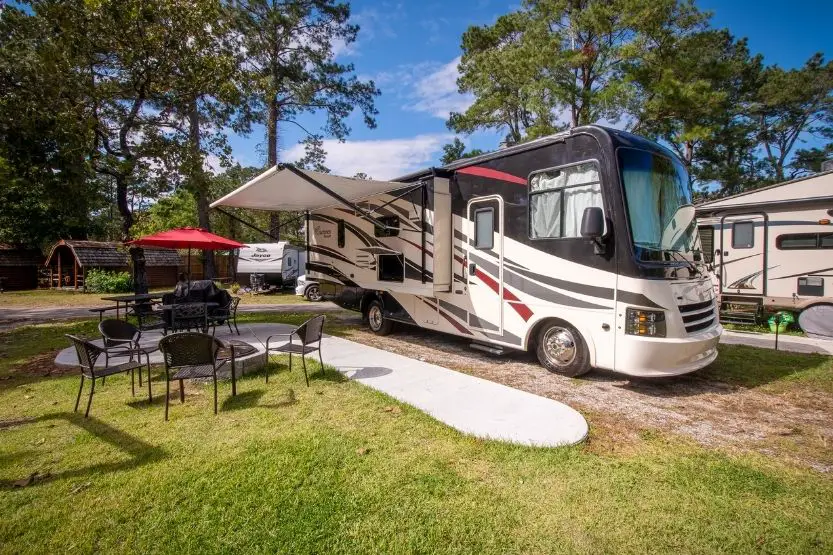 The Coachmen Pursuit is a class of recreational vehicles manufactured by Coachmen. This is a brand of RVs that is enjoying a good reputation in this industry. However, the Coachmen Pursuit is not by any means the top of its class.
In fact, most people consider the company that makes the Pursuit as a low to mid-grade RV manufacturer. With that said, this company is trying to produce the best RVs it can make. It also stands by the quality of its products.
Coachmen have been in this business since 1964. But this company was acquired by Forest River in 2008. Forest River is one of the largest makers of RVs in the United States. It is owned by Berkshire Hathaway, a multinational conglomerate holding company whose current chairman and CEO is Warren Buffet.
As a division of Forest River, Coachmen has its primary manufacturing plant in Middlebury, Indiana. Its facilities occupy more than 220 acres, with about 23 acres serving as its RV manufacturing facilities.
Other Coachmen RVs
This is where the company makes its Class A and Class C Motorhomes. It is also the place where the company produces other RVs of Coachmen such as:
Coachmen Pursuit Is a Class A Motorhome
Coachmen classify the Pursuit as a Class A motorhome. While it may not be top-of-the-line, it is still a remarkable, stunning motorhome with a top-quality layout. It comes with a sizeable area of counter and storage space. 
The AC of this motorhome is straightforward to operate and is not as noisy as the others. Its indoor air always stays fresh because of the ceiling air pipes that help in circulating the air inside.
Coachmen Pursuit – Key Features
Being a Class A motorhome, it is natural for the Pursuit to have tons of tons of features. But it has specific features that stand out from the rest.
Here are the key features that you should know about this RV:
1. 5500 Onan Generator
This generator, along with the 50 amp service, is fully capable of supplying the energy for all the electrical devices that this RV has, all at once.
2. One-touch Automatic Leveling
This is a very functional feature of this motorhome. It is a real pain to do the leveling of a coach manually. This feature takes out all the hard work correctly, leveling the whole coach.
3. Expansive Floor Plan
This motorhome has two queen size beds, two bunk beds, two beds on the cab-over loft, and two beds when the dinette is folded down. That would be a total of 8 sleeping spaces for 8 people.
Back up camera, plus side-view cameras – these cameras automatically pop up when you activate the turning signals.
4. Flat Screen 32-inch TV
While it is not big, it can satisfy your desire for entertainment once in a while.
5. Gas Tank
This tank is located at the back, so it is easier to fill it up from either side.
6. Bunk Beds Are on a Slide
They can be extended to the master bedroom closet. This enables the use of the area at the back (with the bunks and the bathroom). It opens up the hall space considerably.
7. Convenient Size
Overall, the size of this Class A motorhome is really convenient for balancing the spaciousness of the interior with being able to fit into most of the country's national park campgrounds. Some owners claim that the Pursuit will fit into 81% of all campgrounds in the United States.
Coachmen Pursuit – Full Feature List
I have already mentioned that the Coachmen Pursuit has lots and lots of useful features.
Here is the list of all its features, section by section:
Interior Appointments
Reclining/Swivel Pilot Seats
Sofa (27DS, 27XPS, 29XPS, 31BH)
Theater Sofa (31TS)
Premium Linoleum Throughout
Thermofoil Countertops Throughout
Easy Clean Cockpit Floor
Manual Drop-Down Front Bunk
Radius Slider Windows with Safety Glass
Dream Booth Dinette
Privacy Pleated Shades Coach
Self-closing Ball Bearing Drawer Guides Throughout
Brushed Nickel Hardware
Interior Equipment
Edison Bulb Entry Light
Fire Extinguisher
Carbon Monoxide Detector
LP Leak Alarm and Smoke Detector
10 " Touch Screen Radio AM/FM Radio along with Bluetooth Apple CarPlay and Android Auto Link Enabled
LED TV Coach
King Jack TV and Radio Antenna
Charging Station for Electronic Devices
Sleeping
Upgraded Mattress
CPAP Cabinet
32″ Bedroom TV (N/A 27XPS, 29XPS)
Galley
Stainless Steel 3-Burner Range with Glass cover
Stainless Steel Microwave Oven
Stainless Steel Range Hood with Light
12 Volt 10 cu. ft Stainless Steel, Double Door Refrigerator
Stainless Steel Sink
High Rise Kitchen Faucet
Tile Backsplash
Bath and Water
One Piece ABS Shower Surround
Skylight Over the Shower
Retractable Shower Door
Porcelain Toilet with Foot Flush
Stainless Lavatory Sink
Demand Water Pump
Power Bath Vent
Black Tank Flush
6-Gallon (Gas/Electric) D.S.I. Water Heater
Electrical/Heating and Air Conditioning
Coach Command Center
LED Interior Lights
5.5 Generator (29SS, 31TS, 31BH)
4.0 Generator (27DS, 27XPS, 29XPS)
30-Amp Power Cord (27DS, 27XPS, 29XPS)
50-Amp Power Cord (29SS, 31TS, 31BH)
55-Amp Converter with Distribution Panel
100W Solar Panel with Controller
GFI Circuit
Automatic Transfer Switch
Emergency Start Switch
Outside Receptacle
30,000 BTU E.I. Furnace
Single 15,000 BTU A/C (27DS, 27XPS, 29XPS)
Dual 15,000 BTU A/C with Heat Pump (29SS, 31TS, 31BH)
Automotive Exterior
Ford F53 7.3L V8 Chassis
Traction Control
Cruise Control
Tilt and Telescoping Steering Wheel
Automatic Leveling Jacks (27DS, 29SS, 31TS, 31BH)
Dash Air Conditioning
Sunload Sensor with Auto Dimming Dash Lighting
Radial Tires
Rear Mud Flaps Only
Intermittent Wipers
Power Entrance Step-Single
Crowned, Laminated TPO Roof
Radius Trunk Doors
Dead Bolt Lock-Entrance Door
26″ Radius Entry Door
Fiberglass Front Cap
Computer Work Station with USB,12V,120V
Back Up Monitor (27XPS, 29XPS)
Back Up Monitor with Side Cameras (27DS, 29SS, 31TS, 31BH)
High Gloss Dove Grey Sidewalls (with Azdel™ Superlight Composite)
Power Patio Awning
Slide-Out Room Awning(s) (where applicable)
5,000 Towing Hitch with 7-Way Plug (29SS, 31TS, 31BH)
8,000 Towing Hitch with 7-Way Plug (27XPS, 27DS, 29XPS)
Power Heated Mirrors
Rear Mounted Roof Ladder
Rear Bumper
Outside Entertainment Center with TV (27DS, 29SS, 31BH, 31TS)
Exterior Bluetooth – TV Audio Speakers
Stainless Steel Wheel Liners
Valve Stem Extenders
Exterior Propane Hook-Up
Dual Tail Lights
20-Gallon LP Tank
Key Specs of the Coachmen Pursuit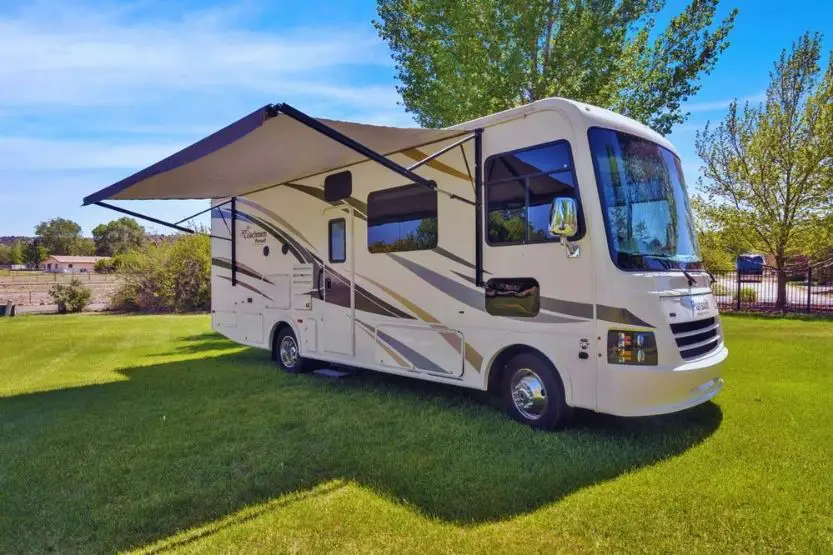 Its overall length of up to 33 feet and height of 12 feet are only two of the key dimensions you need to know about the Coachmen Pursuit RV. There are other key specs about it that you need to know:
Overall Length – from 29 feet to 33 feet
Overall Height – 12 feet
Overall Weight – from 11,000 pounds to 12,000 pounds
Fuel Tank Capacity – 80 gallons
Chassis – Ford F53 7.3L V8 Chassis which is powered by a standard 7.3l V8 engine with 6-speed TorqShift automatic transmission that produces 350 horsepower and 468 lb.-ft. of torque.
Again, what does the Coachmen Pursuit offer? The Coachmen Pursuit is a Class A motorhome equipped with a large storage, countertop space, and excellent interior that will surely bring comfort even when you're outdoors.
Full Specs of the Coachmen Pursuit
There are 6 variants of the Coachmen Pursuit. They have certain differences in their specifications.
Here is a table that will give you the full specs of each of these Coachmen Pursuits:
| | | | | | | |
| --- | --- | --- | --- | --- | --- | --- |
| Specifications | 27XPS | 29SS | 29XPS | 31BH | 31TS | 27DS – DSO |
| Wheelbase | 178″ | 190″ | 190″ | 190″ | 208″ | 178″ |
| GVWR | 16,000 lb. | 18,000 lb. | 16,000 lb. | 18,000 lb. | 18,000 lb. | 16,000 lb. |
| GCWR | 23,000 lb. | 23,000 lb. | 23,000 lb. | 23,000 lb. | 23,000 lb. | 23,000 lb. |
| GAWR Front | 6,500 lb. | 7,000 lb. | 6,500 lb. | 7,000 lb. | 7,000 lb. | 6,500 lb. |
| GAWR Rear | 11,000 lb. | 12,000 lb. | 11,000 lb. | 12,000 lb. | 12,000 lb. | 11,000 lb. |
| Exterior Length | 29′ 0″ | 30′ 3″ | 31′ 0″ | 31′ 9″ | 33′ 0″ | 28′ 9″ |
| Exterior Height | 12′ 0″ | 12′ 0″ | 12′ 0″ | 12′ 0″ | 12′ 0″ | 12′ 0″ |
| Exterior Width | 102″ | 102″ | 102″ | 102″ | 102″ | 102″ |
| Awning Size | 16′ | 20′ | 16′ | 20′ | 17' | 20′ |
| Fresh Water | 50.00 gal. | 50.00 gal. | 50.00 gal. | 50.00 gal. | 50.00 gal. | 50.00 gal. |
| Gray Water | 31.00 gal. | 35.00 gal. | 31.00 gal. | 38.00 gal. | 38.00 gal. | 76.00 gal. |
| Black Water | 31.00 gal. | 35.00 gal. | 31.00 gal. | 38.00 gal. | 38.00 gal. | 38.00 gal. |
| Fuel Capacity | 80 gal. | 80 gal. | 80 gal. | 80 gal. | 80 gal. | 80 gal. |
Note:
GVWR is gross vehicle weight rating
GCWR is gross combined weight rating
GAWR is gross axle weight rating
Here's a video of the base model of Coachmen Pursuit, the 27XPS. This video shows the important features that make this RV one of the best in the market:
Coachmen Pursuit Pros and Cons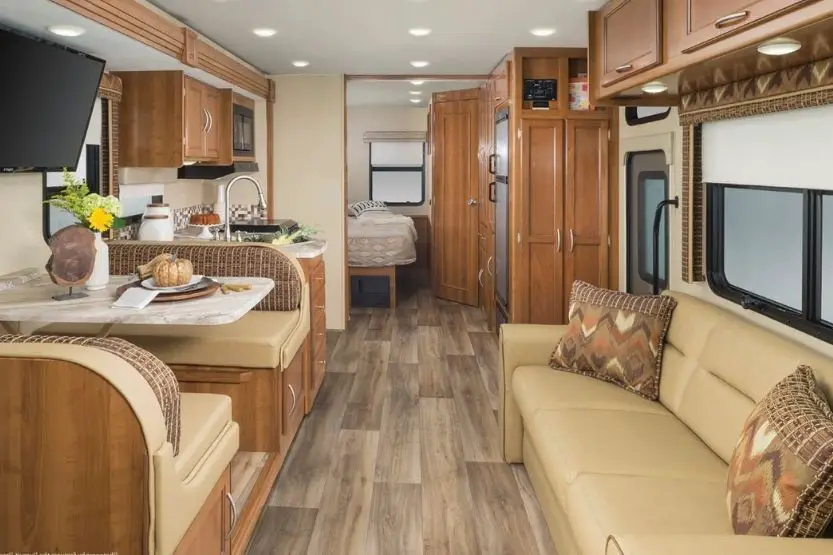 To round off our review of the Coachmen Pursuit, here are its pros and cons. You should also consider its advantages and disadvantages to determine if it's the right RV for you:
Pros
1. Price Is Reasonable
The price range of Coachmen pursuits is from $85,000 to $90,000. You can get this after negotiating its unrealistic MSRP. This is reasonable for this size and quality of RV.
2. Easy to Drive
Even with its length, this RV is still easy to drive, even for newbies.
3. Easy Bed Set Up
The set up sleeping areas of the bunks and drop-down loft makes it easy to sleep kids. There is no need to set up beds every night.
Cons
1. No Slam Latches
The basement storage bays do not have slam latches. It isn't easy to keep the latches closed. This is not a very expensive item for Coachmen to add to this RV.
2. Design of Interior Is Outdated
This coach has checkered flooring, silly prints on pillows, and draperies. It is the same with the headboard.
3. Loud
RV is loud on the road.
4. Small Awning
The awning is small.
5. Entertainment Center Needs Improvement
There is no Bluetooth connection to the camera monitor, and there are no HDMI cable hookups, only a few USB ports, and no 110 plugs for computers at the front.
Conclusion: Coachmen Pursuit
The Coachmen Pursuit is a motorhome that comes with many luxurious features. It is a recreation vehicle that offers expansive storage and countertop space. If you want to bring along the comfort of your home every time you go on outdoor trips, this is the RV that you will need.
There are six variants of the Coachmen Pursuit. Their individual lengths vary from 28.9 feet to 33 feet. The Coachmen brand of RVs has earned a good reputation in the industry since they started building recreational vehicles in 1964.