Entegra RVs combine reliability and luxury in one package. One of the most popular Entegra RVs is the Entegra Reatta. In this Entegra Reatta review, I'll list all of its features and specs to determine if it's the right RV for you.
The Entegra Reatta is a model lineup of RV coaches built on the Spartan K1 raised rail chassis, which uses an independent front suspension. This RV embodies the smooth ride that owners of RVs have always expected from this RV brand. It combines a modern interior with amazing exterior options and top-of-the-line residential-style amenities.
The Entegra Reatta is available in three-floor plans. Modern luxury is what this series of motorhome models represent in this shorter Class A RVs. They are built on the foundation of front air disc brakes and IFS or independent front suspensions. If you want to ride in style as you travel in your favorite outdoor locations, this is the RV that you need.
Read on to learn more about the Entegra Reatta motorhome model lineup, its specs and features, and things you should know to determine if it is the RV you need.
About the Entegra Reatta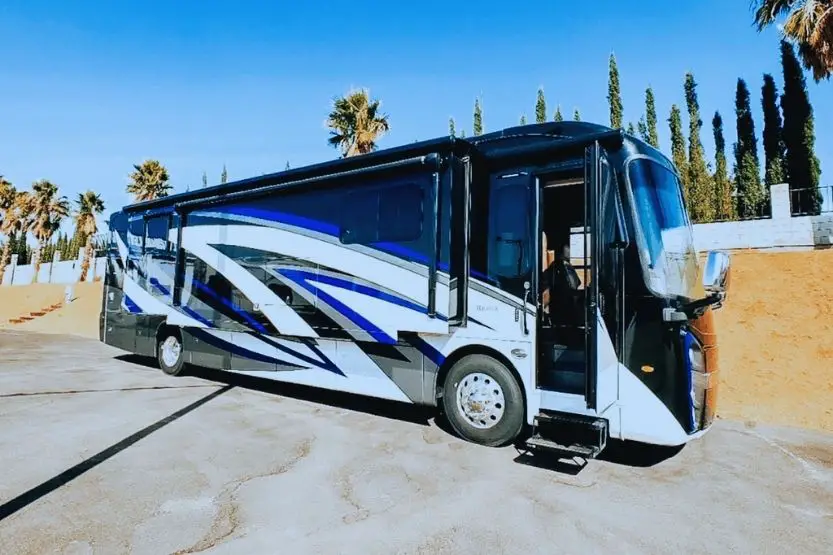 The Entegra Reatta is a worthy motorhome to consider because of several legitimate reasons. One of them is that they are built on the Spartan K1 raised rail chassis. They chose this chassis because it uses independent front suspension or IFS and front air disc brakes to provide smoother rides.
Eye-catching Exteriors
In addition, these coaches are designed with eye-catching exteriors, top-of-the-line residential-style amenities, and modern interiors. So, if you want to ride in style on a well-known motorhome for its reliability, durability, and luxurious amenities, the Entegra Reatta has them all.
Modern Technology
All the modern tech in your home that you want to bring on your camping trips is possibly contained in an Entegra Reatta RV. For instance, a Reatta unit contains a Samsung 4K UHD plus soundbar, complete with JBL premium speakers. Outside, there is an A/V system with a Samsung Smart TV with 1080 HD resolution and a JBL Bluetooth radio. That's only a representation of its luxurious amenities.
To give you an overview of the Entegra business entity, its official name is Entegra Motorcoach. They manufacture luxury motorhomes powered by diesel engines in three classes of RVs, namely Class A, Class B, and Class C.
Other Entegra RVs
They don't yet manufacture travel trailers, destination trailers, and fifth wheels. But they are currently producing several types of RVs. So apart from the Entegra Reatta, this company also manufactures:
1. Gas Class A
2021 Vision XL 34B, with lengths of 28 feet and 5 inches and a gross weight of 16,000 pounds.
2. Class B
2021 Ethos 20T, with lengths of 20 feet and 11 inches and a gross weight of 9,350 pounds.
3. Class C
2021 Odyssey 24B is the smallest Class with lengths of 25 feet and 2 inches, with a gross weight of 11, 030 pounds.
4. Luxury Diesel RV
2021 Aspire 38M, with lengths of 37 feet and 10 inches, with a gross weight of 32,600 pounds.
For the Entegra Reatta, there are three-floor plans offered to interested buyers. They are the 37K, the 39BH, and the 39T2 variants. These motorhomes are manufactured by Entegra Motorcoach in their plant located at Elkhart Country in Indiana, USA.
The Entegra company came to the public's attention in 2008 when it was acquired by Jayco RV, another manufacturer of RVs. Later on, Thor Industries bought Jayco RV in 2016. This is a massive deal to the tune of $576 million.
Entegra Reatta Key Features
The Reatta is a luxurious motorhome full of features and amenities that qualify it to be a luxurious and reliable motorhome. That said, here are the key features that you need to know about this RV:
1. Residential Amenities
Every Entegra Reatta motorhome is equipped with all the comforts and amenities that you can find in a luxurious home. Its kitchen has solid surface countertops, extra-large refrigerators. The bedroom has the following:
Good-size beds,
Cab-over bunks, and
Latest LED HDTVs.
These motorhomes have fine detailing, in and out of the coaches. This is a level of luxury that you can take with you on the road.
2. Smart Floorplans
When it comes to floorplans, every Entegra Reatta motorhome is designed in smart ways. There are different arrangements of the following:
Bunk areas,
Private bedrooms, and
Multiple bathrooms that cater to all tastes, styles, and needs.
These smart floorplans can comfortably and luxuriously accommodate groups of friends and families that want to have a remarkable experience, whether for extended periods of time or just one single night.
3. Safety and Peace of Mind
Every coach made by Entegra is safe on the road. It is equipped with all the required safety features to make it road safe. In terms of durability, the manufacturer of this motor home backs up its products with a 2-year limited warranty.
4. Made by a Reputable Company
The company that makes the Reatta has been in this business for about 50 years. It was started by the Bontrager family with integrity and strong values. Every motorhome they produce can be relied on for structural quality and integrity with a quality level that they consider unmatched.
In this context, each Entegra Reatta comes with the following features:
Onan 10,000 watt diesel generator
Heated flooring
Heated tanks in the basement storage area
15,000BTU air conditioner
50 amp electrical hookup chord
A winterizing drainage system
2,000-watt inverter
A 250D Aqua-Hot heating system
Entegra Reatta Standard Features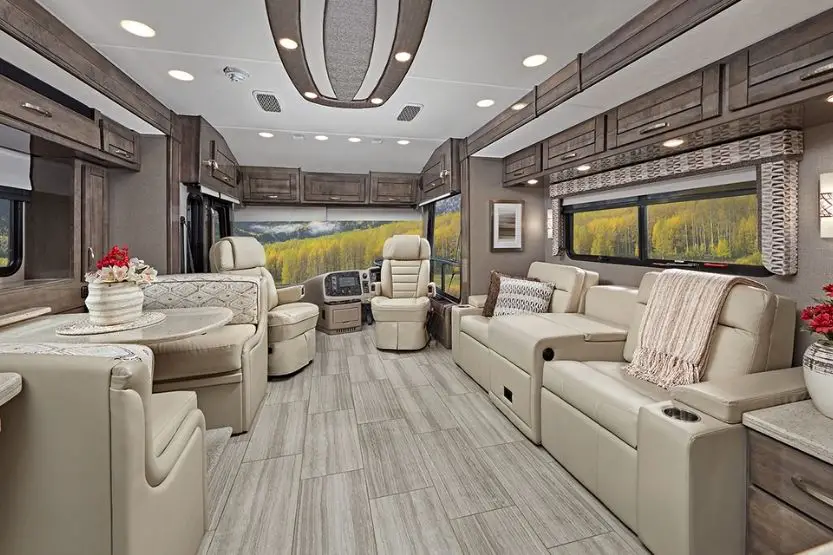 To give you a complete picture of what you can see inside an Entegra Reatta, here is a list of all of them, enumerated according to their respective sections:
1. Cockpit
Instrument cluster – 12.3″ digital dash board with selector knob, on-board diagnostics, quad core graphics processor, and ability to show conventional instrument cluster, GPS navigation or 360° camera system.
Infotainment System(s) – 9″ touchscreen XiteXSG4 infotainment system, with AM/FM tuner, Bluetooth, iGO navigation, Sirius XM, house mode whole-coach audio distribution, and integrated camera control.
Cameras – Xite 360° HD digital camera system
Additional Amenities – 2 12 volt sockets for charging, and 2 dual USB ports.
Visors and Privacy Shade – powered front sun visors and privacy shades
Steering Wheel – steering wheel with integrated controls for cruise, radio, wipers, and Bluetooth phone functionality
Steering Column – manual tilt and telescopic
Pedals – powered adjustable brake and accelerator pedals
Driver / Passenger Seats – 6-way power adjustable driver and passenger seats
Windshield – Ultra-Vision® one-piece wrap-around tinted windshield
Power Features – powered flush stepwell cover
2. Chassis
Chassis – Spartan® K1 raised-rail chassis
Engine – Cummins B6.7 turbocharged 360-HP engine with 800-lb. ft. torque at 1,800 RPM
Transmission – 6-speed, Allison 3,000 MH
TMPS – tire pressure monitoring system, standard with temp. monitoring
Alternator – 170 amperes
Engine Block Heater – 750 watts
Tow Air Brake System – Spartan Safehaul tow vehicle
Front Suspension – IFS, independent front suspension
Front Axle – 12,600 lb. (37K) 14,320 lb. (39BH/39T2)
Rear Axle – 20,000 lb. (37K) 22,000 lb. (39BH/39T2)
Rear Axle Ratio – 4.88 rear axle ratio
Shocks – Bilstein 46mm shocks
Tires – Michelin 275/80R 22.5" tires
Leveling System – Equalizer hydraulic automatic coach leveling
Chassis Battery – 2, 12 volts
Braking System – ABS disc brakes on front axle, drum brakes on drive and tag axle
Engine Brake – Variable geometry turbo (VGT)
Air Connection – remote
Fuel Tank – 100 gallons
DEF Tank – 10 gallons
Hitch – 10,000 pounds hitch with 7-pin plug 
3. Bedroom
Bedroom Mattress – King-size pillow top mattress on tilt bed
DVD Systems – Sony Blu-Ray player
Television – 32" Samsung LED Smart TV, 1080 p
4. Kitchen
Kitchen Countertops – Solid surface
Sink – Stainless steel sink
Cooktop – Induction
Microwave – 1.5 1.5-cubic feet convection
Refrigerator – Whirlpool stainless-steel residential refrigerator with ice maker and water dispenser
Vent – Fan-Tastic power exhaust fan with intake
5. Bathroom
Bathroom Shower – One-piece fiberglass shower with skylight
Toilet – Thetford Aqua Magic toilet with foot flush
Bathroom Countertop – Solid surface countertops
Sink – Integrated sink
Bathroom Ventilation – Fan-Tastic power exhaust fan with intake
Water Saving System – Aqua View SHOWERMI$ER™ water saving system
6. Interior
Command Center – Firefly multiplex system with 7" VegaTouch touchscreen, completely integrated with the coach controls (mobile app available)
Living Room TV – 50" Samsung® 4K UHD Smart TV
Living Room, Audio – Samsung® sound bar with subwoofer
DVD Systems – Sony Blu-ray player
Flooring – Hand-laid porcelain tiled floors
Furniture – Premium furniture
Ceiling – Decorative ceiling feature with integrated accent lighting
Electric Fireplace – LED-lit fireplace with 5,000-BTU heating element (37K only)
Lighting – LED interior lighting
Central Vacuuming System
Washer/Dryer – Whirlpool® stacked washer and dryer
Window Treatments – Manual solar day shades and blackout night shades
7. AC, Heat, Water and Power
Air Conditioning – (3) 15,000-BTU A/C units with heat pumps [(2) 15,000-BTU units with heat pumps on 37K]
Heating System – 35,000-BTU furnace (37K) / (1) 20,000 and (1) 30,000 (39BH, 39T2)
Heated Tanks – Heated basement storage
Water Heater – Tankless gas water heater
Water Filtration – City and tank water filtration system
Generator – Onan 8,000-watt diesel generator, with automatic start, on slide-out tray
Inverter – 2,000-watt pure sine wave inverter with 100-amp battery charger
Electrical Hookup – 50-amp power cord
Power Management – Automatic transfer switch with surge protection
Batteries – two L16 AGM batteries (6V/390 amp- hrs. each)
Propane – 24.5 galloons
Black Holding Tank Sprayer
Black Tank Management – Sani-Con® Macerator holding tank dump system with manual gate valves, manual backup and metal door
Winterization Drain System
8. Construction
Frame – X-Bridge bracing welded into chassis frame
Walls – Vacuum-bonded, high-gloss gelcoat with R-8 bead-foam insulation
Floor – Vacuum-bonded layers of Darco underbelly, R-9 bead-foam insulation, 3/8″ Structurwood, a welded aluminum frame, and 1/4″ plywood
Roof – 4″ arched aluminum trusses, one-piece fiberglass with 3/8″ plywood decking, insulation, and reflective Flexfoil (R-24)
Slideouts – electric-powered slideout rooms
Front Cap – Insulated front and rear caps (R-24) with steel-reinforced front cap and windshield frame
9. Exterior
Headlights – Halogen high and low beam headlights and fog lights
Daytime Running Lights
LED Lights – LED turn lights, marker lights, license plate light, accent lights, third brake light, and docking lights
Mirrors – Heated, remote-control, side-view mirrors with integrated cameras
Exterior Entertainment – 43" Samsung 4K UHD Smart TV with tilt, swivel, and extend adjustment; JBL radio and speakers with USB port and receptacle
Satellite Dish – Winegard TRAV'LER satellite dish DIRECTV – standard with USA option
WiFI – Winegard WiFi extender with 4G/LTE
TV Antenna – Winegard Rayzar Z1 TV antenna
Patio Awnings – Carefree power patio awning with LED lights
Slideout Awnings – Carefree slideout awnings
Window Awnings – Carefree window awnings
Door Awning – Carefree power entrance door awning with LED lights 3
Entrance Door – Removable screen on entry door
Keypad Handle – Grab handle and keypad system for keyless entry
Windows – Frameless, dual-pane, tinted, safety-glass windows
Rear Mudflap – Mudflap with chrome "Entegra" nameplate
Utility Center – Exterior utility center
Cargo Features – Slideout basement storage tray
Exterior – Diamond Shield front protective film mask
Paint – Sikkens custom full-body paint
10. Safety
Detectors – Combination LP gas alarm and carbon monoxide detector
Alarm – Smoke alarm
Lights – Porch light
11. 2-year Warranty
Entegra Motorhomes provides the highest level of service in the industry by giving its RVs a 2-year warranty.
Again, what is an Entegra Reatta? The Entegra Reatta offers a smooth ride and a combination of modern interior and exterior options and top-of-the-line residential-style amenities. Specifically, the Entegra Reatta is a model lineup of RV coaches built on the Spartan K1 raised rail chassis.
Full Specs of the Entegra Reatta
The table below enumerates the full specs of the 2021 Entegra Reatta floor plan 39BH:
| | |
| --- | --- |
| Part/Section | Specifications |
| Technical Specifications |   |
| Length (ft./m) | 39.92 feet |
| Width | 101 inches or 8.41 feet |
| Height | 154 inches or 12.83 feet |
| Wheelbase | 261 inches or 21.75 feet |
| Interior Height | 84 inches or 7 feet |
| GVWR | 36,320 pounds |
| Towing Capacity | 10,000 pounds |
| Fresh Water Tank Capacity | 100 gallons |
| Gray Water Tank Capacity | 62 gallons |
| Black Water Tank Capacity | 41 gallons |
| Propane Tank Capacity | 24.5 gallons |
|   |   |
| Engine |   |
| Engine Type | Cummins, 16 Diesel Pusher, turbocharged |
| Horsepower | 360 hp at 2,600 RPM |
| Torque | 800 lb.-ft. at 1,800 RPM |
| Displacement | 6.7 liters |
| Carburetion Type | Fuel Injected |
| Fuel Type | Diesel |
| Fuel Capacity | 100 gallons |
|   |   |
| Transmission |   |
| Transmission Type | Automatic, overdrive |
| Gears | 6 gears |
|   |   |
| Brakes |   |
| Anti-Lock Brakes | Standard |
| Exhaust Brake | Standard |
| Air Brake | Standard |
| Front Brake Type | Hydraulic Drum |
| Rear Brake Type | Hydraulic Drum |
|   |   |
| Wheels and Tires |   |
| Wheels Type | Aluminum |
| Front Tire | Michelin 275/80R 22.5 X Line Energy Z LRH |
| Rear Tire | Michelin 275/80R 22.5 X Line Energy Z LRH |
| Number Of Axles | 1 |
|   |   |
| Price |   |
| MSRP | $306,015 |
To help you appreciate the functional and luxurious features of the Entegra Reatta, here is a video walkthrough of its 2021 model. The presenter shows some of this RV's most attractive features:
Conclusion: Entegra Reatta Specs and Review
The Entegra Reatta is a model lineup of RV coaches built by a brand known for making luxurious and reliable RVs. They are built on the Spartan K1 raised-rail chassis that uses independent front suspensions.
The Entegra Reatta motorhome represents the smooth and luxurious ride that RV owners want. It has combined the beauty of the modern interior, amazing exterior options, and top-of-the-line residential-style amenities to produce motorhomes for those with discriminating tastes.