Are you in the market for a full-size, Class-A motorhome? Then the Coachmen Mirada might be the one that you are looking for. The Mirada combines luxury and functionality while guaranteeing that it can make all your road trips into an epic experience. In this review of the Coachmen Mirada, I'll list all the specs and features so you can decide if this is the RV you're looking for.
The Coachmen Mirada is a Class-A motorhome that comes in several variants. It ranges in length from 29 feet to 35 feet. The Mirada is built on top of a Ford F53 chassis powered by a 7.3L V8 engine. The nicest thing about the Coachmen Mirada is the amount of space inside. There is even enough room for a king-size bed.
Read on to learn more about the Coachmen Mirada and its most significant specs and features.
About the Coachmen Mirada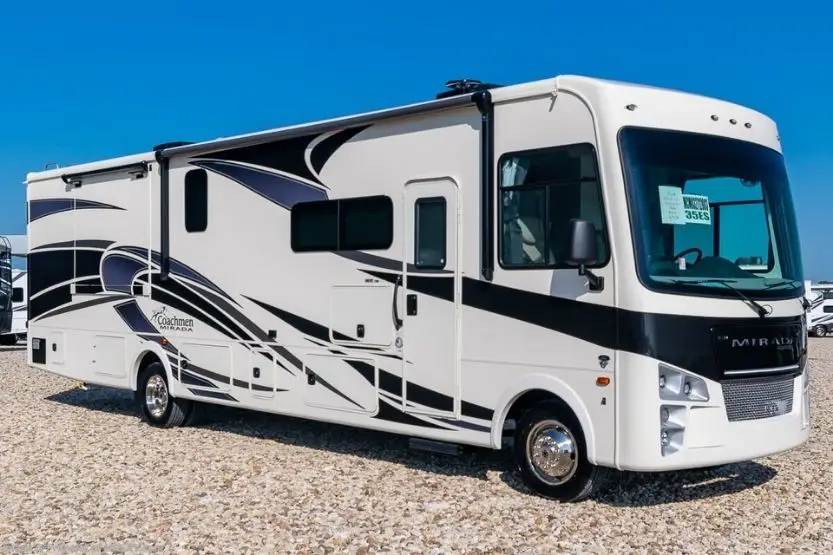 Brothers Tom, Keith, and Claude Corson founded Coachmen Industries. The first Coachmen RVs were first made in Middlebury, Indiana. During the first year of the company, they produced 12 travel trailers and one truck camper. Today, Coachmen has manufactured and sold over 600,000 RVs.
The Coachmen Mirada is one of the Class-A motorhomes that the company currently manufactures. The Mirada is based on the Ford F53 chassis. It comes in several models, ranging in size from 29 to 35 feet long. The Mirada also has a Gross Vehicle Weight Rating that ranges from 18,000 pounds to 22,000.
Coachmen Mirada Specs
Here are the most important specs of the Coachmen Mirada:
1. 7.3L V8 Gasoline Engine
A massive 7.3L V8 gasoline engine powers the Mirada. This engine can produce up to 350 horsepower and 468 ft-lbs of torque. This motorhome has more than enough power to bring you and your family anywhere you want to go.
Although the Coachmen Mirada has a powerful engine, its fuel efficiency is not that great. On average, you can get 6-8 miles per gallon. This will let you get at most 600 miles for every full tank of gas. It would have been better if it had a turbodiesel engine instead of V8 gasoline.
2. TorqShift 6-speed Automatic Transmission
The Mirada's V8 engine is mated to a TorqShift 6-speed automatic transmission. If you are hauling an additional trailer, you can put the transmission into tow/haul mode. This helps get more torque out of the engine.
3. Fully Painted Exterior
The Coachmen Mirada has a fully painted exterior with five color options to choose from. To protect the paint finish, the entire exterior comes with Diamond Shield Paint Protection. It protects the paint from shallow scratches, UV rays, and fading.
4. 26-inch Radius Main Door
The Mirada has a 26-inch radius main door with automatic power entrance steps. There is also an automatic retractable patio awning with speakers if you want to throw a barbecue party. Speaking of entertainment, there is an outside entertainment center with a LED TV. Moreover, the windows have their slide-out awnings.
5. Propane Tank Holder
There is also a propane tank holder with a 20-gallon tank. This can provide the RV with gas for cooking and refrigeration. You will also enjoy the external propane hookup if you want to connect to the municipal supply line.
5.5 Generator
The Coachmen Mirada features a 5.5 generator. It is hooked up to a 55A 110/12V power converter so you can use your household appliances in the RV.
6. 100-watt Solar Panel Array
This RV also comes with a 100-watt solar panel array with controller and storage batteries. If you want to make the Mirada truly self-sufficient, you can get a 265-watt aftermarket upgrade.
7. 50-gallon Freshwater Storage Tank
A 50-gallon freshwater storage tank is also one of the features you can expect from the Coachmen Mirada. It is also accompanied by 46-gallon gray and black water storage tanks. You will have enough water for an entire week on the road. Moreover, there is an easy hookup to municipal water if you have access to one.
Again, what does Coachmen Mirada offer? The Coachmen Mirada, a Classic-A motorhome, boasts about its space that can fit even a king-sized bed. Also, Mirada is powered by a 7.3L V8 engine, and it is built on top of a Ford F53 chassis.
Coachmen Mirada Ride Quality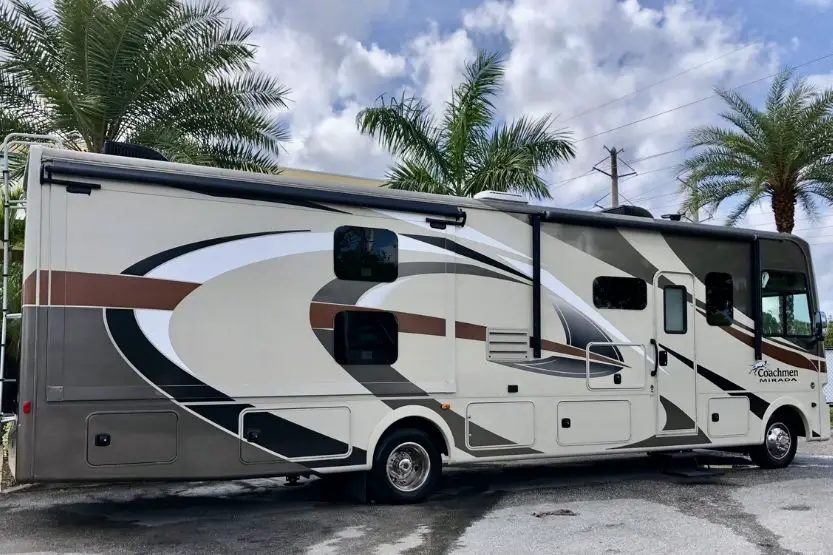 Driving the Coachmen Mirada is certainly quite an experience. Although it is a massive vehicle, it does not feel like it is on the open highway. The lengthy wheelbase distributes the weight of the RV evenly throughout the chassis, giving the Mirada better handling.
Although the Mirada is a massive RV, it does come with a couple of navigation assistance features, promoting ease in driving. The large, wraparound windshield and elevated driving position give the driver a commanding view of the road. Because you can see over the tops of most of the other cars on the road, you can react quicker in case of obstructions.
In addition, there are wide-angle cameras positioned at the rear and sides of the Mirada. If you need to back into a parking space, you will have a clear view of the RV.
The driver seat is a 6-way power seat, so you can set the position of the seat to whatever feels the most comfortable for you. Once you have safely parked, both front seats can swivel to face towards the interior. The passenger side seat can even transform into a workstation.
The Coachmen Mirada also has cruise control and traction control. With all these features, even driving towards your destination can be an enjoyable experience.
Coachmen Mirada Features
1. Spacious Sleeping Quarters
Arguably, the best feature of the Coachmen Mirada is the spacious sleeping quarters. After a long day of hiking the trails or swimming at the beach, you can look forward to enjoying its massive king-size bed. The Serta mattress and high thread count covers will make you feel right at home regardless of where you are.
Aside from the bed, you will also get plenty of additional storage cabinets, including a compartment for a CPAP machine. Also, unlike other RVs that only have a curtain divider, the Coachmen Mirada has a wooden one for true privacy. There is also a 32" LED TV in the bedroom for when you want to lie in bed for a bit before hitting the outdoors.
2. Spacious Kitchen Area
The kitchen area is also quite impressive. It is more spacious than the ones in a regular downtown apartment. The thing that I am most impressed with is the amount of counter space you get. When you place the cover on the three-burner stove and top of the sink, there is more than enough counter space for food preparation.
When it's time to cook, you have a flush-mounted gas range with a convection oven at your disposal. You also get a cabinet-mounted microwave oven, doubles as a range hood to keep the kitchen smells from getting all over the RV.
Also, you get an 8-cubic foot fridge and freezer for storing your food. There are plenty of cupboards and drawers for all your storage needs.
3. Dining Area
The dining area has diner-style bench seats that can accommodate four people. You can remove and stow away the table to reveal an extra sleeping surface. The lounge area comes with a complete sofa set with two lounge chairs. There is also a sofa that folds out into an extra bed. There are also more than enough cup holders for everyone.
4. Outdoor Entertainment Center
If the weather is nice, you can enjoy and relax using the outdoor entertainment center, which has a huge TV and stereo speakers. Also, you can access an exterior kitchen when you know food prep will be a bit messier than usual or you want to cook outdoors.
Is the Coachmen Mirada a Good First RV?
If you are shopping for your first RV, it might not be a good idea to get a Class-A motorhome, like the Coachmen Mirada, immediately. Even though it has a lot of driver-assistance features, if you have no experience or training in driving a vehicle that is roughly the same size as a city bus, then you should probably not get a Mirada.
On the other hand, if you feel like your old motorhome does not have nearly enough space for you and your family, then check out the Mirada.
Coachmen Mirada Pros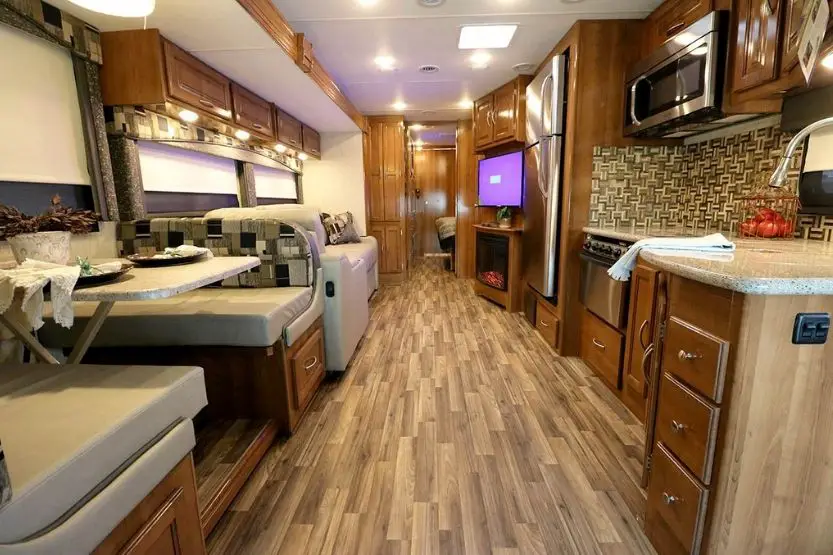 1. Spacious Bedroom Area
You will be getting a spacious bedroom (in RV standards) and a luxurious king-size bed. If you decide to become a full-time RVer, you will not be missing your old bedroom quite as much.
2. A Complete Kitchen
You will not see a bigger kitchen in any average downtown apartment. The Mirada has a compact yet complete kitchen setup that any home cook would love to have. There is also a nice outdoor kitchen if you want more space to work in.
3. Lots of Extra Sleeping Surfaces
Aside from the main sleeping quarters, the Coachmen Mirada also has a bed in the living area (the couch folds out into a bed) and in the dining area (there is a pull-out cushion underneath the dinette seats).
4. A Large Bathroom
Unlike other RVs, there is a separate shower area and toilet. No longer do you need to worry about hitting your elbows against the walls while you are showering. The reason is that this bathroom is spacious enough for your needs.
5. A Huge and Powerful Engine
You will never feel lacking when you are driving the Coachmen Mirada. The 7.2L V8 engine provides more than enough power to haul your entire family and all your stuff anywhere you want to go.
Coachmen Mirada Cons
Poor Fuel Economy
You will need to plan your trips carefully as Mirada's 8mpg fuel consumption will hurt your wallet. It would have been much better if the Mirada used a turbodiesel engine instead of a V8 gas.
Prone to Leaking
The bathroom drain is the most common complaint of Mirada owners. They say that there is a significant amount of water leaking under their shower drain.
Conclusion – Coachmen Mirada Specs and Review
The Coachmen Mirada, a Class-A motorhome, comes in several models ranging from 29 to 35 feet. This motorhome is built on a Ford F53 chassis and powered by a hulking 7.3L V8 gas engine. If you are looking for a spacious RV, the Coachmen Mirada might be the thing you are looking for.
The best thing about the Coachmen Mirada is that it comes at a competitive price. It also provides features and amenities that you thought you could only get from much more expensive brands.