A bath and a half, luxurious comfort and amenities, and triple slides. A DRV luxury trailer has all these and more. In this DRV Luxury Suites review, I'll list all its features and specs to help you see if it is the right RV for you.
The name DRV Luxury Suites Fifth Wheels are full-time, ultimate luxury RVs for all seasons. DRV are travel trailers in a class by themselves because of their reliability and quality. They are fondly called "Toy Haulers."
The DRV Luxury Suites company has focused its efforts on making fifth wheels with sizeable floor plans. The length of their living spaces ranges from 32 feet to 44 feet. As long and as massive as they are, these luxury RVs are made for people who want to live in them full-time, or at least for extended stays.
Read on to learn more about the DRV Luxury Suites, their specs and features, and the important things you need to know about them to show if they are worth considering.
About the DRV Luxury Suites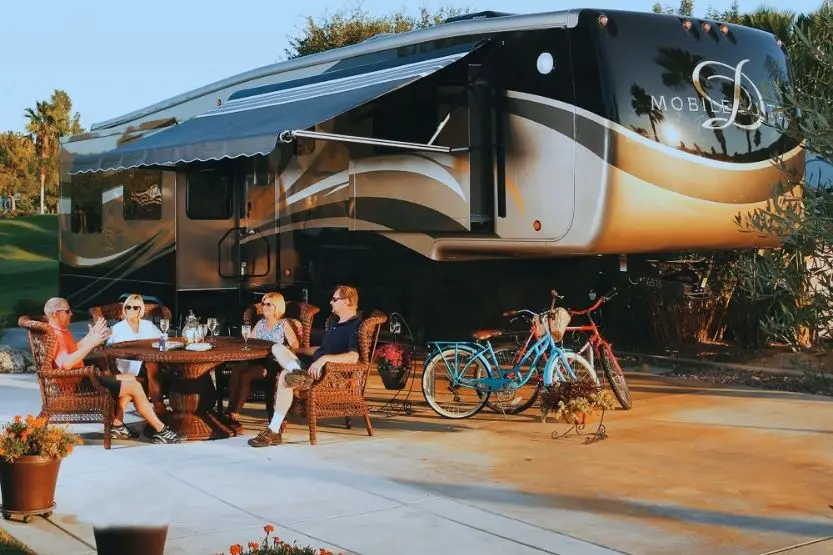 Fifth wheels that exude ultimate luxury for four seasons or full-time RVing are what the DRV Luxury Suites are well-known for. DRV has built a reputation for dependability and the high quality of its units. That is why their travel trailers are regarded as a class by themselves.
Toy Hauler Market
Today, this RV builder has made a product aimed at the upscale 'Toy Hauler' market. They found out that no RV maker is making Toy Haulers with all their trailers' solid construction and luxury.
DRV Luxury Suites Full House Models
DRV Luxury Suites, specifically the Full House models, are built on the company's Mobile Suite foundation. This model lineup of travel trailers is built to be lived in full time. Certainly, you can use them for all four seasons. Owners of these units are encouraged to use them and travel with them, anywhere they want.
As you travel, you want to bring along your toys with you. That is why DRV thought of well laid out floor plans and constantly upgrades them to satisfy the needs of the Toy Haulers. As such, they are not your ordinary travel trailers.
Offer All the Comfort and Conveniences of a Luxurious Home
DRV Luxury Suites offer all the comfort and conveniences of luxurious home, including a bedroom and a residential kitchen. You will have peace of mind knowing that it will satisfy all your essential and comfort needs wherever you go.
Ample Space
These luxury suites offer ample space for everything. Their lengths range from 32 to 44 feet. They are of such big sizes because they are aimed at those who want to live in them full time, travel in them for all four seasons, and use them for all occasions.
Solid Construction
DRV Luxury Suites can be used for extended periods of time because of their solid construction. Most of the trailer units use 3 ¼ inch thick sidewalls. To make them more efficient in cooling and heating, these sidewalls are equipped with two moisture barriers.
DRV Luxury Suites Builder
Thor Industries, the largest maker of RVs in the industry, is the builder of DRV Luxury Suites. This company was established in 2003. More than 10 years later, they still espouse the same vision they had when they started.
It is their customers that are still their most important recipe for success. Their goal for each year is to improve their product to meet the needs of customers who are looking for a new home. They are open to feedback from their customers to discover and learn what they really want.
DRV Luxury Suites Key Features
You can expect a luxurious RV to have all the bells and whistles. Of all the DRV Luxury Suites' features, some items stand out from the rest.
Here are those features that put these travel trailers in a class by themselves:
1. Solid Body Construction
The most critical part of any home is its foundation. It should be durable, dependable, strong, and should last for a lifetime and more. This is what you can expect from the DRV Luxury Suites. Each unit is equipped with a custom-engineered 15 inches triple box tube frame.
This frame is 101 inches wide, making it the biggest and most solid fifth wheel frame in the market. Due to this design, flexing of the frame around the pin box is eliminated. It also allowed the framing of the upper deck with steel. This also creates more space for the storage compartment so that you can fit more of your personal items.
2. 6-Jack Level-Up System
DRV specially designs this jack leveling system. It allows for quick and easy trailer leveling and provides the strength to stabilize the trailers during setup.
3. Thick Walls
Every DRV Luxury Suites trailer has 3 ¼" walls. They are the thickest walls used in the industry. This gives maximum insulation from the outside weather and noise. To eliminate condensation, exclusive foam core vapors are installed on these walls.
4. R-16 Residential Insulation
All walls of the DRV Luxury Suites are surrounded by R-16 residential insulation. This is the industry's best insulation and makes the unit eco-friendly as well.
5. Hydraulic Rack and Pinion Slide-Outs
All luxury suites are equipped with commercial hydraulic racks and pinion slide-outs. To protect the gearboxes against the weather, they are all installed inside the trailer.
6. Equal Pressure Throughout the RV
The pressure is equal throughout all the places inside the RV. This is made possible by the copper water manifold. It is a standard feature of all luxury suites. Every ½ inch water line has its own shut-off valve and is properly labeled. This will allow you to isolate one water line without affecting the water supply in the other parts of the trailer.
7. Sidewalls Bolted for Superior Strength
The sidewalls of the trailer unit are solidly constructed and have excellent strength because they are residentially hanged and carriage-bolted onto the floor.
8. Hydraulic Jacks for Maximum Stability
Several pin-less hydraulic jacks are mounted at 5-degree angles. This provides maximum stability to the whole trailer structure.
9. Goodyear Tires
The tires of these luxury suites are all 17.5" Goodyear tires. They deliver increased load capacity while still staying cool during long hauls. DRV uses truck tires, not RV tires. This gives peace of mind to the dweller and better performance for the trailer unit.
10. Enhanced Safety
To improve safety, luxury suites are equipped with commercial E-Z Lube hubs. They are also held and controlled by 8 big stud bolts, each bolt measuring 5/8 inches. These trailer units are also equipped with standard automotive disc brakes.
Again, what do DRV Luxury Suites offer? The DRV Luxury Suites is a name known for full-time and ultimate luxury RVs fit for all seasons. Also, DRV, also known as Toy Haulers, are travel trailers famous for their quality and reliability.
DRV Luxury Suites Standard Features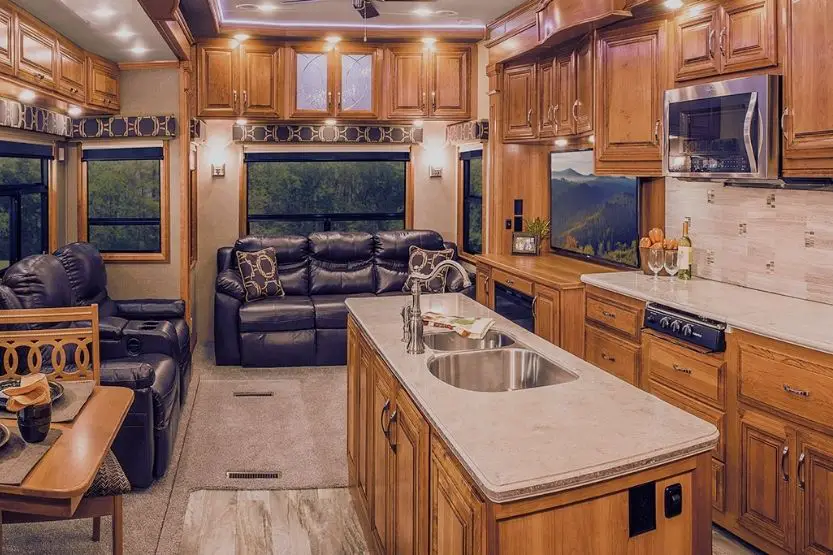 Each unit of the DRV Luxury Suites comes complete with all the standard items and accessories. Here is a list of all these features for each section of this luxurious travel trailer:
1. Interior
Vinyl floor tile, hand laid
Carpet, extra durable, plush residential
Carpet pad, residential rebond
Cabinetry, solid hardwood
Fascia trim around slide outs, solid hardwood
Cabinet stiles, solid hardwood (pocket drilled or screwed)
Raised panel cabinetry
Cabinet door hinges, concealed
Ceiling fan (majority of models)
Dinette table, with concealed leaf extension (a few models)
Dinette buffet, custom hardwood, with solid surface top (a few models)
Dinette chairs, 2, custom hardwood, with fabric accent (a few models)
Centralized control station and utility closet with coat storage
Ceiling lighting, LED, on dimmer switches
HD wiring throughout
Crown molding throughout
2. Master Bedroom
King size bed, 72" x 80" with innerspring mattress
Full storage under bed base
Reading lights, dimmable over the bed with individual switches
Walk-in front closet, custom with built in dresser (a few models)
Front closet, red cedar lined
Wardrobe doors, custom hardwood
Vanity slide
32" TV with built in soundbar
3. Gourmet Kitchen
Solid Surface Countertops, high polished
Double bowl stainless steel sink, deep, with sink covers
Residential kitchen faucet with sprayer
Residential stainless steel French door refrigerator 20 cubic feet
Stainless steel range, residential style
Stainless steel convection/microwave
Custom appliance garage with pull-out tray (majority of models)
13 gallons garbage can, pull-out
Lighted pantries and kitchen/bathroom toe kicks
4. Master Bath/Hallway
Hand laid vinyl tile all over
Hardwood steps
Maxxair fan in bathroom
Porcelain toilet with water saver spray
Fiberglass shower pan with shower surround, custom
Sky-light over shower with LED pot light
Heat and A/C ducting in bathroom
Washer/dryer prep
Macerator toilet (a few models)
5. Floor Construction
3″ thick floor
Plywood flooring, 5/8″ tongue and groove
14″ O.C. floor Aluminum floor joists
Joist construction: screwed and glued
Four season perimeter heat ducting in floor
Insulation: residential rated R29 Formaldehyde free 
6. Roof Construction
Rubber roof, seamless, 1-piece
Roof overlayment, 1/2″ plywood
Rafter spacing: 16″ O.C.
Vinyl Ceiling, soft-touch, including interior slide-out ceilings
Insulation: residential rated R25 formaldehyde free 
7. Walls/Slides Construction
3 1/4″ thick walls and slides
Azdel onboard composite panels
Stud spacing: 16″ O.C.
Screwed and glued aluminum stud construction
Vapor barrier:1/4″ Monsanto® Fome-Cor (eliminates condensation)
1/4″ thick high gloss Gelcoat fiberglass
Insulation: residential rated R16 Formaldehyde free 
8. Systems
Residential type 1/2″ water lines
Exclusive copper water manifold with individual shut-off valves
Multi-switch water bypass system
Whole house water filtration system
50 amp service with detachable cord
80 amp 12 VDC converter
A/C system, fully ducted with cold air return
Triple 15,000 BTU low-profile A/Cs
40,000 BTU furnace with custom plenum
Forced heat ducting to tanks/water system
12 gallons gas/electric DSI water heater
Residential 5 duct heating system with 6″ ducting
12VDC battery on pull out tray
HD roof satellite prep for dual DVR receivers
HD TV antenna
Solar prep
HD ground satellite and cable prep
9. Tanks
Fresh water tank – 100 gallons
Grey water tank with power flush – 75 gallons
Black water tank with power flush – 50 gallons
SeeLevel tank monitoring system on every tank
Slide out propane tray with dual 40-pound tanks
10. Exterior
Power awning with aluminum weather shield (covering the entry doors)
Straight roof line with 8 feet tall interior slide out height
Custom painted exterior with clear coat
High gloss Gelcoat fiberglass
High gloss Gelcoat fiberglass molded caps
Insulation: Subzero Thermo- Pack high density 
LED back-up lights
Exterior clearance lights: commercial LED
LED docking lights
Mid-ship and front cap turn signal
Basement lights: motion sensor LED lights
Custom enlarged control center w/LED lighting
Dual 78″ entry door
Frameless tinted safety glass windows
Storm door panels, removable
Metal slam door compartment latches
Extra thick compartment doors with gas struts
Exterior grab handle, Lend-a-Hand
Water pump switch at outside hookup center
11. Garage
50″ LED HD TV
Overhead cabinetry: industrial metal
Garage audio/entertainment system: touch screen/blue tooth
LED lighting
Dual 30-gallon fuel tanks with fuel pump and fill station
Key Specs of the DRV Luxury Suites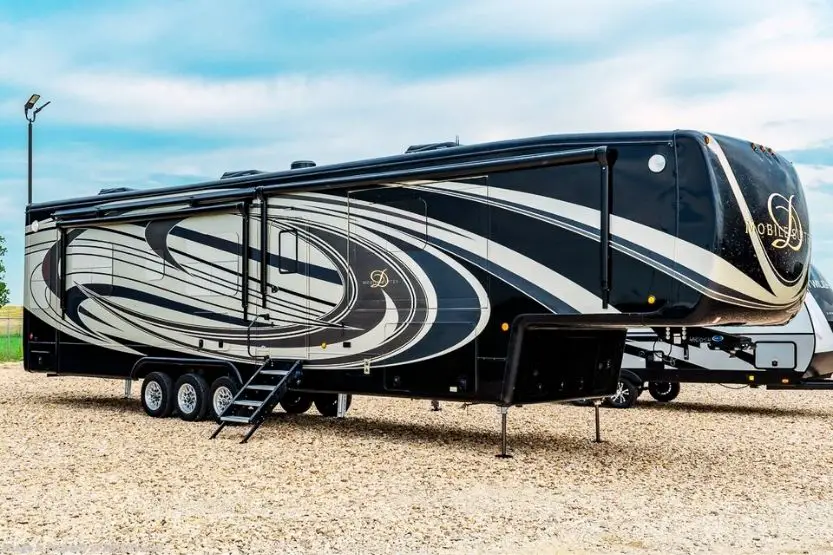 Here are the essential specs of the DRV Luxury Suites travel trailer with lengths ranging from 44 feet and 2 inches to 44 feet and 5 inches. DRV names these variants as 10' Garage, 12' Garage, and 13' Garage:
Body Frame – 101" wide
Frame Type – 15" custom triple box tube fram
Tires – 17 and 1/2-inch Goodyear tires, H-rated
Brakes – automotive disc brakes
Axle Type – triple-axle models, rated at 8,000 pounds
Axle Type – tandem-axle models, rated at 9,000 pounds, heavy-duty
Wall Type – 3 and 1/4-inch thick walls with foam core
Fresh Water Tank Capacity – 100 gallons
Gray Water Tank Capacity – 75 gallons
Black Water Tank Capacity – 50 gallons
Water Heater Tank Capacity – 12 gallons
Below is a video that will show you how luxurious the interior of a DRV Luxury Suites travel trailer is:
Sample Prices of Used DRV Luxury Suites
To give you an idea of how much a DRV Luxury Suite travel trailer costs, here are two used DRV travel trailers. One model has an overall length of 37 feet and 2 inches, and the other is the longest of DRV travel models at 44 feet:
DRV Luxury Suites Mobile Suites 36 RSSB3
Length – 37' 2"
Weight – 15,800 pounds
Sleeps 4
Slides 3
Used Price – $64, 999
DRV Luxury Suites Mobile Suites 44 Houston
Length – 44' 2"
Weight – 19,700 pounds
Sleeps 4
Slides 3
Used Price – $91,995
Conclusion: DRV Luxury Suites Specs and Review
With their reputable quality and reliability, the DRV Luxury Suites have become a class by themselves. These luxurious travel trailers are well-known as four-season and full-time recreational vehicles. They are specially designed for the upscale "Toy Hauler" market.