Ready to start RV living? Take your adventures on the road to the next level with the best towable. The options are plenty, and one that you should not miss is the Sundance trailer. In this Heartland Sundance travel trailer review, I will walk you through some of its features, so you can decide if this is the right RV for you.
The Heartland Sundance Travel Trailer is beginner-friendly, lightweight, and feature-packed, and towable. Available in a wide array of floor plans, it uses high-quality components to ensure durability without the burden of weight. More so, the RV has laminated sidewalls, pass-through storage, and electric awning. 
The table below shows a quick summary of the specs of the Heartland Sundance trailer, specifically the 213ML model:
| | |
| --- | --- |
| Dry Weight | 5,090 pounds |
| Gross Vehicle Weight Rating | 7,532 pounds |
| Hitch Weight | 532 pounds |
| Holding Tank Capacities | Fresh Tank – 44 gallons, Gray Tank – 30 gallons, Black Tank 30 gallons |
| Water Heater Capacity | 6 gallons |
| Air Conditioner Output | 13,5000 BTU |
| Furunace Output | 30,000 BTU |
| Liquid Propane Tank Capacity | Two tanks with 20 pounds each |
| Bed | 60 x 80 inches |
| Awning | 19 feet |
| Dimensions | Height – 10′ 11″, Width – 8′ 3/8″, Length – 26′ 11″ |
| Sleeping Capacity | 5 to 6 |
Read on to learn more about the Heartland Sundance travel trailer, including its features, as well as its pros and cons.
About the Heartland Sundance Travel Trailer 
Heartland started in 2003, making it newer compared to most of its established competitors. It was the brainchild of a diverse group of ambitious individuals, including engineers, product managers, entrepreneurs, and marketing professionals. Since then, the company has been developing innovative designs, with the Landmark being its pioneer model. 
It was in 2005 when Sundance introduced the first iteration of the Heartland travel trailer. The laminated and lightweight fifth wheel was developed for people looking for a small truck with the luxuries of home. Through the years, the Heartland Sundance Travel Trailer has been through numerous modifications and offered in a wide array of floor plans. 
Specs of the Heartland Sundance Travel Trailer
This section will give you a quick rundown of the Heartland Sundance RV. It is available in different models. Below, our focus is on the 2021 Sundance 213ML:
1. Dry Weight
A trailer's dry weight refers to its original weight. Meaning, it does not include anything that you will add to the RV, such as accessories, fluids, and passengers. The dry weight of the Sundance 213ML is 5,090 pounds.
2. Gross Vehicle Weight Rating
It is the maximum weight of the RV with the passengers, fluids, accessories, and anything else you want to add. This model has a GVWR of 7,532 pounds. Avoid going beyond such since it can spell disaster on the road. It will make the RV inefficient and unsafe.
3. Hitch Weight
You will attach this trailer to a towing vehicle. Hence, you need to know the hitch weight, which is 532 pounds. This technical specification is the maximum weight that the unit will put on the trailer's tongue where you will mount it. 
4. Holding Tank Capacities
Like other travel trailers, it has three holding tanks, which include the following:
Fresh Tank: 44 gallons
Gray Tank: 30 gallons
Black Tank: 30 gallons
5. Water Heater Capacity
The RV will provide hot water on demand, making your road adventures more comfortable. This RV's water heater's capacity is six gallons, the standard in most travel trailers. 
6. Air Conditioner Output
Especially during the summer months, you will love how it comes with a built-in air conditioner. It has an output of 13,500 BTU, which will keep you cool throughout your trip.
7. Furnace Output
Meanwhile, in the winter, you will also like how it has a comfortable heating system. The latter has an output of 30,000 BTU.
8. Liquid Propane Tank Capacity
The RV has two liquid propane tanks. Each tank has a capacity of 20 pounds. These tanks will supply the gas that you will need for cooking.
9. Bed
It comes with a standard queen bed, which has a size of 60 x 80 inches. The bed can comfortably sleep two people and comes with a comforter.
10. Awning
With a 19-foot awning, you can sit comfortably outside the travel trailer if you want more space. This will protect you from the rain or sun. The best thing is that it has an electric control, making it effortless to put on and off. 
11. Dimensions
It is a small trailer but has enough space for your road adventures. Here's a rundown of its dimensions:
Height: 10' 11"
Width: 8' 3/8"
Length: 26' 11"
12. Sleeping Capacity
The travel trailer can sleep five to six people. While it only has one queen bed, it has generous space for people to sleep on. You can add an air mattress or any portable bed that fits in the trailer. 
Again, what does the Heartland Sundance Travel Trailer offer? Apart from being beginner-friendly, lightweight, and towable, the Heartland Sundance Travel Trailer also has lots of features, is durable, and is also available in diverse floor plans. Lastly, this trailer has laminated sidewalls, pass-through storage, and an electric awning. 
Main Features of the Heartland Sundance Travel Trailer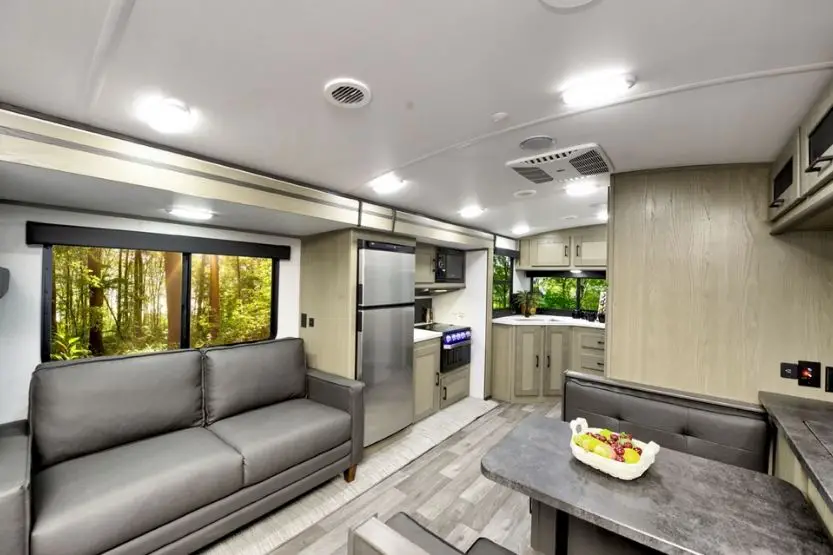 From the interior to the exterior, the Sundance RV packs a plethora of innovative features. Below are some of the things that make it stand out:
1. Azdel Laminated Sidewalls
Compared to wood, the laminated sidewalls of this trailer are lighter by half. Despite being lightweight, it is durable. Plus, it resists harsh weather and extreme temperatures, which can also guarantee your comfort on the road. Not to mention, such a material also requires minimal maintenance.
2. Pass-through Storage
The colossal exterior storage is another notable feature. It has a pass-through design, which makes it accessible from both sides of the trailer. With this, you can keep more stuff hidden, creating an illusion of a larger space. 
3. 10-cubic-foot Refrigerator
Keep your food fresh while on the road and access cold beverages to quench your thirst. The RV comes with a 10-cubic-feet stainless steel refrigerator.
4. Three-burner Cooktop
It is easy to cook delicious dishes even without the luxury of a fully-equipped kitchen. One of its main features is a three-burner cooktop so that you can cook more at a time. Additionally, the cooktop has a glass top, making it look elegant and easy to clean. 
5. Square Shower with Skylight
While the shower is small, it is a good thing that it comes with a skylight. The latter means that it has natural lighting. Plus, the shower also comes with self-cleaning curtains.
6. Keyed Alike
All the locks in the trailers have the same key. This is convenient since you do not have to carry a bunch of keys. More so, it won't be a struggle to find the right key to use.
7. Roller Shades
All windows of the trailer come with roller shades. With the latter, it is easy to block outside light if you want privacy. Also, they add a hint of elegance to the interior.
8. Dream Dinette
The best thing about the dinette is that it gives you a view of wherever you are. The small window will make it easier to appreciate the beauty of the road. The seats also have storage underneath, making it easier to maximize the use of space.
9. Light-Toned Cabinets
It has light-colored cabinets, which will make it airy. The choice of color will create an illusion of bigger space, making it easier to move around the travel trailer.
10. Outside Griddle
When you don't want to cook inside the trailer, you will love how it has an outside griddle. This makes it easier to cook since you have more space. Not to mention, it is easier to get rid of the smell of food. 
Pros and Cons of the Heartland Sundance Trailer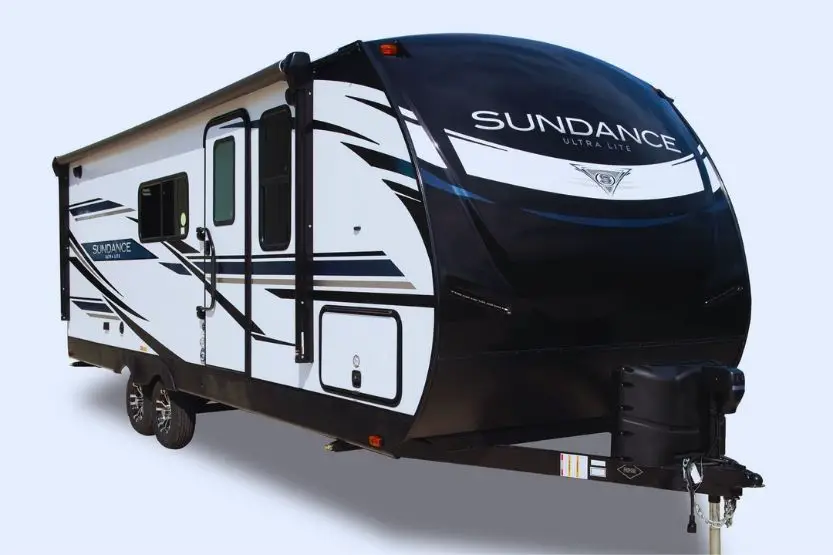 Is this the right travel trailer for you? To help you answer that question, let's talk about the good and the bad in this RV:
Pros of the Heartland Sundance RV
Below are some of the most compelling reasons to choose this travel trailer:
1. A Great Option for Beginners
One of the best things about this camper is its beginner-friendly design. If it is your first time buying an RV, this will make a great option. To add, it is easy to drive and park—no need to have extensive experience to make the most of your experience on the road. 
2. Packs Plenty of Innovative Features
Heartland built a solid global reputation because of its emphasis on innovation. It has an unwavering commitment to the use of the latest technologies to offer high-quality trailers. It emphasizes next-generation engineering to deliver the best performance.
3. Excellent Quality Control
The company also takes pride in its quality control standards. Its production facilities practice the most stringent steps to ensure that every product adheres to the highest possible quality. Their people pay attention even to the smallest details.
4. Choose from Various Floor Plans
Diversity is another good reason to choose the Sundance travel trailer. It is available in varying floor plans depending on your needs. Additionally, the company introduces new layouts year after year to offer something new to its customers.
5. Be Part of a Robust Community
Buying the Sundance RV gives you the chance to be a part of a robust global community. You can connect to other owners and share your experiences. More so, you can make new friends as you exchange tips with other people.
6. Exceptional Warranty Coverage
Heartland Sundance also stands out because of the best-in-industry warranty coverage. Aside from the one-year limited warranty, they are also offering a three-year structural warranty. Many of its parts also have great warranties, which will provide you with peace of mind.
Cons of the Heartland Sundance RV
Despite the good things, the Sundance towable also has several drawbacks, including the following:
Potential Overheating of the Air Conditioning System 
It is a problem that is more common in older Sundance models. The issue is with the incorrect assembly of the air conditioning system's electrical connection. Overheating is a possibility, which is also a fire hazard.
Small Bathroom 
The small size of the bathroom can be an issue for some people. You might feel cramped when you are inside. However, this is because the trailer itself is small, so do not expect you to have the luxury of space. 
Conclusion: Heartland Sundance Travel Trailer
The Heartland Sundance Travel Trailer is available in various configurations, each with different layouts. Nonetheless, they share common characteristics, such as lightweight but durable construction.
Plus, they are also beginner-friendly, making them easy to drive for anyone. More importantly, it packs plenty of features for your comfort and convenience on the road. 
There are plenty of good reasons to choose this RV, such as the exceptional warranty, attention to the smallest details, and robust community of owners. Nonetheless, you should also be familiar with some of its drawbacks, such as the small bathroom. Despite all these, the pros outweigh the cons.
To recap, here is a quick summary of the Sundance 213ML travel trailer:
Dry Weight
5,090 pounds
Gross Vehicle Weight Rating
7,532 pounds
Hitch Weight
532 pounds
Holding Tank Capacities
Fresh Tank – 44 gallons
Gray Tank – 30 gallons
Black Tank – 30 gallons 
Water Heater Capacity
6 gallons
Air Conditioner Output
13,5000 BTU
Furnace Output 
30,000 BTU
Liquid Propane Tank Capacity
Two tanks with 20 pounds each
Bed
60 x 80 inches
Awning
19 feet
Dimensions
Height – 10′ 11″
Width – 8′ 3/8″
Length – 26′ 11″ 
Sleeping Capacity
5 to 6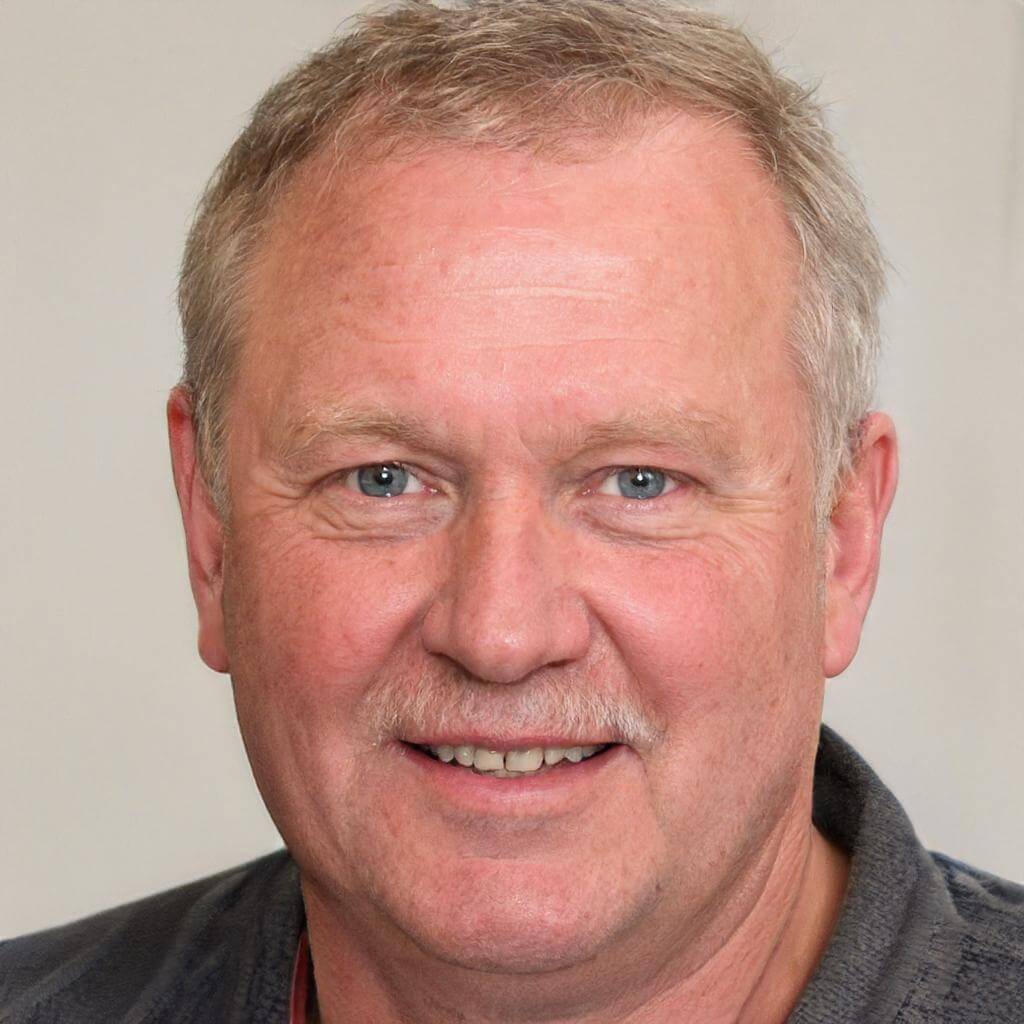 We created RVcrown.com in 2020 as a way to geek about everything we've learned and are still learning about RVs. You'll find in-depth articles covering reviews, specs, and features of the top RVs in the market. Contact me. Disclaimer: The information and advice provided in this blog are for educational and informational purposes only. The author does not guarantee any particular result or outcome from following the advice provided. See more about us.