A travel trailer built by the number one fastest growing trailer manufacturer in North America should be a best-selling RV worth buying. In this Escape 21NE Travel Trailer review, I will list all its features and specs to help you know if it's the right one for you.
The Escape 21NE Travel Trailer is a light and easy to tow travel trailer. It has an open design with a huge U-shaped dinette for six people and a rear bedroom with a queen-size bed. This RV can sleep up to five persons and is ideal for big families. 
Escape designs and manufactures high-quality, lightweight, and durable fiberglass travel trailers. Their RVs are affordable, elegant, functional, and their customer service is very satisfying. In this industry, Escape has built a reputation that it is a solid and reliable company.
Read on to learn more about the Escape 21NE Travel Trailer, its features and specifications, and things you need to know to determine if it will satisfy your requirements.
About the Escape 21NE Travel Trailer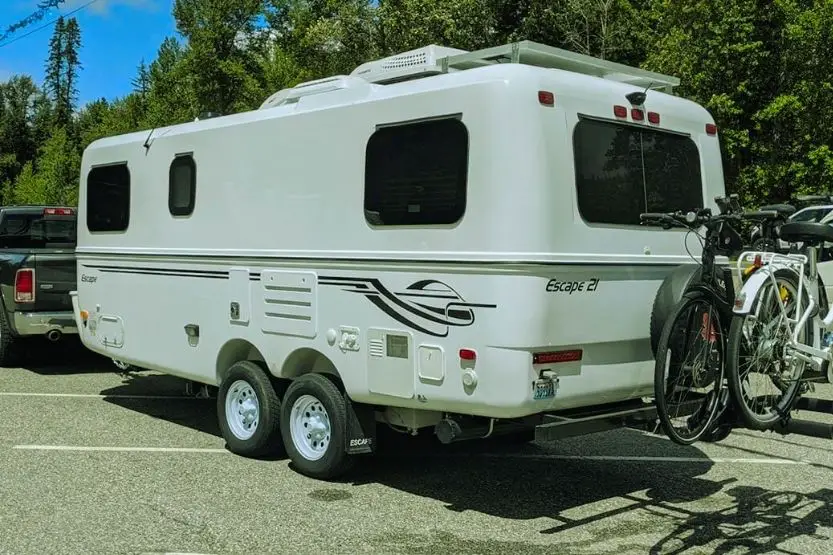 Easy to Tow
The Escape 21NE Travel Trailer is an easy to tow trailer mainly because it is light. Its body is primarily made of 100% fiberglass. The floor plan has an open design that includes a large U-shaped dinette that can accommodate six people.
Can Sleep Up to Five People
At the rear of this trailer is the bedroom fitted with a queen-size bed. A buyer has the option to add a cot. This enables the 21NE to sleep up to five persons comfortably. That makes it ideal for large families.
Can Last a Long Time
Being made of fiberglass, a 21NE RV can last a long time. Aside from its sturdy materials, its build quality makes this travel trailer strong and long-lasting. It is also practical, affordable, and yet elegant, and the company that manufactures it is focused on customer satisfaction. That's why Escape has built a solid reputation as a very reliable company.
Available in Three Floor Plans
The Escape 21NE is available in three unique floor plans:
Maple,
Oak, and
Contemporary.
Open Design
All these floor plans combine an open design with more than enough storage, a big kitchen counter area, easy-to-tow, and quality appliances housed in a lightweight but strong fiberglass body.
Easy to Clean and Maintain
Being only 21 feet long, you can consider it as a compact travel trailer. It has caught the interest of many RV buyers and has become one of the most constantly customized trailers made by Escape. Its fiberglass shell is straightforward to clean and maintain. It is 100% waterproof, so there's no possibility of any future structural problems.
Made by Escape Trailer Industries
The Escape 21NE RV is made by Escape Trailer Industries, a reputable Canadian manufacturer active in the RV industry for more than 20 years. This company manufactures the following:
Travel trailers,
Coaches,
Fifth wheels, and the like.
Their manufacturing facilities and office headquarters are located in Chilliwack, British Columbia, Canada.
Reace and Tammy Harmtuik started the company in 1993. They first started as repairers of travel trailers. As time went on, they established their travel trailer manufacturing facilities in 2002.
In 2012, they chose to sell their RVs directly to customers. They did this to maintain the quality and fair prices of their travel trailers. More than 20 years later, Escape is considered the number one fastest growing fiberglass travel trailer manufacturer in North America.
Key Features of the Escape 21NE Travel Trailer
An Escape 21NE travel trailer comes with tons of features. But what are its most attractive and advantageous features? In my opinion, these are the features that make this RV more attractive than other travel trailers:
1. Durable and Easy to Maintain
The Escape 21NE models are built with fiberglass bodies, which are very durable and easy to maintain. They are also effortless to tow since they are light. That will also benefit your wallet because when a trailer is easy to tow, your tow vehicle's engine does not have to consume more gas to pull it.
Rainy or cold season brings in water and mud. This trailer only needs only water to wash off the mud and nothing else. By just using water, this travel trailer will be as clean as new.
2. Superb Structural Integrity
An Escape 21NE travel trailer is built from the outside in. This is a different building method from other RV manufacturers. The construction process of a 21NE starts by bonding two fiberglass shells to each other inside a mold.
When the two shells are already one bonded unit, they are released from the mold. This process produces a seamless unibody and 100% molded together. Additional rigidity is provided by anchor blocks that are also molded into the shells. This process eliminates the need for riveting or mechanical fasteners.
The frame of the trailer is made of steel tubing. These steel tubes are bolted to a rubber ride torsion axle suspension. This entire bodybuilding process results in a trailer body that is strong, water-resistant, lightweight and has excellent structural integrity.
3. Optimizes the Use of a Limited Area
The floorplans of the Escape 21NE maximize the use of a limited area available in this class of travel trailers. An N21NE RV has an overall length of only 21.4 feet and a width of 7.4 feet. Every floorplan in the 21NE model lineup provides a spacious area for the dinette, bathroom, and bedroom.
4. Very Functional
For people who love extended outdoor trips, this travel trailer will be very functional. Its galley, bedroom, and living area layout are planned in such a way as to give its dwellers the most in the available living space.
This trailer features a large window in the rear dinette, which most buyers of RVs are craving. Such a window will provide them a great view of the outdoor scenery while they are dining.
5. Lots and Lots of Storage Spaces
Even with a length of only 21 plus feet, the Escape 21NE still offers lots of room for storage. Its sleeping areas, dinette, and galley have continuous overhead cabinets. Available spaces are also provided underneath the galley counter.
The galley also has a series of drawers and big cabinets. These cabinets are all finished in oak wood, including the three-way Domestic refrigerator. Lastly, the microwave also has a space for itself.
6. Streamlined Design
The interior of the 21NE is streamlined to give optimum living spaces for its occupants. Its headroom is more than adequate at 6.4 feet throughout. The dinette offers a great space for socializing. It can accommodate four people with lots of elbow room to spare.
The living area is very cozy and comfortable, thanks to its high-quality linoleum flooring, beautiful wall coverings, and an insulated vinyl headliner. Adding comfort to this area are two roof vents and Double Dome LED lighting.
7. Add Your Own Personal Touch
There is a standard layout for all Escape 21Ne. But you can add your customization because Escape offers several options. You are allowed to choose the type of flooring, fabrics used, cabinets, and even some elements in the kitchen. If you want some customization done on the trailer, Escape allows you to do so.
8. Direct Factory Sale
Escape Trailer Industries does not maintain a dealer base. In other words, you can buy an Escape 21NE travel trailer direct from the factory. What that means is that you will forego the dealer commission. So, you get a price that is lower and more affordable.
Again, what does the Escape 21NE Travel Trailer offer? Lightweight and towable, the Escape 21NE Travel Trailer has an open design. Plus, it has a spacious U-shaped dinette that can accommodate six people and a bedroom equipped with a queen-size bed. This bed can fit five people.
Other Standard Features of the Escape 21NE Travel Trailer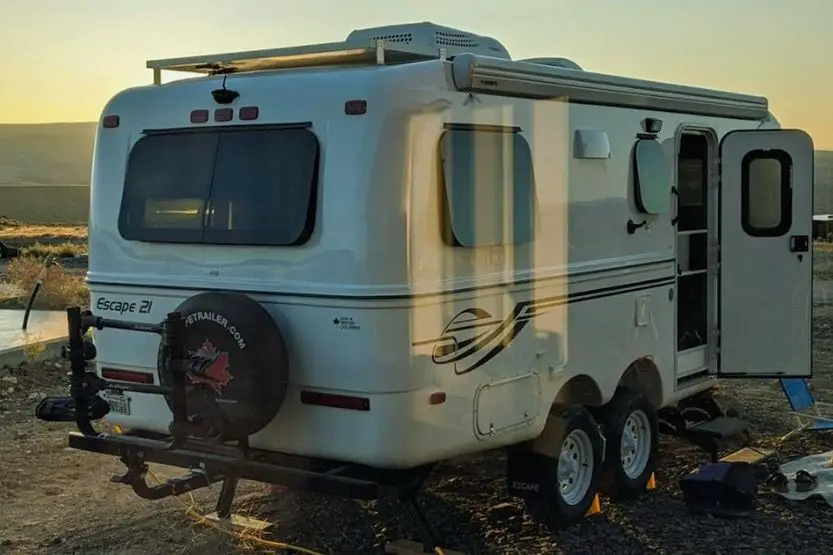 Aside from the attractive features mentioned above, the Escape 21NE also comes with other standard features. Here are the other features of the 21NE that make it worth considering:
1. Chassis
3500 pounds Tandem Torsion Rubber Ride Suspension
EZ-Lube Axles
Electric Brakes
Safety Chains and Ride Suspension Break-Away Switch
Front and Rear Stabilizer Jacks
Balanced 15-inches Radial Tires and Steel Rims (8 ply)
Full Size Spare Tire with Cover
2. Interior
Wrap Around Overhead Compartments
Front U-Shaped Dinette
4-inch High Density Cushions (2-inch on the backrest of the U-shaped Dinette)
Formica Counter and Tabletops
High Grade Rolled Vinyl Flooring
Custom Wood Interior
6 cubic feet 3-way Fridge
Stainless Steel Sink, Faucet and Sink Cover
2 Burner Flush Mount Stainless Steel Cooktop with Glass Cover
Power Range Hood Vent With Light
Microwave Ready Cabinet
Kitchen Window Over Sink
Counter Extension Off Sink
Draw Down Window Shades with Valances
Under Seat Storage
8" Plush Mattress
Power Bathroom Vent
Fiberglass Enclosed Bathroom with Shower
Recessed Mirrored Medicine Cabinet
Screen Door
12,000 BTU Furnace
2 Roof Vents (Front vent is a Maxx Fan)
12V Demand Water System
Propane Hot Water Tank
Monitor Panel with Holding Tank Level Indicator and Battery Strength Indicator
3. Exterior
Thermal Double-Glazed Framed Windows with Screens
13 feet and 5 inches Carefree Fiesta Manual Awning
Front Rock Guard
Single Entry Step
Front Window with Rock Shield (Non-thermal)
Exterior Grab Handle
Dual 20 lb. OPD Propane Tank with Auto Change Regulator and Cover 
Propane Quick Connect
2-inch Bike Rack Receiver (150 pounds capacity)
Winterizing T-Valve
Mud Flaps
Sewer Hose and Storage Compartment
Exterior Access Hatch (P/S rear)
Exterior Bubble Levels
4. Electrical
LED Interior and Exterior Lighting
120 volts Interior Outlets
120 volts Exterior Outlet
12 volts/USB Interior Outlet
25 feet, 30 Amp Power Cord
Deep Cycle Battery
55 Amp Converter/Battery Charger
Battery Isolator Switch
Rear Upper Brake/Signal Lights
Oversized Emergency Exit Window
Fire Extinguisher
Carbon Monoxide/Smoke Detector
Propane Detector
5. Holding Tanks
28 gallons, Freshwater Tank
28 gallons, Greywater Tank
13.2 gallons, Blackwater Tank
Full Specs of the Escape 21NE Travel Trailer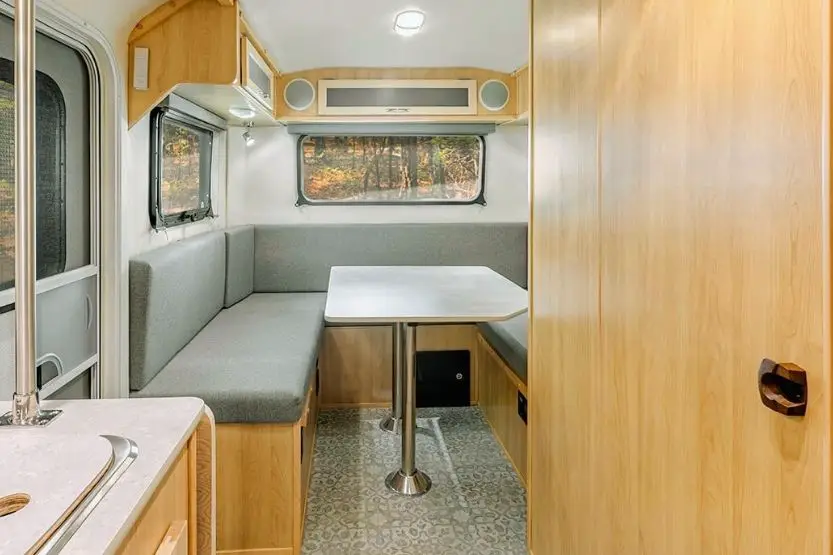 You should also know the physical properties of the Escape 21NE travel trailer. The table below provides the complete specs of this RV:
| | |
| --- | --- |
| Section/Part | Specifications |
| Dimensions |   |
| Exterior Length | 21 feet and 4 inches (add six in. for spare tire) |
| Interior Length | 17 feet and 4 inches |
| Exterior Width | 7 feet and 4 inches |
| Max. Exterior Height | 9 feet (at the top of AC) |
| Interior Height | 6 feet and 3 inches |
| Ball Height | 19 inches (when Loaded) |
|   |   |
| Weight |   |
| GVWR | 5000 pounds |
| Total Dry Weight | 3465 pounds |
| Axle Weight | 3099 pounds |
| Hitch Weight | 366 pounds |
|   |   |
| Tank Capacity |   |
| Fresh Water | 28 gallons |
| Grey Water | 28 gallons |
| Black Water | 13.2 gallons |
|   |   |
| Liquid Propane Gas Tank capacity | Two units at 20 pounds each |
|   |   |
| MSRP | $31,995.00 |
Conclusion: Escape 21NE Travel Trailer
The Escape 21NE Travel Trailer is light and is very easy to tow. Plus, it has a floor plan with an open design. Then, its big U-shaped dinette can sit up to six people. The bedroom located at the rear is fitted with a queen-size bed. So, this RV is ideal for large families and can comfortably sleep up to five persons.
The Escape 21NE RV comes with all the features and amenities that will make your outdoor stay as if you're staying home. And it comes at a very reachable price tag. In this respect, this travel trailer is worth your consideration.