The Escape 5.0 has combined quality and elegance with affordability. That's quite a feat to accomplish for this luxurious fifth wheel. In this Escape 5.0 review, I'll list all its features and specs to help you see if this is the right RV for you.
The Escape 5.0 is a lightweight fifth-wheel trailer that is 21 feet and 2 inches long. What makes it very practical and attractive is that it can be towed by most mid-size half-ton trucks. But it still comes with a full-size bath, spacious living areas, and separate sleeping quarters.
There is an only one floor plan for all Escape 5.0 fifth wheels. They are also good quality travel trailers. When it comes to elegance, practicality, quality, and most of all, affordability, its maker ensures that customer satisfaction is guaranteed.
Read on to learn more about the Escape 5.0, its features and specs, and the things that you should know to determine if this RV can satisfy your requirements.
About the Escape 5.0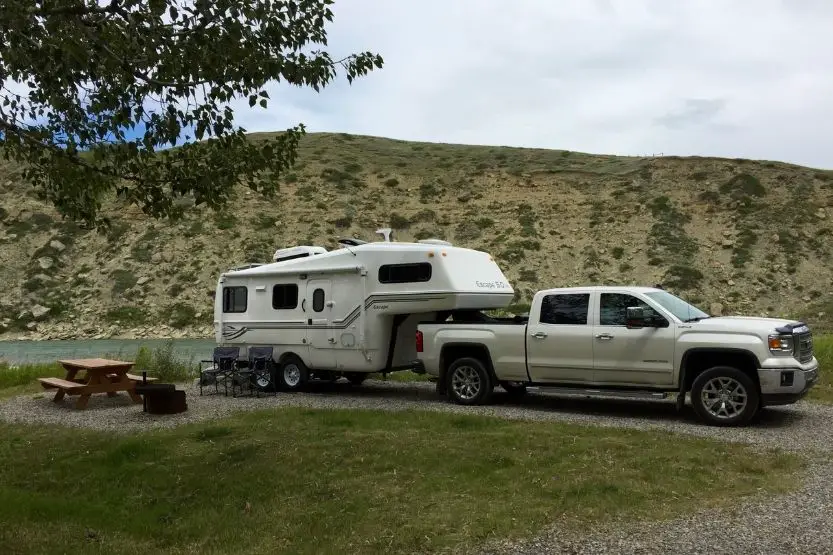 The Escape 5.0 is a fifth wheel that has a length of 21 feet and 2 inches. It can be pulled by most half-ton trucks because it is lightweight. This travel trailer is ideal for trucks with beds 5 feet and 6 inches long with suitable tow or payload capacities.
While they are lightweight, every Escape 5.0 travel trailer comes with the following:
Separate living quarters,
A full wet bath, and
Spacious living areas.
The manufacturer of the Escape 5.0 assures interested buyers that these RVs are practical, elegant, and affordable. For each Escape 5.0 sold, customer satisfaction is guaranteed.
Escape Trailer Industries Manufactures Escape 5.0
Escape Trailer Industries, the company that manufactures the Escape 5.0, claims that its design is aerodynamic, with a low center of gravity and a tandem axle that makes it stable on the road. Its maker claims that its design mitigates wind strength and improves fuel efficiency.
Trailer Strength
In terms of trailer strength, its one-piece fiberglass construction makes it amazingly stiff yet still smooth to last for many years. Its fiberglass body is the main reason why it can be towed by most mid-size trucks.
Escape Trailer Industries manufactures their Escape 5.0 fifth wheels at their plant in Chilliwack, British Columbia, Canada. The body of the Escape 5.0 is made of 100% molded fiberglass.
Its fiberglass body makes every Escape 5.0 trailer a true lightweight RV. The very basic model has a dry weight that is only 2,190 pounds. Some say it is 3,910 pounds. Its body is built from the bottom to the top with fiberglass shells. Glass-reinforced fibers are used to bond these shells together.
In this way, the body of an Escape 5.0 is made like a true, single-piece unit. Its body frame is made out of box steel with a rubber ride torsion axle suspension. This setup creates a solid and stable foundation that produces smooth rides.
Standard Features
Standard in all Escape 5.0s is a dinette/double bed at the rear, a full well bath, and a big bed at the front. There are several options for the interior finish of this trailer. You can choose contemporary cabinetry, oak, or maple.
This trailer has a special insulated vinyl wall/headliner covering, high-quality vinyl flooring, and large windows. Their interiors are professionally finished with maple, oak, or contemporary cabinetry.
Roof
The roof of the Escape 5.0 features a raised dome. This design prevents the pooling of water and makes it run off or flow downwards instead. It also reduces the chances of water penetrating the interiors while making it strong and durable.
With its lightweight and aerodynamic design, this trailer eliminates the need for bigger vehicles for towing. Its tandem axle can be easily towed by most half-ton, mid-size trucks.
Every Escape 5.0 comes with an extensive list of standard features. It also has a list of optional features for those who want to customize their RVs. They also come with a 2-year full warranty.
Key Features of the Escape 5.0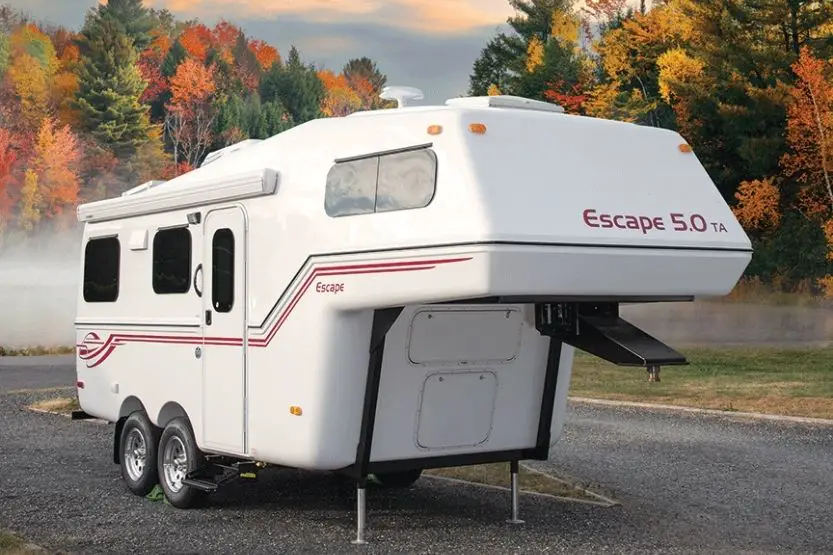 Like a fifth wheel designed for luxurious and comfortable recreational traveling, you would expect that the Escape 5.0 will have all the features that will satisfy your needs while you are out camping. It has a long list of features indeed. But it has some features that stand out from the rest:
1. Proprietary Metal Frame
An Escape 5.0 trailer is built differently than the frames of other RV brands. Its manufacturer uses its proprietary metal frame to build the RV. A two-piece fiberglass body is put on top of this metal frame. This fiberglass body is made just like boat hulls are made.
The chassis of the trailer is built with 1/8-inch thick and 2" x 3" (or 2" x 4") structural steel tubing (certified). This creates a rock-solid foundation reducing the chances of metal fatigue.
The two-piece fiberglass body is bonded together so they will move as a single piece. Then they are bolted to the metal frame with molded-in anchor points. They don't use rivets in constructing the RV's interior.
Anchor blocks are used instead. They are fiberglassed in selected points of the shell interior. The cabinetry and the interior walls are mounted securely to these points. A structurally sound and solid interior and exterior is made without boring holes in the shell.
It is also interesting to note that the manufacturer also injects anchors in the RV's interior parts and the construction of the cabinets.
2. Factory Direct
Every Escape 5.0 fifth wheel is factory direct. That means if you want to buy this trailer, you will be speaking directly to a company representative. It also means your RV will be highly customized according to what you want it to be.
For instance, this trailer has many graphic options for its body. You can choose from the options available at the factory.
3. Inviting Interiors
There's plenty of wooden cabinetry inside this RV. Several wood options are offered, such as oak, maple, or conventional wood. The interior has a warm ambiance because of the wood cabinetry.
The overall style and the laminated soft-touch materials of the ceiling also make the interior of this RV very attractive. Somehow, you will have a nautical feeling while you are inside the cabin.
4. Designed Like a Boat for Land Use
The overall build and design of the Escape 5.0 are similar to those of sailboats. Torsion axle is the type of suspension used in this RV. It also rides in two pairs of 15-inch wheels. This setup is not commonly seen in recreational vehicles. The wheels are also balanced, even the spare.
5. Can Be Towed Easily
The Escape 5.0 weighs only around 5,500 pounds. This is well within the capacity of most mid-size half-ton trucks. Some of these trucks can tow this RV around and can still spare additional towing capacity.
6. Lots of Storage
This fifth wheel has a large number of cubbies and cabinets of various sizes. So, the storage capacity of the Escape 5.0 is impressive. You won't be forced to leave your favorite things behind when you go out camping.
Again, what does Escape 5.0 offer? The Escape 5.0 is a practical, lightweight (21 feet and 2 inches long), and attractive fifth-wheel trailer. It is practical since it can be towed by a mid-size half-ton truck and because it still comes with a full-size bath, spacious living areas, and separate sleeping quarters.
Standard Features of the Escape 5.0
We come now to the point where you need to know the complete list of the standard features with the Escape 5.0. This list is pervasive, but I compiled them according to the different sections of the RV:
1. Chassis
Tandem torsion rubber ride suspension, 3,500 pounds
EZ-Lube axles
2 Independent power landing gears
Rear stabilizer jacks
15" Radial Tires and Steel Rims, balanced
Full size spare tire with cover
Break-away switch
2. Interior
Furnace – 12,000 BTU
Screen door
2 burner flush mount stainless steel cooktop with glass cover
Power Range hood vent with light
6 cubic feet 3-way Fridge
Stainless steel sink, faucet and sink cover
Microwave ready cabinet
Formica counter and tabletops
High grade rolled vinyl flooring
Custom wood interior
Under seat storage
Wrap around overhead compartments
Draw down window shades with valances
8" plush mattress
2 LED captain's reading lamps in bedroom
4" high density cushions
2 roof vents (Maxx Fan for the front vent)
Monitor panel with holding tank level indicator and battery strength indicator
12 volts demand water system
Fiberglass enclosed bathroom with shower
Power bathroom vent
Recessed mirrored medicine cabinet
Propane hot water tank
3. Exterior
Dual 20 pound OPD propane tank with auto change regulator and cover 
12 feet and 3 inches Carefree Fiesta manual awning
Kitchen window over sink
Thermal double-glazed framed windows with screens
Exterior grab handle
Exterior bubble levels
2 inches bike rack receiver (150 pounds capacity)
Single entry step
Winterizing t-valve
Sewer hose and storage compartment
Mud flaps
4. Holding Tanks
Freshwater tank capacity – 28 gallons
Gray water tank capacity – 28 gallons
Backwater tank capacity – 30 gallons
5. Safety
Exit window – oversized emergency exit
Rear upper brake with signal lights
Propane detector
Carbon monoxide and smoke detector
Fire extinguisher
6. Electrical
LED interior and exterior lighting
Deep cycle battery
55 amp converter/battery charger
120 volts exterior outlet
120 volts interior outlets
12 volts/USB interior outlet
25 feet, 30 Amp power cord
Battery isolator switch
Escape 5.0 Key Specs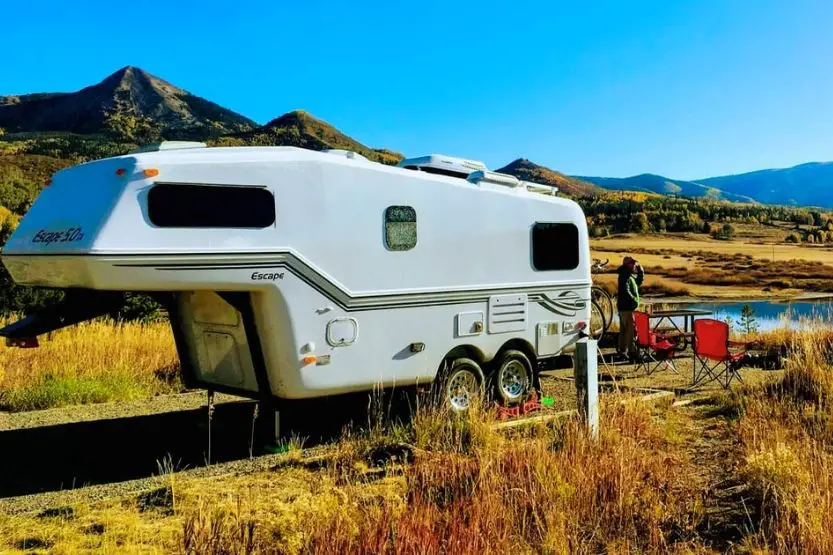 If you want to get a quick overview of a recreational vehicle, you need to look at its key specs. The key specs of the Escape 5.0 are the following:
Total length – 21 feet and 2 inches
Total height – 9 feet and 7 inches
Unloaded vehicle weight (UVW) – 3,910 pounds
Gross vehicle weight (GVW) – 5,500 pounds
Fresh water tank capacity – 28 gallons
Gray water tank capacity – 28 gallons
Black water tank capacity – 30 gallons
Vehicle type – fifth wheel
Sleeping capacity – 4 persons
Escape 5.0 Full Specs
Here is a table that shows the full specs of the 2022 Escape 5.0:
| | |
| --- | --- |
| Part/Section | Specifications |
| Exterior Length | 21 feet and 2 inches (add 6" – spare tire) |
| Exterior Height | 10 feet at TV antenna top (9.7 feet at AC top) |
| Interior Height | 6 feet and 4 inches (up to 7 feet) |
| Exterior Width | 7 feet and 4 inches |
| GVWR | 5,500 pounds |
| Hitch Weight | 646 pounds |
| Axle Weight | 3,264 pounds |
| Total Dry Weight | 3,910 pounds |
| Fresh Water Capacity | 28 gallons |
| Grey Water Capacity | 28 gallons |
| Black Water Capacity | 30 gallons |
| Number of Liquid Propane Gas | 2 at 20 pounds each |
| Liquid Propane Gas Capacity | 40 pounds |
| MSRP | $29,795 |
If you watch this video, you will better picture the Escape 5.0 fifth wheel and what it offers. The presenter will show you the key features at the exterior and the interiors of this RV that make it worth considering:
Conclusion: Escape 5.0 Specs and Review
The Escape 5.0 is a lightweight travel trailer with a length of 21 feet and 2 inches. It is a convenient fifth wheel because it can be towed by most mid-size half-ton trucks. It is even more attractive because it offers a spacious living area, a full-size bath, and individual sleeping quarters.
This trailer has a unique body construction that is not found in any other RV from other brands. Its body is made of 100% fiberglass constructed to make it stable, durable, and safe on the road.