Escape Trailers makes lightweight and top-notch campers with durable fiberglass shells. Among others, one of their most popular models is the Escape 23. In this Escape 23 Small Travel Camper review, I'll list all of the specs and features so you can decide if it is the right RV for you. 
Escape 23, which the manufacturer expects to release in 2023, has an aluminum chassis and a fiberglass body. It is a lightweight camper with the luxuries of home you can enjoy on the road. The best thing is that it is available at a competitive price! 
While a lot may change until the production date, as of the time of writing this review, below are the main specs: 
| | |
| --- | --- |
| Total Dry Weight  | 3,800 pounds  |
| Gross Vehicle Weight Rating  | 5,500 pounds |
| Liquid Propane Capacity  | 2 x 20 pounds  |
| Dimensions  | Exterior – 23′ 9″ x 9′ 1″ x 7′ 11″, Interior – 19′ 5″ x 6′ 5″ x 7′ 9″  |
Read on to learn more about Escape 23 Small Travel Camper, including its specs and features, as well as some of its pros and cons. 
About Escape Trailers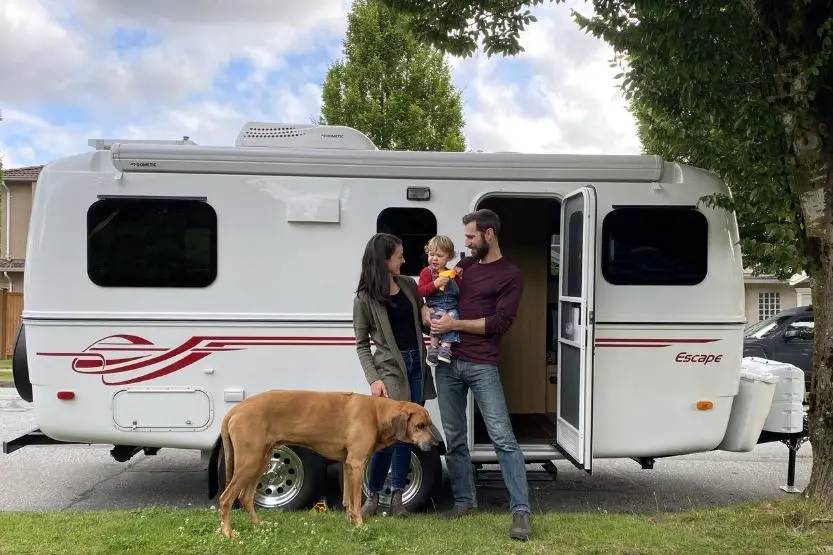 While it isn't as popular as other manufacturers, Escape Trailers has been making a name for itself. The company was established in 1993 when the founders bought and repaired old fiberglass trailers. With the high demand for their trailers at that time, they established Economy Travel Trailer Rentals. 
In 2002, almost after a decade after the company's establishment, Escape Trailer Industries was born. The latter specializes in manufacturing fiberglass trailers, which were known for being lightweight without compromising durability. 
Two years after, the company continued experimenting on what works best to captivate the attention of its target market. They built a single site where everything was made, giving them better control of the overall quality. 
Escape started selling through dealers in 2006. However, the business model was an apparent failure, so it did not last long. In 2012, the manufacturer began having direct sales, and since then, the company has expanded, including through a partnership with KV Private Equity. 
Escape 23 Small Travel Camper Specs 
This section will walk you through some of its most important specifications for a quick look at this camper:
1. Total Dry Weight 
The Total Dry Weight refers to the camper's total bare weight. It does not consider the weight of the accessories, fluid, passenger, and cargo, among other things. The Escape 23 has a Total Dry Weight of 3,800 pounds. This is significantly lighter than most campers, which weigh an average of 5,200 pounds. 
2. Gross Vehicle Weight Rating 
It is the maximum allowable weight of the trailer with everything in it. This weight includes cargo, passengers, and accessories, among others. The Gross Vehicle Weight Rating of Escape 23 is 5,500 pounds. Do not go over such capacity as it will make it harder to tow the trailer. Not to mention, going beyond the limit also has safety consequences. 
3. Liquid Propane Capacity 
Cooking is easy even when you are on the road or at a campsite. It has two liquid propane gas tanks, each with a capacity of 20 pounds. You will never run out of gas, and you can cook almost anything you desire while you are on an outdoor adventure. 
4. Dimensions 
Since it is lighter than most campers, the Escape 23 is also smaller. It has the following exterior dimensions:
Length of 23' 9"
Height of 9'1"
Width of 7'11"
Interior Dimensions
Length of 19' 5"
Height of 6' 5"
Width of 7' 9"
Main Features of Escape 23 Small Travel Camper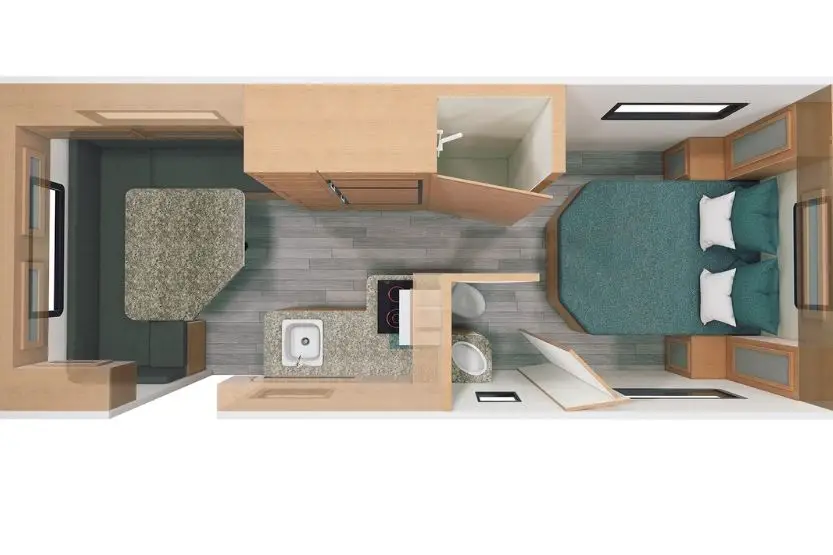 This section gives a quick look at some of the notable features that you will find in Escape 23 Camper:
1. Aluminum Chassis 
The base of this camper is the aluminum chassis. The idea is to pre-build the chassis that will provide the skeleton for the trailer's lower part. With the chassis ready, the manufacturer will add the shell on the top to simplify the production. 
2. Fiberglass Body 
Aside from the aluminum chassis, this trailer will have a fiberglass body. This is a great material because it is lightweight but durable. Plus, it requires minimal maintenance, so it won't be a headache to take care of the trailer even with years of use. 
3. Bedrooms with Two Configurations 
Only prototypes are currently available, but the website is already showing two main configurations. The set-up of the bedroom is one of the main differences between the two. In one design, you get a large walk-around queen bed, providing space to move. 
In the other configuration, meanwhile, you will find twin beds. There is room in the middle, which can provide space for an air mattress. It is also possible to configure the twins into bunk beds to increase the sleeping capacity of the camper. 
4. U-shaped Dinette 
To maximize the use of available space in the trailer, it comes with a U-shaped dinette. The seats surround the table. The initial plan was to have a table that you can replace with a bed for additional sleeping space. However, according to the latest updates from the manufacturer, such a plan is no longer pushing thru. 
5. Competitive Pricing 
The price of a camper is a common reason why many people are hesitant to buy one. Fortunately, the Escape 23 is affordable compared to many of the other options in the market. Despite being economical, the manufacturer does not compromise quality and performance. 
6. Available in Three Colors 
According to the information available on the company's website, three colors are currently available – maple, oak, and contemporary. The colors look bright and airy, which will help create an illusion of a bigger interior space. 
Again, what does the Escape 23 small travel camper offer? Escape 23 which is set to launch in 2023 at an affordable price, will have an aluminum chassis and a fiberglass body. So, it is lightweight yet packed with the luxuries a traveler should have.
Escape 23 Camper Pros and Cons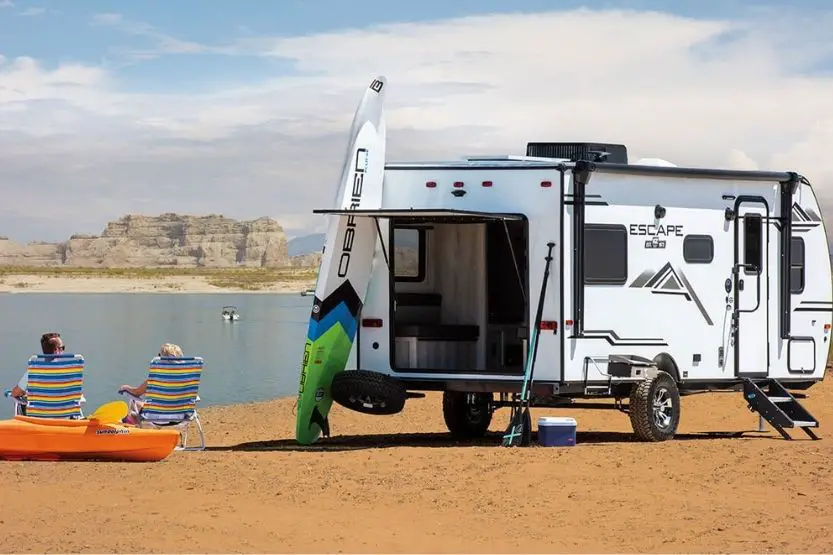 Like other campers, Escape 23 Small Travel Camper has its benefits and drawbacks. This section will help you weigh the good and the bad. In turn, you can easily decide if it is the right pick for you or if you should consider other possibilities:
Pros
Below are some of the most compelling reasons to pick Escape 23 in your search for a camper:
1. Lightweight Construction 
One of the best things about the Escape 23 is that it comes with a lightweight shell. The latter makes it easy for the towing vehicle to move the camper. This also makes it more efficient. Thanks to the use of a fiberglass body and aluminum chassis, the weight is at a minimum. 
2. Durable Shell 
Some people might associate being lightweight with being flimsy. Luckily, that is not the case with Escape 23. The trailer is built to be tough, making sure that it will withstand many years of use. 
3. High-quality Craftsmanship
While the Escape 23 is not yet available in the market, we can safely say that it will demonstrate top-notch craftsmanship. The company has a solid reputation for building state-of-the-art trailers, so we expect to maintain such a record even in their future products. 
4. Not Prone to Leaks 
Speaking of its craftsmanship, the manufacturer guarantees that the trailer is leak-proof. It is made of molded fiberglass instead of rivets, minimizing the chances that the interior will leak. 
Cons 
Despite the good things, Escape 23 has a few drawbacks, including those we'll be talking about below:
1. Not Yet Available 
Take note that Escape 23 is still in the process of production. Do not get too excited about getting your hands on this camper, as it won't be available until 2023. The company has regular updates on its website and YouTube channels about the progress of its manufacturing. You can already pre-order if you want. 
2. Does Not Come with a Backup Generator 
According to the manufacturer, they currently have no plan of installing a backup generator as a part of the trailer shell. You will need to purchase it separately and install it as an aftermarket part if you want one. 
Conclusion – Escape 23 Small Travel Camper Specs and Review 
Affordable and lightweight – these are just two of the best things that can describe the Escape 23. This innovative trailer is set to be available in 2023, so many details are still bleak as of the time of writing this review. Production is set to start at the end of 2021. 
The fiberglass shell is one of the best things about this trailer, providing a lightweight but tough body. This makes it easier and efficient to tow. Plus, it comes with several customization options, so you can personalize it as you wish. It also has a few problems, such as the lack of availability and the absence of a backup generator. 
Minimal information is currently available, with many things possibly changing before the release of the product. According to the company's website, here are some of the specs of Escape 23: 
| | |
| --- | --- |
| Total Dry Weight  | 3,800 pounds  |
| Gross Vehicle Weight Rating  | 5,500 pounds |
| Liquid Propane Capacity  | 2 x 20 pounds  |
| Dimensions  | Exrerior – 23′ 9″ x 9′ 1″ x 7′ 11″, Interior – 19′ 5″ x 6′ 5″ x 7′ 9″  |