Although there is something special about "roughing it" in the wild, there is also something to be said about living it up and doing it in style, like when you are rolling in the Entegra Anthem. In this Entegra Anthem review, I'll list all its features and specs so you can decide if this is the right RV for you.
The Entegra Anthem is among the luxury diesel 6-wheel recreational vehicles that come from the exclusive stable of Entegra Coach. This RV is powered by a Cummins L9 turbocharged diesel engine capable of 450 horsepower and 1,250 ft-lbs of torque. Aside from massive power, the Anthem also provides unrivaled luxury and style.
Read on to learn more about the Entegra Anthem, its model lineup, specs, and features.
About the Entegra Anthem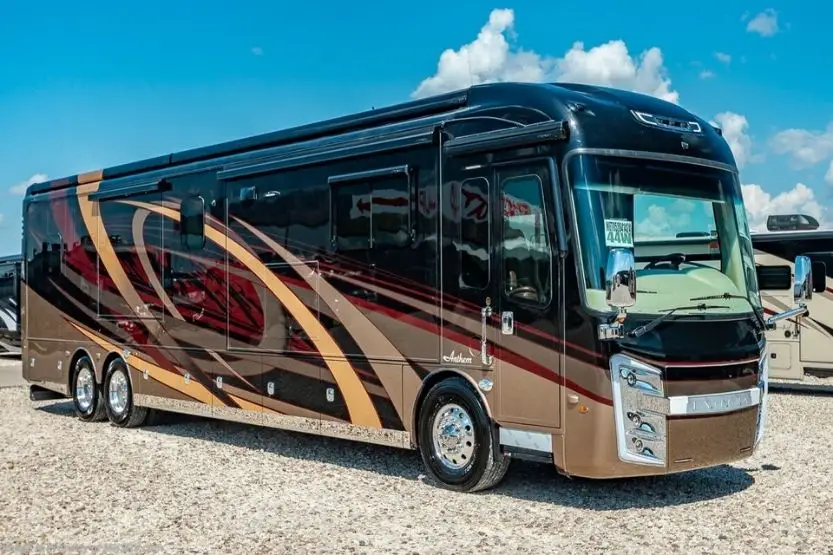 The Anthem is one of the luxury diesel coaches manufactured by the Entegra Coach company, one of the leading luxury RVs in the world.
Entegra is a member of the Jayco group of companies, and the company has been in business for more than a decade. Aside from the Anthem, Entegra also produces other RVs, including:
Class-C RVs
Class-B RVs
Class-A RVs
Luxury Diesel RVs (6-wheelers)
The Entegra Anthem coach ensures that you will be arriving there in style wherever you plan ongoing. This massive diesel RV is jampacked with all the luxury trimmings that you can expect from one of the most prestigious RV brands in the world. It is also big enough to accommodate up to 7 people in relative comfort.
Entegra Anthem Model Lineup
The Anthem comes in several floorplan configurations, which include:
The Entegra Anthem 44B, which measures 45'5" in length, has 4 slides and can accommodate up to 4-5 persons.
The Entegra Anthem 44F, which measures 45'5" in length, has 4 slides and can accommodate up to 6-8 persons.
The Entegra Anthem 44R, which measures 45'5" in length, has 4 slides and can accommodate up to 10 persons.
The Entegra Anthem 44W, which measures 45'5" in length, has 4 slides and can accommodate up to 6 persons
The Entegra Anthem 44z, which measures 45'5" in length, has 4 slides and can accommodate up to 6 persons
The Anthem is based on the Spartan K2 raised rail chassis, which gives it ample living space. If you have a large family, then you should get the Anthem 44R. It comes with double bunk beds in addition to the hideaway sofa beds and the main king-size bed.
Entegra Anthem Interior Features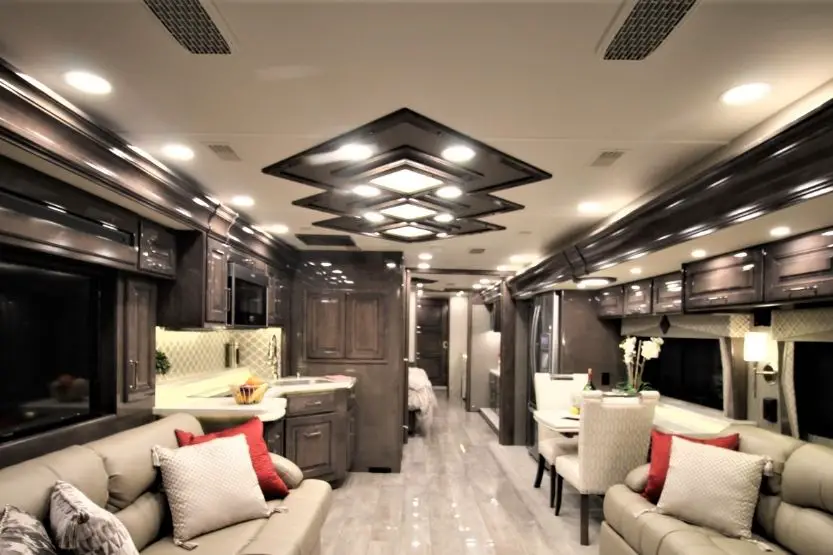 1. Spacious and Cozy Bedroom
How many times have you woken up even more tired after spending the night in an old and seedy motel room? This won't be an issue when you travel using the Entegra Anthem. You will be getting a full king-size bed with a premium mattress, so every night spent in the Anthem is guaranteed restful.
Among the things you can enjoy in the bedroom are:
Premium Select Comfort king-size mattress
Ceiling fan
Led bedside lamps
Harwood-lined wardrobe with lights
32" LED TV with Bose soundbar and Sony Blu-ray player
2. Spacious and Fully-furnished Kitchen
Although it's quite an experience cooking on an open campfire, if you will be cooking for a group of people, that would not cut it. The nicest thing about the Anthem's onboard kitchen is the extendable hidden countertop. This makes meal preparation a whole lot easier.
Here are some great features in the kitchen:
Granite sink
Induction cooktop
1.9 cubic feet convection/microwave oven
Residential-sized refrigerator with ice maker
3. Ample-sized Bathrooms
The Entegra Anthem comes with one and a half bathrooms. This is a great feature, especially when you are traveling with a large group. You do not need to line up outside the bathroom anymore, like what you used to when checking into hotels during long road trips.
Unlike the usual bathroom RVs, the one in the Anthem comes with real porcelain tiles. This can help you feel at home even when you are on the road.
Here's what you can expect in the bathroom:
Solid-surface bathroom countertops with LED accent lights
Sunken glass sink
Walk-in shower with skylight
Showermi$er water-saving system
Macerator toilet
The bathroom in the Anthem is arguably much nicer than what you can find in most highway motels. With that, you will surely feel more comfortable.
4. Cozy Living and Dining Area
If you are exhausted after an entire day of hitting the trails or exploring the local neighborhood, there is nothing like crashing into a comfy leather couch, kick your feet up, and watch your favorite movies or shows on a 50-inch 4K LED television. You will be able to enjoy all that and more in the Anthem.
However, the best feature in the Anthem's living area is the bar area that comes with a beverage chiller. This RV makes it quite hard not to relax as it has these great features:
50-inch Samsung QLED Smart TV
32-inch Samsung QLED Smart TV (front overhead mounting)
Bose soundbar with built-in subwoofer
Central vacuum cleaner
Premium Italian leather upholstered furniture
5. Comfortable Cockpit
The driver's seat should be the most comfortable in the whole RV, and that is surely the case with the Entegra Anthem. The Anthem is a huge RV, and you will need a special license before you can even drive it. However, when you are in the cockpit, you will get all of the electronics assistance gadgets that will drive you towards your destination:
15" digital dash with onboard diagnostics
360-degree HD digital camera system
The dual 9-inch touchscreen infotainment system.
Blindspot cameras
E-Z Steer adjustable electronic power steering
Heated leather power driver and passenger seats with 6-way adjustments
Again, what does the Entegra Anthem offer? The Entegra Anthem is one of the luxury 6-wheel recreational vehicles in the Entegra Coach line. Powered by the Cummins L9 turbocharged diesel engine (450 hp and 1,250 ft-lbs of torque), Anthem is also capable of providing you with luxury and style while on the road.
Entegra Anthem External Features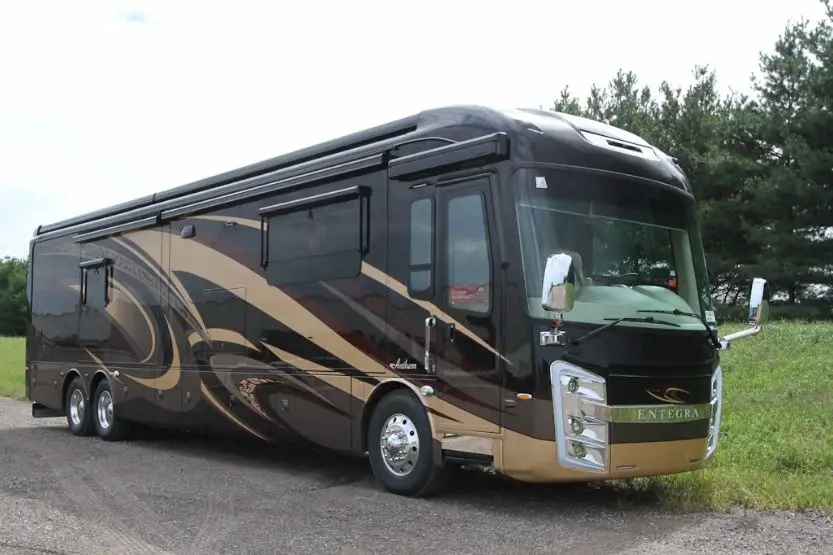 Outdoor Entertainment
It would be such a shame if you just spent your entire camping trip lounging inside the Anthem. It is quite tempting, though. Fortunately, the Anthem also has many external features that would make you want to spend time outside. This is especially true if the weather is nice:
43-inch 4K Smart TV
Satellite radio with stereo speakers
Automatic vinyl awning with wind sensor
2.8 cubic feet refrigerator and freezer
Power slideout basement storage tray
Engine and Transmission
The Entegra Anthem is a huge RV. It needs an equally large engine to move it forward, and that is just what the Anthem has:
Based on Spartan K2 raised-rail chassis
Cummins L9 turbocharged diesel engine capable of 450 horsepower and 1,250 lb.-ft of torque
The engine is mated to an Allison 6-speed automatic transmission.
Side-mounted radiator
2-stage engine brake
Disc brakes with ABS on the front and drum brakes on the drive and tag axles
Bilstein front and rear shocks
150-gallon fuel tank
Even though a huge turbocharged diesel engine powers this RV, the Anthem is surprisingly quiet when rolling down the road. You will not even hear any inkling that the engine is running while you are inside the coach. This is all thanks to the carpeting in the storage bays and the foam insulation in the walls.
Even though the Anthem is powered by diesel, it can only get up to 8 miles per gallon while cruising on the highway. However, road grade and conditions play a huge role in the large vehicles' mileage like the Anthem.
Key Specs of the Entegra Anthem
The Anthem might have all the creature comforts you can expect from a luxury RV, and it also covers all the basics and then some. Here are some of the most important details that you will appreciate when you are out camping:
12,500-watt diesel generator
3 x 15,000-BTU A/C units
100-gallon fresh water holding tank
50-gallon black water holding tank
50-gallon grey water holding tank
50-amp hookup to the city electric system
City water hookup with filtration system
Carbon monoxide detectors and smoke alarms
Probably, the best feature of the Entegra Anthem is the sheer amount of pass-through storage space in the basement of the vehicle. It does not matter how much cargo you and your passengers are carrying. There will be enough storage space for them.
Entegra Anthem Pros and Cons
Pros
Quiet operating even though it is a diesel
Large pass-thru storage
Porcelain tile flooring
Lots of USB and regular power outlets
Large main bedroom area
Cons:
Slides are almost impossible to retract when covered in snow
Conclusion – Entegra Anthem Specs and Review
The Entegra Anthem is one of the several luxury diesel coaches made by the always reliable Entegra Coach company. The Anthem is powered by an L9 Cummins turbocharged diesel engine capable of producing up to 450 horsepower and 1,250 ft-lbs of torque.
This is more than enough for moving this 45' long vehicle. However, the Entegra Anthem is more known for providing the utmost luxury and style for the passengers.
The Entegra Anthem is not for the budget-conscious traveler. Not only is it a fuel hog, but the price tag may also seem too steep for some. On the other hand, I will be the first to tell you that every penny that goes into the Entegra Anthem is well spent. You will be getting the ultimate in comfort and style, and you cannot put a price on that.