So far, most Entegra Coach motorhomes have never failed to impress. Will Cornerstone live up to the company's reputation? In this review, I'll list all of the important features and specs of the Entegra Cornerstone to help you decide if it's the right RV for you.
The Entegra Coach is a manufacturer of high-quality motorhomes. It has strictly followed the traditions of the Jayco brand, which this company acquired in 2008. Overall, most people are pleased with their Entegra Coach RV.
Read on to learn more about the Entegra Cornerstone RV, precisely its key specs and features.
About the Entegra Cornerstone RV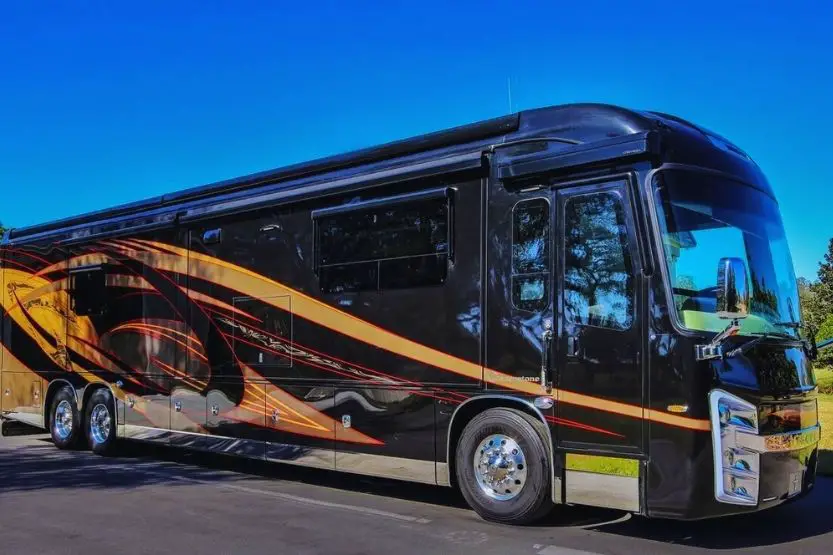 Lloyd and Bertha Bontrager founded the Entegra Coach in 1968. Even when it became part of the Jayco family in the spring of 2008, the company is still known for its luxury motorhomes that embody its commitment to exceptional quality and craftsmanship. So, it's not surprising if the Cornerstone is the best-selling motor coach in the Cummins X engine category.
The exterior and interior designs of the Cornerstone scream luxury and elegance. It has the following:
Best design features,
State-of-the-art entertainment systems,
High-end appliances,
Spacious floor plans,
Residential furniture,
Navigation systems, and
Other amenities that could rival other high-end mobile homes or even traditional homes.
The 2022 Cornerstone is available in:
Three Decors
Beach,
Linen, and
Sterling
Available Floor Plans
45B
45D
45F
45R
45W
45Z
Standard Features of Entegra Cornerstone RV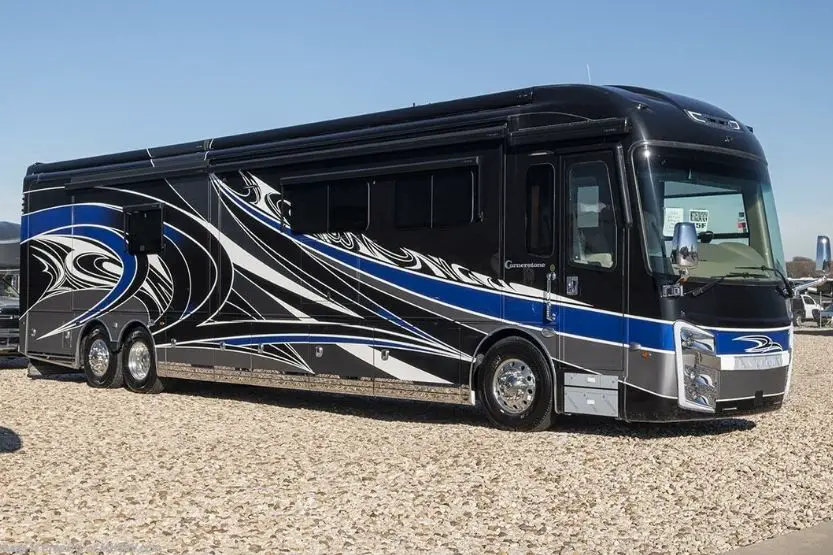 Let's take a deeper look into the standard features that make this luxury diesel motorhome a real treat:
1. Chassis and Engine
Chassis
The Entegra Coach Cornerstone is built on Spartan's biggest vehicle chassis: the Spartan K3 raised rail chassis. This is a dependable and strong chassis that's highly capable of handling all of the features within the Cornerstone's body, including its massive 15-liter engine.
Engine
The 15-liter engine that powers the Cornerstone is from Cummins. It produces 600 horsepower (HP) and 1,950 foot-pounds (ft-lbs) of torque at 1,150 rotations per minute (RPM).
While this might seem too much for others, this amount of power is definitely a blessing when you're trying to maintain or gain speed when climbing steep inclines or attempting to navigate a busy freeway.
Cost of Operation
The cost of operating the Cummins ISX isn't too high. Every component of this engine is specifically designed to maximize fuel economy and offer years of dependable service.
Because this diesel engine has a high torque output, the Cornerstone can carry heavy loads more efficiently and far easier while allowing it to lope along at a lower RPM. As a result, it achieves the same fuel economy as a smaller engine under most driving conditions.
2. Driving Performance
Entegra claims that they have "The Quietest Riding, Best Handling Coach on the Market Today. Period." If you ever get the chance to drive the Cornerstone, you'll immediately realize that this is true. It's not only quiet, but it also offers smooth, trouble-free rides.
Stable and Quiet Rides
There are many reasons why the Cornerstone is a real treat to drive. RVs from other brands would be a pain when you have to drive them on roads that aren't flat and in good condition. That's not the case with Cornerstone. Regardless of where you drive it, you'll still enjoy safe, stable, and quiet rides.
Easy to Maneuver and Drive
Like most Entegra Coach RVs, the Cornerstone is easy to maneuver and drive. The structural improvements and the addition of the X-bridge Frame bracing help its suspension system to work much better.
Braking System
The braking system is just as impressive as the handling. It has disc brakes to reduce brake fade, which is common in drum brakes. It has a three-stage engine brake to make sure you avoid over-revving (or overspeeding) or put too much pressure on the torque converter.
When the three-stage engine brake and six-wheel disc brakes work together, it takes minimal effort to drive down roads with steep inclines or switchbacks.
3. Leveling and Traction
The new Cornerstone also has the Valid Trueline air leveling system with an auxiliary air compressor. This system uses the latest accelerometer calibration technology, accurately measuring the tilt amount applied to this RV. The result is exceptional leveling control.
Driving on low traction conditions (ice, mud, snow, etc.) may cause you to over-brake or over-steer. Of course, you don't want that to happen. The Entegra Coach Cornerstone comes with automatic traction control, so you can stay in control at all times when driving on slippery surfaces.
Again, what does the Entegra Coachmen offer? The Entegra Coach continued the legacy of the Jayco brand in building high-quality motorhomes. Their customers are happy with their Entegra Coach RV.
4. Construction Summary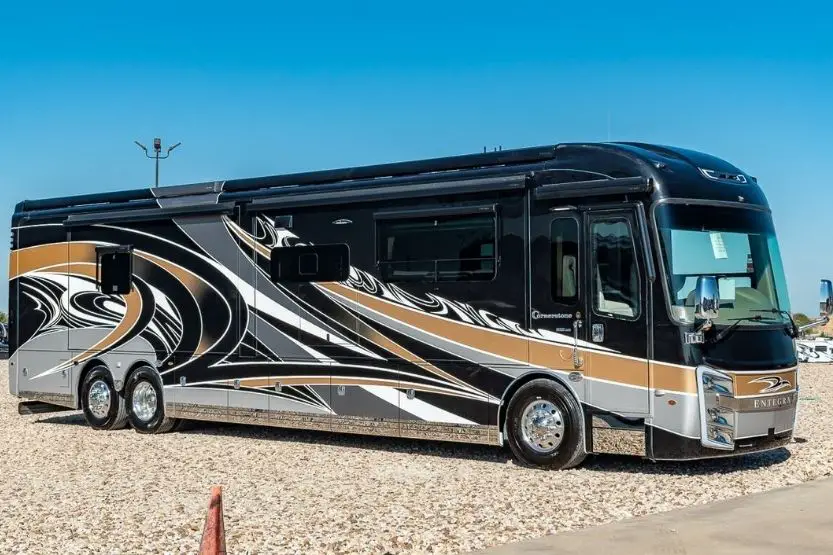 Cab Design
The cab of the Cornerstone features a forward-control design. By placing the cab behind the engine, you can be assured of a more comfortable ride.
In addition, Entegra used the biggest possible one-piece front windshield to allow you and your family to enjoy an uninterrupted view of the scenery along the way.
The combination of the forward-control cab design and lower-positioned windshields and side mirrors ensures that you don't have to deal with blind spots when driving, especially at intersections or when maneuvering into tight areas.
Cockpit
Entegra designed the cockpit area with your comfort and safety in mind. It has the Xite 360-degree HD digital camera system that acts as a reliable visual aid when you're moving slowly or backing close to objects and need to see around the coach. The on-board diagnostics gives you access to the status of Cornerstone's different sub-systems.
It also comes with the E-Z Steer adjustable power steering assist. This feature makes it easier to change the steering resistance to conform to your comfort level. It also has the benefit of a tighter turning (by 15 to 20%), just in case you need to perform a sharper U-turn.
The Villa heated and cooled leather seats for the driver and passengers are exceptionally comfortable. They come with other features, including:
Powered 6-way adjustment,
Lumbar,
Recline,
Footrest and
Massage functions.
Floor
Entegra used 2-inch by 4-inch wood on 16-inch centers for the floor and 3/4-inch 7-ply plywood for the decking. Since RVs have to carry heavy loads and travel hilly and uneven terrains constantly, the floor utilizes trusses to make it stiffer and bear more weight efficiently.
The wood and structural design don't only deaden vibrations and road noise, but they also provide enough space for batt and Flexifoil insulation. To ensure the ceramic floor tiles remain warm, they installed an in-floor hydronic heating loop system to take advantage of radiant heating.
Walls
The 2-1/2-inch thick exterior walls are held in place with welded tubular aluminum studs. Like the floor, the walls are also well insulated with reflective Flexfoil insulation then topped with vapor barriers to prevent moisture buildup.
Because of the extensive insulation in the walls, the air conditioning and heating don't run more often than usual.
So, whether you're camping in 93-degree Texas heat or 41.3-degree Wisconsin cold, the tight seals and thick insulation will always keep you more comfortable than you're used to. They'll also keep the coach much quieter when driving or when parked in busy and noisy areas.
Roof
The 4-inch curved trusses are made of aluminum and filled with extensive batt insulation and reflective Flexfoil insulation. The roof is then covered by a 3/8-inch plywood decking and one-piece fiberglass, which is a preferable material for some RVs because it's low maintenance.
Frame
For the frame, the engineers from Entegra added ten heavy-duty X-Brace reinforcements: two horizontal braces along the top, four vertical braces through the middle, and four horizontal braces along the bottom. The cross-bracing (or X-bracing) helps reduce flexing, twisting, and swaying on the vehicle.
Some of the benefits of using the cross-bracing technique include:
Cornerstone remains stable and secure when you're driving;
Braces absorb vibrations coming from the appliances and road surface; and
Floor tiles and cabinets are less likely to crack, split, or pop due to shifting or vibrations.
5. Utilities
Onan 12,500-watt Diesel Generator
The Entegra Coach Cornerstone gets its power from different sources, one of which is the Onan 12,500-watt diesel generator with an automatic start. Onan has a good reputation when it comes to being reliable. If you buy any motorhome that has one of these generators, there's a great chance that it's going to last longer than the vehicle.
How long will an Onan diesel generator last? Most 12,500-watt generators could run for around 15,000 hours or more depending on the tank size and engine's fuel efficiency.
Four Deep-cycling L16 AGM Batteries
The Cornerstone also relies on four deep-cycling L16 AGM batteries (6V/390 amp hrs. ea.) for additional clean power.
The pure sine wave inverter converts the DC power from the batteries into AC power to provide additional 3,000 watts, which is enough to operate electric outlets, entertainment systems, lights, and a wide range of RV appliances (e.g., computers, microwaves, refrigerators, and televisions).
You don't need to worry about electrical problems. The Cornerstone comes with a smart transfer switch with power surge protection. This keeps track of shore power, and when there's a utility power interruption, it automatically signals the diesel generator to start.
Conclusion – Entegra Cornerstone RV
Is the Entegra Cornerstone worth it? Like any motorhome, it has its upsides and downsides. But ever since, the Entegra Coach brand has been known for its high-quality and reliable motorhomes. The Cornerstone, the best-selling coach in the Cummins X 605HP engine category, is a great testament.
At the end of the day, the final decision is yours. Consider visiting dealerships to do a close inspection of the unit. Make sure you've written down your list of questions, must-haves, and non-negotiables (e.g., budget, storage, maintenance costs) to determine if it truly fits your lifestyle and unique needs.