From its well-thought interior design to state-of-the-art technologies, many people have nothing but praises for Entegra RVs. In this Entegra Aspire luxury coach review, I'll list all of the specs and features so you can decide if it is the right RV for you. 
The Entegra Aspire luxury coach redefines elegance on the road in different models with varying floor plans. It is popular for delivering the quietest ride and the best handling you can expect in a motorhome. From Italian leather furniture to its electrically powered steering, this RV packs a plethora of modern features. 
The table below summarizes some of the main specs of the Entegra Aspire coach: 
| | |
| --- | --- |
| Engine  | 450 HP with a torque of 1,250-lb. ft. @ 1,400 RPM  |
| Transmission  | Allison 3000 MH Six-Speed automatic transmission  |
| Gross Vehicle Weight Rating  | 41,000 pounds |
| Hitch Weight  | 10,000 pounds  |
| Water Tank Capacity  | Fresh water – 100 gallons, grey wastewater – 63 gallons, black wastewater – 41 gallons |
| Fuek Tank Capacity  | 100 gallons |
| Furnace Output  | 65,600 BTU |
| Dimensions  | 40′ 11″ x 101″ x 12′ 8″  |
Read on to learn more about the Entegra Aspire luxury coach, including its most notable features, as well as its pros and cons. 
About Entegra Coach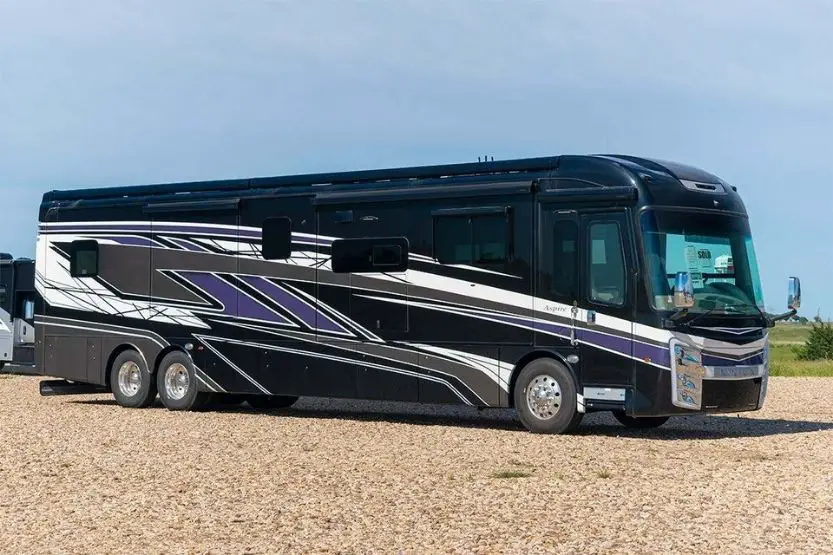 Entegra Coach is a brand that is known for its luxurious motorhomes. It combines old-world craftsmanship with modern technologies to develop smooth, rock-solid, invigorating, and advanced RVs. Because of its commitment to manufacturing nothing the best, Entegra has been a dominant name in the global market. 
In response to the growing demand and positive business performance, Entegra expanded its market offerings in 2018. From making Class A diesel coaches, they also ventured into producing Class A and C RVs. They also made a Class B van. Since then, the company has continuously evolved, redefining how people travel and live on the road. 
Entegra Aspire Luxury Coach Specs 
If you are thinking of buying an Entegra Aspire RV, take note that they are available in different versions. In this article, our focus is the Aspire 40P, which has the specs we'll briefly discuss below:
1. Engine 
The heart of this coach is the engine, which is responsible for its superb performance. It comes with a Cummins L9 turbocharged engine, which can deliver an output of 450 HP. More so, it has a torque of 1,250 lb-ft at 1,400 RPM. With such specs, it is easy to see why many people love this RV. 
2. Transmission 
This RV features an Allison 3000 MH six-speed automatic transmission. The latter makes it versatile enough to handle different environments while assuring that it does not compromise performance in any way. This is also one of the reasons why the handling of this coach is top-notch. 
3. Gross Vehicle Weight Rating 
A critical technical specification for efficiency and safety, the gross vehicle weight rating refers to the maximum capacity of the RV. It includes the weight of the coach itself and the weight of the passengers, cargo, accessories, and fuel, among others. This model has a GVWR of 41,000. 
4. Hitch Weight 
With the size of this motorhome, it is big enough to function as a tow vehicle. Nonetheless, make sure that whatever you will be towing matches with the hitch weight that the manufacturer states, which is 10,000 pounds. Going beyond such will be unsafe as the coach can no longer handle it. 
5. Water Tank Capacity 
Like with other motorhomes, the Entegra Aspire comes with three tanks, each with a different capacity. The largest of the tree is the fresh water tank, which can hold up to 100 gallons. Meanwhile, the grey wastewater tank has a maximum capacity of 62 gallons. As for the black wastewater tank that keeps sewage, the maximum capacity is 41 gallons. 
6. Fuel Tank Capacity 
It is also crucial to consider how much fuel a coach can keep in its tank. A larger tank is better, which means that you can get the RV going without any problem. In this model, the fuel tank has a maximum capacity of 100 gallons. 
7. Furnace Output 
When the temperature starts to drop, you will love how this luxury motorhome comes with a furnace. The latter will provide exceptional heating with an output of 65,600, ensuring comfort throughout your trip. 
8. Dimensions 
This is larger than your traditional RV, which also means that you will be spoiled for space. It has an exterior length of 40' 11", exterior width of 101", and exterior height of 12' 8", including the satellite and A/C. 
Main Features of Entegra Aspire Luxury Coach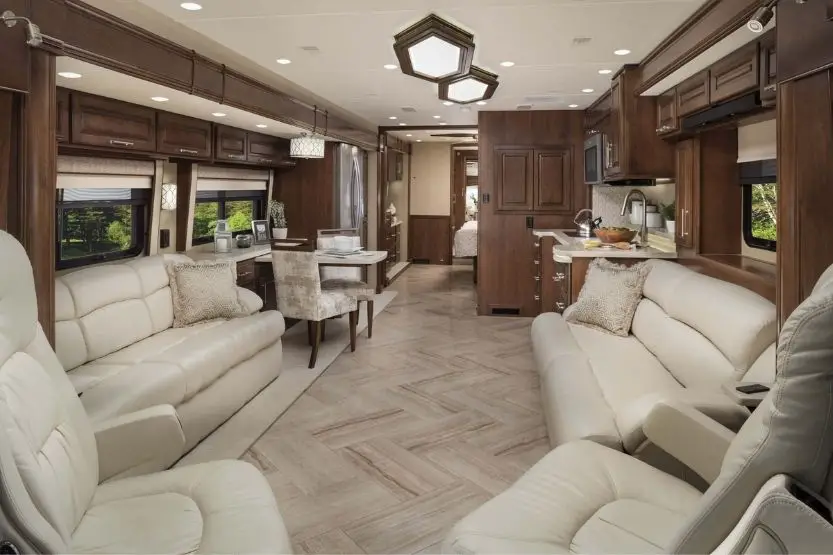 Now that we talked about its specs, below is a quick rundown of the features that you will find in Entegra Aspire RV:
1. Generator 
Enjoy dependable power on the go with the built-in generator in this motorhome. It has a 10,000-watt diesel-powered Onan generator. It is efficient and eco-friendly, but it also has an automatic start that makes it user-friendly. 
2. Television 
You will find multiple TVs on the coach, taking your entertainment to the next level. The front overhead TV is a 32-inch Samsung LED. On the other hand, the TV in the living room is a 50-inch Samsung Smart TV. There is also a 43-inch Samsung Smart TV on the exterior. 
3. Washer/Dryer 
If you spend a lot of time on the road, you don't have to worry about your laundry. This RV comes with a stacked washer and dryer from Whirlpool. With their strategic positioning, they save interior space. 
4. Refrigerator 
The kitchen of this RV is fitted with a fridge from Whirlpool. It has a stainless steel exterior, which adds a hint of elegance to the interior. Plus, it has a built-in water dispenser and ice maker. 
5. Cooktop 
Cooking on the road is effortless with the stylish induction cooktop that comes with this RV. To make it even better, it has a wood cover that blends with the kitchen's overall aesthetic. 
6. Lighting 
The well-lit interior elevates the aesthetic and makes it easier to see everything in the coach. Most of the lighting fixtures are LEDs, making them energy efficient. You will also find accent lighting, such as in the ceiling. 
7. Bed 
You can sleep like you are in a hotel on this coach. The central feature of the bedroom is the king mattress with gel memory foam. The latter adapts to the shape and pressure of the body while also regulating the temperature to keep you cool throughout your sleep. 
8. Safety System 
For your peace of mind, this luxury motorhome packs a lot of safety features. It has a carbon monoxide alarm, smoke detector, safe, and glass shatter sensors, among other things that will provide an immediate warning when there is a hazard. 
9. Cooling System 
Even in the middle of the summer season, your comfort is a sure thing in this luxury coach. It has three air conditioning units with an output of 15,000 BTU. With the strategic position inside the RV, you will stay cool and comfortable wherever you are. 
10. Heating System
Meanwhile, in the winter months, this impressive motorhome can keep you warm. It has a 400D Aqua-Hot hydroponic heating system. Plus, it also has in-floor heating. Whether you are taking a shower or just walking on the bus, you will not shiver. 
Again, what does the Entegra Aspire Luxury Coach offer? The Entegra Aspire luxury coach brings with you elegance while on the road. It is a quiet ride, has excellent handling, has Italian leather furniture, electrically powered steering, and other modern features.
Entegra Coach Pros and Cons 
As you decide whether to buy the Entegra Aspire RV or look for other alternatives, it is vital to go over some of its benefits and drawbacks:
Pros 
Are you looking for compelling reasons to buy the Entegra Aspire coach? This section looks at some of its most notable benefits:
1. Extremely Quiet 
One of the best things about this luxury RV is that it has effective noise management. It is like being in an entirely separate world when you are inside. You cannot or barely hear the noise outside, assuring a peaceful and comfortable sleep. 
2. Excellent Insulation 
This is also perhaps one of the reasons why the cabin is quiet. With impressive insulation, it manages temperatures effectively and efficiently. It keeps the interior comfortable regardless of the weather outside. 
3. High-quality Construction 
The motorhome has top-notch construction, from the aluminum and fiberglass body to the leather couches. It uses the best available materials, which is also the reason why it is expensive. 
4. Generous Space
We also love how it has generous interior space, making sure that you can move around without any difficulty. It has a maximum sleeping capacity of eight people. Even if you reach the maximum, everyone is sure to be comfortable inside this coach. 
5. Luxurious Interior 
As soon as you step inside the coach, you will realize one thing – it is luxurious. The seat uses high-quality leather, and the RV is packed with state-of-the-art appliances. It also uses modern technologies to make the coach practical and functional. Being in this RV is like living in a hotel. 
6. Reliable Customer Service 
If you have questions or queries, you will love how reliable the customer service is. They provide top-notch support, which will contribute to the highest level of satisfaction. Once you get in touch with their representatives, it won't take long to settle your issue. 
7. Available in Attractive Colors 
We also like how the coach is available in an array of elegant and beautiful colors. You can choose one depending on your personality and preferences. The colors are black cherry, purple haze, gold ice, sugar cookie, ultrasonic blue, and silver spruce. 
8. Offers Several Connectivity Options 
To demonstrate its modern capabilities, the RV has different options for connectivity. It has Bluetooth and Wi-Fi connectivity. Plus, you can integrate the different functionalities into a compatible mobile app, making them easy to control. 
9. Good Warranty Coverage 
Another good reason to pick this coach is the extensive warranty coverage that the company offers. Aside from the two-year warranty, you will also enjoy three-year road assistance with purchasing this RV. 
Cons
While it is an exceptional product, it is undeniable that there are also some problems, including those that we'll talk about below: 
1. Expensive 
The biggest issue that most people will have about this RV is its price. It is not for people on a budget. Instead, it is for those who breathe luxury. While the price is high, it is justifiable. From the interior to the exterior, it is worth every dollar! 
2. Difficult to Repair 
If you encounter any problem that requires professional assistance, the repair can be tricky. Only a few shops will repair many of its components. Most of the parts are complicated to handle and will require a specialist. It is best to call Entegra and ask for advice on repair, such as the nearest shop or mechanic that they can recommend. 
Conclusion – Entegra Aspire Luxury Coach Specs and Review 
Travel and live on the road in style with the Entegra Aspire luxury coach. It is one of the most elegant motorhomes to hit the market in recent years. From the inside to the outside, it is reflective of the best technologies.
While it is expensive, you have plenty of good reasons to choose the Aspire motorhome. It is one of the quietest in its class and delivers exceptional handling. It also offers great insulation, making sure of your comfort. Plus, it has an aesthetically pleasing design and uses high-end parts, including a fine-leather couch and top-of-the-line appliances. 
Meanwhile, here is a recap of the specs of the Entegra Aspire RV, specifically the 40P version: 
| | |
| --- | --- |
| Engine  | 450 HP with a torque of 1,250-lb. ft. @ 1,400 RPM  |
| Transmission  | Allison 3000 MH Six-Speed automatic transmission  |
| Gross Vehicle Weight Rating  | 41,000 pounds |
| Hitch Weight  | 10,000 pounds  |
| Water Tank Capacity  | Fresh water – 100 gallons, grey wastewater – 63 gallons, black wastewater – 41 gallons |
| Fuek Tank Capacity  | 100 gallons |
| Furnace Output  | 65,600 BTU |
| Dimensions  | 40′ 11″ x 101″ x 12′ 8″  |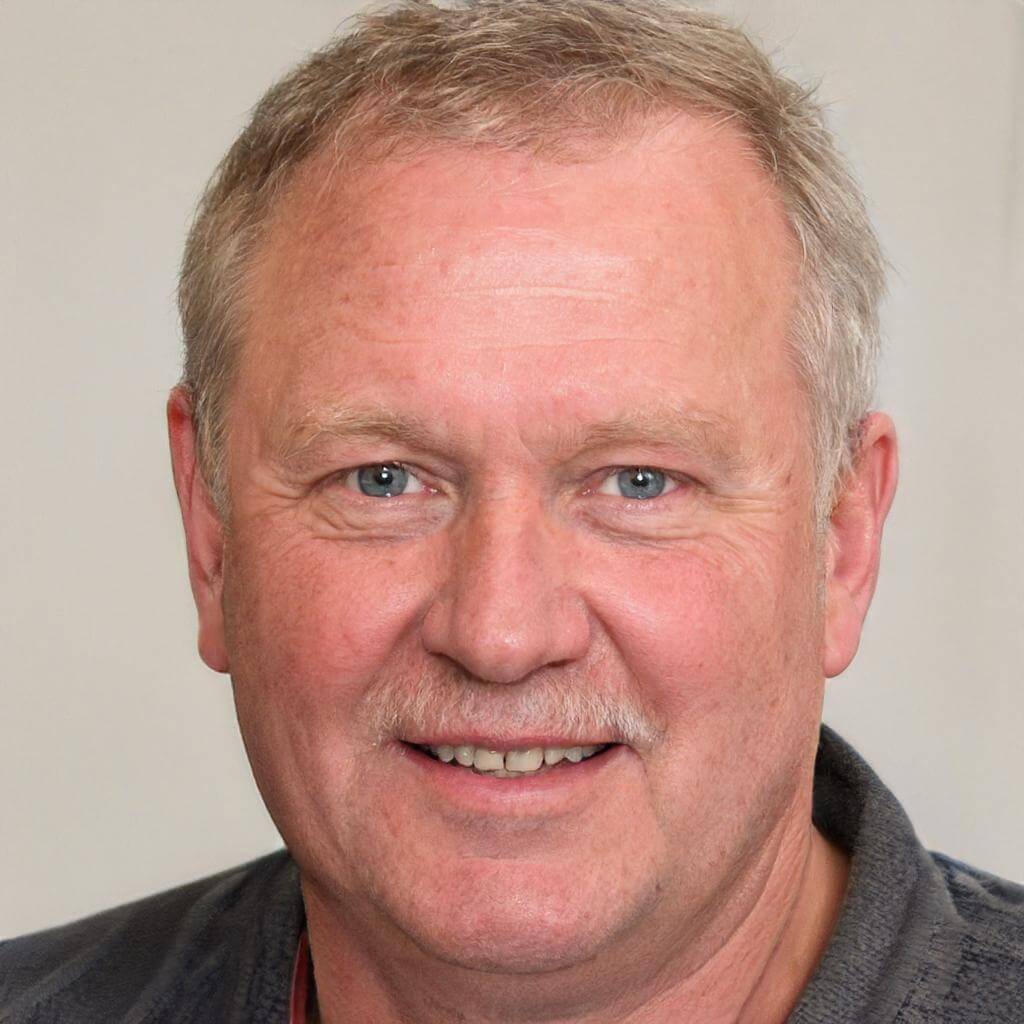 We created RVcrown.com in 2020 as a way to geek about everything we've learned and are still learning about RVs. You'll find in-depth articles covering reviews, specs, and features of the top RVs in the market. Contact me. Disclaimer: The information and advice provided in this blog are for educational and informational purposes only. The author does not guarantee any particular result or outcome from following the advice provided. See more about us.