Economical and comfortable – these are some of the best things that will describe the Ameri-Lite trailers. They will redefine roadside living even when you are away from home. In this Gulf Stream Coach Ameri-Lite review, I will talk about some of its features, so you can decide if this is the right RV for you. 
The Gulf Stream Coach Ameri-Lite is available in Ultra-Lite and Super Lite, each with diverse floor plans. They have high-quality construction, a roomy interior, and innovative features. Not to mention, it is also economical! From its uni-body structure to the easy-care vinyl flooring, the Ameri-Lite trailers are impressive in more ways than one. 
Here is a quick summary of some of the featured specs of the Ameri-Lite RV, specifically the 285DB: 
| | |
| --- | --- |
| Dry Weight  | 6,200 pounds  |
| Hitch Weight  | 1,060 pounds  |
| Carrying Capacity  | 1,300 pounds  |
| Holding Tank Capacities  | Fresh Water – 30 gallons, Grey Water – 72 gallons, Black Water – 74 gallons  |
| Liquid Propane Tank  | Two tanks with 20 pounds  |
| Furnace  | 16,000 BTU  |
| Air Conditioner  | 13,500 BTU  |
| Refrigerator  | 10.7 cubic feet  |
| Sleeping Capacity  | 9 |
| Dimensions  | Interior Height – 6′ 8″, Exterior Height 11′ 3″, Width – 96″, Length – 35′  |
Read on to learn more about the Gulf Stream Coach Ameri-Lite trailer, including its technical details, as well as some of its pros and cons. 
About the Gulf Stream Coach Ameri-Lite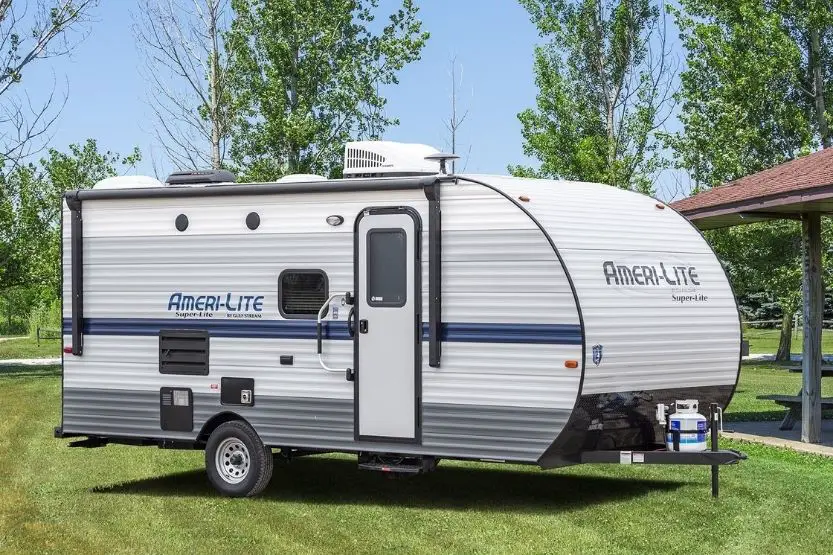 Brainchild of the Shea Family
Gulf Stream was founded in 1971 in Nappanee, Indiana. It was the brainchild of the Shea family who also owns the company today. Jim Shea started the company with his sons, building travel trailers from scratch. In 1983, the Gulf Stream Coach was established, which made high-quality motorhomes. 
One of the Leaders in the RV Industry
Today, Gulf Stream Coach is one of the leaders in the RV industry in North America. It is a family of 22 brands and over 140 various models. Throughout the company's history, it has manufactured more than 300,000 RVs.
While the company has a diverse product line, our focus is on the Ameri-Lite in this review. The latter has two main categories – Super Lite and Ultra-Lite. Regardless of which one you choose, you can be confident that the quality and performance are top-notch. Best of all, these trailers are perfect for people on a budget. 
Specs of the Gulf Stream Coach Ameri-Lite RV 
To start this review, let's have a quick look at some of the important technical specifications of the Gulf Stream Coach Ameri-Lite travel trailer. These details apply to the 285DB, which is the largest from the Ameri-Lite family as of the time of writing this review:
1. Dry Weight 
The dry weight of this trailer is 6,200 pounds. It refers to the weight of the RV with the standard equipment that originally comes out of the production plant. Nonetheless, it excludes all add-ons, including fuel, cargo, and passengers.
2. Hitch Weight 
Since it is a travel trailer, understanding the hitch weight is important to match it to the towing vehicle. This will ensure safe and efficient towing. The maximum hitch weight of this RV is 1,060 pounds, which refers to the weight that it will exert on the trailer tongue. 
3. Carrying Capacity 
The trailer will move cargo and passengers, which must match the carrying capacity. This is important to ensure safety on the road. Going above such will impact the towing capability. The net carrying capacity of the 285DB travel trailer is 1,300 pounds. 
4. Holding Tank Capacities 
Like other trailers, this model comes with three holding tanks with the following maximum capacities: 
Fresh Water: 30 gallons 
Grey Water: 72 gallons 
Black Water: 74 gallons 
5. Liquid Propane Tank 
The trailer comes with two liquid propane tanks, each holding 20 pounds of gas. With the latter, it is easy to cook when you are on the road. It almost feels like you have a fully equipped kitchen even when you are away from home. 
6. Furnace 
Stay comfortable on your road adventures even in the middle of winter. With an output of 16,000 BTU, the trailer has superior heating capabilities. This way, you can stay warm even as the temperature outside drops. 
7. Air Conditioner 
Even in the summer, you will be comfortable on the road. It has an air conditioning system with a maximum output of 13,500 BTU. 
8. Refrigerator 
The kitchen is incomplete without a refrigerator. Luckily, this motorhome comes with a fridge. It is 10.7 cubic feet, which is perfect for the size of the interior. With this, it is easy to keep your food fresh. 
9. Sleeping Capacity 
It has a maximum sleeping capacity of nine people. Aside from the queen bed, passengers can also sleep on the upper and lower bunks and the sofa theater. Not to mention, the floor space is generous, so you can add an air mattress if you wish. 
10. Dimensions 
Here are the dimensions of this travel trailer: 
Interior Height: 6' 8" 
Exterior Height: 11' 3"
Width: 96"
Length: 35' 
Main Features of the Gulf Stream Coach Ameri-Lite Travel Trailer 
Below, I am listing down some of the most notable features of the Gulf Stream Coach Ameri-Lite:
1. Uni-Body Construction 
As the name implies, a uni-body construction is built using a single piece of the main material. It means that no frame supports the vehicle. They are beneficial because of being lightweight and efficient. However, it can also be a problem, especially when it comes to weight distribution. 
2. One-piece Vinyl Roof 
The one-piece construction of the vinyl roof is another notable feature. Like the rest of the body, it is also durable. More so, the roof is excellent because of the 12-year warranty, which is one of the longest in the industry.
3. U-shaped Dinette 
With the shape of the dinette, you can maximize the space available. It has cushioned seats, which will make it more comfortable.
4. Bath Skylight 
With the skylight in the bathroom, you can take advantage of natural lighting. This way, you do not have to turn on the light in the bathroom during the day. 
5. Pass-thru Storage 
Most of the models will have pass-through storage, which means that it is accessible from both sides. With this, you can keep more stuff on the trailer and bring it to your travels. 
6. Electric Awning 
Day or night, whether it is raining or the sun is at its peak, you can stay outside the trailer comfortably because of the awning. The best thing is that it has an electric control for its ease of use. 
7. Bluetooth Radio 
With the Bluetooth radio, you can enjoy wireless connectivity. It means that you can play music from your devices. Plus, there are interior and exterior speakers, so you can hear the music whether you are in or out of the trailer. 
8. LED Interior Lights 
The interior lights are bright and energy-efficient. Since they are LEDs, they are also long-lasting. Even better, they won't make the interior hot. 
9. Technology-ready Upgrades 
You can add different technologies depending on your needs and budget, including the following: 
Solar panels 
Wi-Fi 
Backup cameras 
Satellite TV 
10. Three-Year Structural Warranty 
For your peace of mind, it is also worth emphasizing that it has a three-year structural warranty. The latter shows how confident the manufacturer is about the quality of the motorhome. 
Again, what does the Gulf Stream Coach Ameri-Lite offer? If you plan to get a Gulf Stream Coach Ameri-Lite, you can choose between Ultra-Lite and Super Lite. Both are available in unique floor plans. Whichever you choose, you get to enjoy a high-quality construction, uni-body structure, spacious interior, easy-care vinyl flooring, and innovative features.
Pros and Cons of the Gulf Stream Coach Ameri-Lite Camper 
Undecided if this is the right travel trailer to buy? Let's talk about some of its benefits and drawbacks below:
Pros of the Ameri-Lite RV 
Below are some of the good things about this trailer, which can compel you to pick it over others:
1. Lightweight for Easy Pulling 
All Ameri-lite trailers have lightweight shells. It means that they are easy to tow because of their minimal weight. They are also efficient since the towing vehicle does not need to exert a lot of effort. 
2. A Great Pick for People on a Budget 
While many people want to have an RV, it remains an unfulfilled dream for many because of financial limitations. That said, you will love this travel trailer because it is economical without compromising its overall performance and quality. 
3. Available in Different Floor Plans 
It is also good to choose from different layouts depending on what is most suitable for your needs. All the floor plans are spacious, making sure that there is enough room to move around. More so, depending on the layout, there can be bunk beds, which will maximize the sleeping area in the RV. 
4. High-quality Construction
The travel trailer is also impressive because of its top-notch construction. Despite being lightweight, it is tough. Below are some of the features that make it commendable: 
Seamless roof with one-piece construction 
Hand-cut fiberglass insulation 
Insulated ducts 
Powder-coated tubular steel frame 
Butyl caulk seals 
5. Intuitive Control Panel 
You will also like how it comes with a user-friendly control panel. It provides centralized access to everything that you will need for controlling the different parts of the trailer. Such will contribute to convenient roadside living. 
Cons of the Ameri-Lite RV 
Despite the benefits, you will also experience a few problems, including those I will list below:
Prone to Leaks 
As some of its users share, leaking is one of the potential problems in the trailer. Sealing could have been better to prevent water damage from leaks. The latter can damage the different parts of the RV, especially the front compartment. 
Trims Easily Come Off
A lot of the trimmings in this RV are easily prone to coming off their original positions. It seemed like they were not glued properly. If you experience this problem, use glue to attach the trims to the original position.
Conclusion- Gulf Stream Coach Ameri-Lite Travel Trailer 
Travel trailers don't have to be expensive. Even if you are on a budget, you can enjoy exceptional quality. Such is the case when you have the Gulf Stream Coach Ameri-Lite. This trailer has two main categories – Ultra-Lite and Super Lite. They both offer the comfort of home, even on the road. 
The Ameri-Lite RVs stand out because of their uni-body construction, lightweight shell, user-friendly control panel, and exceptional structural warranty, among other things. Nonetheless, there are also some drawbacks, such as the interior trims and the possibility of leaking, especially in the front compartment. 
To recap, here is a summary of the specs of the Ameri-Lite 285DB RV: 
| | |
| --- | --- |
| Dry Weight  | 6,200 pounds  |
| Hitch Weight  | 1,060 pounds  |
| Carrying Capacity  | 1,300 pounds  |
| Holding Tank Capacities  | Fresh Water – 30 gallons, Grey Water – 72 gallons, Black Water – 74 gallons  |
| Liquid Propane Tank  | Two tanks with 20 pounds  |
| Furnace  | 16,000 BTU  |
| Air Conditioner  | 13,500 BTU  |
| Refrigerator  | 10.7 cubic feet  |
| Sleeping Capacity  | 9 |
| Dimensions  | Interior Height – 6′ 8″, Exterior Height 11′ 3″, Width – 96″, Length – 35′  |