Gone were the days when RVs were bulky and heavy. Nowadays, it is all about intelligent use of space. Companies like Airstream have been producing small travel trailers with the luxuries that you will find in their larger counterparts.
In this Airstream Basecamp Travel Trailer review, I will walk you through some of its specs and features, so you can determine if this is the right travel trailer for you.
Small but luxurious – that is what you can expect in the Airstream Basecamp Travel Trailer. It has a lightweight and durable aluminum shell with an aerodynamic shape. As a result, you can expect less drag and optimal efficiency, making it easy to tow. Its features include a U-shaped dinette and benches with convertible beds, an outdoor shower, and a pre-wired solar kit.
The table below summarizes the key specs of the Basecamp RV:
Gross Vehicle Weight Rating
4,300 pounds
Net Carrying Capacity
900 pounds
Hitch Weight
500 pounds
Holding Tank Capacities
Freshwater – 23 gallons
Gray water – 28 gallons
Blackwater – 21 gallons
Bed Configuration
Full bed – 82 x 78 inches
Half bed – 41 x 78 inches
Sleeping Capacity
Two to four
Dimensions
External width – 7′ 9.5″
Exterior length – 20′ 2″
Exterior height – 9′ 5″
Interior width – 7′ 2.5″
Price
$40,100
Read on to learn more about the Airstream Basecamp Travel Trailer, including its features and pros and cons.
About the Airstream Basecamp Travel Trailer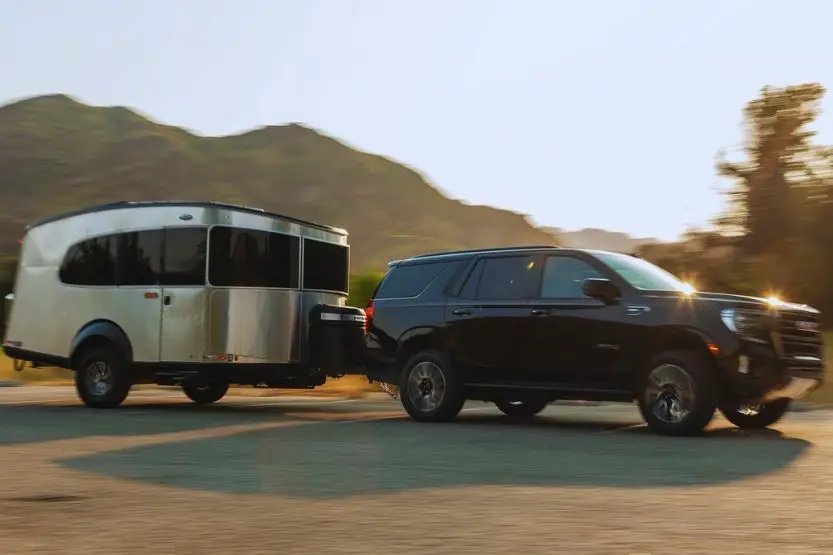 Built for adventure – that is how Airstream describes the Basecamp travel trailer. From the design to the features, it is for the wanderlust. It is small enough to be towed by an SUV, making it easy to drive around, especially if you are a newbie. The trailer may be limited in size, but it makes sure that your comfort is never compromised.
Born in 1896, Airstream was founded by Wally Byam in Baker City. Growing up, he was working on a sheep farm and living in a donkey-towed wooden wagon. The latter was the inspiration behind the company's trailers. Today, it is a successful company with many products, including travel trailers and touring coaches.
Main Features of the Airstream Basecamp Travel Trailer
If you are undecided if you should choose this trailer or look for something else, start by being familiar with the most notable features of the Airstream Basecamp trailer:
1. U-Shaped Dinette
You can eat conveniently on the road with its U-shaped dinette. It can sit up to four people. The tabletop swivels, making it easy to enter and exit. Meanwhile, the seats are cushioned to ensure your comfort. You can convert the dinette into a half bed when you are not eating, providing additional sleeping space in the trailer.
2. Bench Seating
Because of the small size of the trailer, there is no space for fancy recliners. Nonetheless, it comes with two cushioned bench seats. Each bench can also function as a half bed. Alternatively, you can convert it into a full bed for a comfortable sleeping space.
3. Semi-Monocoque Aluminum Superstructure
One of the defining features of this trailer is the semi-monocoque aluminum shell. It has inner and outer aluminum skins, which are also hand-riveted. The result is a lightweight body that does not compromise durability.
4. Cast Aluminum LED Taillights
Stay safe and visible on the road with the taillights of the trailer. They are encased in cast aluminum, which will protect against external elements.
5. Rear Hatch Door
It is easy to load your gear on the trailer because of the large hatch door at the back. It is big enough to fit your stuff, including a bike, easily.
6. Two-Burner Gas Stove
You will never go hungry when you are on your road adventures. It has a simple but equipped kitchen, and one of the highlights is the two-burner gas stove. The stove also comes with a tempered glass cover, making it double as a table when you are not cooking.
7. Outdoor Shower
Stay fresh on the road with the outdoor shower. You can also use the shower for cleaning your things, such as your bike.
8. 12V Tank Heaters
Even in the middle of winter, it is easy to stay comfortable on the road in this trailer. The tank heater provides heat to the furnace, which makes it great for off-grid camping.
9. Pre-wired Solar Kit
If you want to install solar panels and enjoy eco-friendly electricity on the go, you will love how it is pre-wired. This makes the assembly of a solar system a breeze.
10. Low Profile and Aerodynamic Shape
Looking at the overall construction of the trailer, one of the first things you will notice is that it has a low profile. This is also the one responsible for its aerodynamics. It has low wind resistance. In turn, it creates less drag to make it more fuel-efficient. At the same time, it is also one of the reasons why it is easy to tow.
Specs of the Airstream Basecamp Trailer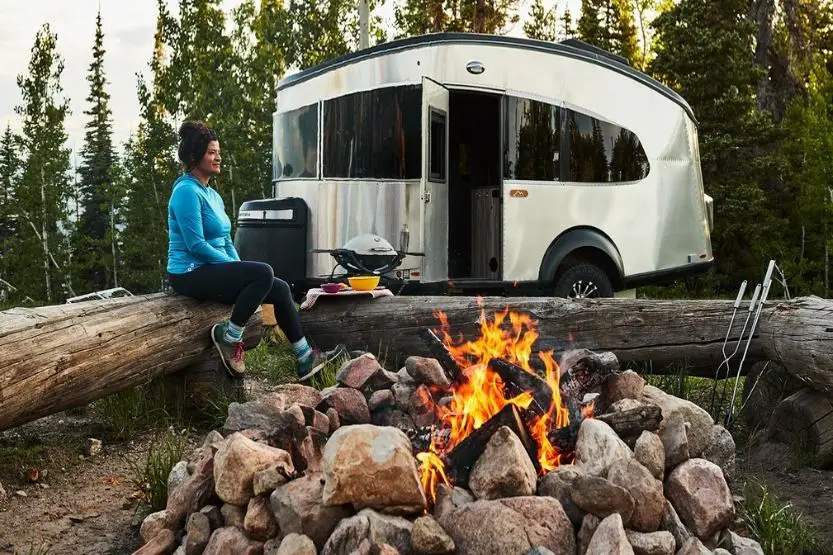 To gauge the overall performance, look at the section below, which tackles this RV's essential technical specifications. There are different models available, and we will focus on Basecamp 20: 
1. Gross Vehicle Weight Rating
The GVWR of this trailer is 4,300 pounds. This parameter refers to the maximum capacity that the trailer can support. Specifically, this capacity includes the following:
Fuel,
Passengers, and
All accessories in the vehicle.
Going beyond such will have significant safety and performance repercussions.
2. Net Carrying Capacity
A trailer's net carrying capacity refers to the maximum weight it can support on top of the essential components. Meaning, it does not include the things that originally came with the trailer, including the shell. The net carrying capacity of the Basecamp trailer is 900 pounds. 
3. Hitch Weight
The hitch weight of the travel trailer is 500 pounds. This is the weight that it puts on the trailer tongue. It is an important specification to match the towing vehicle to the trailer to ensure road safety.
4. Holding Tank Capacities
The trailer comes with three tanks, each with a different capacity:
Fresh Water Tank: 23 gallons
Gray Water Tank: 28 gallons
Black Water Tank: 21 gallons
5. Bed Configuration
You can convert the dinette and bench seating into two beds, which has the following sizes:
Full Bed – 82 x 78 inches
Half Bed – 41 x 78 inches
6. Sleeping Capacity
With a full bed and half bed, it can sleep two to four people comfortably. It is quite small, so there is no provision for an air mattress or other temporary bed.
7. Dimensions
The Airstream Basecamp has the following dimensions:
Exterior Width: 7' 9.5"
Exterior Length: 20' 2"
Exterior Height: 9' 5"
Interior Width: 7' 2.5"
8. Price
The price may differ depending on where you are buying the trailer. As of writing, the Basecamp 20's price on the manufacturer's website starts at $40,100.
Again, what does the Airstream Basecamp Travel Trailer offer? The Airstream Basecamp Travel Trailer is lightweight and durable with an aerodynamic shape, making it towable. Its features include a U-shaped dinette and benches with convertible beds, an outdoor shower, and a pre-wired solar kit.
Pros and Cons of the Airstream Basecamp RV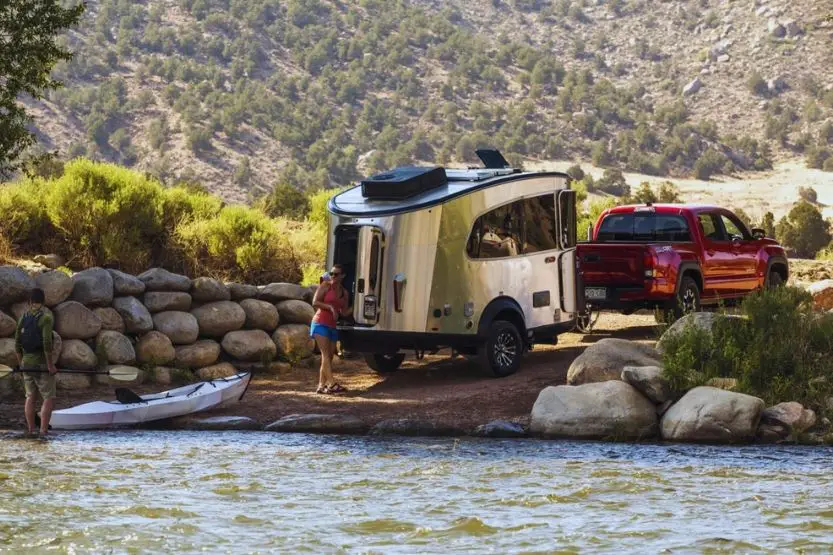 Should you buy this travel trailer? Before you decide, you must know the good and the bad.
Pros
Below are some of the most compelling reasons to go for this travel trailer:
1. Easy to Tow
If you are new to RVing and want something effortless to move around, you have one good reason to choose this model. Because of its size, it is easy to maneuver, even in tight spaces. Parking is also a snap. 
2. Access More Areas
This is one benefit that is related to its size and ease of towing. When you have a large travel trailer, there are limitations regarding the roads you can traverse or visit campsites. Fortunately, this RV is small enough so that you can take it almost anywhere. Even in the city, accessibility will not be a problem.
3. Good Gas Mileage
Another benefit that I can attribute to the trailer's size is its fuel efficiency. You can enjoy better gas mileage compared to its larger counterparts. You can go further without the cost of gas, which is too much of a burden.
4. Easy to Maintain
Since the travel trailer is small, maintenance is a breeze. Cleaning the RV does not have to be a burden. From the interior to the exterior, taking care of the Airstream Basecamp is easy for almost anyone.
5. Expandable Living Space
If you want a larger living space, you can expand the trailer using a tent. The tent will have another door, which will give you another point of entry and exit.
Cons
Meanwhile, below are some of the potential drawbacks, which might make you think twice about purchasing this travel trailer:
Expensive
If one thing hinders many people from choosing this trailer, it would be its price. Considering how small it is, many might find it quite expensive. Nonetheless, the cost is justifiable because of its premium amenities and superior performance.
Limited Space
The Basecamp travel trailer is not for users who crave generous space. It is small, so there is limited room for movement. Nonetheless, it is comfortable enough for two to four people.
Conclusion – Airstream Basecamp Travel Trailer
The Airstream Basecamp is one of the smallest travel trailers in the market. Despite being small, it packs plenty of innovative features that make it efficient, comfortable, and easy to tow. It has a U-shaped dinette and bench seats, both of which are convertible into comfortable beds. It can sleep two to four people.
While the small size can be an issue for some, it also has several benefits. For instance, it makes it a breeze to drive, especially in narrow spaces. Not to mention, you can access more sites because it easily fits, unlike in the case of larger trailers. Gas mileage is also a plus. Nonetheless, it is quite expensive, so it isn't for people on a budget.
To recap, the table below shows the technical details of the Basecamp trailer:
Gross Vehicle Weight Rating
4,300 pounds
Net Carrying Capacity
900 pounds
Hitch Weight
500 pounds
Holding Tank Capacities
Freshwater – 23 gallons
Gray water – 28 gallons
Blackwater – 21 gallons
Bed Configuration
Full bed – 82 x 78 inches
Half bed – 41 x 78 inches
Sleeping Capacity
Two to four
Dimensions
External width – 7′ 9.5″
Exterior length – 20′ 2″
Exterior height – 9′ 5″
Interior width – 7′ 2.5″
Price
$40,100