Bambi is the name of Airstream's smallest line of a single-axle travel trailer. If you're itching to travel around the country without upsizing your tow vehicle, this is the perfect fit. In this review, I'll list all of the specs and features of the Airstream Bambi, so you can decide if it's the right travel trailer for you.
The iconic Bambi is the archetypal Airstream travel trailer—classic, fun, and has a beautiful mirror finish. For over 50 years, the nickname Bambi referred to any of Airstream's small, single-axle travel trailers. In May 2019, the company finally made it an official part of its family of small travel trailers.
Read on to learn more about the Airstream Bambi travel trailer, including each model's key specs and features.
About the Airstream Bambi Travel Trailer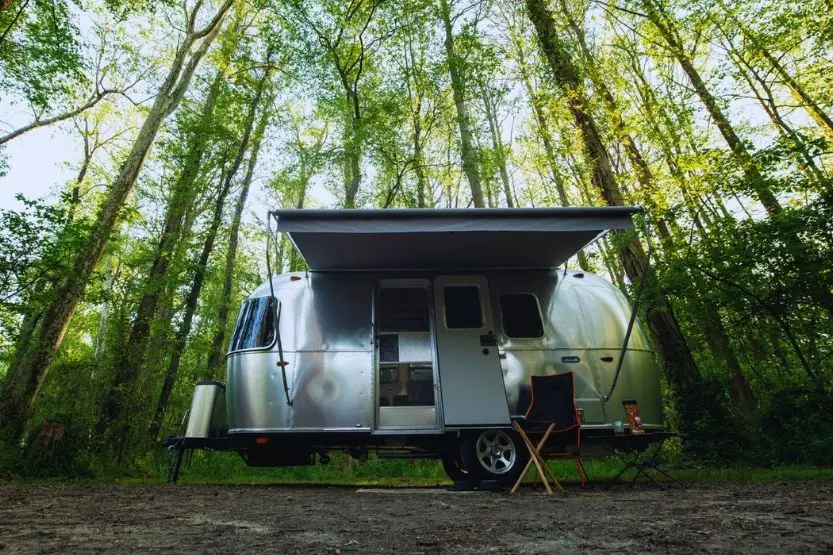 Difference Between Travel Trailer and Camper
Before talking about the Airstream Bambi, I'd like to tell the difference between a camper and a travel trailer. Two of the most obvious differences between the two are their floor area and size—campers are typically smaller. Still, travel trailers provide more space for a mini kitchen, sleeping area, storage, and other amenities.
Now, let's talk about the Bambi.
Bambi Travel Trailer
Airstream launched the first Bambi travel trailer in 1961. Wally Byam, the company's founder, said that he got the name "Bambi" during a historic Airstream caravan from Capetown to Cairo in the '60s. It's supposed to be the name of a type of agile deer.
Shortest Travel Trailer
Just one quick look at the Bambi; you'll know it's the shortest travel trailer in the company's lineup. The length of the units could range from 16 to 33 feet. There are also a couple of floor plans with the same lengths that you could choose from.
Advantages of Bambi's Length
The short length of this travel trailer comes with advantages. They include the following:
Easy to tow by most types of SUV's and trucks
Holds its resale value
Easier to park and store
Has enough room for all the great amenities
Doesn't reduce fuel mileage
Bambi 19CD
At 18 feet 11 inches long, the Bambi 19CB is the second smallest model in the lineup. Despite its small size, it packs many usable spaces and amenities that a single adult or a couple could enjoy. It comes with the following:
A corner bed with a memory foam mattress (same dimensions as a twin or a double)
Refrigerator and freezer
Shower
Flush toilet
Two-burner gas stove
Features of a Standard Airstream Bambi
Here's a rundown of the features of a standard Airstream Bambi:
1. Convertible Dinette and Bed
The bed is big enough for two people to sleep in comfortably. The mattress is memory foam, so you don't get out of bed feeling achy and sore. When you're ready to eat your meals, you can easily convert the bed into a dinette for two.
2. Heating and Air Conditioner
You'll stay comfortable inside the Bambi, regardless of the weather outside. Airstream uses only the most popular roof air conditioner on the market today. It also accommodates a supplemental heat strip to give you the option to use electricity to keep your rig warm when the outdoor temperature gets really low.
3. Seating Style and Color Options
The seats of the Bambi travel trailer can be deep navy or a mix of light gray and white. Airstream used the recycled Performatex® fabric in both options, which is naturally resistant to staining, mildew, and mold.
4. Cooking Amenities
Cooking your favorite meals is easy, thanks to Bambi's space-saving, two-burner cooktop and microwave. There's a cover for the stove and sink to give you more prep space on the countertop. Then, rinse everything in the stainless-steel sink.
5. Built-in Refrigerator
Keeping your food fresh and drinks cold can be challenging when camping off the grid. The Bambi travel trailer comes with an all-electric refrigerator that'll run off of the battery.
6. Spacious Bathroom and Shower
On the outside of the Bambi, you can use the shower to rinse yourself or your gear off with hot or cold water or keep the exterior of the trailer clean. Out of the four Bambi plans, three include a full-size bathroom that occupies the whole back of the travel trailer.
The freestanding bathroom already has a vanity with a cabinet and built-in seat. To save space, the Bambi 16RB comes with a wet bath.
7. Storage Compartments
The Bambi has enough storage compartments on both the inside and outside. The exterior lockers can store your tools, cords, and other essential gears. You can use the interior overhead compartments with tambour doors to store the following:
Food
Kitchen utensils
Other items that you want to keep out of sight.
8. Other Features
A solar pre-wire kit
Retractable awning
Stainless-steel kitchen appliances
JVC Stereo with Bluetooth® (also plays CDs and AM/FM radio)
LED HDTV and built-in DVD player (powered by a 12V/110V battery)
USB ports and 110V charging outlets
Airstream Bambi Trailers Floor Plans and Models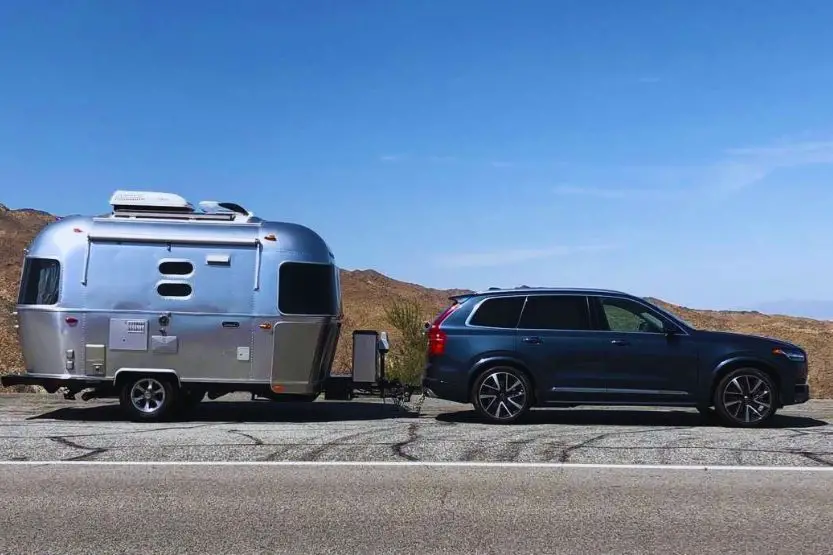 There are currently four Bambi models available:
Bambi 16RB
Bambi 19CB
Bambi 20FB
Bambi 22FB
Knowing the similarities and differences between them will greatly help you decide the right one for you and your family.
Note: Airstream offers a free online tool that can help you compare up to three travel trailers simultaneously. You can check it here: Airstream comparison tool.
Similar Features Among the Airstream Bambi Models
The floor plan of all four Bambi models includes:
A convertible dinette area (seating for four and a sleeping area for two children or one adult)
Dedicated sleep area, and
An onboard bathroom.
Airstream trailers are also known worldwide for their sleek, semi-monocoque shell that's made of aluminum. Semi-monocoque is any structure with an interior "skeleton," so it keeps its shape and stays strong.
However, the shell isn't the only part of the trailers that are made of aluminum. The propane tank cover, entry door and handle, mini blinds, screen door, door hinges, roof, taillights, wheels, window frames, and trailer underbelly are all made from recyclable and lightweight aluminum.
Other Similar Features Among Bambi Trailers
Other features that are similar to all Bambi trailers include:
Air conditioner with an auxiliary heat strip
Battery box
Exterior ports
Four manual stabilizer jacks
Front windows with blackout shades
Full electric refrigerators (two-way DC/AC)
JVC stereo with high-quality speakers
Handcrafted Italian laminated cabinetry
High-quality Moen faucets
HD TV
Interior storage containers (plastic storage containers included)
LED interior lights
Overhead storage with tambour doors
Spare tire
Tankless, on-demand LP water heater
Two-burner cooktop (LP gas)
Vinyl flooring
3M paint protection film
Manual ZipDee® Patio Awning with Weather Max Fabric
Can sleep up to four people (two can sleep in the master bed and two in the convertible dinette)
Width: 8 feet (exterior width) and 7 feet 7 inches (interior width)
Height (including the A/C): 9 feet 3 inches (exterior height) and 6 feet 4 inches (interior height)
Unique Features of the Airtstream Bambi Models
The Bambi trailers differ mainly in their structure and location of each interior living area, such as the bed. For instance, you'll find the bed in the Bambi 16RB at the back. If you want a corner bed, the Bambi 19CB is for you. Both the Bambi 20FB and Bambi 22FB have a front bed.
Some features of the trailers, such as the size of the refrigerator and tank and the net carry capacity (the total cargo and passengers a trailer can carry), will change. The changes in these features will typically depend on the trailer's length and size.
Again, what does the Airstream Bambi Trailers offer? Like other Airstream travel trailers, the Airstream Bambi Trailer is classic and fun with a beautiful mirror finish. In May 2019, Bambi became part of the company's family of small travel trailers.
Are Airstream Bambi Trailers Worth It?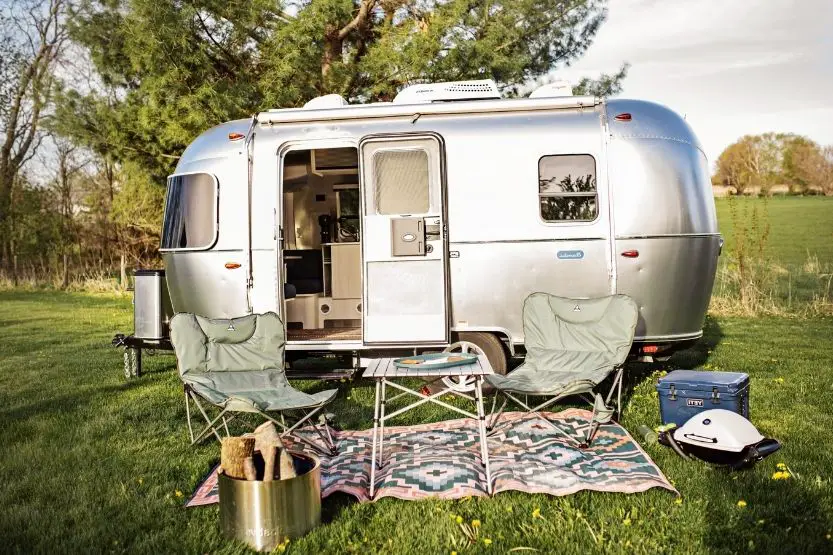 Anyone who owned a travel trailer before knows that Airstream is one of the best brands out there. Their line of small travel trailers, the Bambi, seems to live up to the company's reputation.
When choosing a Bambi floor plan, ask yourself the important W questions: who, what, when, where, and why. Who's going with you on your road trips? What are the most important travel trailer features you're looking for? What vehicle do you use for towing? Where are your usual travel destinations?
1. Airstream Bambi 16RB
What Makes It Stand Out?
GVWR (the maximum total weight of the trailer): 3,500 pounds
Length: 15 feet 11 inches
The shortest and lightest traditional travel trailer on the market
Includes a wet bath to save more space
Holds your black water and gray water in a single holding tank
2. Airstream Bambi 19CB
What Makes It Stand Out?
Freestanding bedroom and bathroom vanity and sink
Includes a corner bed that serves as a comfortable retreat area
Includes a corner bathroom with a separate shower, sink, toilet, and vanity
Includes a bi-fold door that frees up more living space
3. Airstream Bambi 20FB
What Makes It Stand Out?
Includes a fully enclosed 3-piece bathroom for complete privacy
Includes a dinette that easily converts into an extra sleeping area, without removing all of the cushions
Roomy kitchen counter space
Includes a double-bowl kitchen sink
4. Airstream Bambi 22FB
What Makes It Stand Out?
Has the most spacious 3-piece bathroom that closes off for complete privacy
Convertible, U-shaped dinette
Includes a comfortable full-size front bed (54 inches by 80 inches), which you can lift up to access the storage compartments underneath it
Conclusion – Airstream Bambi Travel Trailer
The Airstream Bambi is a great choice for the weekend warrior, empty-nester, and trailering adventurer who wants to spend as little money as possible. It strikes the perfect balance between size (length and width), comfort, and design without compromising quality.
As you can see, this is just a general overview of the Airstream Bambi. So, if you want to know more about it, or if you're ready to get one for yourself, visit your nearest Airstream dealer today.