It's great to have the modern conveniences of your home when you go outdoors. That's entirely possible with modern travel trailers. In this Airstream Classic review, I'll list all of its features and its benefits so you can see if it is the right trailer for you.
The Airstream Classic Travel Trailer is among the most popular and luxurious trailers on the market. Whatever the model, the Classic brand has always been the flagship model of Airstream. The Classic name represents residential comforts, first-class amenities, and top-quality design no matter what the cost.
This trailer is the top-of-the-line model of Airstream. It features smart technology that makes a living outdoors easier and more comfortable. For instance, the owner can remotely control the closing of its awning far away. With its length ranging from 30 to 35 feet, it can comfortably sleep up to five people.
Read on to learn more about the Airstream Classic, its features and specs, and everything you need to know to determine if it is the trailer that will satisfy your requirements.
About the Airstream Classic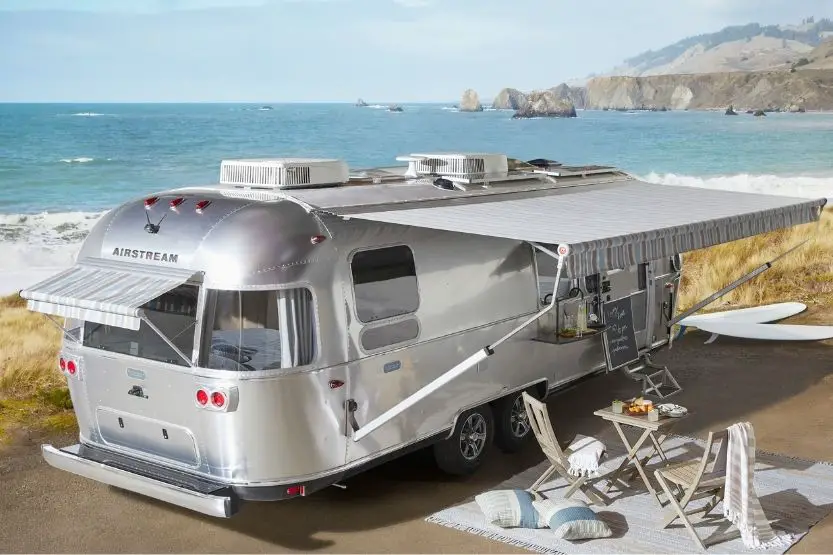 The Airstream Classic is a travel trailer or caravan that Airstream manufactures. You can easily recognize this caravan's distinctive body shape. It has an aluminum body that is rounded and polished.
Airstream's Classic Body Design
Airstream has never changed the Classic body design. It has been like this since it was first produced in the 1930s. The body shape was taken from the Bowlus Road Chief, an all-aluminum travel trailer that Hawley Bowlus originally designed. He was the designer of the famous Spirit of St. Louis, the first flying machine piloted by Charles Lindbergh.
Thor Industries Builds Airstream Classics
The company that now builds Airstream Classics is Thor Industries, at its plant in Jackson Center, Ohio, in the United States. It enjoys the distinction of being the oldest builder of travel trailers in this industry. More than 800 people are employed in its factory, producing all the travel trailer models under the Airstream brand.
These travel trailers have already become American icons. They can turn heads on the highway. As their exteriors are impressive, so are their interiors. These trailers offer all the latest tech, comfort, and convenience designed to make outdoor travel and living feel like home.
Trailers Designed for Longer Trips and Full-time Outdoor Living
Airstream Classic trailers are designed for longer trips and full-time outdoor living. They offer all the comfort and convenience of a modern home – even those that you thought you don't need. The overall length of the Classic models ranges from 30 to 33 feet.
Other Travel Trailers Manufactured by Airstream
They offer dedicated cooking, dining, bedroom, bathroom, and lounging areas. Each of these sections is very luxurious and comfortable. Apart from the Classic line, Airstream also manufactures other travel trailers such as:
Basecamp,
Caravel,
Bambi,
International, and
Their lengths range from 16 to 33 feet.
The price of the Airstream Classic starts at $149,900. You can easily accommodate up to five people at this price, depending on the overall length and the floor plan of the Classic model that you will choose.
Three Factors Why Airstream Travel Trailers Are Costly
Airstream travel trailers, including the Classic, are costly because of three main factors:
They use high quality components
Their bodies are made of aluminum
This brand has already built a legendary reputation
Airstream Brand Is Synonymous with Quality and Luxury
Through the years of its operation, the Airstream brand became internationally synonymous with top quality and luxury. This has helped the travel trailer brand to justify its very high prices. 
Do you know how much time is spent in building one Airstream travel trailer? 350 hours. So, it takes Airstream quite a while to build one of its travel trailers. Compare that to the 50 hours it ordinarily takes workers to complete a standard white box trailer.
Built to Last a Lifetime
These Airstream trailers are built to last a lifetime. Airstream claims that over 75% of the travel trailers they have built over the course of nearly 100 years are still being used today by their owners. The average RV trailer only lasts for about 15 years.
Value Increases over Time
You can also say that they are a worthy investment because their value increases over the years. These trailers have higher resale values. There are times when owners were able to sell their old trailers at their original prices.
They are also low in maintenance because of the aluminum materials they are made of. And since they are aerodynamically designed, they can save on gas. Their body shapes help them to be 20% more fuel-efficient than other trailers.
Key Features of the Airstream Classic
If you look at the essential features of the Airstream Classic, you will be impressed. Here are some of the key features that make this travel trailer a good thing to own:
1. Smart Control Technology
All Airstream Classic trailers are equipped with the latest Smart Control Technology. This feature allows you to monitor and control the most important features of the travel trailer from far away.
With this technology, you can turn the interior and exterior lights on and off. You can also adjust the air conditioner's temperature or the heat pump, monitor the battery and tank levels and retract or extend the awning from a distance. You can do these using the app from your mobile phone.
If you are lost, you can navigate back to the trailer by using the GPS. You can also stay connected with the outside world or boost your Wi-Fi signal using 4G LTE data.
2. Mercedes-Benz Driving and Safety
Airstream is also committed to your safety. This is why they chose to use the Mercedes-Benz chassis as the foundation in building their touring trailers. Apart from that, Airstream also incorporates all the necessary safety and convenience features that Mercedes-Benz can offer.
They include the following:
Rear and side view monitoring,
Collision prevention and lane assist,
Advanced airbags, and many more.
All these safety features come standard with the trailers. You don't need to pay extra for them.
3. Residential-style Kitchen
The most important part of a home is the kitchen. So, Airstream made trailers with galleys that closely resemble, and in many cases surpass, what you can find in most standard homes. The company did not compromise in building the kitchen of these trailers.
The Classic Airstream travel trailer has the following:
A stove,
Convection microwave,
Oven,
Hood, and
Refrigerator/freezer.
All these are made with high-end, sleek, stainless steel. The Corian brand is used for their countertops, complete with large stainless steel sinks and stylish Kohler faucets.
4. Ample Storage
All Airstream Classic travel trailers have ample storage spaces. You won't have a hard time deAll Airstream Classic travel trailers have ample storage spaces. So, it's easy to decide what items to bring and what items to leave behind.
There is an abundance of the following:
Big cabinets,
Vanity storages, and
Spacious wardrobes.
You can bring along anything that you think will make your trip more enjoyable.
Again, why should you get an Airstream Classic Travel Trailer? The Airstream Classic Travel Trailer is one of the famous and luxurious trailers available in the market. It's also the brand's flagship model. The Classic brand is associated with its exceptional offers, including first-class amenities, high-quality design, and residential comforts.
Standard Features of the Airstream Classic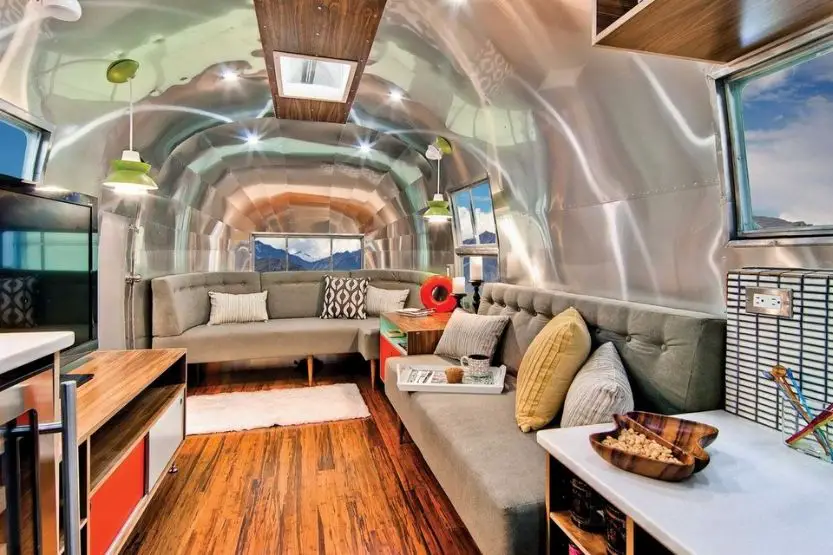 You will be amazed just how many standard features are included in an Airstream Classic travel trailer. There are tons and tons of them.
Let me enumerate some of the standard features of this trailer section by section:
Interior Section
Factory Tuned Polk Audio Surround Sound
1000W Pure Sine Inverter
Handcrafted Interior Cabinetry
Panoramic Front Windows with Blackout Shades
Airstream Smart Control with Apple & Android app (US Models)
Airstream Connected Wi-Fi Service (US Models)
Handcrafted Aluminum Screen Door with Guards
Integrated Smart Functions within the Touch Screen
Complete Aluminum Interior Walls and Ceiling
Seamless Luxury Woven Vinyl Flooring
EcoBatt Insulation
LED Interior Lighting with Dimmer
QuietStream A/C with Heat Pump & Electronic Thermostat
Fantastic© Fan with Thermostat & Automatic Rain Sensor
Silent, Uniformed Alde Hydronic Heating
Anti-wicking Outside Edge Floor Sealant
Electric/LP Water Heater with Extended Hot Water Tank
CZone Digital Switching with Touch Screen
Coat and Key Hooks
Overhead Roof Lockers with Auto LED Lighting
Lounge
60″ Powered Smart HD Projection TV with Bose Sound Bar
Blu-Ray DVD Player
Fusion Touchscreen Stereo with the following: Wi-Fi, Apple AirPlay & Bluetooth Connectivity, Over-the-Air Software Updates, SiriusXM, Fusion App
Oceanair Day/Night Shades
Polk® Stereo XM/FM/AM Satellite Radio with in/out Bluetooth
Smart LED HD TV
Omni-Directional Antenna
Dinette
Dupont Corian Galley Top
Dupont Corian Dinette Top
Baraldi Cooking Vent with Light
Flatware Organizer
Powered Convertible Dinette for Sleeping Accommodations
Stainless Steel Kohler Sink with Dupont Corian Sink Cover
Kohler® Faucet
Stainless Steel Three Burner Cooktop (LP Gas) with Glass Top
Ultraleather Lounge and Dinette Seating
Roman Shades
Bathroom
Removable Handheld Aerating Shower Head
Heated Towel Bar
Lavy Sink
Porcelain Toilet
Kohler® Faucet
Roof Vent/Fan
Bedroom
Queen or Twin Powered Beds of your choice
AdaptaFlex Memory Foam Mattress
Egyptian Sateen Cotton Bed Sheets
Sleeping Pillows
Decorative Throw Pillows
Quilted Bedspread with Duvet
Blackout Pleated Curtains
Reading LED Lights
Oceanair Day/Night Shades
Cedar Lined Wardrobe with Hanging Bar
Under Bed Storage
Exterior
270w Solar Package with Interior Monitor
Airstream Power with Lithium Batteries and Lockable Compartment
Semi-Monocoque Aluminum Superstructure
Fluorocarbon Treated UV Protected Aluminum Exterior
Aluminum Removable LP Cover, LP Monitoring System
Black Tank Flush System
Four Powered Heavy-duty Stabilizer Jacks with Stainless Steel Lockable Compartment
Cast Aluminum Door Hinges
Cast Aluminum LED Taillights
City Water Inlet with Water Pressure Regulator
Cable TV Hookup
Satellite TV Hookup
Custom Aluminum Entry Step
Handcrafted Welded Extruded Aluminum Window Frames
LED Entrance Light
LED Dimmable Patio Awning Light
LED Storage Compartment Light
LED Tank Service Light
LED Entry Door Handle
LP (2 – 30 lb. Steel Tanks) with auto two-stage regulator and sensors
Powered Hitch Jack with Light
Powered ZipDee Patio Awning with Sunbrella Fabric
Rear View Monitoring System
ZipDee® Rear and Roadside Window Awning with Sunbrella Fabric
Stainless Steel Exterior Shower including Cold and Hot Water
Stainless Steel Lockable Fresh Water Tank Inlet
Solar Front Window Protection
Temperature Reducing One-Piece White Aluminum Roof
Thermal Barrier Protection Between Interior and Exterior
Tempered Tinted Windows with Double Cam Latching System
Dedicated Waste Hose Storage
Additional Features
Safe for Valuables
3 Year Airstream Limited Warranty (Transferable)
3 Year 24/7 Coach-Net Roadside Assistance
Fire Extinguisher
LP, Smoke and Carbon Monoxide Detectors
Emergency Manual Crank for Powered Hitch Jack
A/C Condensation Drain at Ground Level
Bed Sheets
Wi-Fi Enabled – AT&T Unlimited Coverage, First Year Included (U.S. Only)
Airstream Classic Specs
Here are the essentials specs of the Airstream Classic Travel Trailer:
Exterior Length – 31′ 3″
Exterior Width – 8′ 5.5″
Interior Height with A/C – 6′ 7.5″
Base Weight (with LP and Batteries) – 7,788 pounds
Maximum Trailer Capacity (GVWR) – 10,000 pounds
Sleeping Capacity – 5 persons
Net Carrying Capacity – 2,212 pounds (fresh)
Gray Water Tank – 37 gallons
Black Water Tank – 39 gallons
Airstream 30RB and 33FB Specs
There are two variants of the Airstream Classic, namely the 30RB and the 33 FB. The table below will enumerate the detailed specs of these two Airstream Classics:
| | | |
| --- | --- | --- |
| Particulars | Airstream Classic 30 RB | Airstream Classic 33 FB |
| Exterior Length | 31′ 3″ | 33′ |
| Interior Width | 8′ 1″ | 8′ 1″ |
| Exterior Width | 8′ 5.5″ | 8′ 5.5″ |
| Interior Height with A/C | 6′ 7.5″ | 6′ 7.5″ |
| Exterior Height with A/C | 9′ 9.5″ | 9′ 9.5″ |
| Hitch Weight (with LP and Batteries) (lbs.) | 886 | 1,175 |
| Unit Base Weight (with LP and Batteries) (lbs.) | 7,788 | 8,261 |
| Net Carrying Capacity (lbs.) | 2,212 | 1,739 |
| Maximum Trailer Capacity (GVWR) (lbs.) | 10,000 | 10,000 |
| Oven (LP Gas) | standard | standard |
| Convection Microwave Oven | standard | standard |
| Refrigerator | 2-way 9 cu. ft. | 2-way 9 cu. ft. |
| Hydronic Heating Customized for Airstream | standard | standard |
| 50 AMP Service Dual 15,000 BTU A/C with Heat Pump | standard | standard |
| Master Bed Configuration (*Replaces Queen) | Queen (60″ x 75") Twin* (36″ x 80″) | Queen (60″ x 75") Twin* (36″ x 80″) |
| Convertible Dinette to Additional Sleeping | 42″ x 76″ | 42″ x 76″ |
| Interior Windows and Skylights | 19 | 17 |
| Sleeping Capacity | Maximum of 5 persons | Maximum of 5 persons |
| Fresh Water Tank (gal.) | 52 | 52 |
| Gray Water Tank (gal.) | 35 | 32 |
| Black Water Tank (gal.) | 41 | 36 |
To help you get a better idea of this trailer, here is a walk-through video of the Airstream Classic 2021 model, where you will see its outstanding features:
Pros and Cons of the Airstream Classic Travel Trailer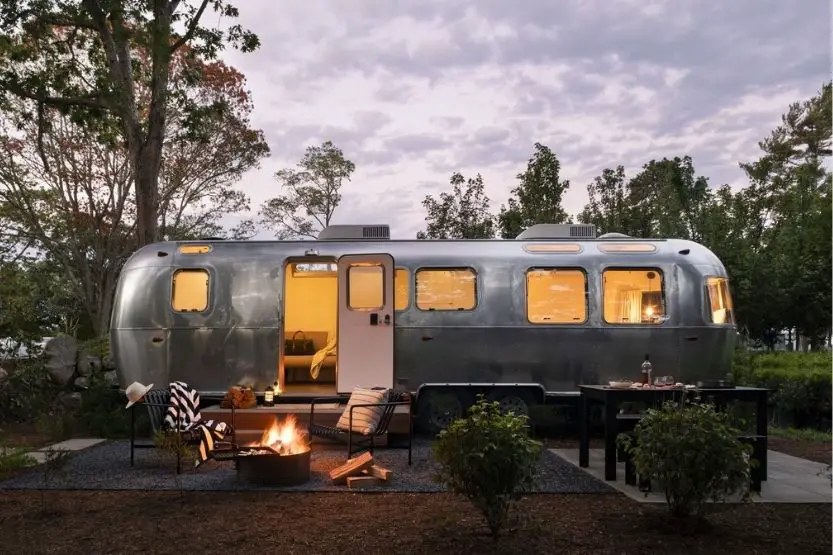 If you want to know if this travel trailer is just what you need, you also need to know its pros and cons. From the experiences gathered from its owners, here are some of its pros and cons that you need to consider:
Pros
1. Good Towability
with its size, it is surprising that this trailer is light and easy to tow.
2. Customizable
Some owners have customized the internals of their Airstream Classics to fit their own tastes and lifestyles.
3. Low Maintenance
With its smaller space and creative ways of storing items, less time is spent on cleaning.
4. Simple Design
Its straightforward design means there are not so many things that can go wrong. Making repairs, additions and modifications are relatively easy.
Cons
1. Small Size of Sink and Countertop
The small size of the sink and the limited countertop space restricts movement in the galley.
2. Narrow Width
The body of the trailer is narrow, restricting movements in its interior spaces.
3. Small Refrigerator Size
A smaller refrigerator is acceptable for short-term camping but not for full-time outdoor living.
4. Inadequate Cooling
During summertime, the sun's heat affects the trailers' aluminum skin, transferring the heat to the interiors. A 13,500 BTU domestic air con will have a hard time cooling the space.
Conclusion: Airstream Classic
The Airstream Classic Travel Trailer is among the most luxurious and most popular trailers on the market. Regardless of the model, the Classic name has always been the flagship model of Airstream. When the Classic name is used, it means residential comforts, top quality design regardless of the cost, and first-class amenities.
The Classic is the top-of-the-line travel trailer of Airstream. It is costly because of the quality that went into its materials and construction. Its legendary reputation, being almost 100 years in the business, also lends to its high value.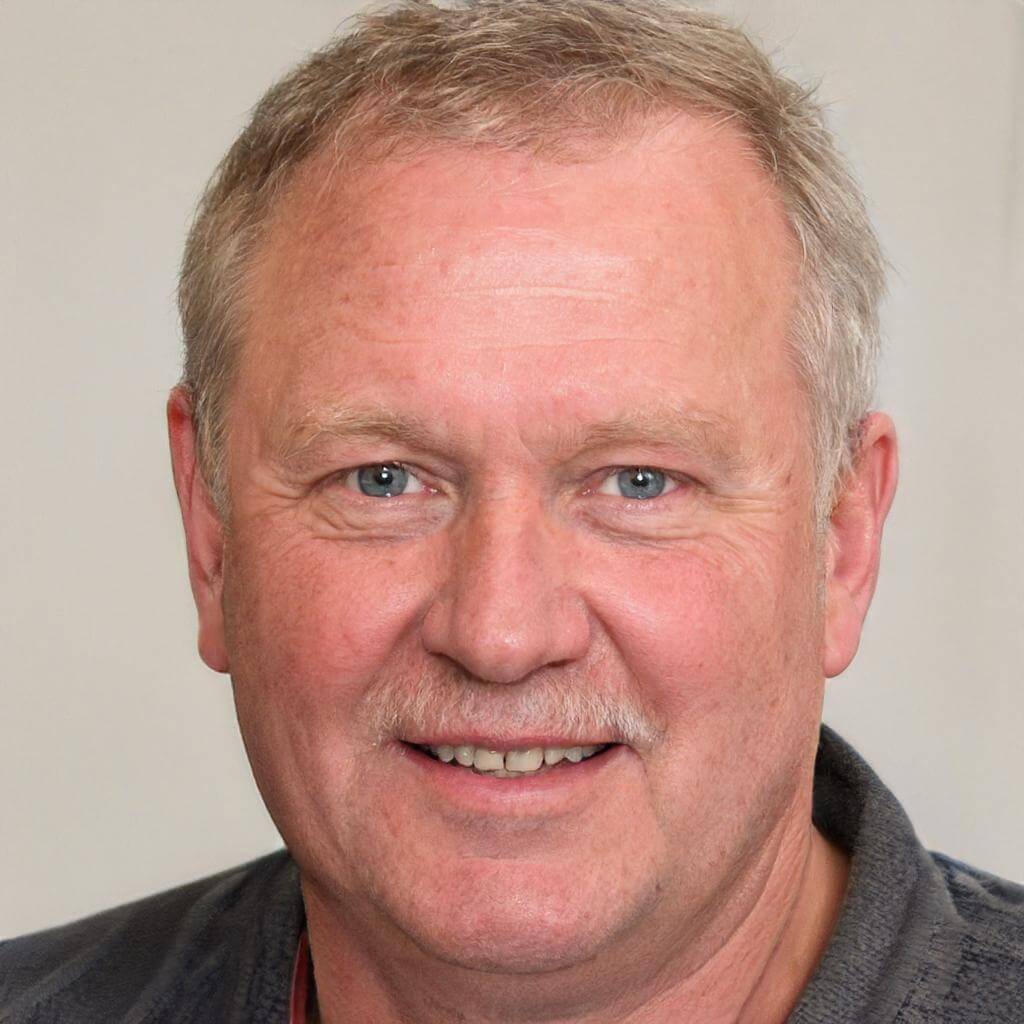 We created RVcrown.com in 2020 as a way to geek about everything we've learned and are still learning about RVs. You'll find in-depth articles covering reviews, specs, and features of the top RVs in the market. Contact me. Disclaimer: The information and advice provided in this blog are for educational and informational purposes only. The author does not guarantee any particular result or outcome from following the advice provided. See more about us.