It is always more fun to go to the campgrounds with more people. If you like to go camping with the entire family or hit the trails with a group of friends, then you might be interested in the new Heartland Prowler Travel Trailer. In this Heartland Prowler review, I'll list all its features and specs so you can decide if this is the right travel trailer for you.
Always reliable, the Heartland Prowler is one of, if not the best-selling travel trailers of all time. The Prowler is not just cost-effective, but it also captures people's hearts with its reliability and elegance. The Prowler comes in several floorplans that range from 26' to 37' in length.
Read on to learn more about the Heartland Prowler travel trailer and its model lineup, specs, and features.
About the Heartland Prowler Travel Trailer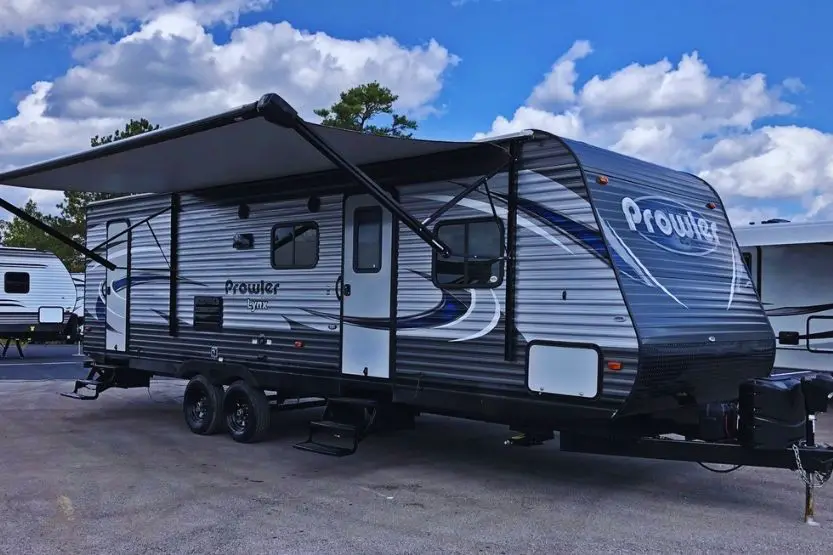 Fleetwood Enterprises originally trademarked the Prowler travel trailer until Heartland RV acquired all of the trademarks to their towable trailers, including:
Terry,
Wilderness,
Mallard,
Pioneer, and
Prowler.
Ideal for Small and Medium-sized Families
The Heartland Prowler is the ideal travel trailer for small and medium-sized families. This travel trailer may not have the same bells and whistles that come with the top-of-the-line brands. However, it makes up for it by its reliability, spaciousness, and overall build quality.
If you like going on group camping trips, then the Heartland Prowler is the ideal companion. Depending on which floorplan you opt for, the Prowler can comfortably accommodate 4 to 8 persons. There are enough sleeping spaces for everyone in your family.
Heartland Prowler Floorplans Features
Some of the features from all the floorplans of the Heartland Prowler include:
A queen-sized bed
Spacious kitchen area
An ample-sized bathtub
…and more.
The best thing about the Heartland Prowler, in my opinion, is its affordability. This travel trailer is the best example that luxury does not necessarily have to be expensive.
Heartland Prowler Model Lineup
The Heartland Prowler comes in several floorplan configurations, which are:
Prowler 212RD, which measures 25'11" and can accommodate up to 4 people
Prowler 240RB, which measures 28'5-1/8" and can accommodate up to 4 people
Prowler 250BH, which measures 29'6-1/2″ and can accommodate up to 8 people
Prowler 256RL, which measures 30' and can accommodate up to 6 people
Prowler 271BR, which measures 31'10", has storage for kayaks or mountain bikes, and can accommodate up to 8 people
Prowler 276RE, which measures 32' and can accommodate up to 8 people
Prowler 280RK, which measures 33'11" and can accommodate up to 6 people
Prowler 290BH, which measures 33'8" and can accommodate up to 8 people
Prowler 300BH, which measures 34'7" and can accommodate up to 8 people
Prowler 303BH, which measures 35'5" and can accommodate up to 8 people
Prowler 315BH, which measures 36'11" and can accommodate up to 8 people
Prowler 320BH, which measures 36'9" and can accommodate up to 8 people
Prowler 335BH, which measures 37'4" and can accommodate up to 8 people
As you can see, regardless of your unique camping needs, you will find a suitable Heartland Prowler floor plan that will fit your needs perfectly. Most of them have one slide out, except for the Prowler 320BH with two slide outs and Prowler 335BH with three.
Since there are so many to choose from, for the sake of simplifying things, we will be reviewing the Prowler 335BH, which is the biggest and most feature-packed.
Heartland Prowler Interior Features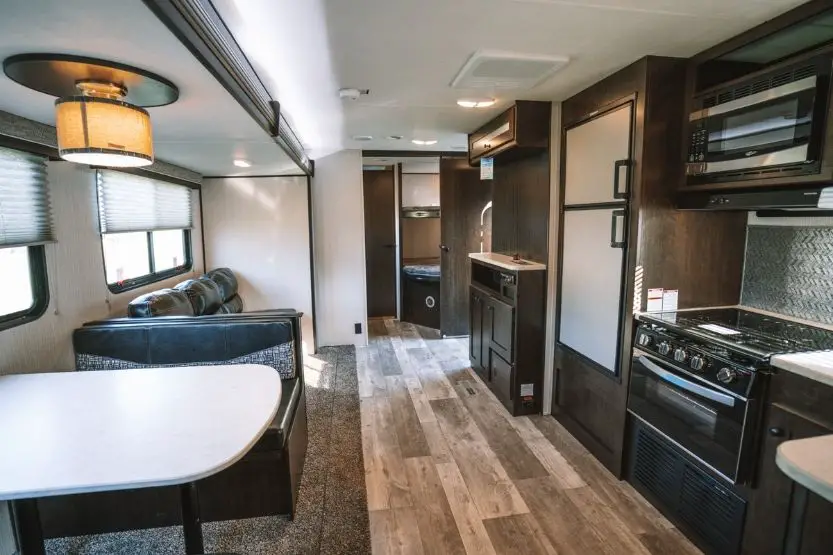 1. Full-featured Residential Kitchen
One of the first things you need to check out in any travel trailer is the kitchen area. The reason is that this is where you will be preparing your meals for the duration of your camping trip. Fortunately, the Prowler's kitchen area will leave you impressed.
The first thing that you will notice is the island countertop and sink. Even though this is a travel trailer, you can comfortably prepare your meals in the spacious kitchen area. It has plenty of counter space and cabinets for storage. It also has all the appliances and hardware you will need.
Notable Features
Other notable features include:
Duralast countertops
Stainless steel, double bowl recessed sink
A large 10 cu-ft residential refrigerator
Full linoleum flooring
3-burner gas range with oven
Camping does not necessarily mean you always have to eat out of cans. With the Prowler, you can whip up scrumptious meals even if you are in the middle of a campsite.
2. Diner-style Dining Areas
Although food somehow tastes better when you eat it in the great outdoors, there are times when the weather outside is not that conducive to eating. Fortunately, there are enough seats and tables for a large group to eat comfortably inside the Heartland Prowler.
Notable Features
Here are other things you will love in the dining area:
Comes with two dinette tables (one you can convert into a bed): This can seat 8 people.
Large panoramic windows
LED lighting everywhere
Several USB charging ports
Duralast table tops
3. Ample-sized Living Area
Beside one of the dinettes is a sofa that can also convert into a bed for two people. There is also a provision for flush-mounting a 32" LED TV. It might not be the best living room you will find in an RV, but it is cozy and comfortable.
Notable Features
You will even love the following features in this area:
Efficient air conditioning – There are plenty of A/C vents throughout the trailer.
Extra-large skylight, which allows a lot of natural light inside
Cable and Satellite TV hookup
Satellite Radio with Bluetooth connectivity
After a tiring day of exploring the wonders of nature, it is nice to crash into a comfy couch and watch your favorite shows while you recharge for your next adventure.
4. Spacious Bathroom
The bathrooms in Heartland Prowler travel trailers are quite spacious. Some of the floorplans even have a bathtub. The bathroom in the 335BH might not have a bathtub, but it is still great nonetheless.
Notable Features
Here's what you will enjoy in the bathroom:
ABS shower enclosure
Strong vent exhaust fan
Safety outlets for hairdryers and other similar appliances
The other Prowler floorplans come with a combination shower and bathtub. This means you can also get a good relaxing soak in the tub while the others are busy outside.
5. Roomy and Comfy Bedroom
The main sleeping chamber of the Heartland Prowler can rival the bedrooms of most downtown apartments. For one thing, you will be getting a queen-sized bed and more storage space than you will ever need for a regular camping trip. You can be sure that you are always getting a good night's sleep when you are in the Heartland Prowler.
Notable Features
Here are some features you will love in the bedroom:
Provisions for wall mounting an LED TV
Comfortable queen-size bed and enough space at the sides for movement
Spacious shirt wardrobe and under-bed compartments for storage
Electric outlets and USB ports on both sides of the queen-size bed
6. Additional Sleeping Spaces
As mentioned earlier, the Prowler is the best travel trailer if you like going on trips as a big group. There are more than enough sleeping spaces for up to 8 people. In this floorplan, there are bunk beds for up to four adults and more.
Notable Features
It also boasts of the following:
Flip-down bunk bed in the rear
Dinettes convert into beds
The couch folds out into an additional bed
You will always have room for "just one more" when you have the Heartland Prowler.
Again, what does the Heartland Prowler Travel Trailer offer? The Heartland Prowler Travel Trailer is a reliable, cost-effective, and elegant travel trailer, which is why it's one of the best-selling travel trailers in the market. Also, it comes in several unique floor plans of varying lengths.
Heartland Prowler Travel Trailer External Features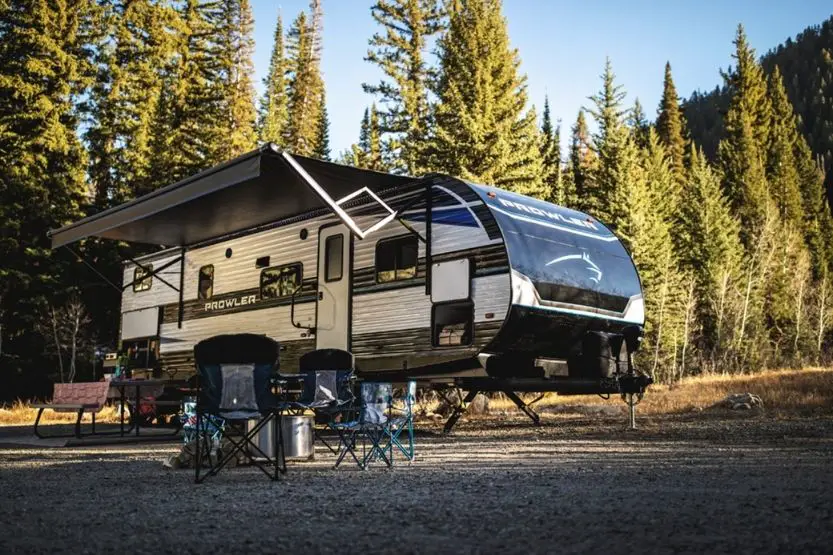 It wouldn't be a fun camping trip if you spent the entirety of it cooped up inside the trailer. This is why the Prowler also has many external features that will make you want to spend most of your time outside. These include:
52 cubic feet of pass-thru storage underneath the trailer
Outdoor kitchen with sink and griddle
Provisions for an outdoor television and exterior speakers
Powered vinyl awning system with wind sensors and LED porch lights
Holder for two 20lb propane tanks with auto-changeover valve
Provisions for backup and side cameras
Comes with four power stabilizing jacks
There is no such thing as a dull camping trip when you have the Prowler.
Is the Heartland Prowler Travel Trailer a Good Buy?
You may not get the same kind of luxurious features that come with the exotic Class-A RVs. Still, what you will be getting is unmatched reliability. Even though the original company of the Prowler no longer owns it, it remains one of the most reliable travel trailers in the industry.
You can be sure that you are getting more than your money's worth when you buy a Heartland Prowler. For one thing, you will receive many separate sleeping spaces aside from the already spacious main bedroom. You can take up to 7 other people (excluding yourself) on an extended camping trip. Everyone will also have their own beds.
In addition, for all the features and benefits that you stand to get, the Prowler comes at a quite competitive price. You will be getting more than what you paid for. You will also be enjoying this travel trailer for many years to come.
Heartland Prowler Trailer Trailer Pros and Cons
Pros
Lots of sleeping spaces
Large kitchen and plenty of dining spaces
Bathtubs in the bathroom
Very durable and reliable
Con
Window seals often fail and need immediate replacement.
Conclusion – Heartland Prowler Travel Trailer
The Heartland Prowler has always been a reliable brand. It is also one of the bestselling travel trailers of all time. It is a cost-effective investment, plus it has a distinct elegance that always captures the hearts of travelers.
The Prowler comes in thirteen different floorplans ranging in length from 26' to 37' and can comfortably accommodate 4 to 8 people. If you believe that camping is best enjoyed when more people are involved, you need to consider getting a Heartland Prowler.