Do you want a camper that is very easy to set up? There's a camper that takes only 1 minute to do that. In this Aliner Family Camper review, I'll list all its features and specs so that you can know if it's the right one for you.
The Aliner Family Camper is one of the large models of campers that Aliner manufactures. It features the classic A-frame design and combines it with a pop-up camper style. But unlike tent campers with canvas sides, an Aliner camper uses fully rigid sides. This configuration makes them more resistant to windy and cold weather.
The large campers manufactured by Aliner are ideal for people looking for more space for their family and their four-legged friends. Their overall lengths usually reach up to 18 feet. In terms of quality, their level can be considered as deluxe equipment.
Read on to learn more about the Aliner Family Camper, its features and specs, pros and cons, and other things you need to know to determine if it will satisfy your desires.
About the Aliner Family Camper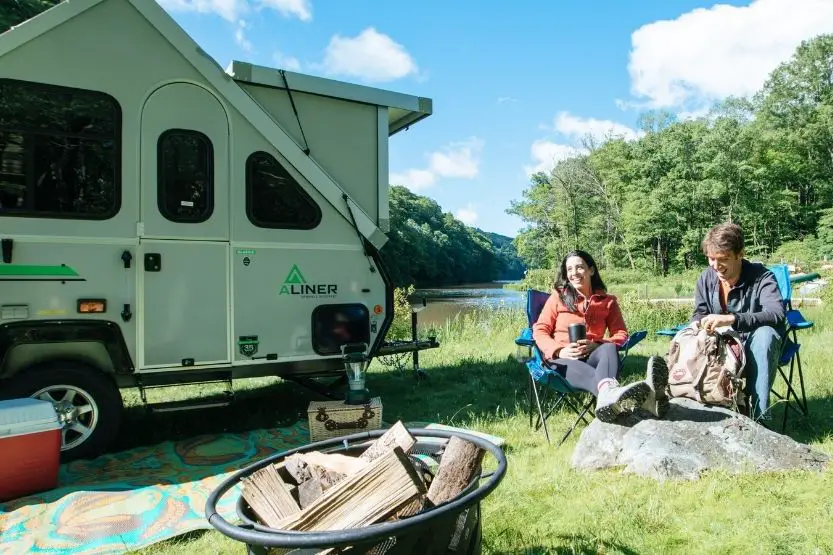 Aliner Campers
The Aliner Family Camper belongs to the family of Aliner Campers. As such, it also uses the classic A-frame design and combines it with a pop-up camper style. There are three types of Aliner Campers that this company produces.
The Family camper belongs to the company's large-sized campers. It has two other siblings in this class, namely the Expedition and the Family Scout. The other two classes of Aliner campers are:
Small Class
Medium Class.
There are two floorplans in the Small Class and three floorplans in the Medium Class.
Reliable and Easy to Tow
All Aliner campers are reliable and are the best for those after hard-sided campers that are very easy to tow. They are meant to be used for all four seasons. There are two air conditions offered by Airliner Campers, one with a mounted 5,000 BTU and another with 11,000 BTU.
The largest Aliner camper is the Aliner Expedition. Its living space is almost double that of the smallest model, the Aliner Ranger 10. It has the highest capacity chassis of all the rest of the models. There is also 30% more living space in this camper than the others. It also weighs around 2,000 pounds.
Aliner Company
Ralph Tait established the Aliner Company in 1970. He built his first camper in his garage. Its design was revolutionary then because it was the first pop-up camper that was built on an A-frame.
The camper was different and was light enough that it could be towed by any ordinary vehicle. When friends requested him to make one for them, that's when Ralph and his sons began to treat his hobby as a business.
They moved to Pennsylvania to start their business of making Aliner Campers. After 30 years of manufacturing thousands of Aliner Campers, the family finally retired in the industry in 2007. But the company still went on and is still currently manufacturing Aliner Campers with the same craftsmanship, quality and pride as Ralph Tait several decades ago.
Brand New Aliner Camper Price
The price of a brand new Aliner Camper is usually somewhere between $11,000 and $26,000. But used ones usually cost less. They can go at the rate of $5,900 to $18,000. The factors that influence the actual price of an Aliner Camper are its amenities, features, size, condition, and age.
Key Features of the Aliner Family Camper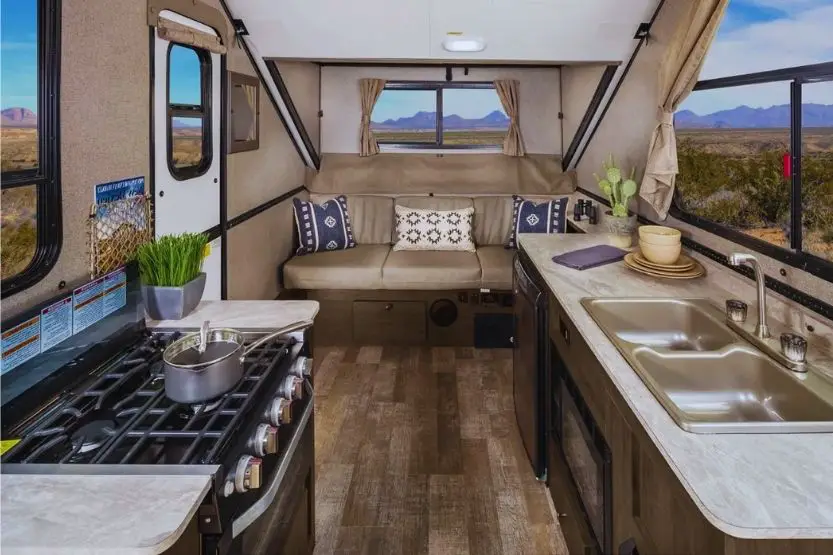 Even if they are relatively small compared to the average travel trailers, Aliner Campers still have many features that will make your stay in the outdoors as comfortable as the conditions in your home. Some features in an Aliner Family Camper are geared for this purpose more than the others.
Here are those features:
1. Easy to Set Up
The Aliner Company claims that you can easily set up the Family camper in just 30 seconds. However, in some Aliner forums, you can get information saying that in real-world experience, it is more likely to be one minute. That is still a speedy setup time, though.
2. All the Things You Need
Even if the Aliner Family Camper is smaller than the average travel trailer, it still comes fully packed with everything you need on your outdoor trips. It has the following:
Bed,
Table,
Stove,
Microwave oven, and
A heater.
3. Lightweight
Being relatively small, Aliner Campers are also understandably lighter. Note that the actual weight depends on the size of the camper. The Aliner Family camper, being one of the largest in their breed, is still relatively light. Being light also means it is easy to maneuver.
4. Garage-ability
The actual size of the Aliner Family Camper makes it small enough to be easily stored in an average-sized garage. When its sides are folded down, it requires even less storage space.
5. Towability
Even if the Family Camper belongs to the large section of Aliner Campers, it is still small and light enough for any ordinary vehicle to tow. When you are not using the camper, you can fold down its sides. This makes the camper very easy to tow.
6. Ideal for Beginners
If you are starting to explore the world of camping, you are better off with an Aliner Camper. The Family camper is great for a family of four with one pet tagging along. Being a small travel trailer, it is not difficult to maintain.
7. Strong Build
An Aliner Family Camper is made using completely rigid sides. As such, it offers more protection against inclement weather or strong winds.
Again, what does the Aliner Family Camper offer? The Aliner Family Camper is a combination of Classic A-frame design and pop-up camper style. Also, it is one of the large models that Aliner created. Equipped with fully rigid sides, you can count on it to resist windy and cold weather.
Standard Equipment of the Aliner Family Camper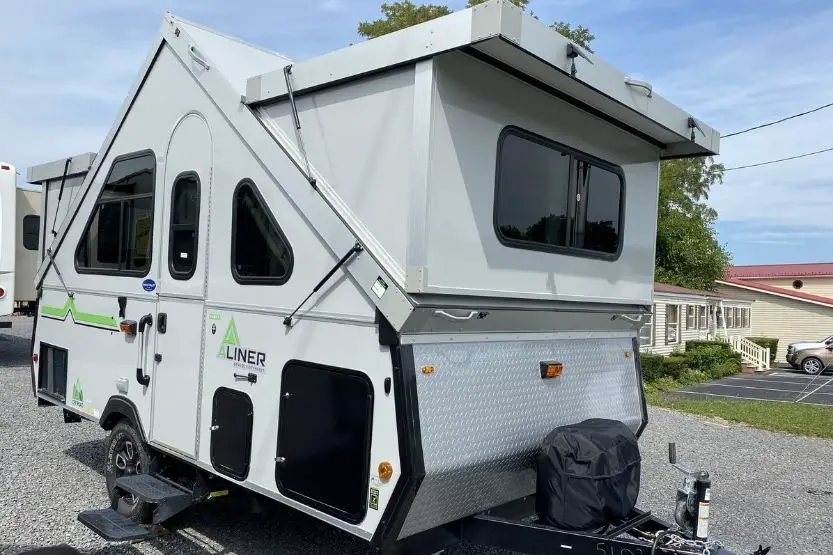 The Aliner Family Camper is ideal for those who need a roof on their heads while camping outdoors. These people want more than what an ordinary tent can provide. The Family Camper offers all the essential residential amenities in a solidly built frame and structure.
A Family Camper comes with ample storage spaces for the gears that you want to bring along. And it is also relatively affordable. Like most travel trailers, it also comes with a long list of standard equipment:
1. Construction
Tubular Steel Frame
E-Coated Frame with Powder Coating on the Front Tongue and Bumper
Azdel Lightweight, Thermoplastic Composite Interior Wall and Ceiling Panels
Performax 500 Premium Marine Grade Flooring
Vacuum Bonded Fiberglass Panels
Diamond Plate Stone Guard
2. Interior
Two Skylights with Night Shades (Dormer Option Eliminates Skylight with Night Shade)
3 Interior Electrical Outlets
Fantastic Vent-Fan
Hardwood Cabinet Doors
LED Interior Floor Light
Additional Corner Windows – Panoramic Views
3. Exterior
Two Exterior Bag Doors
Exterior Outlet
Amber Porch Light
4. Bed
High Density Foam, Hypoallergenic Cushions and Mattresses
Dinette convertible to bed
High rise bunk bed
Sofa bed
5. Kitchen
Norcold NRF Portable Refrigerator
Slide-Out Kitchenette with Stove
Sink
Microwave
6. Bath/Toilet
Swivel Cassette Toilet
Outside Shower
7. Utilities
11-Gallon Fresh-Water Tank
Water Pump
Water Heater
Dual Propane Tanks
Furnace
Command A/C Heat Pump
35 Amp Converter
Solar Port
Front Utility Light
Battery Tray
Cable Hookup
Exterior Propane Connection for Optional Outside Grill or Stove
8. Support Structure
3500 pound Axle
4 Stabilizer Jacks
14″ Tires
Full Size Radial Spare Tire and Carrier
10″ Electric Brakes
Aluminum Wheels
LED Running Lights
High Wind Lift Assist
9. Options
Front Hard Dormer
Front Soft Dormer
Rear Hard Dormer
Rear Soft Dormer
Outside Grill
Extreme Off Road Package
Aliner Family Camper Specs
Here are the specs of the Aliner Family Camper:
Length – 18 feet
Width – 84 inches or 7 feet
Road Height – 57 inches or 4.75 feet
Weight – less than 2,000 pounds
Gross Vehicle Weight – 3,500 pounds
Sleeps – up to 4 persons
Number of beds – 3 (Sofa bed, 44"x72" bed, and 32"x80" high rise bunk bed)
Dinette – 1 (converts to 60"x80" bed)
Wheels – 14-inch Aluminum
Slide Outs – 1 slide out (22"x60" kitchenette with refrigerator)
Pros and Cons of the Aliner Family Camper
It will also be to your advantage if you consider the pros and cons of the Aliner Family Camper. This will give you an idea if it can really satisfy your needs:
Aliner Family Camper Pros
Easy to set up and to fold down
Can fit in a standard-sized garage
Easy to tow
Easy to maneuver
Hard and rigid sides
Fully self-contained
Air conditioning unit built-in on the camper's side
Aliner Family Camper Cons
Some Aliners don't seal properly
Being relatively small, Aliners don't offer much space as other travel trailers
There are Aliners that are difficult to set up
The roofs of some Aliners are uneven
The beds in some Aliners are not sufficiently long
Some Aliners can be expensive
Conclusion: Aliner Family Camper Specs and Review
The Aliner Company manufactures the Aliner Family Camper. It is one of the large models of campers that this company produces. This camper is based on the classic A-frame design and combines this with a pop-up camper style. In terms of quality, it can be placed at the level of deluxe equipment.
Unlike tent campers with canvas sides, the Aliner Family camper is built with fully rigid sides. This design gives the camper extra protection against wind and cold weather. For its features and its price point, the Family Camper of Aliner deserves your consideration.