If you want to have an easy RV to drive and park and can run in city streets and two-lane roads, you need to consider this trailer. In this Gulf Stream Coach BT Cruiser, I'll list its features and specs to help you see if it's the right one for you.
The Gulf Stream Coach BT Cruiser is a model lineup of RVs with standard features not offered by other RV brands. For instance, a BT Cruiser will get a 4.0 kW Onan generator as a standard feature. In other motorhomes, generators are only offered as options that you need to pay for.
Some of the attractive features of these motorhomes include welded aluminum cages for walls, radius tinted windows complete with automotive seals, smooth fiberglass laminated exterior walls, and many more.
Read on to learn more about the Gulf Stream Coach BT Cruiser, its features and specs, and things you need to know to determine if it's the RV you are looking for.
About the Gulf Stream Coach BT Cruiser
Standard Features
The Gulf Stream Coach BT Cruiser is a class of motorhomes with standard features only offered as options in other RV brands. An example is the 4.0 kW Onan generator that comes standard with every BT Cruiser. In other RV brands, generators are offered only as options. That means you have to pay for it before it is added to the RV.
Other standard features of BT Cruisers include:
Back-up cameras,
In-dash color monitors,
Electric awnings,
Exterior walls that are made of laminated and smooth fiberglass,
Radius tinted windows,
Welded aluminum cage for walls, and many more.
Low Profile and Agile
These motorhomes have a low profile and 96-inch wide bodies making them agile and easy to maneuver even on narrow two-lane roads. They will make driving on the highways and camping in the outdoors easy and fun.
Floor Plans
There are several floorplans in the BT Cruiser lineup. All these floorplans are designed to provide luxury and comfort every time you go on your outdoor adventures. They are ideal for couples with some children or guests.
Gulf Stream Coach BT Cruiser class of RVs offers six unique floor plans. They are the following:
BT Cruiser 5210
BT Cruiser 5230
BT Cruiser 5240
BT Cruiser 5245
BT Cruiser 5255
BT Cruiser 5270
Is a BT Cruiser Ideal for You?
A BT Cruiser is perfect for you if you want:
An RV that's easy to drive, maneuver, and park
To bring the comfort of your home outdoors
To drive as much as you want to camp
Travel with family and friends or just your partner
To explore city streets and two-lane roads
Manufactured by Gulf Stream
The BT Cruiser lineup of travel trailers is manufactured by Gulf Stream, one of the biggest manufacturers of the full range of RVs in North America. It was established by Jim Shea, Sr., in 1983. Their products include fifth wheels, travel trailers, and motorhomes.
Currently, this family-owned company manufactures 22 brands of RVs with more than 140 various floorplans or models. Since its establishment, this company has already produced nearly 300,000 RVs for families and thousands of customers in North America. Their manufacturing facility is located in Nappanee, Indiana, USA.
Attractive Features of the Gulf Stream Coach BT Cruiser
Being a motorhome, you would expect a BT Cruiser to have all the niceties and comforts that you can find in an average U.S. home. But some features are more beneficial to the user than others. So, let's look at these features in a BT Cruiser:
1. Strong Frame and Body
Every BT Cruiser is built using the "Cradle of Strength" construction method. This is to ensure the safety of your family inside the motorhome. The body of each BT Cruiser has a steel subfloor, box trusses, and other reinforcements.
2. Rugged and Strong Chassis
The BT Cruiser class of RVs uses either the Ford E350 or E450 chassis. These chassis are sturdy, rugged, and strong. They are equipped with a 7.3-liter V-8 Ford gasoline engine that cranks 350 horsepower. This engine is fuel-efficient and reliable.
3. All the Comforts and Amenities of a Home
Inside a BT Cruiser are a bathroom with a shower, sink, and toilet. The bedroom is fitted with a queen-size bed. It has a fully-stocked kitchen with a dinette beside it. Cooking your meals will be fun using the kitchen's 3-burner, high-output gas range. For entertainment, there is a big TV over the cockpit.
4. Power for All Your Electrical Needs
As has already been mentioned, one of the most attractive standard features of the BT Cruiser lineup is the 4.0 kW Onan generator. It comes with every BT Cruiser with no additional charges whatsoever.
5. Interior Aesthetics
The interior of every BT Cruiser is treated with the comfort and style that you'll see in an upscale home. This travel trailer comes with the following:
Designer window treatments,
Two-way blue and white LED reading lights,
Upgraded fabrics,
Soft-pleated privacy shades, and many more.
6. Comfortable Interior Temperature
Even in cold weather, you can take a BT Cruiser for a trip outdoors because it is equipped with either a 25,000 or 35,000 BTU gas furnace. This furnace comes standard with every BT Cruiser.
7. Full-Wall Slide
One of the neat features that make the BT Cruiser worth considering is the full-wall slide located on the driver's side. This setup provides an additional huge space that you can use for whatever purpose you like. You can use it for entertainment, for games, whatever you wish.
Again, what does the Gulf Stream Coach BT Cruiser offer? The Gulf Stream Coach BT Cruiser comes with standard features, including a 4.0 kW Onan generator. In other brands, you have to pay for a generator.
Standard Features of the Gulf Stream Coach BT Cruiser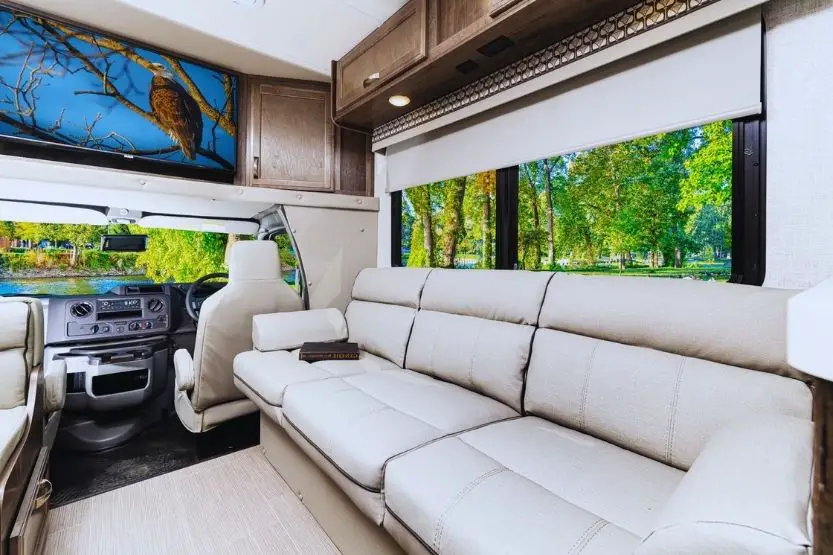 We now come to the list of the standard features of the Gulf Stream Coach BT Cruisers. It is a long list, so brace yourself:
1. Interior
Furnishings
Soft Touch Jack Knife Sofa
Pleated Privacy Bedroom Door (except for 5210, 5230, and 5240)
Soft Pleated Privacy Shades
2-Way Driver/Passenger Seats
Single Barrel Chair (for 5270)
Décor
Two-Way Blue/White LED Reading Lights
Designer Window Treatments
Upgraded Interior Fabrics
Satin Nickel Lighting Fixtures
Maple Cabinetry
Kitchen and Bath
Microwave Oven
3-Burner Range w/Oven
Power Vent Hood w/Light
6 cu. ft. 2-Way Double Door Refrigerator
Streamline Retractable Shower Door
Skydome in Shower
Power Bath Vent
6 gal Gas/Electric Electronic Ignition Water Heater with Bypass Valve
Heating and Cooling
In-Dash Air Conditioner
Radius Roof w/AC Ducts
25,000 BTU Furnace (for 5210, 5230, 5240, 5245, and 5270)
35,000 BTU Furnace (for 5255)
2. Exterior
Welded Aluminum Cage for Walls and Roof
Radius Tinted Windows with Automotive Seals
Smooth Fiberglass Laminated Exterior Walls
Single-Piece Laminated Fiberglass Roof
Fiberglass Front and Rear Caps and Wings
Laminated Steel-Frame Floor with Galvanized Steel Underbelly
Magnetic Door Holders on Compartment Doors
Undercoat Paint
Roof Ladder
Stainless Steel Wheel Liners
Slide-Out Room with Sofa and Topper
Kitchen Window
Foam Seal and Undercoating
Basement Storage
Rear Mud Flaps
Black Tank Flush
3. Electrical
Monitor Panel
TV Hookups in Bedroom (but not for 5210, and 5230)
Generator Switch and Hour Meter
TV Antenna with Amplifier
Cable TV Ready
4. Power
Generator Prep
Auxiliary Battery
Battery Disconnect Switch
Converter with Battery Charger and Auto Changeover
30 feet Detachable Power Cord
LP Gas Tank
5. Safety
LP Leak Detector
Carbon Monoxide Detector
Fire Extinguisher
6. Included Options
This is a list of the options included on every BT Cruiser. You are allowed to choose these options without paying for them:
4.0 kW Onan Generator
13,500 BTU Ducted Roof Air Conditioning
Electric Awning with LED Lighting
One-Piece Fiberglass Roof
High-Gloss Fiberglass Exterior Sidewalls with Azdel Synthetic Substrate
Friction Hinge Entry Door
High-Performance Vinyl Flooring
Electric Entry Step
Upgraded LED Interior and Exterior Lighting 
All Stainless Steel Appliance Package
Safety Glass Range Cover
Upgraded Designer Graphics
Ceiling Light Switch at Entry Door
Acrylic Grab Handle
Fiberglass Running Boards
Backup Camera and In-Dash Color Monitor
Emergency Start Switch
IRD Dual Battery Charging System
7. Other Options for BT Cruisers
Power Leveling Jacks
15,000 BTU Roof Air Conditioner instead of 13,500 BTU
7500 lb. Hitch with Seven-Way Connector and Brake Controller
Roof Ladder
Ultra High-Gloss Gelcoat Exterior
Pre-Wire for Digital Satellite
Solid Surface Countertops
Rear Window (except for 5210, and 5230)
Heat Pads on Holding Tanks
Outside Hot & Cold Shower
Heated Remote Control Rear View Mirrors with Turn Signal
Soft Touch Driver and Passenger Seats 
Swivel Seat Pedestal for Driver (5230 only) 
Swivel Seat Pedestals for Driver and Passenger (5245, 5291, 5316)
Frameless Tinted Windows
3-Speed Attic Fan
HDTV for Bedroom (5270, 5291, 5316)
40-inch LED HDTV
Tri-Fold Hide-A-Bed Sofa (5230 only)
Booth Dinette in place of Sofa (5210, 5230, 5270)
Spare Tire and Wheel
Black Tank Flush
Key Specs of the Gulf Stream Coach BT Cruiser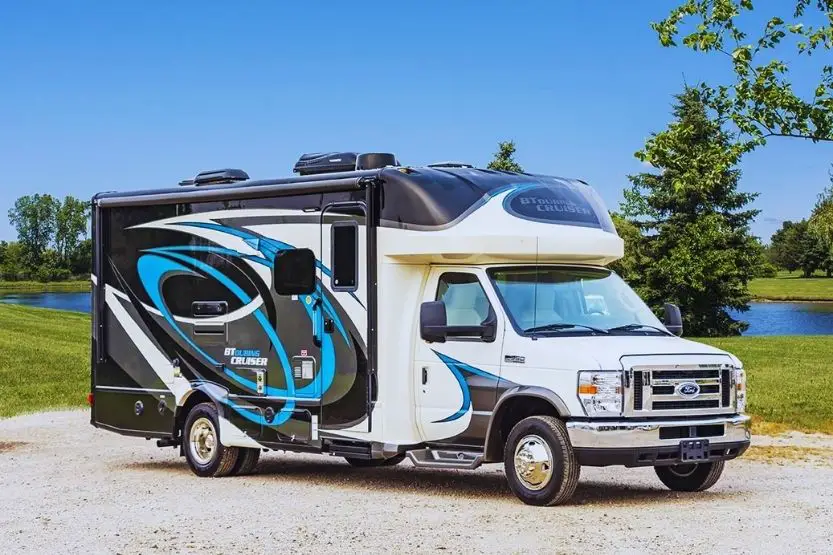 When thinking of buying an RV, you should look at its key specs. This will give you an indication of what the travel trailer is capable of doing. The table below gives the key specs of the BT Cruiser class of motorhomes:
| | | | | | | |
| --- | --- | --- | --- | --- | --- | --- |
| Section | 5210 | 5230 | 5240 | 5245 | 5255 | 5270 |
| Engine | 7.3L V-8 Ford E350 | 7.3L V-8 Ford E350 | 7.3L V-8 | 7.3L V-8 Ford E350 | 7.3L V-8 | 7.3L V-8 Ford E450 |
| Length | 22 ft. 6 in. | 24 ft.6 in. | 25 ft.5 in. | 24 ft.10 in. | 28 ft.6 in. | 28 ft.10 in. |
| Width (fr) | 96 | 96 | 96 | 96 | 96 | 96 |
| Ext. Height | 10 ft. 6 in. | 10 ft. 6 in. | 10 ft. 6 in. | 10 ft. 6 in. | 10 ft. 6 in. " | 10 ft. 6 in. |
| Int. Height (in) | 77 | 77 | 77 | 77 | 77 | 77 |
| GVWR (lbs) | 12,500 | 12,500 | 12,500 | 12,500 | 14,500 | 14,500 |
| Freshwater (gal) | 41 | 41 | 41 | 37 | 44 | 37 |
| Gray water (gal) | 26 | 26 | 26 | 38 | 38 | 32 |
| Blackwater (gal) | 26 | 26 | 26 | 38 | 38 | 32 |
| Furnace (Btu) | 25,000 | 25,000 | 25,000 | 25,000 | 25,000 | 25,000 |
| LP Tank (lb) | 42 | 42 | 42 | 42 | 42 | 42 |
| Water Heater (gal) | 6 | 6 | 6 | 6 | 6 | 6 |
| Sleeps | 2 | 4 (max.) | 2 | 3 | 4 | 4 |
| MSRP | $97,382 | $80,618 | $82,998 | $84,258 | $88,781 | $87,647 |
Conclusion: Gulf Stream Coach BT Cruiser
The Gulf Stream Coach BT Cruiser is an RV model lineup with standard features that other RV brands don't provide. For instance, a typical BT Cruiser comes with a standard 4.0 kW Onan generator. With other brands of motorhomes, generators are only offered as options. That means you have to pay for the item before you get it.
With a low profile and a 96-inch wide body, these motorhomes are easy to drive and maneuver even within city streets and on two-lane roads. The BT Cruiser RV has a lot to offer which is why it is worth your consideration.