New generation RVs are emerging to meet your needs of comfort and value. The Dynamax Force HD proves it is a force to be reckoned with as it provides luxury, comfort, safety, and more to make sure your ride is always a pleasant experience.
The Force HD by Dynamax reeks of luxury. Its exterior and interior features all go beyond the basics. Its main feature is the Freightliner M2 106 chassis with a 33,000-pound GVWR that can carry all the gear and equipment of its passengers. It sleeps eight passengers comfortably. Plus, it is equipped with state-of-the-art appliances.
Read on to learn more about the Dynamax Force HD, its specifications and features, and much more.
About Dynamax Force HD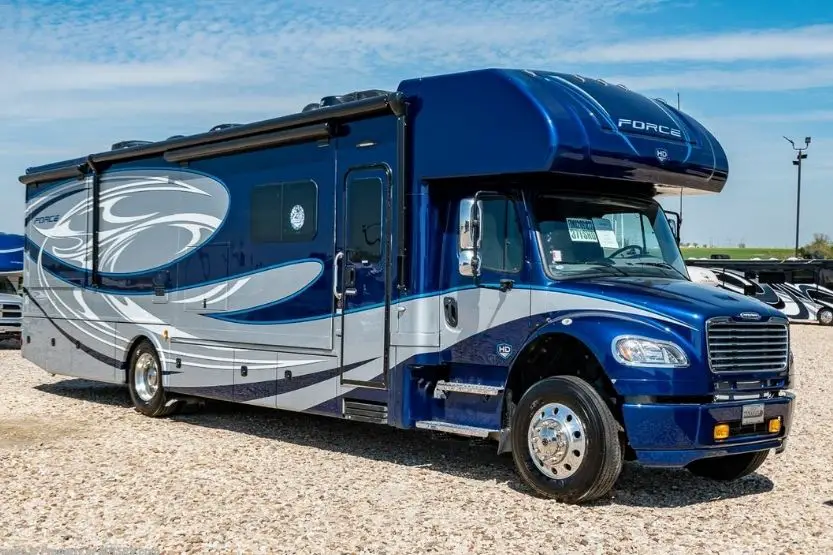 Dynamax is a division of Forest River, and they specialize in making Type C Motorhomes. Dynamax/Forest River's tradition of excellence produced the Force HD.
The Force HD by Dynamax is the embodiment of luxury. It goes beyond the basics both in its exterior and interior features. It boasts of having the Freightliner M2 106 chassis with a 33,000 lb GVWR to carry all the gear and equipment of its passengers.
It can sleep eight passengers comfortably. Its interior has luxurious contemporary styling with top-of-the-line appliances.
The Dynamax Force HD has three floorplans you can choose from. And prices start at $318,603.
Features of the Dynamax Force HD
Here's a closer look at the features of the Force HD:
Exterior Features
1. Aluminum-framed Sidewalls
The Force HD's body is made with aluminum-framed, insulated laminated sidewalls. It has a custom full-body paint package with a buffed paint finish.
2. Patio Awning With LED Lights
A patio awning with LED lights is on one side, and an LED patio light is installed. The entry door has a tinted frameless window with a shade. It is equipped with a keyless entry touchpad.
3. Exterior Wall-mounted 32" LED Smart TV
To make it more luxurious, the Force HD has an exterior wall-mounted 32" LED Smart TV for when you want to have entertainment outdoors. It has front and rear LED clearance and marker lighting, plus rear docking lights. It also comes with a chrome exhaust tip. Lastly, it rides on Michelin tires that have aluminum rims.
4. Superior Chassis
As mentioned earlier, the chassis of the Force HD is a superior Freightliner M2 106 with a GVWR of 33,000 lbs. It has a Detroit DD8 7.7L Turbo Engine with an Allison 3200 TRV six-speed automatic transmission.
5. Fuel Capacity
The Force HD has a fuel capacity of 100 gallons. Plus, it has premium air brakes with 4-wheel ABS and Bilstein gas-charged front shock absorbers. Moreover, it has cruise control and a steering column which you can adjust.
6. Dow Block Foam as Insulation
The Dow Block Foam acts as this trailer's insulation. Meanwhile, its gel-coat fiberglass walls have backing by Azdel.
You'll also be getting aluminum-framed floors and roof trusses with dual-pane and dark-tinted windows to allow for privacy. Storage compartments have LED lighting.
Interior Features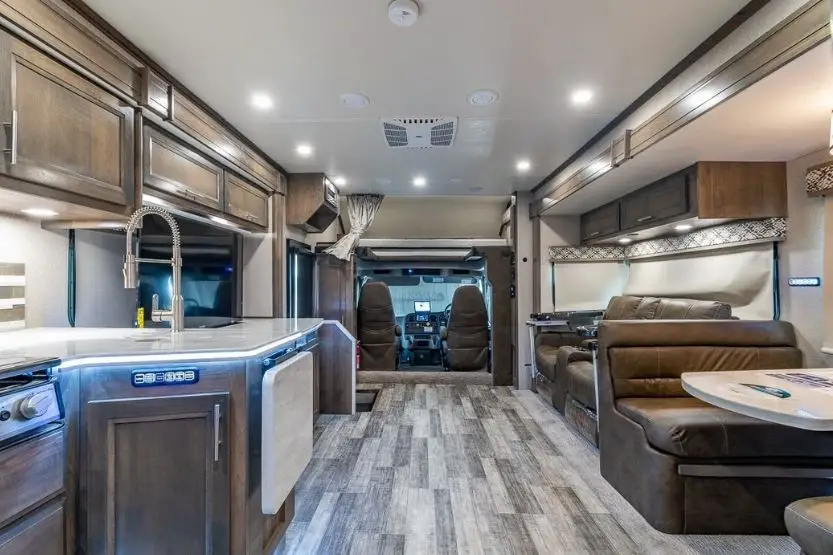 1. Vinyl Flooring
The Force HD's interior reeks of luxury. For example, Force HD has superior vinyl flooring with deluxe carpets in select areas.
2. Padded Ceiling
Meanwhile, you'll get a padded ceiling to absorb sounds with recessed LED lights. Then, the cabinets are stylish hardwood.
3. Bunk Overhead With a Firm Mattress
The front cab has a bunk overhead with a firm mattress and a privacy curtain. The living area is furnished with a tri-fold sofa that can be used for a sleeping area when needed. An entertainment center has a fireplace and a 39" LED Smart TV.
4. King-size Bed
The Master bedroom is furnished with a king-size bed with a memory foam mattress to ensure comfort when you sleep. It also comes with a vogue designer bedding package.
5. CD/DVD Players
A 32" LED is installed, and there are CD/DVD players. The nightstands have solid surface countertops and charging ports. The Force HD's wardrobe and drawers are all lined with Cedarwood.
6. Solid Countertops With LED Lighting
The Force HD's kitchen is stylish and functional at the same time. It has solid countertops with LED lighting.
7. Double-bowl Stainless Steel With a Solid Cover
The sink is double-bowl stainless steel with a solid cover that can be used as extra counter space when needed. There is ample storage under the sink, and overhead cabinets can be used as a pantry.
8. 16 cubic ft. Residential Refrigerator
It comes equipped with a 16 cubic ft. residential refrigerator with an ice maker. A gas range is installed as well as a microwave oven. A vent takes care of eliminating any odors from cooking.
9. Roomy Bathroom
The bathroom is quite roomy for a motorhome. A solid surface countertop is installed that has LED lights and a backsplash.
10. Fiberglass Shower With a Skylight
The sink has a nickel faucet, and the shower is fiberglass with a skylight. A glass slide shower door is installed to save space. The toilet has a porcelain foot flush.
11. Generator With Automatic Start
The Dynamax Force HD has premium utilities to make sure that you are comfortable in your motorhome. It has a generator with an automatic start, and the engine runs on dual 12V 8D AGM maintenance-free batteries. It has a Multiplex wiring system with a touch screen command center and switch panels.
12. Solar Panels
Two solar panels of 100 Watts with a 30 Amp controller give you electric hook-ups. Air conditioners with heat are dually ducted to make you comfortable in all weather conditions. A water filtration system ensures that you get clean water all the time. There's also a cable tv and satellite tv hookup available in the service bay.
13. Additional Features
If the standard Force HD isn't comfortable and luxurious enough as it is for you, you may still add the following features at an extra cost:
Washer and Dryer
Two dual power theater seats that reclines in place of the dinette
Innomax Adjustable Comfort digital smart bed instead of the bed in the Master's bedroom
Entertainment center with a 50" LED TV and fireplace instead of the 39" TV
JBL Premium Cab sound system
Black out package for the side mirrors, wheels, rockguard, entry steps, custom grill and vent
12 cu. ft. refrigerator in place of the standard refrigerator and the pantry
Again, what does the Dynamax Force HD offer? The Dynamax Force HD offers features beyond the usual with Freightliner M2 106 chassis (33,000-pound GVWR) as its main feature. Plus, this trailer can accommodate up to eight people. It's also packed with state-of-the-art appliances.
Dynamax Force HD Specifications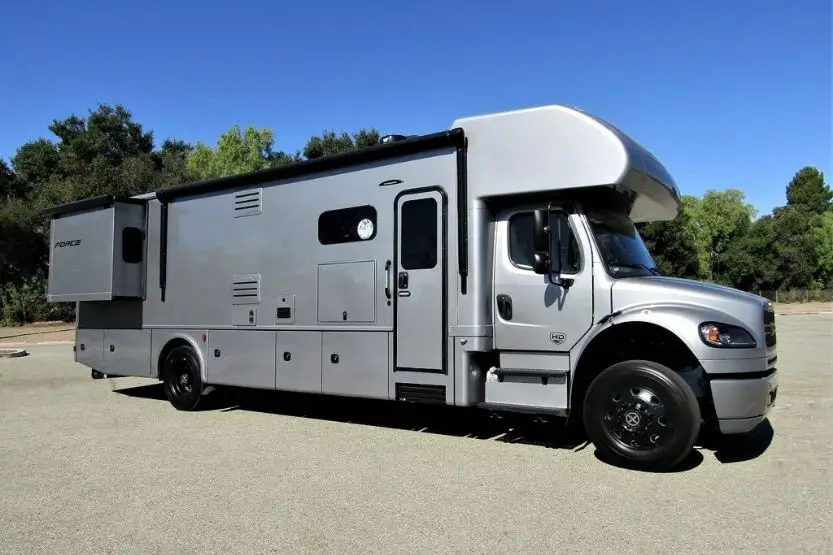 Dynamic Force HD's models include:
34KD HD
37BD HD
37TS HD
Here are the specs for the Dynamax Force HD models:
Wheelbase: 268" for all models
GVWR: 33,000 pounds for all models
GAWR Front: 12,000 pounds for all models
Capacity for Fuel: 100 gallons for all models
Length (exterior): 36'8" for the 34KD HD, and 39'2" for the 37BD HD and 37TS HD
Height: 12'9" for all models
Width (exterior): 101" for all models
Capacity for Fresh Water: 94 gallons for all models
Capacity for Gray Water and Black Water: 52 gallons each for all models
Pricing: 34KDHd price starts at $318,603; 37BD HD starts at $324,291; 37TS HD starts at $330,061.
Other Benefits of Getting a Dynamax Force HD
Dynamax Owner's Group
As we stated earlier, Dynamax is a division of Forest River, and because so, Dynamax owners can join the Forest River Owners' Group or FROG established in 2011. The group currently has 140,000 members who have the same shared passion.
Tours are also organized within the group so that you may group tour all over North America. If you're a Forest River or Dynamax owner, membership is free. For more details, visit the Dynamax official website.
Roadside Assistance
When you're a Dynamax Force HD owner, you get a year free of complimentary roadside assistance membership giving you and your family added safety while on the road.
The free membership includes emergency assistance like:
Towing,
Jump starts,
Tire changes,
Technical support, and a lot more.
Their official website lists all the services that are free with the membership.
Dynamax's Attention to Detail
The Dynamax promise is to build their motorhomes with a higher standard of excellence beyond what meets the eye. The company is in constant pursuit of precision and quality in their motorhomes, both inside and out.
Their RVs have well-engineered OEM cab chassis platforms with stylish and luxurious coaches to make your RV driving a wonderful experience. They have eye-catching paint schemes and styling that are visually appealing.
They are rightfully proud of their legendary attention to detail. All these and more made this company famous and a sought-after brand throughout these years.
Conclusion: Dynamax Force HD Specs and Review
If you're looking for a motorhome with all the high-end amenities, the Dynamax Force HD would be a good choice. The luxury does not end in its interiors – from the engine to the sidewalls to the coach's body; everything is just stylish and durable. You'll feel it once you sit behind the wheel.
The Force HD by Dynamax has an exterior and interior features all go beyond the basics. Its main feature is the Freightliner M2 106 chassis with a 33,000 lb GVWR to carry all the gear and equipment of its passengers. It sleeps eight passengers comfortably. It is equipped with state-of-the-art appliances.
You can check out the Dynamax Force HD prices and floorplans on their official website.