If you have always thought that motorhomes are small, basic, and boring, wait until you set foot inside Fleetwood Discovery. It is one of the most luxurious and bestselling RVs ever built. In this Fleetwood Discovery RV review, I'll list all of the specs and features so you can decide if it is the right RV for you. 
The Fleetwood Discovery RV is a high-end, luxurious, and comfortable motorhome. It redefines traveling and living on the road as it provides top-of-the-line amenities. Here is a quick summary of the main specifications:
| | |
| --- | --- |
| Engine  | Cummins ISB 6.7L  |
| Transmission  | Six-speed automatic transmission with electric shifter  |
| Gross Vehicle Weight Rating  | 33,400 pounds  |
| Gross Axle Weight Rating  | Front – 12,400 pounds, Rear – 21,000 pounds  |
| Gross Combined Weight Rating  | 43,400 pounds  |
| Hitch Weight  | 10,000 pounds  |
| Fuel Type  | Diesel |
| Fuel Tank Capacity  | 100 gallons  |
| Water Tank Capacities  | Freshwater – 105 gallons, Gray water – 75 gallons, Blackwater – 50 gallons  |
| Dimensions  | Length – 40′ 11″, Height 12′ 10″, Width – 8′ 6″  |
Read on to learn more about Fleetwood Discovery, including its features and specs, as well as some of its benefits and drawbacks. 
About the Fleetwood Discovery RV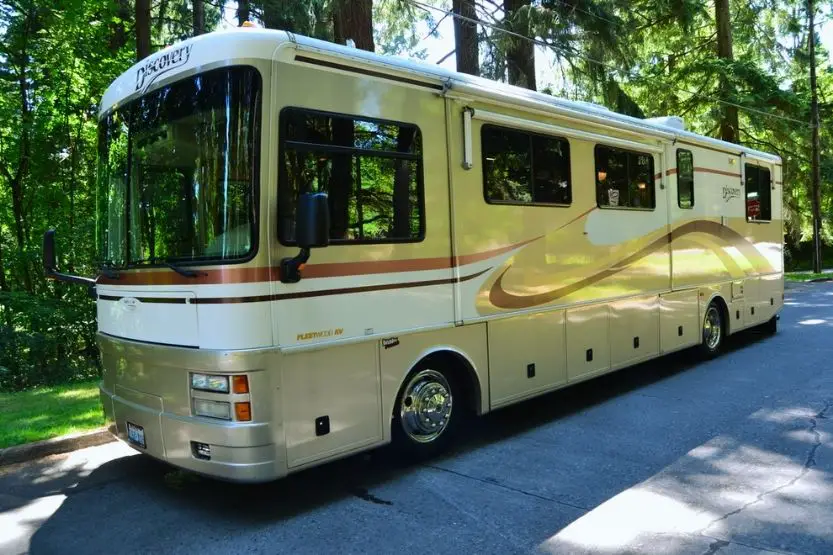 The Discovery RV is the brainchild of Fleetwood RV, which operates under the REV Group. The latter is a global leader in manufacturing state-of-the-art vehicles in the recreation, bus, specialty, and emergency markets. 
As a part of its commitment to building global dominance and manufacturing nothing but the best vehicles, REV has 18 manufacturing sites worldwide. Not to mention, they have 29 brands of different vehicles and employ over 7,400 people in the United States. 
The company has built many RVs over the years. One of the most notable, however, is the Discovery motorhome. It is one of the most popular RVs in the world. From the interior to the exterior, it is reflective of luxury living on the road. 
25 years after the introduction of the Discovery RV, it is still one of the bestselling motorhomes in 2021. This RV is reflective of top-notch performance and superior comfort. Plus, it packs plenty of innovations, setting the bar high for its competitors. 
Fleetwood Discovery RV Specs 
The Discovery line of RV has various models available. All of them have amazing specifications. In this section, however, we are focusing on the specs of the Discovery 38F: 
1. Engine 
The heart of this RV is its engine, which is also the one responsible for delivering exceptional performance. Its chassis packs a Cummins ISB 6.7L engine. The engine is also known for its fuel efficiency and its adherence to strict emission standards. 
2. Transmission 
This motorhome has an automatic transmission, offering six different speeds for various driving conditions. The electronic shifter is also a plus, making it easy to steer the RV in the direction you desire. 
3. Gross Vehicle Weight Rating 
The Gross Vehicle Weight Rating refers to the maximum allowable weight of the motorhome at full load. For the Discovery RV, it is 33,400 pounds. Exceeding beyond such will not only make it difficult for the RV to move, but it can also result in safety problems. 
4. Gross Axle Weight Rating 
It refers to the maximum weight that a specific axle can support. The front GAWR for this RV is 12,400 pounds, while the rear GAWR is 21,000 pounds. 
5. Gross Combined Weight Rating 
It considers not just the maximum weight of the RV, but it also computes the weight of the towing vehicle. The Fleetwood Discovery motorhome has a GCWR of 43,400 pounds. 
6. Hitch Weight 
The hitch weight or hitch capacity is the maximum weight that the motorhome can tow. Going beyond the allowable weight will put too much pressure on the hitch tongue. The hitch weight of this motorhome is 10,000 pounds. 
7. Fuel Type
Fuel efficiency is one of the many things that you will love in this motorhome. It runs on diesel, making it economical in the long run. The fuel economy is better by as much as 10% compared to gas. 
8. Fuel Tank Capacity 
This RV has a tank that can accommodate up to 100 gallons of fuel. It is large enough for a motorhome, ensuring that you will not run out of fuel when you need it on the road. 
9. Water Tank Capacities 
It has three main water tanks:
Freshwater tank: Holds potable drinking water, has a maximum capacity of 105 gallons.
Gray water tank: Holds water from different sources other than the toilet, holds 75 gallons.
Black tank: Holds sewage water, has a capacity of 50 gallons. 
10. Dimensions 
This RV is huge. The standard sleeping capacity is four people, but it can sleep up to seven with a few tweaks. It has an overall length of 40' 11", an overall height of 12' 10", and overall width of 8' 6". 
The Main Features of Fleetwood Discovery RV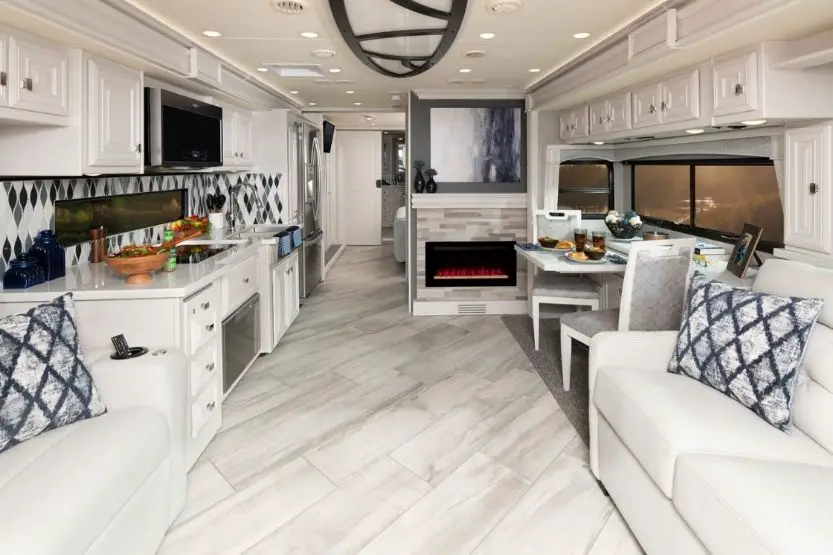 As a top-of-the-line motorhome, Fleetwood Discovery RV has many innovative features, including those we'll talk about in this section:
1. 100-watt Solar panel 
One of the highlights of the motorhomes within the Discovery fleet is that they come with 100-watt solar panels. This means that you have an alternative source of energy to power appliances and electronics in the RV. Plus, it is renewable, so you are doing something good for the environment. 
2. 400D Aqua Hot Heating System 
If you hate cold showers, then you will love the Discovery RV. It has Aqua Hot, an intelligent system for heating water in the bathroom. 
3. Encore Series King Bed 
You won't feel that you are on a bus when sleeping in this motorhome. The 72 x 80 inches bed is reminiscent of a hotel. Even better, it comes with a memory foam mattress so you can sleep soundly. Not to mention, you will also enjoy its adjustable head.
4. Sleeper Sofa with Pull-Out Bed
The highlight of the RV's living room is the 86-inch sleeper sofa. When it is time to sleep, it has a pull-out, transforming it into a queen-sized bed. 
5. Side-by-Side Refrigerator 
It comes with a 36-inch-wide side-by-side fridge with a maximum capacity of 21 cubic feet. More so, it has a water and ice dispenser outside. 
6. Flat Screen LED TVs 
You can enjoy entertainment on the go in the Discovery RV. It has one 49-inch LG TV in the living room, placed on top of a fireplace. Meanwhile, the bedroom has a 43-inch TV, which is on the top of a dresser. Plus, it has a 32-inch overhead TV in front. 
7. Two Roof-Mount Air-Conditioning Units 
Even during the peak of summer, this RV can transport you comfortably. Thanks to the two AC units, it will keep the interior cool. It has 15,000 BTU, ensuring maximum performance. 
8. Two Reclining Seats 
The driver and passenger seats are recliners. You have the option to turn them so that they are facing the living and dining area. The seat also has different controls for the different parts of the motorhome. 
9. 1000-watt Convection Microwave 
Reheating food is easy with the built-in over-the-range convection microwave. It has a power output of 1,000 watts, making the performance incredible. 
10. Induction Cooktop 
To create a more seamless interior, the cooktop utilizes induction technology. It looks more elegant compared to a stovetop. It has two burners and high output. 
11. 8-kilowatt Diesel Generator 
Aside from the solar panel, the power you will use in this motorhome also comes from the Onan generator. While it delivers maximum power, we like how it runs quietly. 
12. Creative Storage 
The RV comes with thoughtful storage spaces, ensuring there is room for everything you will need. It has drawers under the seats, a full-length dresser, and built-in storage on the headboard. 
Again, what does the Fleetwood Discovery RV offer? Aside from being a high-end and luxurious motorhome, the Fleetwood Discovery RV offers comfort while traveling and living on the road with its top-of-the-line amenities.
Watch the short video below for a glimpse at how the Fleetwood Discovery looks like:
Fleetwood Discovery RV Pros and Cons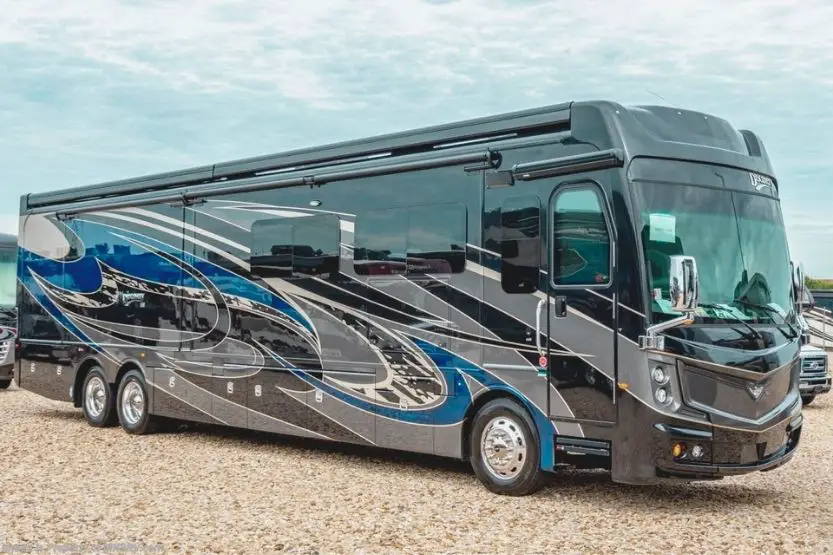 If you are still contemplating if Fleetwood RV Discovery is an exceptional pick for a motorhome, this section will help you decide:
Fleetwood Discovery RV Pros
Below are some of the most compelling reasons to choose Discovery RV:
1. Generous Interior Space 
You will love how spacious this motorhome is! It is one of the largest in the market. While the standard sleeping capacity is four people, it can fit up to seven people comfortably. There is plenty of room to move around, even for tall passengers. 
2. Packs a Lot of Safety Features
Safety is crucial on the road. Luckily, you do not have to worry when you are riding Fleetwood RV Discovery. It has tons of safety technologies for your peace of mind. For instance, the motorhome has smoke, propane, and carbon monoxide detectors.
3. Good Entertainment System 
Road trips don't have to be boring! With this modern bus, users will enjoy a state-of-the-art entertainment system. It has a flatscreen TV and a soundbar, so you can watch movies and have an immersive experience. 
4. Delivers Exceptional Comfort 
With the Discovery RV, you can enjoy the comforts of home even when you are away. The thoughtful design makes sure that the bus has a relaxing environment. From the bed to the couch, this RV is cozy. 
5. Durable Construction 
From the interior to the exterior, it is easy to conclude that the construction is top-notch. The main body, beds, cabinets, seats, floors, and other motorhome parts are sure to withstand the test of time. This will make the bus worth every dollar. 
Fleetwood Discovery RV Cons
Despite the good things, Discovery RV also has some drawbacks, including those that we'll be briefly talking about in this section:
1. Expensive 
The biggest drawback of this RV is its price. It is not for people on a budget. This high-end motorhome was built for those who are ready to splurge. The specific price will depend on where you will buy it, but one thing is for sure – it is not one vehicle that most people can afford. 
2. Can Be Difficult to Maneuver
The size of this motorhome makes it tricky to maneuver, especially for new drivers. It is bigger than a traditional bus. The size also means that it is quite demanding in terms of its parking space. If you are looking for something more compact, we suggest buying a conventional RV instead. 
3. Limited Warranty Coverage 
Some people might find the coach warranty coverage to be quite short. It is only good for one year or 15,000 miles, whichever comes first. The structural warranty, on the other hand, is three years or 45,000 miles. 
Conclusion – Fleetwood Discovery RV Specs and Review 
Motorhomes often have a bad reputation. They do not have the luxuries and comforts you can enjoy at home. Nonetheless, with the Fleetwood Discovery RV, you will feel cozy even on the road. It is one of the most luxurious RVs in the market. 
From its state-of-the-art entertainment system to top-notch safety features, the Discovery RV stands out. It has a spacious interior, providing plenty of space to move around. Nonetheless, it also has some drawbacks, which include the price and the short warranty coverage. 
To recap, the table below summarizes some of the most important specs of Fleetwood Discovery:
| | |
| --- | --- |
| Engine  | Cummins ISB 6.7L  |
| Transmission  | Six-speed automatic transmission with electric shifter  |
| Gross Vehicle Weight Rating  | 33,400 pounds  |
| Gross Axle Weight Rating  | Front – 12,400 pounds, Rear – 21,000 pounds  |
| Gross Combined Weight Rating  | 43,400 pounds  |
| Hitch Weight  | 10,000 pounds  |
| Fuel Type  | Diesel |
| Fuel Tank Capacity  | 100 gallons  |
| Water Tank Capacities  | Freshwater – 105 gallons, Gray water – 75 gallons, Blackwater – 50 gallons  |
| Dimensions  | Length – 40′ 11″, Height 12′ 10″, Width – 8′ 6″  |