RVs don't have to be basic and boring. Many models pack a plethora of luxurious features, including the Europa motorhome. In this Dynamax Europa review, I'll list all its specs and features so you can decide if it is the right RV for you. 
The Dynamax Europa motorhome is a Class C RV with a spacious interior and hand-painted exterior. It has state-of-the-art appliances, including a modern entertainment system. More so, it has advanced heating and cooling systems to ensure optimal comfort. The RV also comes with a built-in automatic generator and solar panel.
Meanwhile, this table gives a glance at the specs of the Europa RV:
| | |
| --- | --- |
| Engine  | Cummins B 6.7 Turbo Diesel Engine, 360 HP  |
| Transmission  | Allison 3200 TRV Six-Speed Automatic Transmission |
| Gross Vehicle Weight Rating  | 33,000 pounds  |
| Gross Axle Weight Rating  | 12,000 pounds  |
| Gross Combined Weight Rating  | 46,000 pounds |
| Fuel Capacity  | 100 gallons  |
| Water Tank Capacities  | Freshwater – 95 gallons, grey and black water – 52 gallons  |
| Dimensions  | 33′ 5″ x 101″ x 12′ 9″  |
Read on to learn more about the Dynamax Europa RV, including its features, as well as some of its pros and cons. 
About Dynamax Europa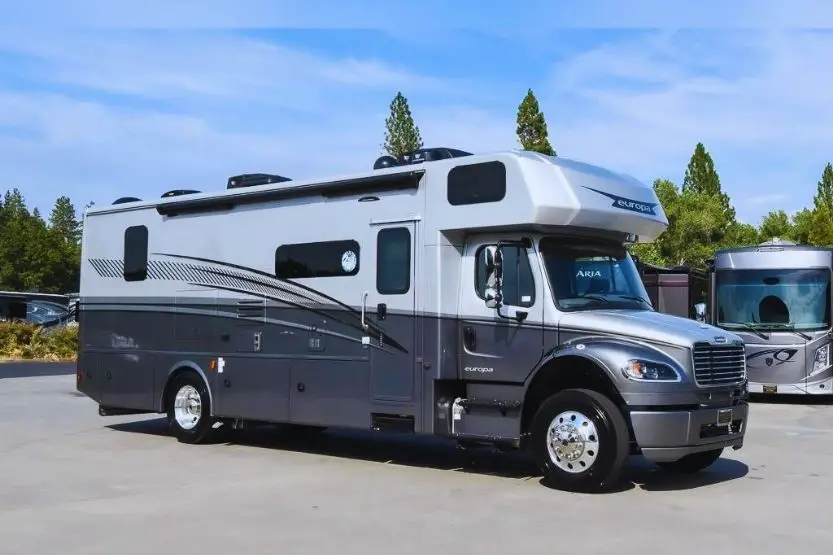 Dynamax is a part of the Forest River Group, a popular manufacturer of top-notch motorhomes in North America. The brand focuses on two things – customer loyalty and product integrity. They manufacture casual RVs with a design that combines both form and function, making sure of your highest level of comfort on the road. 
The company takes pride in having a state-of-the-art facility with innovative engineers. Their team is constantly searching for ways to make their motorhomes better. More so, with attention even to the smallest detail, they deliver exceptional quality control. From the chassis to the seats, they make sure that everything is perfect. 
Dynamax Europa Motorhome Specs 
To give you an idea of how this RV will perform in real life, this section takes a quick look at some of its most important specifications:
1. Engine 
As with any other RV, the engine is the one that is responsible for its overall performance. This model comes with a Cummins B 6.7 turbo diesel engine, which has a power delivery of 360 HP. It is one of the most powerful engines in the market, ensuring that this motorhome will deliver superior reliability. 
2. Transmission 
You will enjoy the RV's performance on the open road and make it efficient in different environments. Among others, one thing responsible for this is the motorhome's Allison 3200 TRV Six-Speed Automatic Transmission. 
3. Gross Vehicle Weight Rating 
The GVWR refers to the maximum weight that an RV can support when it is at full load. If you go beyond such, there is a high likelihood of a safety issue. Not to mention, it will also make the motorhome less efficient. The maximum allowable weight of this model is 33,000 pounds. 
4. Gross Axle Weight Rating 
If you will use the RV for towing, this is an important technical spec you should learn. The GAWR of this model is 12,000 pounds. It is the maximum weight that each axle can handle. Take note that it is already inclusive of cargo, fuel, and accessories, among others. 
5. Gross Combined Weight Rating 
This spec is the maximum weight of the motorhome, as well as whatever you will be towing. Going beyond the limit that the manufacturer specifies will have significant safety repercussions. The GCWR of this model is 46,000 pounds. 
6. Fuel Capacity 
The maximum fuel that you can load in this motorhome is 100 gallons. This is the most common capacity in most RVs. It will take quite a while before you run out of diesel as you hit the road and embark on an adventure. 
7. Water Tank Capacities 
It has a freshwater tank that can hold up to 95 gallons, which will supply water in the bathroom and kitchen, among other places. Meanwhile, the grey water tank has a capacity of 52 gallons. The same ix the maximum capacity of the black water tank. 
8. Dimensions 
The motorhome has a length of 33' 5", a width of 101", and a height of 12' 9". All of these measurements are based on the exterior of the RV. This is large enough even for tall people while also ensuring generous space for everyone to move around. 
Main Features of Dynamax Europa RV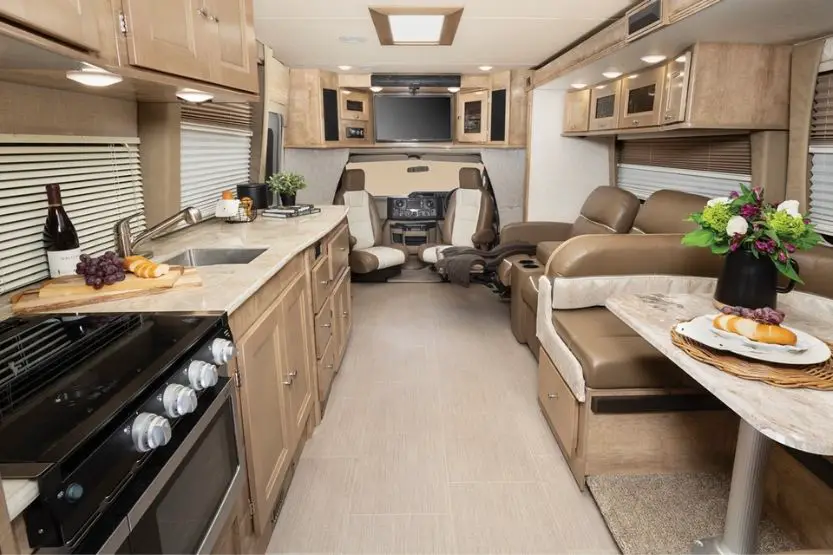 Now that you know its specs, this part will walk you through some of the most notable features that will make the Dynamax Europa RV redefine your road trips:
1. Quad View Camera System 
Staying safe on the road is easy with the quadruple cameras that come with this RV. It has a camera on the hitch, rear, right side, and left side. The cameras will capture anything, even in the surroundings, while also making it easier for you to park. It is like having an extra set of eyes to extend a helping hand. 
2. Power Entry Steps 
Going on and off the RV is effortless with the power entry steps. With a push of a button, you can activate the steps without making any noise. It is also space-efficient since the steps retract when you do not need them. 
3. Onan Diesel Generator 
You don't have to worry about how to power the appliances on the road. It has a built-in diesel generator from Onan with an output of 8 kilowatts. It has many user-friendly features, such as the automatic transfer switch. Not to mention, it also comes with an automatic start, so there is no need for manual pulling. 
4. Two 100-watt Solar Panels 
Even without the generator, you can power some of the appliances in the motorhome. This is possible because of the two solar panels that come with the RV. Each panel has an output of 100 watts. It also has a 30-amp controller. 
5. Water Filtration System 
Potable water is within easy reach if you are living in this motorhome. It comes with a water filtration system. This will effectively remove the contaminants and chemicals that can mix with your drinking water. It also means that you won't have to often rely on bottled water. 
6. Memory Foam Gel-Infused King Mattress
One of the highlights of this RV is the bedroom, which will ensure a comfortable sleep wherever you are. It will feel like you are sleeping in a hotel. The 70 x 76-inch mattress has a memory foam bottom and a gel-infused top, ensuring that you will stay cool throughout your sleep. Plus, it also comes with a designer bedding package. 
7. 16-cubic-feet Two-Door Refrigerator 
Keeping your food fresh even when on the road is easy with the fridge that comes with this motorhome. It has two doors and a capacity of 16 cubic feet. The refrigerator also comes with a built-in ice maker. 
8. On-Demand 12-volt Water Pump 
You will enjoy a consistent water supply on the road with the on-demand pump of this RV. The latter has a maximum capacity of 12 volts. It has a pumping output of 4 gallons per minute. Whether you are taking a shower or washing the dishes, the water has decent pressure. 
9. Booth Dinette 
The booth-style dinette maximizes the use of space in this RV. It can seat four people comfortably. You will find two seats on the right and left sides of the table while the other side is the wall. On the open side, you can add a chair. 
10. 60-inch Sleeper Sofa 
Need additional sleeping space? Good thing it comes with a 60-inch sofa that can quickly transition into a makeshift bed. The sofa has decent cushioning, ensuring your comfort. It is facing the TV and the kitchen sink. The manufacturer also offers an upgrade option for dual theater seats with a power recliner instead of the conventional sofa.
Again, what does the Dynamax Europa RV offer? The Dynamax Europa RV offers adventurers the utmost comfort. This motorhome has a roomy interior, hand-painted exterior, heating, and cooling systems, a built-in automatic generator, and solar panels.
Dynamax Europa RV Pros and Cons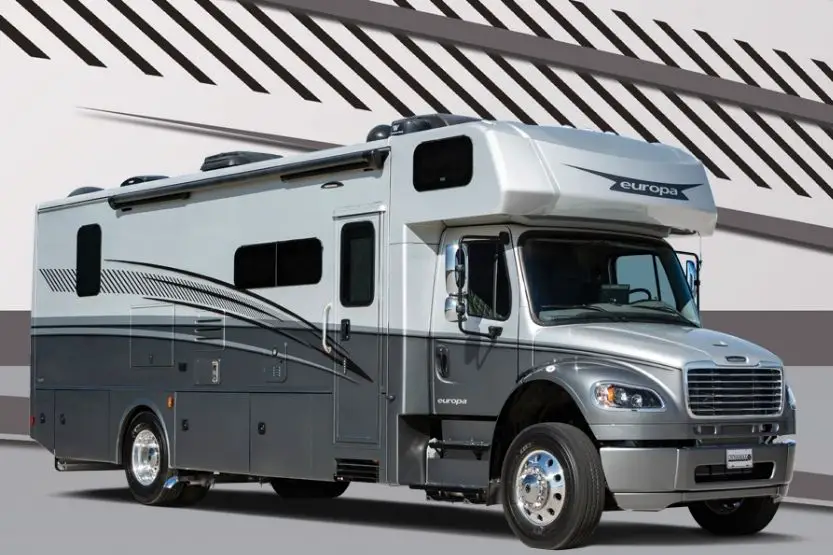 Undecided if this is the right motorhome for you or should you keep looking for other models? Here is a preview of the benefits and drawbacks of this model:
Pros 
This section will walk you through some of the most compelling reasons to choose the Europe Class C RV:
1. Spacious Floor Plan 
Among the motorhomes you'll find in the market, this model is one with the most spacious floor plans. It means that there is plenty of room for you to move around, unlike others wherein you will be cramped. Even if you are living on the road, this RV will never deprive you of generous space. 
2. The Exteriors Are Hand-Painted 
It is one proof that the company pays attention even to the smallest detail. Each motorhome is a product of in-house hand painting. The job is not outsourced. It means that you can expect the best exterior paint in the industry. No wonder Dynamax motorhomes are some of the most beautiful that we have seen. 
3. Durable Construction 
As a part of its commitment to delivering nothing but the best quality, this motorhome is known for its durability. Its engineers utilize the toughest products available, ensuring that the RV will withstand many years of use. Every component has been through stringent quality control to ensure its longevity. 
4. Strong Support Group from Other Owners 
If you buy this RV, you can become a member of the Forest River Owners' Group. They have more than 140,000 members across North America. They are also active online. So, when you need to ask anything or share tips, you have many people to talk to. It is even a great way to make new friends! 
5. Bunk Area for Additional Sleeping Space 
Aside from the bedroom and couch, the motor home also has a cab-over bunk, providing another sleeping area, especially for children. It has a 50 x 79-inch mattress. Plus, it has a privacy curtain. 
6. Free Roadside Assistance 
With this motorhome, you can travel without worries since the company provides free roadside assistance within a specified coverage area. This complimentary membership is available for one year for all new owners. 
Cons 
Despite the good things, there are also some drawbacks, including those that we'll be briefly talking about below:
1. Motorized Warranty Is Only One Year 
One of the things that you might not like in this RV is how the motorized warranty lasts only one year. We have seen other models with a warranty of up to three years, although they are higher-end motorhomes. 
2. Expensive 
While there are many more expensive options available, many people will still find the price of this RV to be quite a stretch. Based on the website of the manufacturer, the current approximate price is $284,915. It is not for those on a budget or for people who are looking for an entry-level motorhome. 
Conclusion: Dynamax Europa RV
The Dynamax Europa motorhome redefines traveling and living on the road. It has a spacious interior that packs modern appliances and features to ensure your highest level of comfort. The bedroom to the kitchen uses exceptional components that won't make you miss your home! 
With this RV, you will enjoy the many things that Dynamax is known for. It has a durable construction, hand-painted interior, solid support group, reliable customer service, and free roadside assistance. Nonetheless, all of this will come at a high price, so you might want to check out other motorhomes if you are on a budget. 
To recap, this table summarizes the main specs of the Europa motorhome:
| | |
| --- | --- |
| Engine  | Cummins B 6.7 Turbo Diesel Engine, 360 HP  |
| Transmission  | Allison 3200 TRV Six-Speed Automatic Transmission |
| Gross Vehicle Weight Rating  | 33,000 pounds  |
| Gross Axle Weight Rating  | 12,000 pounds  |
| Gross Combined Weight Rating  | 46,000 pounds |
| Fuel Capacity  | 100 gallons  |
| Water Tank Capacities  | Freshwater – 95 gallons, grey and black water – 52 gallons  |
| Dimensions  | 33′ 5″ x 101″ x 12′ 9″  |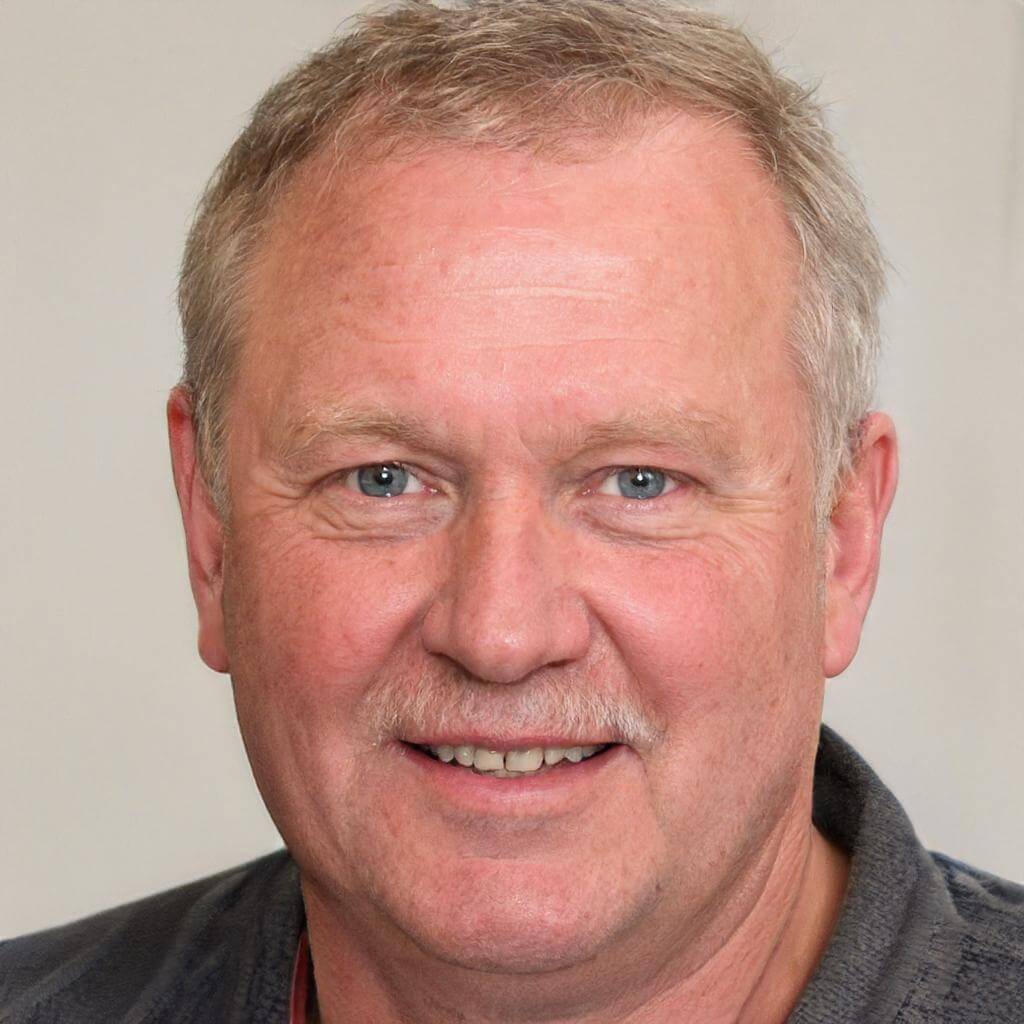 We created RVcrown.com in 2020 as a way to geek about everything we've learned and are still learning about RVs. You'll find in-depth articles covering reviews, specs, and features of the top RVs in the market. Contact me. Disclaimer: The information and advice provided in this blog are for educational and informational purposes only. The author does not guarantee any particular result or outcome from following the advice provided. See more about us.