From the mountain to the beach, if you are looking for the perfect travel trailer that can take you anywhere while delivering superior safety, incredible comfort, and memorable adventures, Dutchmen has you covered. In this Dutchmen Astoria review, I will list all its specs and features so you can decide if this is the right RV for you.
The Dutchmen Astoria travel trailer has a sleeping capacity of up to ten people. It has a lightweight but tough body made from a combination of fiberglass shell and aluminum lining. The RV has a timeless design with modern features, allowing it to deliver the comforts of home even when you are on the road.
Here is a quick summary of its specs:
| | |
| --- | --- |
| Dry Weight | 6,866 pounds |
| Payload Capacity | 2,814 pounds |
| Hitch Weight | 795 pounds |
| Water Heater Capacity | 6 gallons |
| Propane Tank Capacity | Two tanks holding 20 pounds each |
| Holding Tank Capacities | Fresh Water: 50 gallons, Gray Water: 39 gallons, Black Water: 39 gallons |
| Dimensions | Length: 33.75 feet, Height: 11.17 feet |
| Sleeping Capacity | 10 people |
| Warranty | Three Years |
| Price | $41,105 |
Read on to learn more about the Dutchmen Astoria travel trailer, including its features, as well as some of its benefits and drawbacks.
About Dutchmen Astoria RV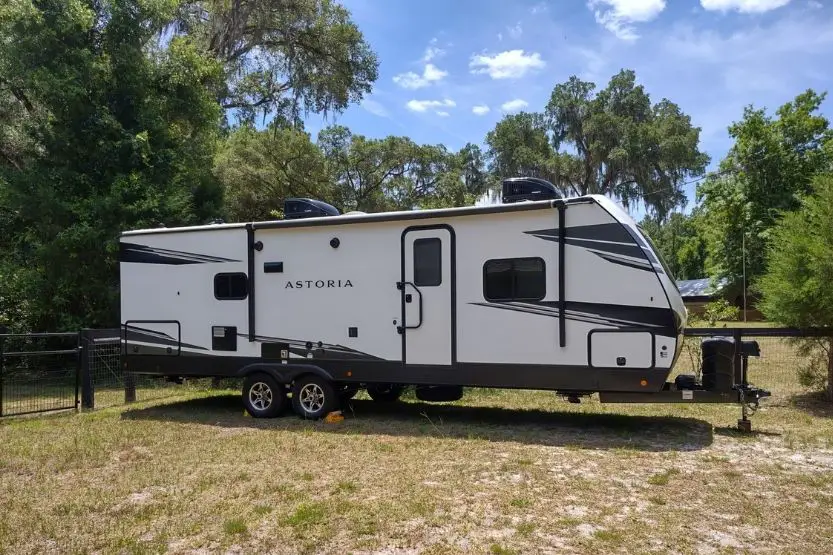 Attracting mostly young buyers with their turnkey RVs, Dutchmen is one of the most recognizable brands in the market for travel trailers and motorhomes. They also offer some of the most impressive structural warranties in the country. While we will focus on the Astoria trailer in this review, the company has other models, including the following:
Aspen Trail
Atlas
Colorado
Coleman Light
Kodiak
Voltage
Yukon
Dutchmen Astoria's travel trailers and fifth wheels are popular for their timeless design while offering modern features. It is a combination of both form and function. It has a well-designed body while also making you as comfortable as possible on the road. It is hard to miss home when you can bring your home with you on your outdoor adventures.
Dutchmen Astoria RV Technical Specs
To deliver superb performance, below are some of the main technical specifications of the Astoria travel trailer. It is available in different models, but our focus in this guide is the 2903BH:
1. Dry Weight
The dry weight refers to the body's weight without passengers, cargo, fuel, and other add-ons. It is only the bare shell and an important consideration in determining the vehicle to use for towing. This model has a dry weight of 6,866 pounds. 
2. Payload Capacity
It determines the maximum weight that you can add to the trailer. It includes passengers, as well as other accessories that are not included in the package. The payload capacity of the Dutchmen Astoria is 2,814 pounds. Going above this can compromise your safety and the efficiency of the towing vehicle.
3. Hitch Weight
The hitch weight refers to the maximum weight that a trailer tongue will add to the hitch you will mount. For this model, the hitch weight is 795 pounds. Make sure to match it to the vehicle that you will use.
4. Water Heater Capacity
When the temperature drops, you will love how the trailer comes with a water heater. The latter has a maximum capacity of six gallons. It will make sure that hot water is available on-demand, especially if you want to shower.
5. Propane Tank Capacity
It comes with two propane tanks, which contain 20 pounds each. This means that your trailer can have up to 40 pounds of gas at a given time when the tanks are both full.
6. Holding Tank Capacities
You will find three main types of tanks in this trailer, each with a different capacity:
Fresh Water Tank: 50 gallons
Gray Water Tank: 39 gallons
Black Water Tank: 39 gallons
7. Dimensions
The manufacturer did not explicitly state the width of this trailer. However, based on the brochure, here are the dimensions:
Length: 33.75 feet
Height: 11.17 feet
8. Sleeping Capacity
The travel trailer can comfortably sleep up to ten people. You might think that it is a bit cramped, but it is surprisingly spacious. It has double beds, a king bed, and a convertible sofa bed, so there is plenty of space for your family and friends to have a good sleep.
9. Warranty
For your peace of mind, it is also good to know that the company is offering excellent warranty coverage. The structural warranty lasts for three years, one of the best that you will find in the market for travel trailers.
10. Price
The price of the trailer will vary depending on where you will buy it. Nonetheless, if you purchase it directly from the manufacturer, it costs $41,105. This price is accurate upon writing this review but can change over time.
Again, what does the Dutchmen Astoria Travel Trailer offer? The Dutchmen Astoria travel trailer comprises a fiberglass shell and aluminum lining, resulting in a lightweight trailer that can accommodate 10 people. It also has modern features which aim to deliver comfort while you're on the road.
Main Features of Dutchmen Astoria Travel Trailer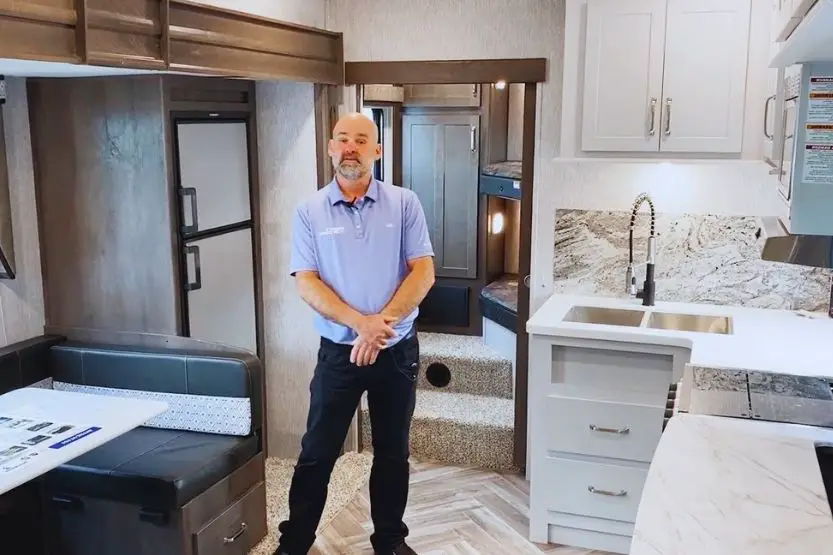 To stand out from many of the other trailers in the market, Dutchmen Astoria packs plenty of exceptional features, including the following:
1. KeyTV
One of the main features of the RV, it is responsible for bringing next-level entertainment on the road. It serves as the brain of the televisions that you have in the RV. It is an antenna on the roof, capable of receiving signals from different sources.
2. Vacuum-Bonded Floor and Wall
Throughout the trailer, the floors are made of vinyl. They are easy to clean, long-lasting, and aesthetically pleasing. It consists of seven materials bonded together, preventing them from easily disintegrating. It is unlike other floors that easily peel off when there is heavy foot traffic.
More so, the wall also has vacuum bonding. They are made of laminated materials. Plus, the walls incorporate a special insulation material, which effectively regulates the temperature. In turn, you will experience optimal comfort.
3. King and Double Beds
The master bedroom comes with a king bed. It has dimensions of 70 x 80 inches, which is large enough to accommodate three people comfortably. Plus, it has a bunkhouse, which has two double beds. However, some people noted that it would have been better if bunk beds instead of maximizing space. 
4. Tri-Fold Sleeper Sofa
If you need extra sleeping space, it is good that there is a sofa that folds three times. Some might prefer one with a recliner, but given the price point, the sofa is decent.
5. Three-Burner Glass Top Range
Like the other parts of the trailer, the kitchen sports high-end parts. One of the highlights is the three-burner range that comes with a glass top. You can cook more at a time. More so, since it has a glass top, it is easy to clean while looking good.
6. U-Shaped Dinette
With the seat and table configuration, it can accommodate more people at a time. The seats are cushioned, which will make them comfortable. The table is also spacious and sturdy, even when the trailer is running.
7. Glass Fireplace
As the temperature gets colder, the 30-inch fireplace will come in handy. We also love how it has a glass surface that adds a hint of elegance to the interior.
8. LED TV
For your entertainment on the road, it comes with a 40-inch LED TV. It is big enough for the size of the trailer.
9. Double Door-Refrigerator
The fridge has a maximum capacity of 8 cubic feet. It is big enough to keep your food fresh while you are on the road.
10. Motion Sensor Lighting
Inside the RV, you will find many innovative features, such as motion-activated lighting. They are also LED, so they are energy-efficient.
11. Automatic Air Conditioning and Heating
With the air conditioning and heating systems in this travel trailer, you will stay comfortable regardless of the temperature outside.
12. Pass-Through Storage
Maximizing the use of available space is evident throughout the trailer. Proof of such is the presence of pass-through storage. You can find it under the bed. It is big enough to keep your stuff while also preventing clutter inside the RV.
Dutchmen Astoria RV Pros and Cons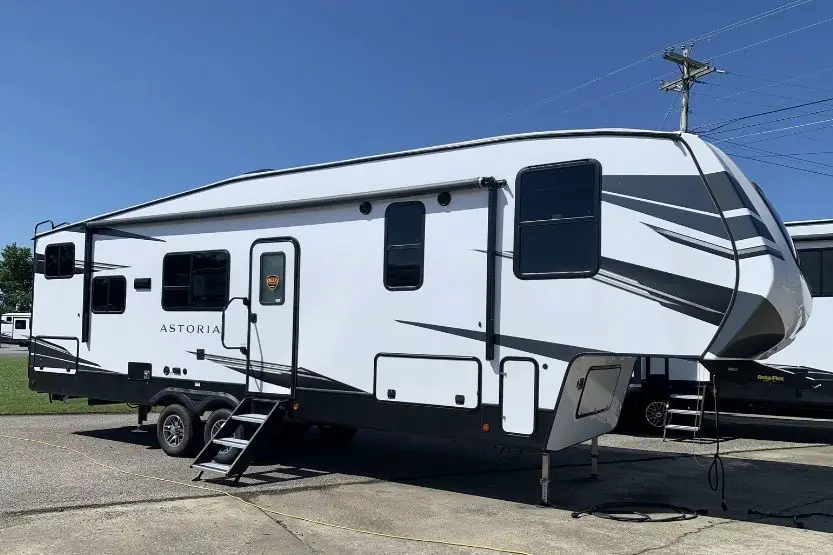 Weighing the good and the bad is important to help you decide if this travel trailer is the right choice or if you should look for an alternative:
Pros
Below is a quick rundown of some of the most notable benefits of the Dutchmen Astoria travel trailer:
1. Lightweight but Tough Body
One of the best things about this trailer is its lightweight shell, but that does not mean that it compromises durability. It is made of tough materials. The RV utilizes a combination of a fiberglass body and aluminum sidewall, guaranteeing many years of use.
2. Effortless Trailer Connection
Most novices will appreciate how this travel trailer allows easy connection to a towing vehicle. This is possible because of the power stabilizer jack and power tongue jack. They will also make the task safer.
3. Excellent Thermal Insulation
Gone were the days when you end up shivering when the temperature starts to drop. This RV comes with all-weather insulation. With this thermal innovation, it has two insulation layers, which will help in keeping you warm.
4. Comes with a Retractable Awning
You will have a good time even when you are outside the trailer. The trailer comes with a 20-foot retractable awning, providing the necessary shade from the sun's heat or light rain. The awning has a power control that makes it user-friendly.
Cons
Despite the advantages, the Astoria RV also has several drawbacks, including those that we'll talk about below:
Hard Mattress
Some people did not like the mattress with this trailer, noting how hard it can be. If you are uncomfortable, we suggest replacing it with something else. Perhaps, a combination of gel and memory foam will be better.
Cabinets Can Fall Off Easily
Be careful with the original cabinets that come with this RV. They might fall off easily because they attach to the wall using short screws. Replacing the screws with something longer can be a quick fix to this problem.
Conclusion: Dutchmen Astoria Travel Trailer
The Dutchmen Astoria travel trailer is an exceptional motorhome with a sleeping capacity of ten people. It has a king bed, double beds in a bunkhouse, and a sleeper sofa. The RV has a lightweight shell without compromising durability. Nonetheless, some people complain that it has a hard mattress and that the cabinets are poorly attached to the wall.
To recap, this table summarizes the main technical specs of the Astoria RV:
| | |
| --- | --- |
| Dry Weight | 6,866 pounds |
| Payload Capacity | 2,814 pounds |
| Hitch Weight | 795 pounds |
| Water Heater Capacity | 6 gallons |
| Propane Tank Capacity | Two tanks holding 20 pounds each |
| Holding Tank Capacities | Fresh Water: 50 gallons, Gray Water: 39 gallons, Black Water: 39 gallons |
| Dimensions | Length: 33.75 feet, Height: 11.17 feet |
| Sleeping Capacity | 10 people |
| Warranty | Three Years |
| Price | $41,105 |