Traveling in style does not necessarily have to come with a premium price tag, and that is what the Grand Design Transcend Xplor is all about. In this Grand Design Transcend Xplor review, I'll list all its features and specs so you can decide if this is the right camper trailer for you.
The Grand Design Transcend Xplor provides customer-centric designs with open floorplans and top-class build quality. Every unit also comes standard with a warranty that is among the best in the industry.
The Transcend Xplor comes in a staggering 11 different variants. They range in size from just under 25-feet to almost 36-feet in length. Every Transcend Xplor underwent meticulous construction to provide the utmost durability while still being lightweight.
Read on to learn more about the Grand Design Transcend Xplor, model lineup, specs, and features.
About the Grand Design Transcend Xplor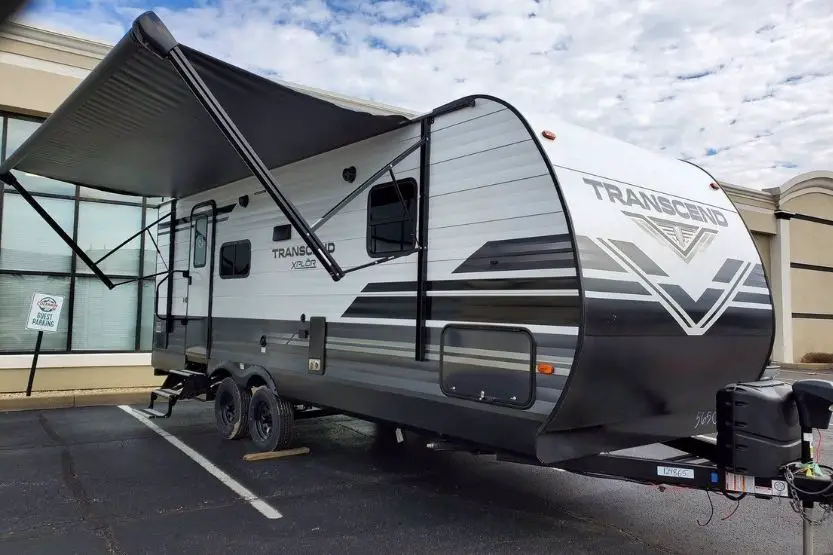 The Transcend Xplor is among the Transcend line of travel trailers manufactured by Grand Design, one of the world's largest travel trailers and fifth-wheel manufacturers. Although the company is relatively young, as it was established just in 2012, Grand Design worked its way to the industry's top.
Aside from the Transcend Xplor, Grand Design also makes other recreational vehicles, like:
The Transcend Xplor shows just how much Grand Design considers the needs of its clients when making travel trailers. Aside from being roomy, the trailers are also light enough that modern half-ton trucks and SUVs can tow them.
Even the standard amenities that come with these travel trailers can make all camping trips more enjoyable. Some of the things that you can expect from the Transcend Xplor include:
Queen-size bed
Deep-seated kitchen sink with high rise faucet
Walk-in shower and a whole lot more
The Grand Design Transcend Xplor is one of the most affordable travel trailers in the market today because they are made using a wooden frame and aluminum exterior. Although constructing trailers using wooden structural frames is easier, that does not mean that the Transcend Xplor is cheaply made. It is actually quite the contrary.
For instance, the aluminum skin used by the Transcend Xplor is significantly thicker compared to those used by other makers. This makes the Transcend Xplor less susceptible to weather damage, storm debris, and hailstones.
Grand Design Transcend Xplor Model Lineup
The Transcend Xplor comes in 11 different types of floorplans, which include:
Transcend Xplor 200MK which measures 24'11"
Transcend Xplor 221RB which measures 26'10"
Transcend Xplor 231RK which measures 29'3"
Transcend Xplor 240ML which measures 29'9"
Transcend Xplor 245RL which measures 30'8"
Transcend Xplor 247BH which measures 29'11"
Transcend Xplor 269RB which measures 31'6"
Transcend Xplor 261BH which measures 30'11"
Transcend Xplor 265BH which measures 32'9"
Transcend Xplor 297QB which measures 35'11"
Transcend Xplor 321BH which measures 36'11"
Depending on which floorplan you choose, the Transcend Xplor can comfortably house up to 7 people.
Grand Design Transcend Xplor Interior Features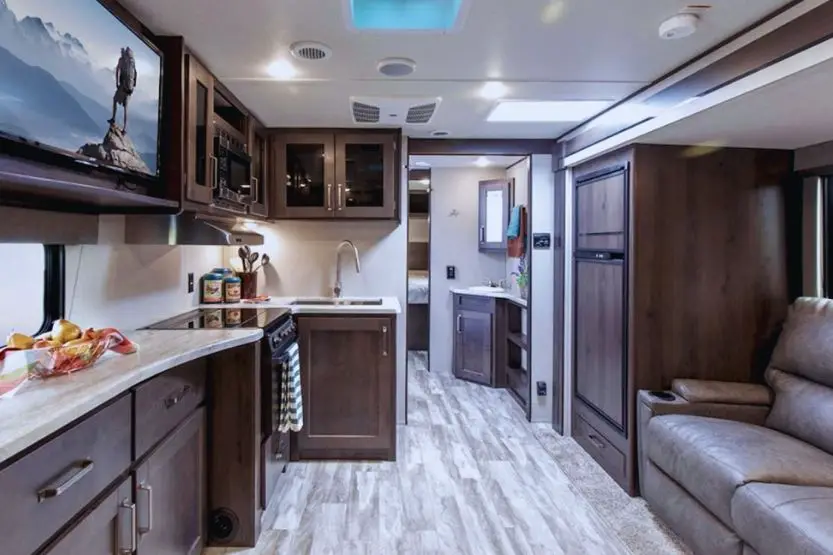 Here are some of the features you can expect to enjoy from the Grand Design Transcend Xplor:
1. Spacious and Fully-furnished Kitchen
The type of kitchen in your trailer can make or break your camping trip. Luckily, you don't have to worry about that when rolling in the Grand Design Transcend Xplor. This trailer's kitchen is a whole lot nicer than what you can find in most downtown apartment buildings.
Whether you are in the mood to cook gourmet meals or want to heat frozen pizzas, this kitchen has got your back. When you are ready to eat, scoot over to the dinette with a wraparound seat.
Key Features
Solid hardwood cabinetry
Residential granite countertop
Microwave and range hood
3-burner gas stove with convection oven
Double-door refrigerator
There is also an ample-sized pantry where you can store all of the dry goods you will need for your trip.
2. Cozy and Roomy Bedroom
The main bedroom of the Transcend Xplor will surely keep that homesick feeling at bay. Why would you ever want to check into a seedy roadside motel on your road trips? When you can crash into your very own comfy queen-size bed and get a good night's rest before hitting the road again tomorrow.
Key Features
Full queen-size bed
Ample space on both sides of the bed – You do not need to crawl from the bottom of the bed.
A solid wood door that closes off the bedroom
USB ports for charging gadgets
3. Luxurious Living Space
The Transcend Xplor did not skimp out when it comes to creature comforts, as you can see in its spacious living room area. There is a space allotted for a widescreen LED TV and plenty of storage for your entertainment system. These include Blu-ray players and video game consoles.
Key Features
Leather-covered couches with cup holders
Entertainment console wall
Power vent fan
Laminate flooring throughout
Tinted windows with roller blinds
If you have guests who will be spending the night, the couch converts into a comfy bed. This means they do not need to sleep on the floor.
4. Ample Bathroom Space
The bathroom is also one of the most important features of a camper trailer, and the one in the Transcend Xplor is more than adequate. For a trailer its size, the bathroom is surprisingly roomy.
Key Features
Large walk-in shower
Bathroom sink and countertop
Porcelain toilet
Medical cabinet and mirror
Linen cabinet
I liked the walk-in shower most because it is large enough to move around while you are showering freely. It is not like the diminutive shower stalls in most hotels where you can easily hit your elbows on the walls while washing your hair.
5. Additional Sleeping Spaces
Certain models come with fold-out sofa beds for additional sleeping space for two people. Meanwhile, the other larger floorplans come with an additional sleeping area that comes with bunk beds. This can provide sleeping spaces for up to four more people.
Again, what does the Grand Design Transcend Xplor offer? Customer-centric designs with open floor plans and excellent build are two of the things the Grand Design Transcend Xplor offers. The unit also comes with a warranty.
Grand Design Transcend Xplor External Features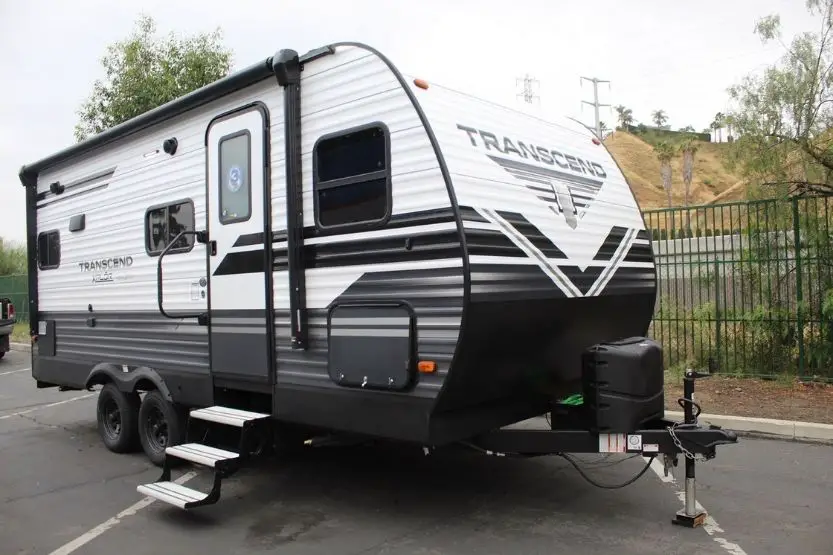 The interior of the Transcend Xplor is impressive enough, but it also has some exterior features that would make you want to spend time outside as well. Among the key features here are:
LP tank holder, which is capable of holding 2 x 20lb tanks
Vinyl fabric awning
Quick-connect ports for municipal gas and water
Exterior kitchen and grill
External shower
Allocation for solar panels
If you want to relax in your lounge chair or host a barbecue party outside, you can certainly do them and whatever else you can think of.
Key Specs of the Grand Design Transcend Xplor
The Transcend Xplor provides creature comforts and offers all the necessities that campers will ever need. You might not think about these details much, but they are arguably the most important features:
62-gallon freshwater holding tank
78-gallon grey water tank
78-gallon black water tank
30,000 BTU capacity furnace
More than enough storage space
Aluminum retracting steps
External LED patio lights
External hookup to cable and/or satellite TV
The holding tanks in the Transcend Xplor are some of the biggest that you will find on travel trailers and RVs. You will not have any problems with these tanks even when you take the trailer on a week-long road trip.
Is the Grand Design Transcend Xplor a Good Buy?
The wood frame construction makes the Transcend Xplor one of the most economical choices for travel trailers. However, that does not mean that you will be getting a cheaply-made trailer.
All sidewalls come with foam insulation. This helps keep the interior nice and toasty during the colder months and cool during the hot summers. Grand Design also used a four-part seal on the walls and edges of the trailer. This prevents water from seeping through the seams, which helps a lot with the trailer's longevity.
If that is not enough, Grand Design will provide you with a 3-year warranty on basic structural damages. This means that if the seals were to fail and water managed to seep into the trailer within the warranty period, Grand Design will fix the problem for you. If they can't, then you are entitled to a full refund.
With list prices ranging from $18k to $30k, you will certainly be getting more than your money's worth when you purchase a Transcend Xplor. With all of the amenities that come with the trailer, not to mention the amount of room it provides, you will be wondering why you did not need to pay more.
Grand Design Transcend Xplor Pros and Cons
Pros:
Excellent build quality
Affordable price tag
Spacious main bedroom
Lots of kitchen counter space
Plenty of extra sleeping spaces
Cons:
Heating and A/C are not the most efficient
No cable hookup for outdoor TV
Conclusion – Grand Design Transcend Xplor Specs and Review
Few travel trailers are quite like the Grand Design Transcend Xplor when it comes to providing designs and floorplans that place the needs and wants of its owners. The Transcend Xplor has more than enough room and amenities to house a small family in comfort.
The best thing about the Transcend Xplor is that it is one of the most affordable travel trailers in the market today. In addition, Grand Design also provides its customers with a 3-year warranty on the trailer's structure and an 18-year warranty on the roof. You can certainly rest assured that you will be getting a quality trailer when you invest in this one.