A rear-drive diesel motorhome at the price of a front-engine gas coach is entirely possible. There's a Coachmen RV just like that. In this Coachmen Sportscoach RD Motorhome review, I will list all its specs and features to help you determine if it is the right RV for you.
The Coachmen Sportscoach RD Motorhome is a model lineup of recreational vehicles in the Class A motorhome category. These RVs use the Freightliner chassis and offer the advantages of rear diesel motorhomes at a price point similar to the gas engine-powered RVs made by other manufacturers.
The coaches made by Coachmen offer the best layouts in the Class A motorhome category. There are three floorplans available in the Sportscoach RD lineup. All these floorplans have layouts and qualities that are the best in their category.
Read on to learn more about the Coachmen Sportscoach RD Motorhome, its specs and features, and everything you need to know to help you determine if it will satisfy your requirements.
About the Coachmen Sportscoach RD Motorhome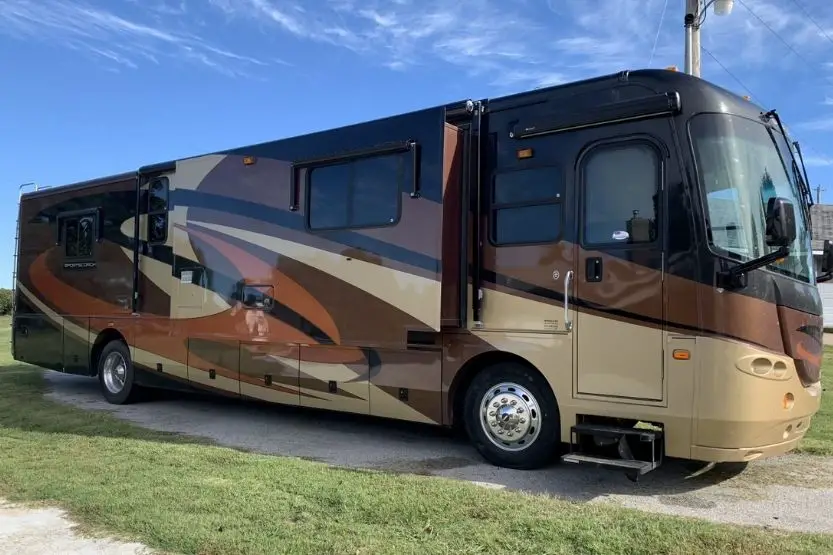 The Sportscoach RD Motorhome is a model lineup of coaches that belongs to the Class A motorhome category. Coachmen RV manufactures these coaches. They are diesel engine rear-driven motorhomes. That means they are rear-drive, diesel engine-powered RVs.
You might think that being diesel engine driven will be costly. On the contrary, their price points are at or near those of front-driven, gasoline-powered motorhomes. But being diesel engine powered, they offer certain advantages over gas engine powered RVs.
The most obvious advantage is the reduced cost of fuel. Diesel fuel cost less than gasoline. On average, diesel engines are also more powerful than gasoline engines. And they last longer than gas engines because they are made of more durable parts.
The Sportscoach RD Motorhome is available in three floorplans, namely:
They all have a uniform length which is 41 feet and 1 inch. The gross vehicle weight of each variant is also similar at 32,000 pounds. Their main differences are in the layouts of their floorplans.
Coachmen RV has been in the business of building travel trailers for more than 50 years. This company was established by Tom, Claude, and Keith Corson, who are brothers in reality. Throughout its history, Coachmen RV has built and sold more than 750,000 RVs to date.
Coachmen RV is known as a manufacturer of reliable RVs that offer exceptional value. The company changed ownership in December 2008 when Forest River, Inc. bought it. The acquiring company is a part of the Berkshire Hathaway Company, one of the country's biggest makers of recreational vehicles.
Coachmen RV has its manufacturing facilities in Middlebury, Indiana, making Class A, Class B, and Class C motorhomes under the Coachmen RV brand. They also build travel trailers and fifth wheels.
Key Features of the Coachmen Sportscoach RD Motorhome
Being a Class A motorhome, the Sportscoach RD lineup has abundant amenities that will amaze your senses. Out of all its features, some will naturally stand out. Here are the special features of this line of high-quality coaches:
1. Most Affordable Class A Motorhome in the Market
The Sportscoach RD is the most affordable rear diesel Class A motorhome today. At its price point, you have all the amenities that offer luxurious comfort wherever you take it. Built on the Freightliner chassis, this coach will give you the advantages of a rear diesel coach at a price comparable to some motorhomes powered by gasoline engines.
The raised rail Freightliner chassis comes with high-quality components that include:
Leveling jacks, fully automatic
Air brakes
Air suspension
High-definition side-view and back-up cameras
22.5 inches radial tires with aluminum rims
2. Flat Floor Bedroom Design
The bedrooms of all Sportscoach RDs come with a true flat floor design. With this design, you won't need to climb over the engine cover to access the bed. Side opening compartment doors also make it easy to access your toys and supplies. The storage spaces are also smartly configured, so you can easily store or take anything out.
3. Comforts and Amenities
There is no need for you to add more options because the Sportscoach RD RVs are already equipped with all the comforts and amenities usually found in an upscale home. They all come standard with the floorplans.
Things like hardwood cabinet doors with raised panels, roller bearing drawing guides at full extensions, Corian kitchen countertops, and many more are some of the items that you will find inside a cabin of a Sportscoach RD motorhome.
4. Exceptional Interior Design
Every Sportscoach RD motorhome comes with upgraded porcelain tiles and a high-quality padded vinyl ceiling. All fixtures and hardware are made of brushed nickel to give them a distinct look.
There are items inside the cabin that are not just luxurious-looking. They make you feel that you're inside a fancy jet. All shades inside the cabin are powered. The inside of the 403QS variant is outstanding. It has theater seating and a fireplace too.
5. Generous Bedroom Amenities
The bed that you will find in a Sportscoach RD RV measures 72 x 80 inches. That is a king-size bed. This bed comes with all the usual accessories, such as a bedspread, shams, a built-in headboard, residential-style, and of course, pillows.
Kids will not be left out in this RV. They have a pull-out bunk bed which saves living space when they are not being used. This coach even has a CPAP machine for those who suffer from sleep apnea. For entertainment, there is also a 32-inch flat LED TV in the bedroom.
6. Large Coach Size
All the Sportscoach RD coaches have a length of 41 feet and 1 inch. The width of the RV is 8 feet and 6 inches, while the height is 12 feet and 10 inches. With this large and spacious interior, you will have a lot of elbow room.
While this coach offers roomy living spaces, its overall height is far below most highway bridges' floor height. So there should be no worry there as you take out this coach on the road.
7. Focus on the Load
The Sportscoach RD motorhomes focus on how much you can load, not on how much they weigh. Each of these coaches weighs 32,000 pounds. This is the GVWR (gross vehicle weight rating) of the vehicle.
It has two axles, one at the front and one at the back. The front axle is rated at 12,000 pounds GAWR (gross axle weight rating), while the GAWR of its rear axle is 20,000 pounds. The GCWR or gross combined weight rating of this model lineup of coaches is 42,000 pounds.
Standard Features of the Coachmen Sportscoach RD Motorhome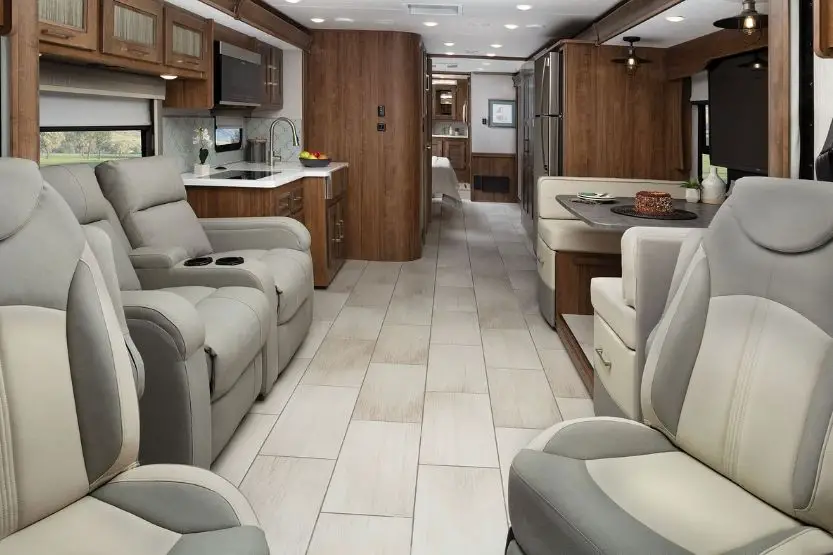 The Coachmen Sportscoach RD has a long list of standard features. I will list them all according to the sections where they belong to:
Interior or Cabin Appointments
Upgraded Porcelain Tile Throughout
Padded Vinyl Ceiling
VISIONARY Sofa Hide-A-Bed
Power Theater Seating (for 403QS)
Brushed Nickel Hardware and Fixtures
50″ LCD TV Coach
Sound Bar Entertainment System
Flat Panel Hardwood Cabinet Doors 
Manual Side Shades in Driver – Passenger Area
Solar Privacy Shades
Power Front Solar Privacy Shade
6-WAY Power Driver Seat With 3-Point Seat Belt
10-inch Touch Screen Radio AM/FM Radio w/Bluetooth dashboard with Apple CarPlay and Android Auto Link
6-WAY Power passenger Seat With 3-Point Seat Belt
Self-Closing Ball Bearing Drawer Guides
Dual Mirror Technology and Camera Monitor
King Jack TV – Radio Antenna
Fireplace (for403QS)
Pre-Wired for Satellite Dish and Blu-ray Players
Electric Step Cover
Bedroom
King Size Bed, 72 inches x 80 inches
Residential Style Headboard
Bedspread, Pillows with Shams
Front Drop-Down-Bunk
CPAP Shelf Cabinet
32-inch LCD TV
USB Ports on both side of bed
Kitchen and Galley
Solid Surface Countertop 
30-inch Stainless Steel OTR Convection Microwave
2 Burner Induction Cook Top
Stainless Steel 18 cu. ft. Residential Fridge
Fantastic Power Ceiling Vent
Large Stainless Steel Farmhouse Sink
Solid Surface Sink Covers
Kitchen Back Splash
Pop-up Recept w/USB Ports
Dream Dinette
Storage Drawers under Booth Dinette
Kitchen Pantry Closet
Bathroom and Plumbing
Deluxe Fiberglass Shower
Textured Glass Shower Door
Skylight Over Shower
Single Pedal Porcelain Toilet with Sprayer
Power Bath Vent
10 Gallon XT Gas Electric Water Heater (for 402TS and 410ES)
10 Gallon Gas Electric Water Heater (for 403QS)
Whole Coach Water Filter
Demand Water Pump
Water Pump Switch at Termination
Black Tank Flush System
Systems Monitor Panel
Winterization INLET at termination compartment.
Washer and Dryer Ready
Electrical, Heating, and Air Conditioning
50 Amp Power Cord
8.0 kW Diesel Generator
Auto Generator Start
Automatic Transfer Switch
Exterior LED Strip Patio Light
LED Interior Ceiling Lighting
15,000 BTU A/C with Heat Pump Front
15,000 BTU A/C with Heat Pump Rear
2 units, 20,000 BTU E.I. Furnace
100 Watt Solar Panel with Controller (can be upgraded to 265 Watt)
2000 Watt Pure Sine Wave Inverter with 80 Amp Converter
Emergency Start Switch
GFCI Circuit
Charging Station for Electronic Devices
Outside Receptacle (DS)
Auxiliary Batteries (4)
Coach and Chassis Battery Disconnect
Exterior Cable TV Jack and Tailgater Sattalite Jack
20 Gallon LP Tank
Automotive
Raised Rail Freightliner Chassis
360 HP ISB Cummins Rear Diesel Engine with Torque of 800 lb.- ft.
6-Speed Alison 300MH Automatic Transmission
New Diesel Cockpit Dash Console
Frameless Tinted Windows with Safety Glass
Exterior Mirrors with Heat & Remote
Cup holders with LED Lighting at Dash
High Definition Back Up and Side Cameras
Chassis Air Suspension and Air Brakes
22.5 inches Radial Tires with Aluminum Rims
Cruise Control
Dash Air Conditioning
Intermittent Wipers
Freightliner TPMS
Manual Air Dump
Auxiliary Driving Lights
Air Horn
Defroster Fans
Exterior
Fully Automatic Leveling Jacks
10,000 pounds Towing Hitch with 7 Way Plug
Fuel Fills, Both sides
Front and Rear Mud Flaps
Auxiliary Air Supply Hook-Ups
Front and Rear Fiberglass Caps
Front Deluxe Radius Entrance Door with Dead Bolt Lock
Power Entrance Steps-Double
Aluminum Side Swing Compartment Doors
High Gloss Gelcoat Sidewalls (with AZDEL SUPERLITE COMPOSITE)
Full Body Paint
Pass Through Basement Storage
Slide-Out Awnings
Power Patio Awning with Speakers
Power Entry Door Awning
Roof Ladder
LP Leak Alarm
Exterior Propane Hook-Up
Fire Extinguisher
Smoke and Carbon Monoxide Detector
Full Width Rear Rock Guard "SPORTSCOACH"
Oval Cockpit Pedestal Table
Lighted Interior and Exterior Assist Handles
Outside Entertainment Center with 40″ TV
Exterior Blue Tooth – TV Audio Speakers
Again, what does the Coachmen Sportscoach RD Motorhome offer? The Coachmen Sportscoach RD Motorhome is a model lineup of RVs belonging to the Class A motorhome category. This lineup has a Freightliner chassis and provides travelers with the advantage of having a rear diesel motorhome similar to the price of a gas engine-powered RVs.
Key Specs of the Coachmen Sportscoach RD Motorhome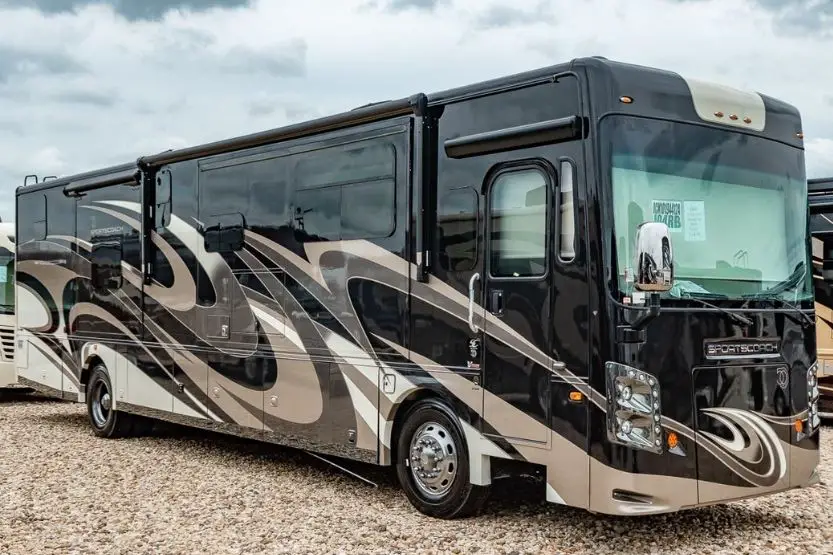 When evaluating a motorhome, the first thing you have to know is its essential specs. Here is a table that enumerates the key specs of the three-floor plans of the Sportscoach RD Motorhome:
| | | | |
| --- | --- | --- | --- |
| Item or Section | 402TS | 403QS | 410ES |
| Exterior Length | 41feet and 1 inch | 41feet and 1 inch | 41feet and 1 inch |
| Exterior Width | 8 feet and 6 inches | 8 feet and 6 inches | 8 feet and 6 inches |
| Exterior Height | 12 feet and 10 inches | 12 feet and 10 inches | 12 feet and 10 inches |
| GAWR Front | 12,000 pounds | 12,000 pounds | 12,000 pounds |
| GAWR Rear | 20,000 pounds | 20,000 pounds | 20,000 pounds |
| GVWR | 32,000 pounds | 32,000 pounds | 32,000 pounds |
| GCWR | 42,000 pounds | 42,000 pounds | 42,000 pounds |
| Fresh Water | 89 gallons | 89 gallons | 89 gallons |
| Black Water | 52 gallons | 52 gallons | 46 gallons |
| Gray Water | 104 gallons | 52 gallons | 52 gallons |
| Awning Size | 18 feet | 17 feet | 18 feet |
Conclusion: Coachmen Sportscoach RD Motorhome
The Coachmen Sportscoach RD Motorhome is a model lineup of Class A motorhomes with a price point comparable to gas engine RVs built by other brands. It is a rear-driven diesel engine motorhome that is built on the Freightliner chassis.
These coaches offer the many advantages of a rear diesel motorhome at or near the same prices as gasoline engine-driven motorhomes. In just this aspect, the Sportscoach RD is worth your consideration.