A Class B motorhome is known for being small, easy to drive, and fuel-efficient. It looks like an oversized van with the luxuries of home, including a kitchen, living room, and bathroom. Clueless about which to buy? In this Coachmen Nova motorhome review, I will walk you through its features and specs, so you can decide if this is the right RV for you.
The Coachmen Nova Motorhome is available in 20C and 20RB, both of which are built on a Ram Pro Master 3500 chassis. It has a sleeping capacity of two people. Its main features include six-speed automatic transmission, Rockwood R15 insulation, 220-watt solar panels, and a two-burner liquid propane cooktop. 
Below are some of the main specs of the Nova RV:
| | |
| --- | --- |
| Gross Vehicle Weight Rating | 9,350 pounds |
| Gross Combined Weight Rating | 11,500 pounds |
| Gross Axle Weight Rating | Front – 4,629 pounds, Rear – 5,291 pounds |
| Fuel Capacity | 24 gallons |
| Holding Tank Capacities | Freshwater – 27 gallons (20C and 20RB), Gray Water – 20 gallons (20C) and 23 gallons (20RB), Black Water – 19 gallons (20C) and 10 gallons (20RB) |
| Awning Size | 13′ 1″ |
| Dimensions | Length – 20′ 11″, Height – 9′ 4″, Width – 86″ |
| Sleeping Capacity | 2 |
Read on to know more about the Coachmen Nova motorhome, including its pros and cons.
About the Coachmen Nova Motorhome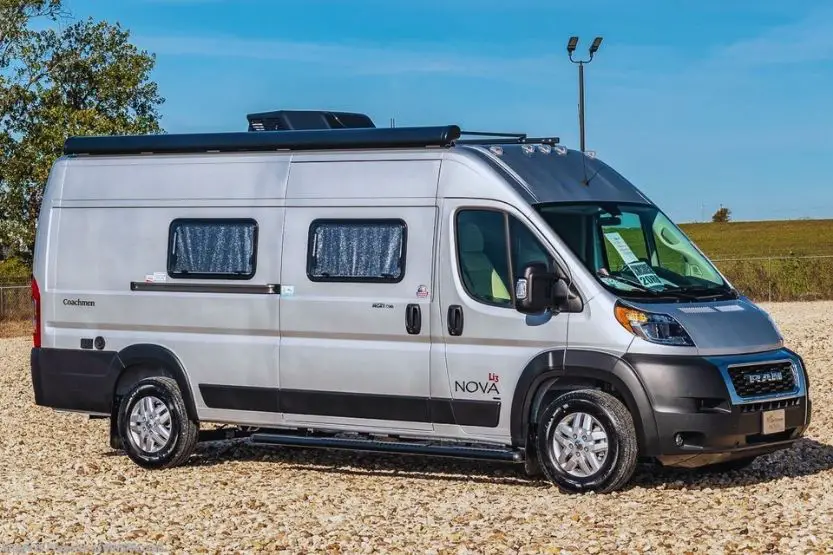 Leader to the great outdoors – this is Coachmen's tagline, which speaks of what they intend to be. Since 1964, the company has been committed to manufacturing motorhomes that will enrich lives. Aside from superior value, the manufacturer also focuses on exceptional support and service.
Coachmen started making RVs in a 5,000 square feet facility in Middlebury, Indiana. In their first year, they made 12 trailers and 80 truck caps, and one truck camper. Today, Coachmen operates under Forest River Inc., which has also been producing different trailers and motorhomes under different brands. 
While the company offers many models, one of the most popular is the Nova Class B motorhome. It has practical features and contemporary amenities, promising utmost comfort even on the road. It has recently received different awards, including the 2021 Class B Motorhome of the Year. 
Coachmen Nova Motorhome Specs
Whether it is a quick getaway or if you plan to live on the road for a long time, the Coachmen Nova RV is exceptional. Below, I'll have a quick look at its main specs. Take note, however, that they are available in two models – 20C and 20RB. We will discuss both in this section:
1. Gross Vehicle Weight Rating
The GVWR is the maximum weight that the motorhome can carry when it has a full load. Meaning, it includes the passengers, cargo, and accessories, among other things. In the case of the Nova RV, the GVWR is 9,350 pounds for both models.
2. Gross Combined Weight Rating
It is the maximum weight not just of the vehicle but also of whatever it will tow. You must not go beyond such as it can have corresponding safety consequences. With that, the GCWR of this RV is 11,500 pounds. 
3. Gross Axle Weight Rating
Each axle has a maximum allowable weight, and that is what the GAWR is all about. For both models, the front axle will handle up to 4,629 pounds, while the rear axle has a maximum capacity of 5,291 pounds. 
4. Fuel Capacity
It is frustrating to run out of fuel when you are on the road. Such is a nightmare, especially if you are in the middle of nowhere. Nova motorhome has a fuel tank that has a maximum capacity of 24 gallons.
5. Holding Tank Capacities
You will find three holding tanks in both configurations, which have the following capacities:
Freshwater Tank: 27 gallons (20C and 20RB)
Gray Water Tank: 20 gallons (20C), 23 gallons (20RB)
Black Water Tank: 19 gallons (20C), 10 gallons (20RB)
6. Awning Size
Whether it is raining or the sun is at its peak, you will love how it comes with an awning. It will also extend the usable area outside the motorhome. Both models have a 13' 1" awning.
7. Dimensions
The two models have the same exterior dimensions:
Length: 20' 11"
Height: 9' 4"
Width: 86"
8. Sleeping Capacity
As a Class B motorhome, you probably already have an idea that it is a small RV. That said, it can only sleep two people comfortably.
Main Features of the Coachmen Nova Motorhome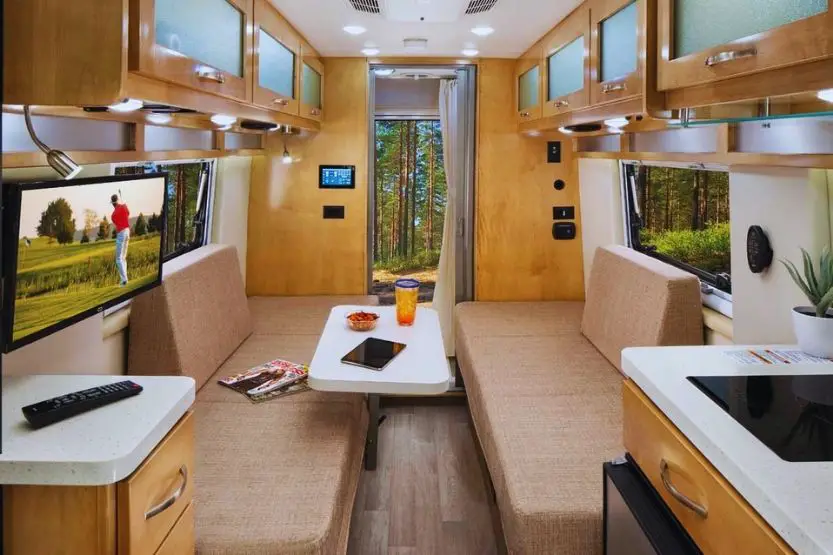 Despite being a compact RV, the Coachmen Nova packs plenty of notable features, including those that I will list down below:
1. Ram ProMaster 3500 Chassis
One of the best features of this RV is the chassis at which the trailer is built. It is an impeccable choice for an RV platform because of its tough construction.
2. Six-Speed Automatic Transmission
Driving the motorhome is easy, not just because it is compact but also because of the automatic transmission with six available speeds. The RV is also a front-wheel drive.
3. 24-inch Smart TV
Even when you are on the road, it has a 24-inch LED TV for the best entertainment. It has smart features, which means that you can also connect it to Wi-Fi. 
4. Rockwool R15 Insulation
Effective temperature management is one of the best assets of this RV. Whether it is winter or summer, you will be comfortable when you are inside the motorhome. 
5. 220-watt Solar Panel
Enjoy dependable and clean power on the go with the built-in solar panel. With an output of 220 watts, it is enough to run small appliances that you will need on the road.
6. Fiberglass Shower
The bathroom is far from being the most luxurious, but the shower is made of fiberglass. This is better than most of its competitors, which have ABS showers. 
7. European Acrylic Windows
Like many other parts of the RV, the windows are of superior quality. They are made of European acrylic to guarantee aesthetics and longevity. The windows also have solar reflective pull-downs.
8. Two-Burner Cooktop
Cook your favorite dishes on your road adventures and camping even without a fully-equipped kitchen. The basic stove has two burners connected to a liquid propane tank.
9. Nova Kool Refrigerator
Nova Kool is a specialist in mobile refrigeration solutions for over three decades. With this fridge, you can access cold drinks on the go while also having a space to store your food that needs to remain cool.
10. Truma Combi Eco Plus Heating System
Even in the middle of winter, you can go out on an adventure. With the furnace and water heater, it is easy to stay warm when you are in this motorhome. 
Again, what does the Coachmen Nova Motorhome offer? The Coachmen Nova Motorhome's configurations (20C and 20Rb) have a RAM Pro Master 3500 chassTheirheir notable features include six-speed automatic transmission, Rockwood R15 insulation, 220-watt solar panels, and a two-burner liquid propane cooktop. Nova can also accommodate two people.
Pros and Cons of the Coachmen Nova RV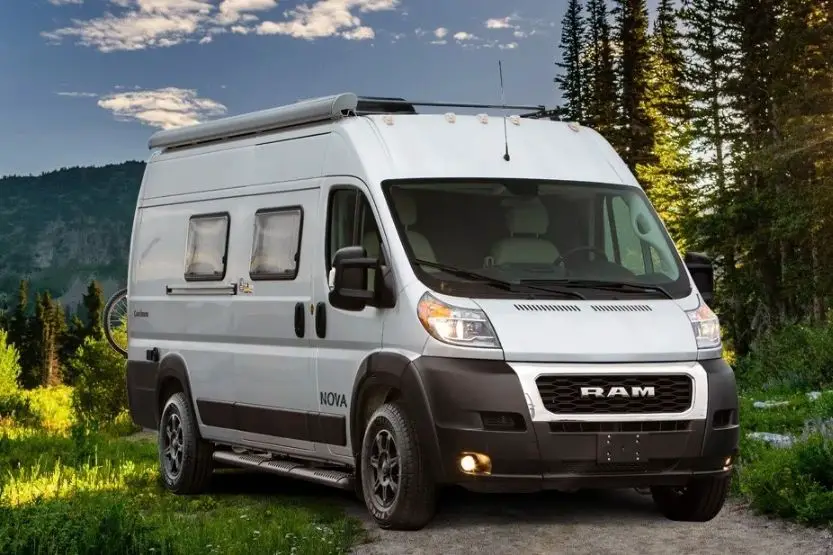 Can't decide if you should choose the Nova motorhome or choose another RV? To help you decide, this section will give you a quick walk-through of the good and the bad:
Pros of the Coachmen Nova RV
Here are some of the benefits of this motorhome, which can compel you to choose it over others:
1. Easy to Drive
Being a small motorhome has its benefits. Among others, one of the most significant is that it is easy to drive. Even when you are on narrow roads, driving does not have to be a burden. Not to mention, parking is also a snap.
2. Incorporates Green Materials and Construction
Conscious about how your actions impact the environment? If yes, then you have another reason to like this motorhome. The manufacturer takes pride in using green materials and in having eco-friendly construction practices. They incorporate recycled components in this motorhome.
3. Free Roadside Service on your First Year
When you purchase your Nova motorhome from Coachmen, you are eligible for one-year road assistance. This is a great way to have peace of mind. With this service, the company will extend top-notch services, including:
Towing,
Lockout service,
Fuel delivery,
Mobile mechanic, and
Jump-starts. 
4. Recipient of Multiple Awards
If you do not believe that this is an exceptional RV, it is good to know that it is a recipient of prestigious awards. The latter proves that it has superior quality and performance. Many organizations recognize this RV.
5. A Huge Owner's Association
Another good thing about this RV is that it will let you become a part of the Coachmen Owner's Association. The latter is one of the biggest camping clubs in the country that a manufacturer sponsors. Take advantage of planned trips, campground directories, and email newsletters. This is also the perfect opportunity to connect with other RV owners.
Cons of the Coachmen Nova RV
Despite the good things, there are also several drawbacks, including those in the list below:
1. Some Might Find it to be Small
Take note that it is a Class B motorhome. This means that it is small, so some people might find the space to be cramped. If you are a large family or want to bring many things on your outdoor adventures, you might want to consider a bigger alternative. 
2. Minimal Towing Capacity
Because it is small, it follows that the towing capacity is minimal, especially when you compare it to Class A and C motorhomes. Make sure to match whatever you will tow with the hitch of this RV to avoid safety problems.
3. Potential Leaking Issues
Leaking is a problem that isn't exclusive to the Nova RV. Instead, it is an issue that is apparent in many other models from Coachmen. Leaks are common in the shower and windows, among other parts of the RV.
Conclusion: Coachmen RV Nova Motorhome
Take your outdoor adventures to the next level with the Coachmen RV motorhome. This Class B trailer has the luxuries of home in a compact package. It is available in two main configurations, both of which share almost the same specs and features, including:
A solar panel,
Two-burner cooktop,
Smart TV, and
Fiberglass shower. 
Like other motorhomes from Coachmen, the Nova RV is known for its drivability, eco-friendliness, and reliable roadside assistance for one year. Nonetheless, there are also some problems, such as the small size and minimal towing capability.
To recap, here is a quick summary of its specs:
| | |
| --- | --- |
| Gross Vehicle Weight Rating | 9,350 pounds |
| Gross Combined Weight Rating | 11,500 pounds |
| Gross Axle Weight Rating | Front – 4,629 pounds, Rear – 5,291 pounds |
| Fuel Capacity | 24 gallons |
| Holding Tank Capacities | Freshwater – 27 gallons (20C and 20RB), Gray Water – 20 gallons (20C) and 23 gallons (20RB), Black Water – 19 gallons (20C) and 10 gallons (20RB) |
| Awning Size | 13′ 1″ |
| Dimensions | Length – 20′ 11″, Height – 9′ 4″, Width – 86″ |
| Sleeping Capacity | 2 |